Neobanks, also known as digital banks, are direct banks that operate exclusively online without traditional physical branch networks.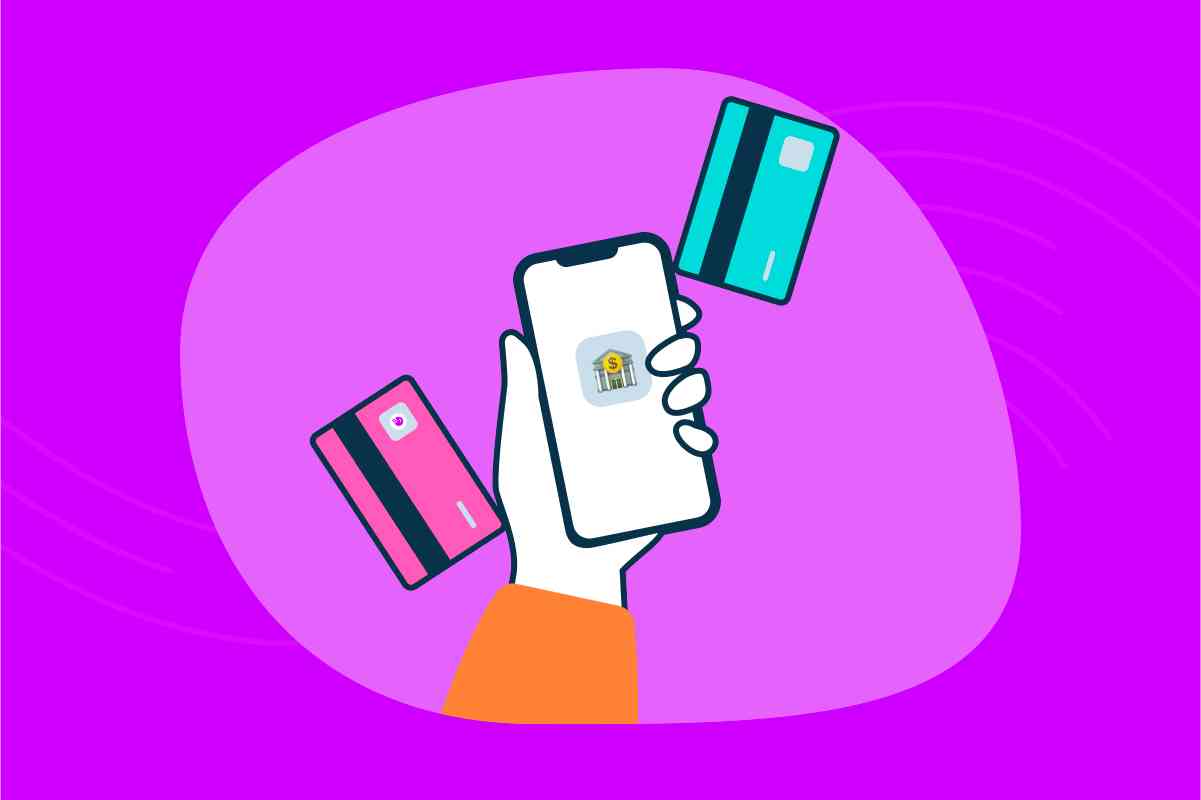 Customers can access their services through computers or mobile devices by interacting in a simple, pleasant and intuitive way.
The world of fintech (provision of financial products and services through the most advanced information and communication technologies) is breaking into our homes and everyday actions of each of us.
This has greatly influenced the banking world, giving rise to the evolution of traditional banks and digital start-ups operating in the financial sector. In recent years this market has been affected by the emergence of Neobanks. Also referred to as challenger banks because of the challenging nature they harbor, they are considered by many to be the bank of the future. And all indications are that it will indeed be so.
What is meant by Neobanks
Neobanks operate exclusively online, representing a competitor model to traditional banks, unlike which they have a much leaner structure: they do not, in fact, have a branch network, but only a head office and digital networks.
The term Neobank was born around 2016, when in the United Kingdom the simplification of procedures for obtaining banking licenses allowed fintech companies to expand their reach.
The reasons for its success depended on a number of factors, such as the simplicity of the offer, marked at least initially by a single product, and the characteristics peculiar to digital startups: greater flexibility than traditional banks and a better user experience. At first, customers did not have complex financial needs, and the lightweight structure allowed them to fulfill requests as best they could, starting from instant cross-border transactions to vehicle title loans.
Today, next-generation banks have not only grown numerically-in 2019 alone, it is estimated that more than 70 neobanks were born worldwide-but they have expanded their range of services, giving a major boost to this new sector within fintech. Neobanking should not be confused with online banking and home banking services-the latter in fact represent a specific type of banking services provided by traditional banks for their customers.
The types of new generation banks
Within the fintech world, there are three different modes through which neobanks can operate.
Fintechs without a banking license
These are start-ups that lack the licenses to provide all banking services to customers but provide advice or manage small fees. They sometimes rely on traditional banks.
Fintechs with banking licenses
These are the real Neobanks, also called challenger banks. They take advantage of full online operations and have a banking license that allows them to offer the services of a traditional bank. Smart Bank is a platform that enables the creation of such next-generation banks.
Traditional banks with online services
In this case, traditional banks have developed a sector for online management of current accounts and banking services, for example, through specific apps. Although they can offer all the reliability of a traditional-style bank, they are often deficient in managing digital infrastructure and usability.
The advantages of Neobanking
Low costs
New generation banks have lower operating costs because they do not require a network of branches in the territory and, therefore, have a smaller number of employees. This lowers both operating and user costs.
Current accounts offered by Neobanks usually include basic zero-fee plans and premium plans with a few more options, with costs that are still low and significantly lower than those of traditional banks.
Speed and instant operation
Opening an account in a Neobank is very fast and simple. Compared to a traditional bank, in which it is necessary to fill out and sign numerous forms, the procedures are particularly simplified. In addition, it is not necessary to physically go to the bank but you can perform all procedures online through an automated process.
H24 Availability
Neobanks allow you to operate through your account at any time of the day, including at night. This makes it possible to arrange one's banking operations even outside classic office hours and on weekends.
Offering services for specific targets
Neobanks are able to offer a wide range of products and tools that have hitherto been unthinkable for a traditional bank.
For example, analytical tools and expense management methods that are valid for both small businesses and family budgets can be provided in their account management apps.
Smart features
The fact that Neobanks are digitally oriented start-ups makes the user experience particularly quick and easy to manage. Cutting-edge technologies such as: Artificial Intelligence, Biometrics, and Strong Authentication make it possible to offer services that are increasingly simple, fast, and thanks to the outgrowth of traditional passwords, replaced by passwordless methodologies. Precisely with this in mind, the expertise of IRETH, which has its core business in research and development of Strong Customer Authentication (SCA) and anti-malware solutions, is an added value.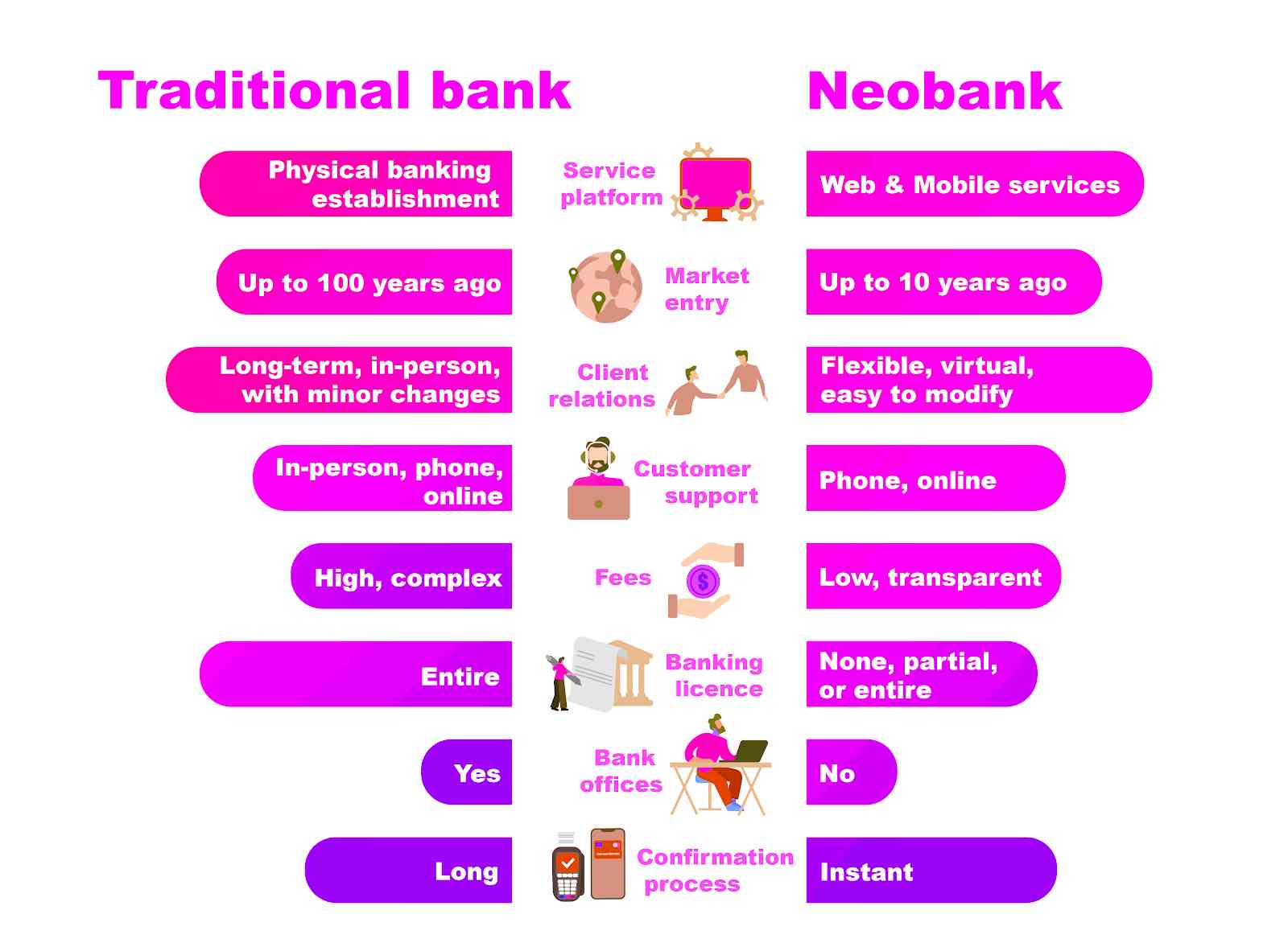 Neobank vs Traditional bank
Financial security and blockchain
Neobanks, in order to protect the security of their users and ensure all aspects related to privacy, must implement high-level financial security systems.
They use blockchain technologies that are characterized by the following features.
Decentralization
Data are not kept in a central repository but distributed to various decentralized points so as to ensure greater cybersecurity.
Traceability of transfers
Each step within the transaction flow is tracked and identifiable so that the origin can be traced.
Disintermediation
Data transfers can be implemented without the need for central entities to act as intermediaries.
Transparency and verifiability
Transaction flows in registries are transparent and verifiable at any time of the transaction, by those with administrative credentials.
Register immutability
After registration, data cannot be changed without specific authorization.
Programmability of transfers
Actions can be scheduled to take place when certain conditions take place.