Increase In-Store Sales with Your Online Ads - read the full article about online advertising, Advertising and Paid online promotion from Google Ads on Qualified.One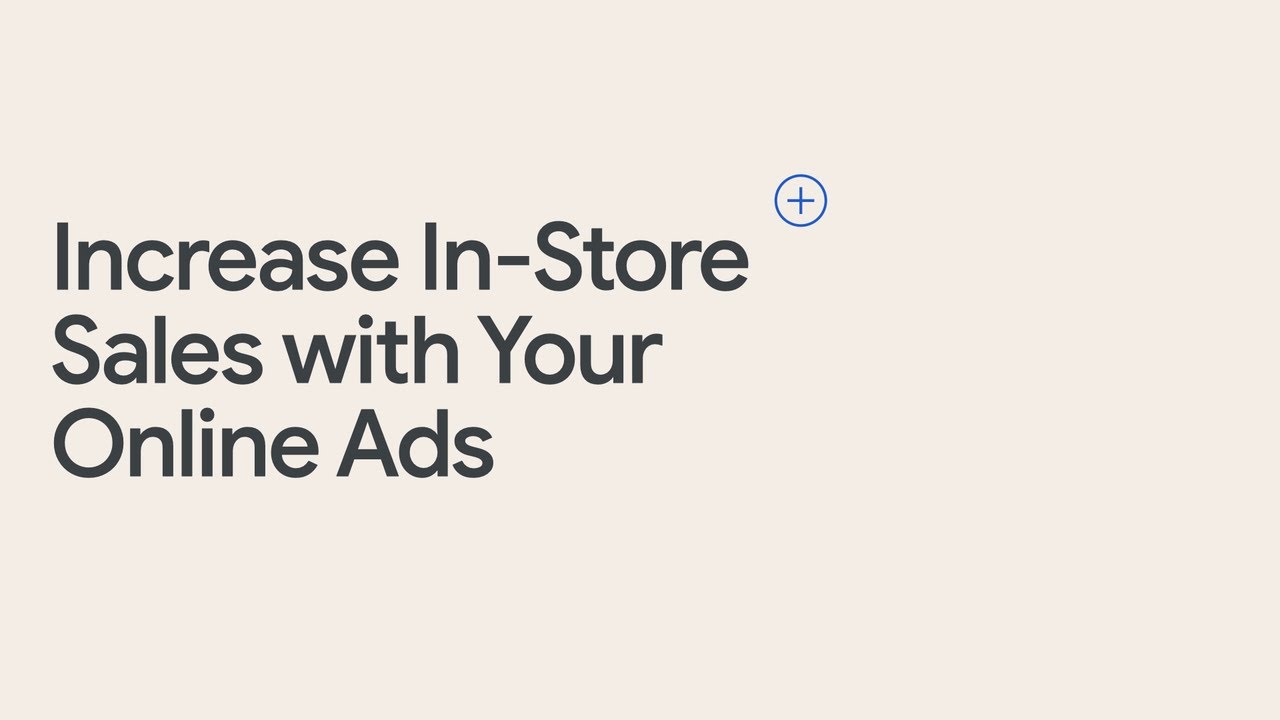 >> REENA: Hello, everyone! Welcome to Google Marketing Live 2021.
This is the Offline Sales session! I'm Reena Nadkarni, and I lead the Local Ads product team here at Google.
My team creates solutions to help you reach local customers. I'm here today to share how Google's online products can help you grow revenue for your physical stores.
I also have a couple of our customers with me to share their stories of using these products on their offline sales journey to give you some real-world examples.
So let's get started! COVID-19 has fundamentally changed how consumers shop worldwide.
Now more than ever, they rely more on digital for their research and purchasing decisions.
But it is important to note that shoppers don't just turn to Google for things they want to buy online. They also use Google to find what they need nearby in real life.
And we see this across industries.
Searches for "takeout restaurants" have grown globally by over 20,000% year over year.
Searches for "in stock" have grown globally by over 800% year over year, probably because consumers are more thoughtful about the number of trips they make.
They want to make sure the item they're looking for is actually available in store.
All of this goes to show that local is now digital.
To recapture sales, businesses with physical locations need to provide customers with a more personal and seamless locally optimized experience. And that experience starts online.
In the next 10 minutes, I will share 3 core strategies for the road ahead and how Google's local solutions can help you along the way.
First, build and improve your digital storefront.
Second,  how to grow omnichannel sales. And finally, how to grow your in-store sales.
So let's start with building your digital storefront.
One of the most critical and foundational resources for businesses with physical locations is Google My Business. You can think of it as the digital front window to your store.
Your Business Profile lets you manage how your business appears on Google Search and Google Maps. You can edit your store hours, respond to your customer reviews, and much more.
Linking Google My Business to your Google Ads account is an important first step that you as a business owner need to do to start using local formats and measuring offline conversions.
Making this connection between your digital storefront and your Ads account is critical in order to measure the in-store visits that are driven from your online ads.
This also helps your store show up when consumers look for the products you offer using local inventory ads.
Retailers can showcase products that are available in nearby stores and highlight options like in-store pickup or curbside pickup via a local inventory feed.
If you don't have a local inventory feed, independent retailers can use Pointy from Google to get products online and then run local inventory ads.
Next, growing omnichannel sales. Omnichannel formats like local inventory ads allow you to connect with customers and measure both online and offline conversions.
Since customers alternate between shopping online and in store, depending on their needs in the moment, it is important to measure and optimize your ad campaigns for all conversions that matter to your business.
Google offers a variety of ways to measure the impact that your online ads have on your physical store.
You can measure actions like calls, clicks on directions, and, of course, store visits.
Restaurant and retail advertisers can measure store sales too.
Store visit conversions measure customer visits to your store after they have interacted with online ads in a privacy-safe way.
Google's store visit conversions use anonymous, aggregated data, which are then extrapolated to represent the broader population of your consumers.
This means that store visits data can't be tied to ad clicks or individual people.
Once you've started to measure your online ads driving offline value, you can take action on this data.
If you're eligible for store visits, use Smart Bidding with store visits in your Search and Shopping campaigns to automatically optimize for total sales, whether your customers shop online or in stores. Smart Bidding with store visits is my favorite because this is where Google's machine learning steps in to make your life simpler! Smart Bidding automatically sets bids for each ad auction, in real time, based on your specific performance goals.
Signals like the time of day, where the user is located, what device they're using, and what they type into the search bar all have an effect on whether a user sees your ad or not.
Customers who shop in-store might demonstrate completely different signals than customers who shop online. So if you're not including store visits within your optimization, you may be missing out on ad auctions that could drive value for your business.
Trying to take all of these variables into account manually is time consuming and can be impossible to do effectively.
That is why machine learning is so important. Our algorithms look at data on a vast scale to help you make more accurate predictions across your account about how different bid amounts might impact conversions or conversion value.
Soon, you'll be able to take this a step further and optimize for store sales.
In addition to your Search and Shopping campaigns, omnichannel bidding will soon be available for your YouTube ads through the Video action campaigns as well.
So what does this look like in practice? Let's hear from Gregory Bauduin, Chief Marketing Officer of IKEA Belgium, on their omnichannel journey. Gregory, over to you.
>> GREGORY: Thank you, Reena.
Sales in our IKEA stores account for the majority of our total sales, but e-commerce has become increasingly popular with our customers, especially over this past year.
As our local stores closed and reopened throughout the pandemic, our customers shifted between shopping online, using different delivery options, and shopping in store.
This made it challenging to show our customers the right message at the right time.
In such a dynamic changing market, we needed a solution that could respond in real time to ensure our ads had the most impact.
Our first step was to measure both the online sales and in-store visits that were driven from our Google ads. And, of course, we know the value of our in-store visits.
So we incorporated store visits into our automated bidding strategy so we could grow total sales, whether they happened online or in store.
By shifting to an omnichannel bidding strategy, we were able to more accurately measure our return on ad spend and grow the revenue from our Search and Shopping campaigns by over 300% year over year.
We've continued with this omnichannel approach in order to best serve our customers, wherever they shop.
>> REENA: Thanks, Gregory. That was such a great example of using Smart Bidding with store visits to meet your omnichannel goals.
But what about offline-only or store-specific goals, like dedicated store promotions, location reopenings, or publicizing new in-store products or menu items? Let's now transition to talk about a solution solely for driving store visits and sales to your stores, restaurants, or dealerships: Local campaigns.
Local campaigns allow you to reach customers across Search, Maps, Display, Gmail, YouTube, and, of course, your Business Profile page in one campaign designed specifically to grow foot traffic and sales at your locations.
We've heard from you that you want to reach consumers across different stages in their path to purchase in store.
We're continuing to grow inventory, introduce new ad formats, and enable store sales integration for Local campaigns.
Over the past year, we've seen more people use Google Maps to explore something they're interested in, and not just to find where it is located. For example, searches on Google Maps for "curbside pickup" have increased globally by 5,000% year over year.
So, to help more people find your business, I'm excited to announce that we're adding 3 new Maps formats to Local campaigns.
First, auto-suggest ads show your nearby location to users searching for businesses like yours.
For example, if I begin searching for "oil change," I may see an ad for an auto garage that's nearby.
Second, navigational ads promote your business while people are in navigation mode in Google Maps in a safety-conscious manner. Your location may show up along the route for the relevant users.
Third, similar places ads allow you to show your business location to Google Maps users who are searching for similar businesses nearby that are closed during the time of the search.
So, for example, if I'm looking to pick up tacos at my favorite spot but it's closed, I could see a suggested alternative location nearby.
In addition to Maps, we're expanding formats for Search and YouTube.
Many of you have already added your product inventory to Local campaigns in order to promote nearby items across your Display and Business Profile ads.
Soon, you'll be able to show your location-specific product inventory in your Search, Maps, and YouTube ads too.
Similar to circulars, you have the control and flexibility to select the products that appear.
Finally, we're expanding Local campaigns measurement as well.
Later this year, you'll be able to optimize your Local campaigns for store sales, not just store visits and local actions.
Now, let's hear from Ellen Junger, CMO of Helzberg Diamonds, on how her team used Google Ads to promote store reopenings and to grow in-store sales. Ellen, over to you.
>> ELLEN: Thank you, Reena.
While many of our customers shop online, the majority of our sales still happen in our jewelry stores.
When COVID-19 hit last March, we had to close our 200 retail stores and shift our primary focus to growing our e-commerce business.
When stores began to reopen later in the year, we pivoted back to an omnichannel approach to reach customers whether they preferred to shop online or in store.
To drive additional awareness of our reopened locations during the holiday season, we launched Local campaigns, invested more in YouTube advertising, and used store sales measurement to connect in-store sales driven from our online ads.
In partnership with Wpromote and Google, we've made several strategic shifts that have allowed us to continue engaging with our customers in a meaningful way, despite so much uncertainty.
Remaining flexible and tailoring our approach to consumer behavior has been crucial to our success this past year.
>> REENA: Thank you, Ellen! We've packed a lot into these last 10 minutes! We've covered how to bring the best of your store to digital with Google My Business and local inventory ads, how to grow online and offline sales with Smart Bidding, and how to grow foot traffic and in-store sales with Local campaigns.
I hope you found this session beneficial.
Thank you so much for joining me today!
Google Ads: Increase In-Store Sales with Your Online Ads - Advertising