What's great about display advertising is that they go beyond the text. You can use images, text, colors, buttons and even animations to convey your message more effectively.

Launched in 2000, it is today the main source of revenue for Alphabet Inc, with 80% of businesses across the globe using paid Google ads for their PPC campaigns. According to Google, display campaigns reach people globally across 35 million websites and apps. It is an immense ecosystem with strict rules and best practices, refined over years.
Here is what you must know when creating animated GIFs for use in Google Display Network advertising.
"Yes" to animated image ads, "No" to responsive ads
GIFs can be used for image ads in the Google Display Network. However, animated images (such as GIFs) are not allowed in responsive ads, a type of ad that automatically adjusts its size, appearance, and format depending on the ad space.
Google recommends using responsive ads to enjoy more flexibility, optimization, and a wider reach. While this sounds great and works in many cases, there are also downsides to responsive ads.
Why use GIFs in Google Display Ads?
It would seem to be a format from the past, but due to some peculiarities, you can do interesting things with it. In simple terms, a GIF is a picture that contains a looped animation or video.
Pros:
Looks more interesting in the feed than just a picture;
gets the message across quickly;
plays automatically and endlessly;
is accepted by all popular social networks and messengers;You can even embed it in email, to diversify the correspondence / mailing (but there is a risk that the email client or firewall will not like it).
Cons:
No sound;
Weight greatly increases with the duration, respectively, it takes longer to load. And the GIF does not play well until it is completely downloaded;
Weight greatly increases with increasing the number of colors used (so video for use in GIF is not very suitable, but the drawn animation is very).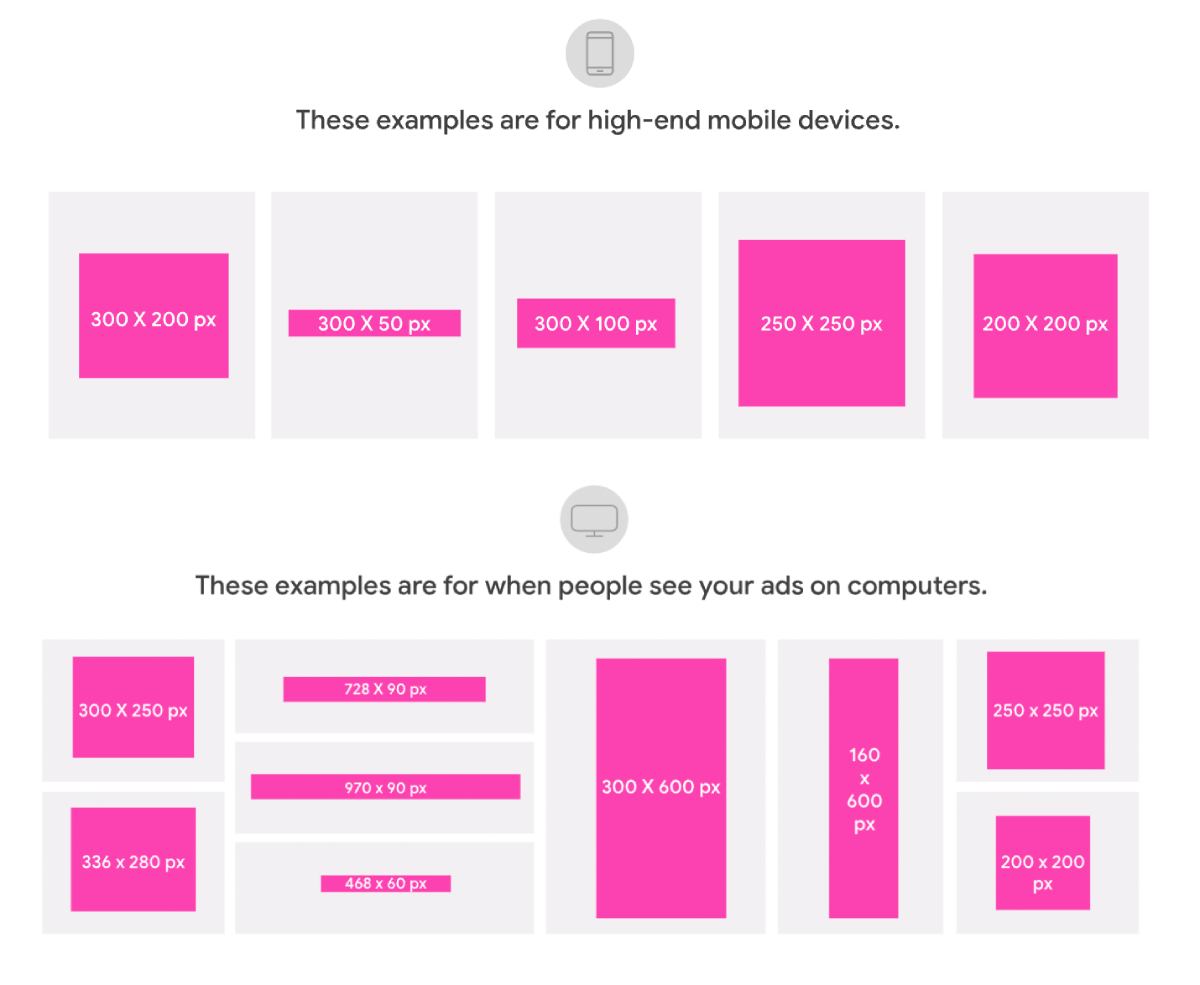 Using gifs in Google Display Ads: formats
Gifs in Google Display Ads: tips and ideas
Short and unskippable
The maximum allowed animation length for Google ads is 30 seconds. Images can be played in a loop, as long as they don't surpass that limit.
However, when you look at user behaviors, 30 seconds is a long time. For example, Facebook found that people spend, on average, 1.7 seconds with a piece of content on mobile and 2.5 seconds on desktop.
To be on the safe side, your message should appear within the first few seconds of the animated Google ad. The benefits are clear and roll quickly, while the call to action is always visible and animated to draw attention to it.
Smaller GIF file sizes are always better
The maximum allowed size for image files on Google Display Network, including GIFs, is 150KB.
GIF file size is a common challenge for digital marketers who are looking to optimize load times and catch people's attention before they scroll away.
Animately is an easy-to-use tool that allows you to compress GIFs for Google Display Network quickly, without compromising on quality. Choose between different compression options - such as trimming, cropping, using compression presets, reducing colors or adjusting speed, and get a GIF that is small in size but efficient in message delivery.
To understand just how much load times impact engagement look at this Deloitte study "Milliseconds make Millions." According to the 2020 research, a mere 0.1s improvement in site speed resulted in better metrics across the board: 8% increase in page views, up to 6creases in bounce rates, and 10% more money spent on average.
What about creativity?
Because of all the restrictions, a certain space is formed in which to create. In fact, restrictions are necessary so that the creative flow has its own direction. And it is important to take them into account so we don't end up going where we don't have to.
I am very lucky with my clients, they are very brave and open, and they ask me to do something unusual, catchy and interesting. Within the brief, of course.
Judging by the ideas they come up with, I can say that it is most likely to be successful in this format. So, recommendations with examples.
Unrealistic images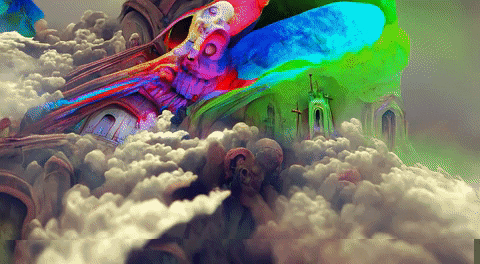 Example how to use gifs in Google Display Ads: surrealism
Or something that can't happen in real life. Here, as in the first example with the head of the beast assembled from the speakers, its own world that will be remembered or at least stop the tape scrolling.
Abstractions
Here, among other things, the task was to show the new iPhone without showing the new iPhone, because the gif was coming out a few days before the presentation of Apple, and shine the appearance could not be even a hint. So I presented it as a portal. I wanted to make a more recognizable shape and mark the front cameras with lines, but the client didn't even allow me to round the edges of this portal.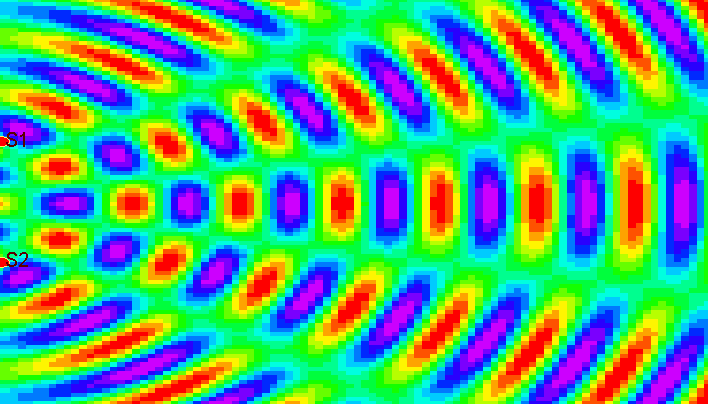 Example how to use gifs in Google Display Ads: abstractions
Use a loop
Here everything is simple, infinite zoom, infinite internet, sms, calls and in addition it all looks infinite at the expense of the cycle GIF.
Juicy visual
And think of it as such :) If you take it apart, it can be achieved by saturating the animation, small details, non-standard transitions, the abundance of colors. A little worried that the non-brand colors would not be accepted, but in the end there were no comments.
Use contrast
Contrast works great for visual representation of a product property. In this brief the product is Tuesdays from T-Mobile, when users are given some bonuses. That is, Tuesdays are special days of the week. To show this, I used contrast - a throne among the regular chairs.
GIF frames with black or white background
All partially black or white background GIFs used on the Google Display Network must display a color border that contrasts with the main background color of the ad. This allows users to correctly identify the image as an advertisement.
Google Policies
If you follow all of the above when creating and submitting animated ads for use on the Google Display Network, you should be fine. In fact, you probably already have a pretty good ad. But let's dig a little deeper into the creative side and look at some examples to make sure GIF ads aren't just great, they're great. Display of advertising content
Ads on the Google Display Network are subject to certain rules regarding what is actually shown.
If you use images, make sure they are clear and legible. No blurry images or flashing backgrounds are allowed.
All space in the banner ad must be used and multiple copies may not appear within the ad.
Do not impersonate website content, messages or text ads
Under no circumstances is it permitted to induce users to click on advertisements. what do you mean? Do not disguise system or site warnings, dialog boxes, or operating system error messages.
Display ads should have a distinctive look and feel to the ad and be easily separated from the page content. If you're using a white background, add a contrasting border to make your banner stand out
You can duplicate any animation feature or icon as long as it exists on your landing page.
GIFs vs and HTML5 Ads
The Google Display Network allows you to create animated ads using a variety of technologies. Flash is considered obsolete, but GIF and HTML5 are still widely used. which one is for you?
HTML5 banner ads have some obvious advantages. It tends to have better image quality at smaller sizes and is very responsive, so it works well on a wide variety of devices. However, they are difficult to create and require advanced programming skills.
GIFs are easy and cheap to create, work well on most devices, and grab attention just like any other animated banner.
Ultimately it depends on your skills and access to resources, but both work well on the Google Display Network if you follow the rules I've already explained.
How to use GIFs in Google Display Ads: F.A.Q.
Do you need permission to use a GIF?
There is no current legal decision that explicitly determines whether a GIF made from copyrighted material constitutes infringement. When there is a dispute about GIF and its original creator, it all comes down to fair use doctrine.
Can I use video in Google Display Ads?
Google Ads uses a variety of video ad formats to create compelling video campaigns and engage customers in different ways on YouTube and video partner sites. can do. Available video ad formats are:
skippable in-stream ads. Non-skippable in-stream ads.
Can I use memes without copyright?
In general, posting and sharing memes online as a form of expression is not a crime and is generally protected by the First Amendment and fair use doctrines. increase.
Why not use GIFs?
GIFs are generally not suitable for the web. GIFs are not optimized for web use. File size is very large and browser decoding of GIF is not very efficient. However, there is a better alternative to using GIFs, and that alternative is to use videos instead.
Does Giphy make your GIFs public?
You can add tags to the GIF separated by commas (no # needed) and add the source URL to give credit to the original source. You can also change a GIF from public to private. Private GIFs cannot be seen or shared by anyone but you while you are logged in.
What is the difference between display ads and video ads?
Video ads engage visitors through visuals, motion and sound. For advertisers, this allows for a deeper connection than typical display advertising offers.Advertisers build their brand's message through storytelling elements. The more unique your video ad is, the more likely it is to grab your visitors' attention.
Can you use a GIF in Facebook Ads?
You can use GIFs in ads on Facebook, Messenger, Instagram and Meta Audience Network. When you use a GIF in an ad, it plays in the same way as all video files and shows the same metrics as a video ad.