Motion Graphics Trends 2022 - read the full article about brand design trends, Brand Design and from Envato on Qualified.One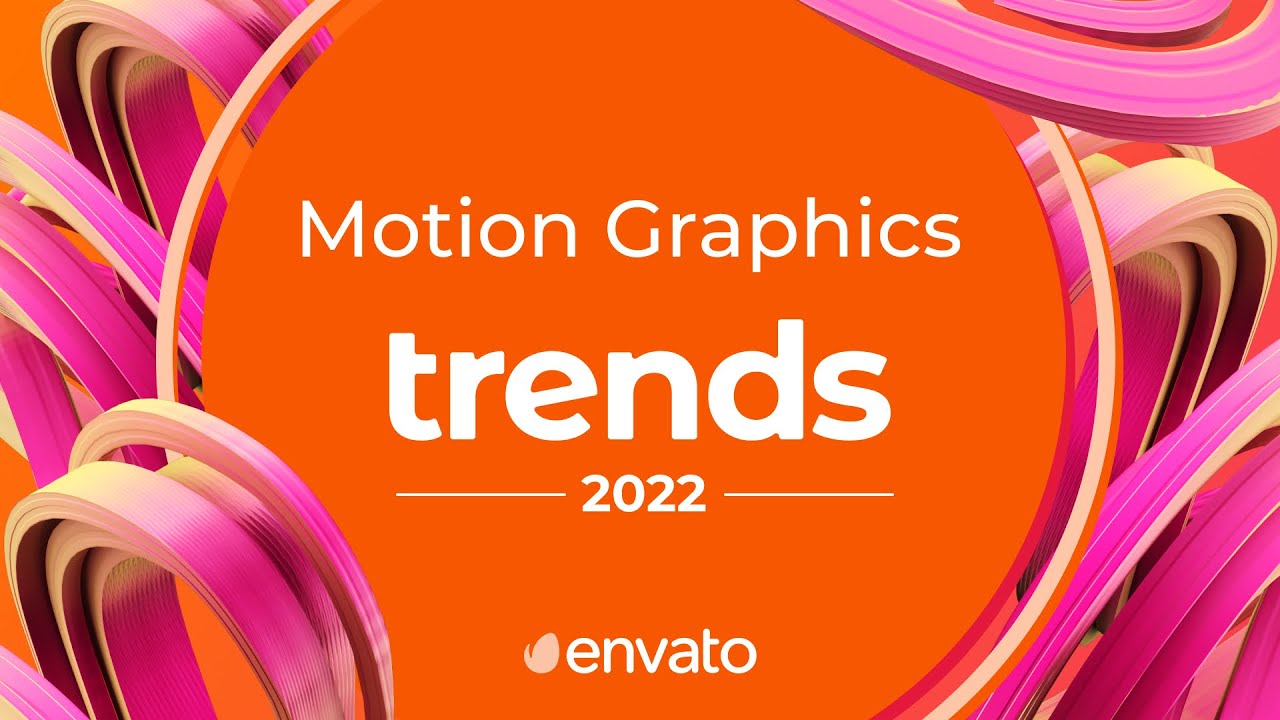 Hey there! Jen McKinnon here and it's time for another trend roundup from Envato. Today we're taking a look at motion graphics trends and a link to a collection of the featured items can be found in the description below.
This video is brought to you by Envato Elements, a subscription-based library full of all the digital creative assets you need to get your creative projects done. From motion titles to seamless transitions, opener templates, sound effects and music tracks, everything you need to create better videos faster is at your fingertips.
Check the link in the description for a special offer from the Envato Elements team to get you started. Let's get into it! In this first trend, illustrations, photos, animations and digital footage are combined to create a collage look and feel. The result is a curated collection of influences that work together to tell a dynamic story or share a message that's constantly on the move.
Like this experimental motion collage by graphic designer Andreea Robescu, which uses a black-and-white image of a woman as a jumping off point before filling her silhouette with swirling colors, layering over video clips of speeding trains, and accenting zoomed-in detail with torn-paper textures.
The effect is chaotic, energetic and constantly shifting, while ensuring the viewer is always anchored to the central image.
If you tend to seek inspiration from a range of sources and mediums, then animated collages are a great motion graphics trend to explore further.
Get started by checking out the Mixed Media Collection in the Envato Elements Library, which is filled with assets designed to complement, clash and create eye-catching animated collages. Text is a major component of motion graphics, and this trend looks at an animation technique that's designed to capture attention and tell a story.
It's because of the head-turning attributes of moving text that we constantly see kinetic typography used in advertisements, websites, music videos and title sequences for movies and TV shows. Put simply: this trend is all about adding a whirling, wavy, wonderful element to words, wherever you intend to use them. Take this collection of voting art that's designed to encourage people to engage with politics, hit the ballot boxes, and make their voices heard. While some animations emphasise each letter individually, others make the whole word pop as it expands and contracts or twists and turns to fill the screen. You can give action to your words and add visual interest to logos with this Kinetic Typography Pack from the Envato Elements Library, which features 19 ready-to-use scenes and 30 titles, all of which can be fully customised in order to convey your message.
Simply pick a color scheme, adjust the video length and cut and paste your message to get started. This next trend embraces disruption, distortion and digital noise. In other words, glitch gives video creators permission to add the kinds of errors and accidents they might usually try to avoid at all costs.
The result channels a DIY aesthetic that often pays tribute to analogue printing presses and hand-drawn animations. In addition, the glitch trend celebrates on-screen and computing imperfections, like this teaser video from K-pop girl group Aespa, which flickers and blurs between real-life action and anime illustrations. Rip up the rulebook and create your own haphazard-looking art by getting on-board with this motion graphics trend.
Add grain, grit and grunge to your videos with this pack of glitch transitions from Envato Elements.
Featuring flickering static, distorted lines of color and neon-green binary code, they can be combined with music and text for a variety of uses – such as explainer videos, a YouTube channel opener or a website homepage.
Isometric shapes were originally used in technical drawing, but the approach is also used by motion designers who are looking to introduce a 3D feel into their 2D animations or to give a unique perspective to their 3D renders.
The term 'Isometric' is derived from the Greek word for 'equal measure', and traditional isometric objects are mathematically accurate renderings of objects on an isometric grid where every dimension aligns to the same scale of projection. This is in contrast to one-point projections, which instead mimic what the eye can see so that objects feel smaller the further they are away from the viewer.
Now that we've got the science part out of the way, let's look at some examples.
This video opener for a design festival that takes place in Barcelona each year is the perfect example of 2 dimensional isometric motion graphics and reminds us that isometric shapes can be injected with playfulness and personality, with light and shade adding extra depth and perspective.
Add dimension to every element you incorporate into your design with these isometric icons from HolyPix. From science labs to law courts and classrooms to the corporate world, a range of everyday scenarios and associated objects are vividly rendered and just waiting to be included in your next project. On the flip side, this example from Spotify Premium, is a great display of isometric angles in a 3D environment. It shows animated characters listening to music in a variety of pop-up settings and situations, transitioning from studying to exercising.
If you want to immerse viewers in a thrilling 3D environment, look no further than these isometric loops that can be added to video openers to give a fluid look and feel.
Sometimes a color, a typeface or an illustration are so widespread and popular that they come to define an entire era – like the iconic yellow smiley face of the 70s or 1950s-style hand-lettered logos. When we talk about retro or vintage motion graphics, we're talking about what happens when a design style or motif is so embedded in popular culture it comes to be forever associated with a specific decade or moment in history. Like this 80s-inspired example that instantly channels some of the most recognisable TV shows, movies and album covers of the era with its tropical palm trees, sunset pastels and neon cityscapes.
Then, thanks to the addition of a moving grid, shooting lasers and lens flare, this animated background is a celebration of space exploration and reality-bending science fiction.
From Star Wars to Tron, it's impossible not to think of the 80s when you see this purple-pink creation from Envato artist VictoryBox. Similar to our glitch trend, this next one focuses on adding character and personality with grain effects and texture – the kind of design 'noise' that can be seen in this example from design collective Reverse Charades. With its images of humans and household objects, as well as symmetrical shapes and squiggles, this moving montage not only shows off the grain effect trend but is also a great example of mixed media in motion graphics.
Bring an analogue aesthetic to your work with this pack from Envato Elements. It draws on inspiration from screen printing to come up with three grain intensity options, five grain textures, and 50 premade gradients that will transform your motion graphic designs. If you have the perfect image, this kit from pixelbuddha_graphic will add the kind of analogue interference that will give it a timeless sense of hand-printed, risograph-inspired wonder. This trend refers to a special effect that sees animations change – or morph – from one image into another through a seamless transition.
The effect is smooth, streamlined and completely transportative.
From busy city streets to a sparkling skyline, and from the Eiffel Tower to the Champs-Élysées, Paris is brought vividly to life in this always moving and morphing display of motion graphics, designed to promote the timeless elegance of Waterman pens. Taking in several locations in just a few seconds, it offers a fast-paced and compelling view of the City of Lights.
You don't have to depict an actual place to take advantage of this motion graphics trend, as this example demonstrates.
Also advertising a pen – although this time it's a modern stylus that's designed for a digital notepad – the video draws on abstract objects that morph and merge. Here we see shapes, materials and textures transform and change in the blink of an eye, keeping the audience constantly guessing as to what's coming next.
It also has an element of our next trend, Liquid Motion. Our final trend for this motion graphics round-up is liquid motion – in other words – movements that are rendered on-screen to have a water-like quality and consistency. From ripples to waves, and ebbs and flows, these animations resemble 1960-style psychedelic art but with a modern twist.
Add to that an element of stretched, smeared and swirly typography, and you have a trend that aims to convince viewers that what they are actually witnessing is moving liquid. Also paying tribute to the morphing trend, take a look at this video featuring a white circle that's surrounded by elements that shift and change. The scene moves from a crystal ball to a coyote howling at a full moon to kids tackling a skate ramp – all in a few milliseconds.
Meanwhile, the blood, sweat and tears of an athlete combine in this video that's aimed at promoting healthy eating and a balanced diet. Flowing from kettlebells to boxing, this video from Dutch marketing agency Alfred achevies it's fast-paced feel thanks to liquid motion animation that morphs studio footage, illustration and a speedy demonstration of how the app actually works. Add movement and motion to your next personal or professional project with this liquid opener that features five unique transitions that splash and spray across the screen in a kaleidoscope of color. That does it for the motion graphics trends you'll be seeing this year. If this video was helpful, don't forget to like it below so we know to keep producing more content like this. And subscribe to the Envato YouTube channel to stay up to date with our latest content! Have your say and tell us what trends you'd like us to profile next in the comments below and hit the Envato blog for more trends and tips.
That's all for now but if you're keen to stick around, click the thumbnail at the top right of your screen for more trends, or hit the one at the bottom right of your screen to watch the next Envato video, selected just for you.
See you next time.
Envato: Motion Graphics Trends 2022 - Brand Design