5 Customer Service Trends Your Team Should Adopt - read the full article about Call center services, Call Center Services and Calling and answering from Nextiva on Qualified.One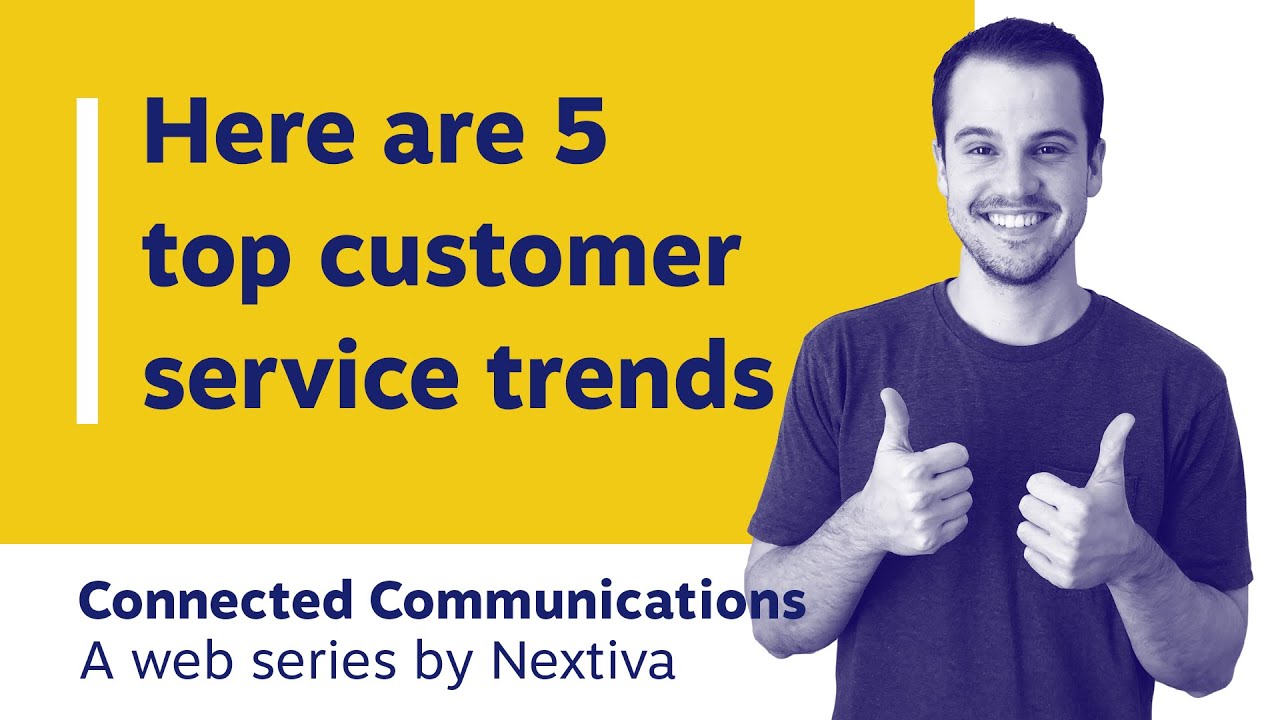 - Hey, this is Tom with Nextiva.
In this video, well talk about a few proven strategies to better your customer service and drive customer loyalty.
No matter the size of your organization, reaching out to new customers and keeping in touch with your current customers should be two of the main focuses of your team.
Theres a lot of ways you can stay on top of customer engagement, so were just gonna focus on a few tactics that have been proven to work for any size business.
One of the first trends companies are adopting today is an omni-channel approach to tracking customer information.
But what does that mean? Basically, whenever a customer contacts you in a store, over the phone, or online, your entire team has access to the same information.
This approach provides a first-class experience to all of your customers no matter how they interact with your business and puts the customer at the center of every interaction.
An example of an omni-channel communications platform is Nextiva, which manages every customer interaction in one place.
If this sounds like how youd like to operate your business, check out nextiva.com, and wed love to show you around.
Having live customer support ready to answer customer inquiries is a staple of every business.
Taking this even further is empowering your agents with in-depth knowledge of your business and services that they can offer.
But how do you do that? This is where having a CRM can come in handy, as it gives all of your agents the information they need to know and understand your customers.
A CRM can be even more valuable if youre able to integrate your cloud phone system right into it, so calls and customers can be tracked automatically In a world of automation, hearing a friendly real person is always refreshing.
So equipping your team with a cloud phone service and CRM can bring them closer to customers, especially while working remotely.
Building off of live support, adding a chat bot to your website is a quick way for your customers to reach out to someone within your company for questions.
They can also hear back instantly with predetermined answers or direct the customers to an agent that can better answer their more in-depth questions.
With this, customers no longer have to send out an email and wait to hear back.
Tools like SnapEngage, Pure Chat, and Olark are all good options to consider when looking for website chat.
However, make sure you find a chat solution that works best for your business.
We also think its important that your live chat software integrates with your CRM to better support your customer service efforts no matter how the customer contacts you.
Social media support is growing more popular every day.
Its important to note that every customer interaction is an opportunity to impress.
Make sure that youre giving your all.
Youve undoubtedly gotten business advice stating that you need to have your company on every platform, but its important to recognize where your customers are likely to contact you and focus your energy there.
If youre a small business, keep it simple.
Using Facebook Business Manager, TweetDeck by Twitter, and pay attention to the comments left by your online audience.
Engagement certainly happens when customers contact support and open a ticket, but what about other interactions, such as social media? You need to be able to jump on those too.
When a customer tags your company on Instagram, replying to them can create an unexpected yet welcomed customer experience.
People will come by your website and open a ticket with questions, but with the growing popularity of social media, many people turn toward your page for answers.
When a customer complains or reaches out through these apps, its an opportunity to personalize the response in a way that your competitors may not be doing.
Listening to your customers feedback and having the ability to act on it will help you go beyond the good and bad reviews and dig even deeper and find what caused those reviews to begin with.
If you use surveys and other methods to receive customer service data, you can do even more.
One easy way is to add a space for customers to explain why they gave you a particular answer.
Then detractors can tell you why theyre dissatisfied.
You can use that knowledge to fix problems and offer solutions.
By prompting customer feedback, you can uncover simple actions that can improve your customer experience even further.
For a more complete list of strategies you can use to keep your customers engaged in your business, be sure to visit our blog posts linked in the description below.
And if you want weekly info about connected communications, remember to subscribe to our YouTube channel and turn on notifications to stay in the loop.
Again, this is Tom with Nextiva.
Well see you next time.
Nextiva: 5 Customer Service Trends Your Team Should Adopt - Call Center Services