Answering Service FAQ - read the full article about Call center services, Call Center Services and Calling and answering from Ambs Call Center on Qualified.One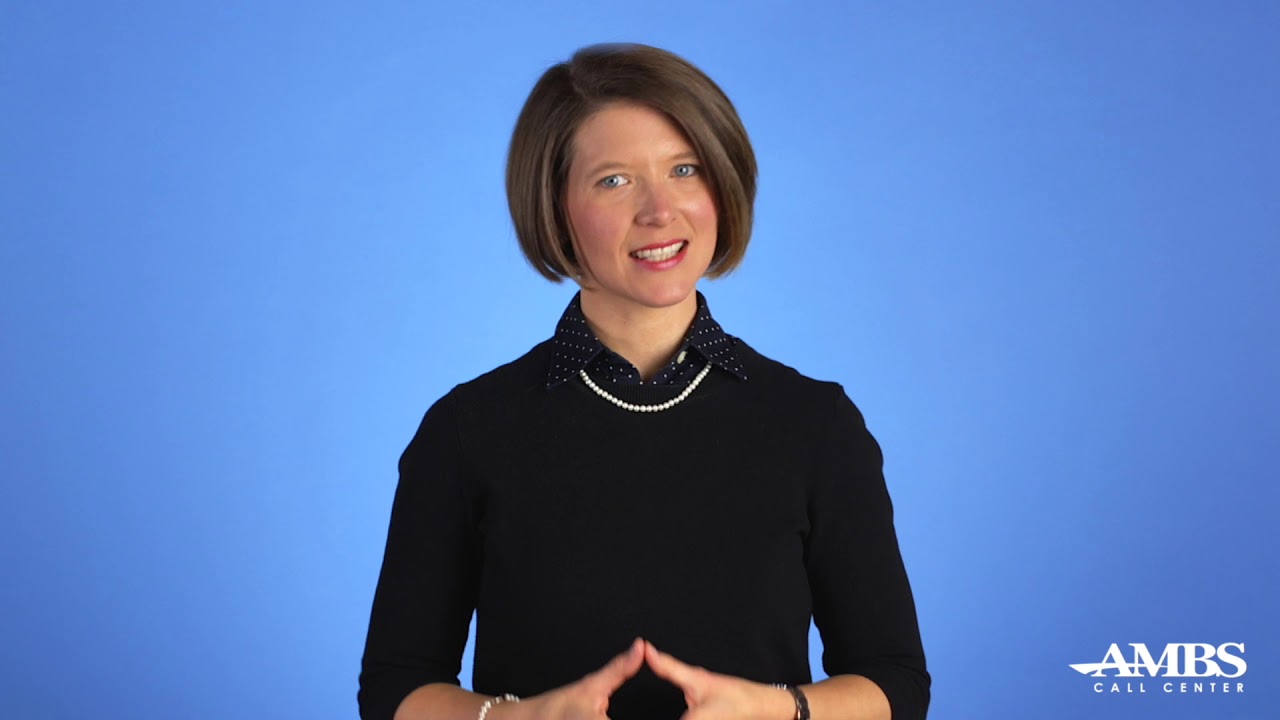 (lively pop rock music) - How long have you been in business? Our company was actually founded by my great-great-aunt, who took her first call in 1932.
Since then, we have expanded to include three locations in Jackson, Michigan, Grand Rapids, Michigan, and Tampa, Florida.
While some of our staff work securely from home, we never outsource what we do.
This means all of our calls are answered right here in the United States of America, and were HIPAA-compliant.
Our priority here is to ensure that you receive the best quality service, and that your data is secure.
- How are you different? What makes you guys so special is a question that we get asked quite often.
First and foremost, we are a family-owned and operated company, and we take your success personally.
We realize your customers experience with us is ultimately a reflection of you, so we go to great lengths to ensure that call is excellent.
One of the ways that we do this is by not outsourcing our agents.
This means that all of our calls are answered right here in the U.S., so any time your customers call, someone from our team will pick up the phone, whether theyre stationed in one of our three locations, or working from home.
We also never stop learning and improving for our customers.
That means were constantly analyzing our successes and our failures to ensure that were making strides to be better.
What it comes down to is doing the right things for the right reasons, and taking care of you, the customer.
- How do I get started? How long does it take to get going? We make getting started super easy, and this is a lot to do with the fact that we dont offer cookie cutter packages.
Instead, your plan is completely tailored to fit your needs.
This means asking, what do you need to make every call a success? You tell us the information you like us to collect, and well create a solution thats perfect for your needs.
Dont worry, were happy to share our insight based on our nearly 90 years of experience, and we will guide you through the process.
Once your service plan is in place, well conduct a brief implementation call that takes just about 15 minutes.
After this call, well get everything programmed, tested, and ready for us to begin taking your calls.
It typically takes three to five business days for your account to be ready.
However, theres no heavy lifting required from you or your team.
This is just one of the many ways we make our onboarding process as easy and painless as possible.
- Do you answer in my business name? Yes, not only do we answer in your name, we customize all aspects of how we handle your calls so theyre completely tailored to your needs.
Well take messages, schedule appointments, route calls, and make sure your customers are greeted with a friendly professional who is ready to assist 24/7.
This also means making sure we collect the necessary information from them in order to set you up for success.
As weve said before, none of our service plans are cookie cutter.
Your business is unique, and so are its needs.
Our answering service is structured to accommodate.
- How do I connect to the answering service? Well provide you with a dedicated local telephone number for you to call forward your phones to.
Our specialized software recognizes your calls using this number, and automatically displays all the information the instant a call is received.
This ensures our agents have all the information they need to answer with confidence.
- How much does telephone answering service cost? The bulk of your investment with an answering service is based on the amount of time you need us to help you.
We call this work time.
We also consider additional tools you may need to make your customer experience successful.
For example, do you need a calendar for appointment setting? Or will you need English-only support, or do you also need Spanish support? Depending on the tools and time your business requires, well inform the price of your plan, and because none of our service plans are cookie cutter, we can easily adapt to meet your unique set of needs.
Generally, you can expect your cost to be about $1 per minute.
Well even monitor your usage for the first three months that youre on service to make sure youre getting the best deal possible.
And of course, you can change your plan at any time.
- Is your answering service available 24/7? Yes, Ambs Call Center provides 24/7 telephone answering service 365 days per year, holidays included.
- How long is the contract period? Our service agreement is only 30 days.
Thats right, one month.
We want you to use our service because we provide value to you, and we dont want to lock you into something that isnt the best fit for your business.
Our average customer has been with us close to seven years.
Some of our clients have been with us for over a half century.
- How fast do you answer the phone? Answering your phones quickly is job one for us.
We answer 80% or more of our calls in three rings or less, and a very small percentage of our calls will hear a recording while they wait for the next available agent.
If they do, well work hard to ensure that that wait time is less than 60 seconds.
- Can you use my software? The short answer is maybe.
While we have a great group of people that deliver awesome results, we simply cant be experts with your software when we dont use it on a frequent and consistent basis.
A good rule of thumb is, if you expect 6,000 or more calls per month, we can look at using your software.
Otherwise, we will work with you to create a customized account within our platform, and potentially rely on using email parsing, CRM integration, posting to a web forum, or syncing with a shared calendar.
- How can I get my messages and information? Rest assured we can deliver your messages to you the way you want.
We can deliver information via regular and secure text messaging, email, web portal, CRM, fax, and even pager.
We also support real-time data integration using our API.
- We hope you found this video helpful.
Were here for you if you have any more questions.
Ambs Call Center: Answering Service FAQ - Call Center Services