What's next for Industry - read the full article about cloud technology 2021, Cloud Consulting and Data migration, Cloud infrastructure management from Microsoft Cloud on Qualified.One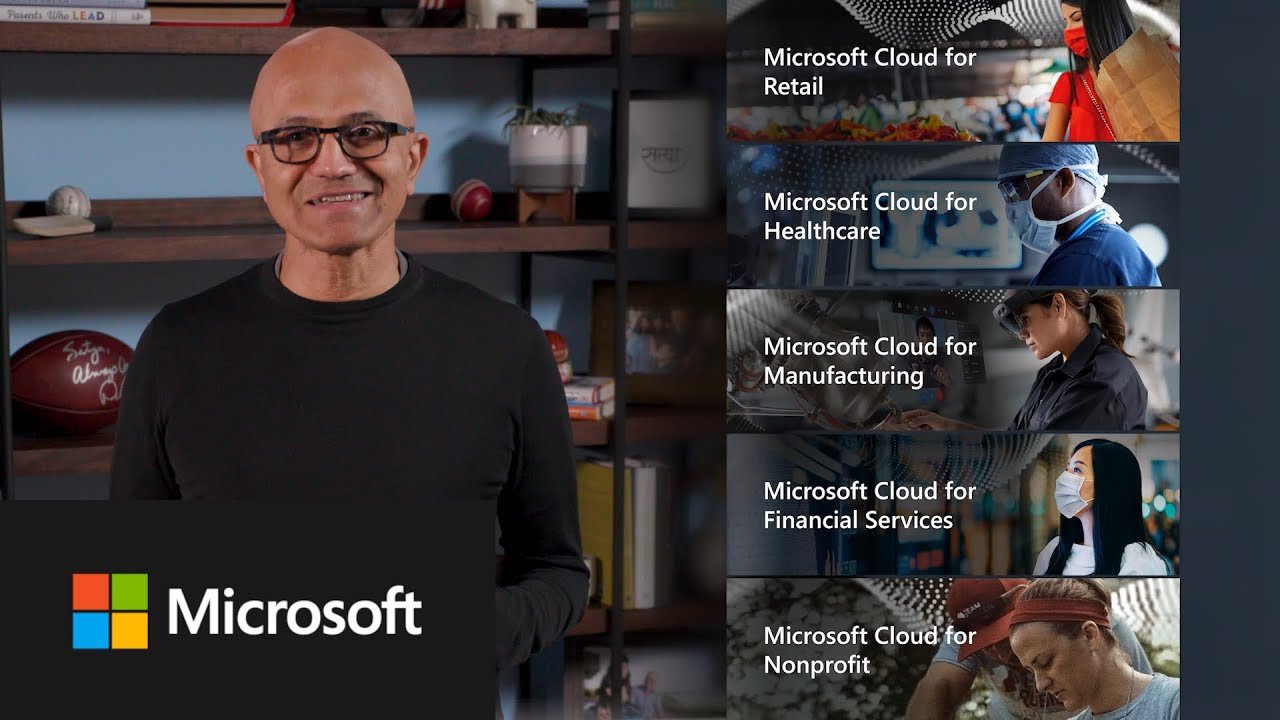 (upbeat music) Welcome and thank you for joining us today.
Over the past year, we have witnessed a second wave of digital transformation sweeping every company and every industry.
This is driving real structural change, change that will outlast the pandemic.
These shifts are affecting different companies and industries in different ways, but digital technology has universally become key to business resilience and transformation.
Today, we are going to share whats next for our approach to industry and the four principles that underlie it.
But first, lets talk about these changes that are transforming every industry today.
In retail, offline merchants are embracing new business models like contactless shopping and curbside pickup, while e-commerce has accelerated multiple years.
In healthcare, telehealth is now the expectation for outpatient visits and providers are turning to new capabilities like AI-assisted bots to ensure patients get trusted and accurate information whenever and wherever they need it.
In manufacturing, companies in every category, from discreet in automotive to agrochemicals and energy are moving to automate anywhere and simulate anything with digital twins as they work towards a future of lights out manufacturing.
In financial services, people are putting aside their physical wallets in favor of digital ones, and banks are harnessing the power of data and AI to manage risk.
And non-profits are aggregating internal and external data to better understand and respond to and anticipate community needs.
Across all these sectors, its no longer sufficient for organizations to just adopt technology.
They need to build their own technology to compete and grow.
This means investing in people and their capacity to create new solutions to meet the challenges of a rapidly changing economy.
And it requires both trust in the technology they use, and trust in the business model alignment.
We call this dynamic tech intensity.
Its never been more important to get it right.
The digital investments companies make today will define the growth and performance over the next decade.
Over the past year, weve worked closely with leaders in every industry to help them navigate the crisis, equipping them with technology and tools to accelerate that transformation.
Our deep commitment to industry is not new, but its taken on a new urgency, and we are committed to helping every organization use technology to improve time to value, increase agility, and reduce costs.
Let me share three quick examples.
Novartis is using AI to make it easier and cheaper to discover, develop, and deliver new medicines.
It typically takes 10 years and more than $2 billion to develop and bring to market a new prescription drug.
Now, Novartis is empowering its associates with AI tools at each step of the drug development process so that they can identify the insights hidden in the vast amounts of data in a quest to improve their time to value.
In financial services, BlackRock is migrating Aladdin, their portfolio management platform, to the cloud, to accelerate innovation and enhance the experience for its broad and diverse client base.
During the early days of the pandemic, the number of transactions on Aladdin increased by an order of magnitude as customers rebalanced and derisked their portfolios.
And using the cloud, BlackRock was able to quickly scale in a highly controlled and transparent way increasing its agility.
And in manufacturing, Johnson Controls is using digital twins to transform how buildings and spaces are designed, built, and managed.
For example, digital twins enable building managers to support COVID-19 safety protocols, including maximum occupancy guidelines.
And theyre able to better monitor and optimize systems and ultimately reduce costs.
All three of these businesses have used our platforms and tools to build tech intensity and overcome big challenges.
Today, we wanna share whats next and how we are working to ensure every organization in every industry has the tech intensity required to succeed going forward.
There are four key principles that guide our approach.
First, trust in business model alignment.
No customer wants to be dependent on a provider that sells them technology on one end and competes with them on the other.
Microsoft will always be a trusted advisor, a co-innovator, and a partner.
Second, customer data belongs to our customers, not to us.
We work with organizations to help them harness the data to build the predictive and analytical power required for their own competitive advantage.
Third, we recognize every industry is unique.
Our aim is to deliver solutions tailored to their specific needs.
We listen deeply to our customers and employ experts who bring industry perspective to all stages of our product development as well as our customer engagement.
We have former infantry platoon leaders and former national security council staffers working on our government and defense business.
We have mechanical engineers helping us understand what is needed to optimize machines and streamlined supply chains.
We have doctors and nurses sharing clinical requirements with us, bankers shaping our financial services solutions, and former retail and media leaders informing our approaches to those industries.
Finally, our offerings can be customized by an unmatched global ecosystem of hundreds of thousands of trusted partners.
We work with leading ISVs and system integrators so our customers have complete solutions they need to address their unique business challenges.
Today we are sharing how we are expanding our industry investments now and into the future.
Weve been delivering a cloud design specifically for the US government since 2014, and in the past year, we introduced new cloud offerings purpose-built for retail and healthcare.
Today we are building on this industry-first focus announcing new clouds for manufacturing, financial services, and non-profits.
Each offering is designed to work as one seamless solution and to enable cross-industry workflows.
For example, retailers and manufacturers can work across clouds to manage inventory and production in real time from shelf to warehouse to factory.
Our comprehensive modern tech stack along with our partner ecosystem allows us to deliver this breakthrough value to organizations.
These new industry clouds bring together the breadth of our offerings across Azure, Power Platform, Microsoft 365 and Teams, Dynamics 365 and Microsoft Security and are underpinned by a common data model.
Weve also added new capabilities, customizations and standards unique to each industry.
For example, in retail, our cloud connects physical and digital experiences to better serve customers in new and more personalized ways, getting them to the goods they want where, when, and how they want them.
In manufacturing, our cloud ensures the safety of frontline workers and creates more resilient and agile factories and supply chains so companies can rapidly respond to changes in demand.
In financial services, institutions can modernize core banking services like payments, manage risk throughout the organization, and create new innovative financial service models.
And non-profits, too often underserved, will be able to optimize common workflows so that they can focus on the work that matters the most, achieving their mission.
Our industry clouds are designed to be modular and extensible so organizations can start with what they need today and adapt as they grow.
They also create opportunities for our partners to build new revenue stream across the value chain.
Our industry clouds will enable businesses to make faster and more intelligent decisions, ultimately providing better experiences for their customers and employees.
And they will help organizations improve time to value, lower costs, and increase agility.
I look forward to seeing how customers in every industry use these capabilities to transform their organization and expand their impact.
With that, let me hand it over to Alysa Taylor who leads our industry business to share more.
Thank you all very much.
- Thank you, Satya.
As weve all seen over the past year, organizations in every industry are grappling with one simple fact, they must adapt quickly to a completely new reality and that new reality for every industry is different.
Therefore, customers have told us that the cloud services we offer must be tailored to the needs and challenges of their specific industry.
And thats why were here today to talk about the vertical offerings weve invested in to accelerate our customers time to value.
We are so proud to announce three new industry specific offerings: the Microsoft Cloud for Financial Services, the Microsoft Cloud for Manufacturing, and the Microsoft Cloud for Nonprofit.
These cloud offerings join the Microsoft Cloud for Healthcare released to general availability in October of 2020 and the Microsoft Cloud for Retail that was announced in January and is currently in private preview.
Each of these offerings are designed to work as one, bringing together the breadth of our solutions along with new capabilities, customizations, and standards tailored specifically for each industry.
So building off all of this, lets go a bit deeper on each one of these industry clouds and what todays announcements mean for our customers and our partners broadly.
Were here in Microsofts Industry Experience Center to show you how we can bring industry solutions to life.
And while the facility is currently closed to in-person visitors, you can connect with us virtually to see these demos and more in action.
We cant wait until we can see you here in person.
Lets start with financial services.
We are incredibly excited to announce the Microsoft Cloud for Financial Services, which empowers financial institutions to accelerate innovation for sustainable growth while meeting the strict compliance requirements of this highly regulated industry.
Before 2020, one of the biggest challenges financial institutions faced was meeting customers always open expectations.
The global lockdown turned that desire into a requirement almost overnight.
In a post-pandemic world, customers will still expect financial services at their fingertips 24 hours a day with the same level of security as a physical vault.
The Microsoft Cloud for Financial Services enables financial services institutions to modernize core banking services like payments, manage risks across the organization, enable new and differentiated services, and create a greener financial services model overall.
An example of this is how lenders will be able to use the loan manager capability to speed the time to close loans by removing blockers and streamlining workflows through automation and collaboration.
The public preview of the Microsoft Cloud for Financial Services will be available in March and already customers like ABN AMRO are leveraging services that comprise the cloud to adapt to the ever-changing world of financial services.
Lets move to manufacturing.
For years, manufacturers have been moving into an era of data-driven automation, IOT, machine learning and artificial intelligence.
In 2020, we learned just how critical those capabilities are for manufacturers and suppliers alike.
Even the most sophisticated just-in-time supply chains werent ready for the sudden increase in global demand.
With the Microsoft Cloud for Manufacturing launching and public preview in June, we will enable manufacturers to re-imagine their operations to build more agile factories and more resilient supply chains.
While some manufacturers may be adopting cloud technology by necessity, theyre quickly gaining confidence in its benefits.
Let me give you an example.
The UK ventilator challenge.
This project brought together more than 30 of the United Kingdoms largest companies with cutting-edge technology to increase peak output from 50 ventilators per week to 1,500 per week.
Thats 20 years of normal production in just 12 weeks.
Nonprofit organizations have been critical in the global response to COVID-19 but many are facing a patchwork of disparate systems and pockets of data from across their organization that hamper their ability to serve their communities and their donors.
The Microsoft Cloud for Nonprofit launching in public preview in June creates a connected, intelligent platform so staff and volunteers can focus on the work that matters most, their mission.
Take a scenario like fundraising, which is critical to every nonprofit on the planet, with a Microsoft Cloud for Nonprofit, these organizations can create a comprehensive view of constituents and automate manual tasks for more efficient and effective fundraising.
This allows donors to know exactly how their donations are making an impact.
Right to Play is a global NGO dedicated to protecting, educating and empowering children, to rise above adversity using the power of play.
With the capabilities of the Microsoft Cloud for Nonprofit, the organization has scaled from 100 to more than 3,000 new monthly donors, deepening engagements and building better programs to serve more than two million children around the world every week.
In May, 2020, we announced the Microsoft Cloud for Healthcare, even as the pandemic continued to test the capabilities of healthcare organizations around the world.
With the explosion of virtual care appointments and the cloud adoption required to support them, data generation will continue to skyrocket in the healthcare industry.
Healthcare organizations need a way to manage, secure, and responsibly use that data to help patients, providers and payers, and to make the system more resilient against any challenges ahead.
The Microsoft Cloud for Healthcare was made generally available in October, 2020 and customers like Providence and Mary Washington Health System are already seeing the impact it can have on the healthcare system.
Mary Washington is deploying a solution that connects providers with patients who have canceled or deferred elective procedures, reaching those patients digitally and helping them take control of their care.
Today, were excited to announce the first set of updates to this cloud offering available in April.
This will include seven new features as well as support for eight new languages in addition to English.
Lets close with the Microsoft Cloud for Retail, which we announced at the National Retail Federation earlier this year.
This cloud offering is so important because retail has fundamentally changed forever.
The shift to e-commerce happened almost overnight with retailers seeing years of e-commerce growth in just a few months.
That results in an explosion of customer data and more money than ever being spent online.
Customers are increasingly choosing contactless payment options or curbside pickup, and retailers must meet those demands.
The Microsoft Cloud for Retail is uniquely designed to connect physical and digital experiences to serve customers in new ways and help retailers more deeply understand their business.
With capabilities like multi-channel fulfillment, retailers can streamline shipping options, deliver efficient curbside pickup, manage time slots and orders, and simplify payment processing.
We are already seeing interest from retail organizations, large and small.
And in March, we will launch the public preview of this cloud offering.
(light music) The innovation Ive highlighted is just the beginning of our journey to build industry-specific digital capabilities that are mission critical for every organization to adapt to a constantly changing new reality.
And this is core to our mission to empower people to achieve more.
Every organization in every industry relies on the hard work and ingenuity of individuals to achieve its goals.
With our industry-first approach, we are putting specific solutions in the hands of people closest to the problem.
This helps the organizations we partner with to act faster and make more intelligent decisions and ultimately provide better experiences.
Secondly, our industry approach proves the power of partnership.
Our partner ecosystem is unmatched in its ability to add value for our customers.
Microsoft partners extend the capabilities of these industry clouds with their unique expertise and offer tailored high value solutions.
Lastly, I want to highlight our deep commitment to security and compliance.
Our industry clouds have security compliance and identity built in, incorporating industry-recognized standards from Edge to cloud.
Organizations are counting on us at Microsoft to help them adapt to this constantly changing world, and that is our commitment.
We are dedicated to helping our customers across every industry master the complexity so they can be agile, build resilience, and ultimately succeed.
I hope you will join us at Microsoft Ignite on March 2nd to learn more about these announcements and to find out how you can join the preview programs for these cloud offerings.
Thank you so much.
Microsoft Cloud: What's next for Industry - Cloud Consulting