To create digital art you definitely need a proper workstation. Here is our list of the best laptops for artist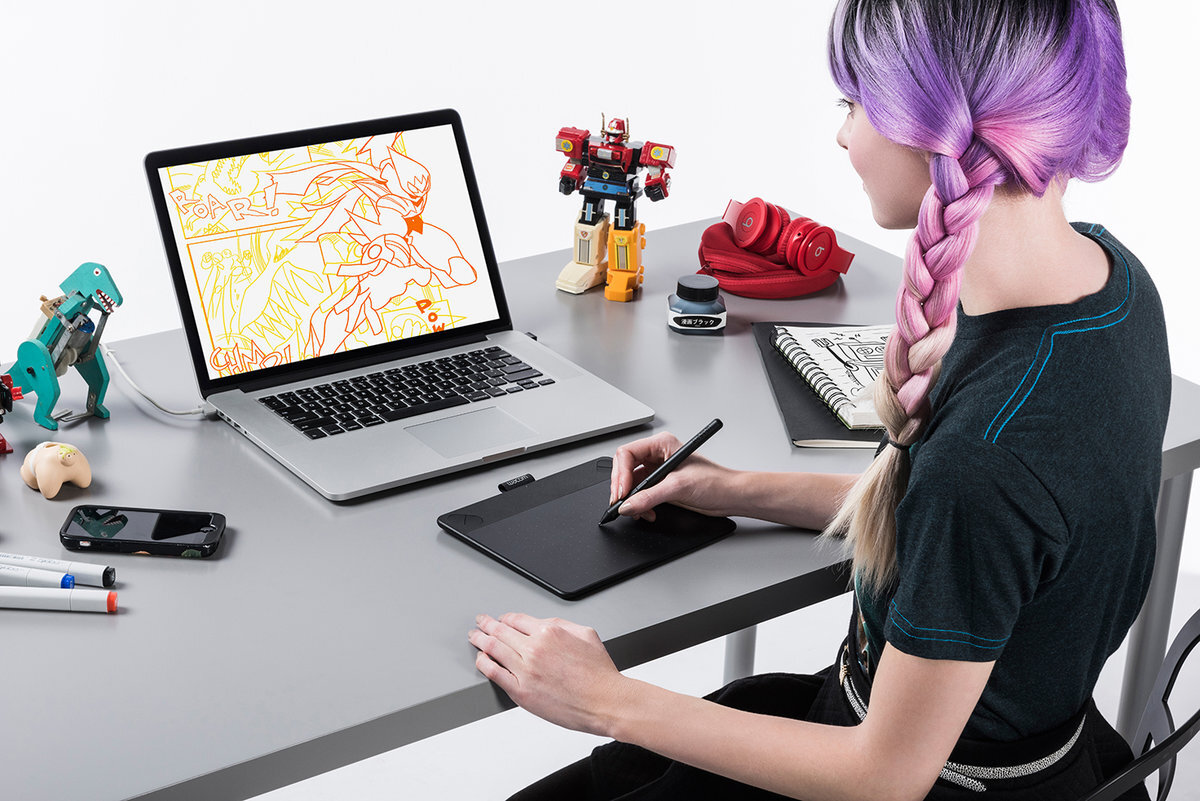 Yes, there are many computers available at very low prices, and they are generally good for most uses - binge-watching, surfing the Internet, playing most games, and using basic programs such as word processors.
But artists need more from their computers. We need fast processors, good memory and bright, high-resolution screens with excellent color fidelity.
And something else: durability and reliability. Artists are not necessarily rougher than normal people or clumsy or clumsy on their computers - maybe the opposite is the case. But we tend to fall in love with our tools, and when we get a good laptop computer that works really well for us and supports and even encourages our creativity, we will start using it more and more and want it to last forever.
| Laptop | Pros | Cons | Price | Buy |
| --- | --- | --- | --- | --- |
| ASUS ZenBook Pro Duo UX581 15.6" | Two screens | Expensive; Non-standard screen #2 | 2000$—$2500 | Check on Amazon |
| Apple MacBook Pro 16-inch | Perfect style and performance | Expensive | 2700$—$3500 | Check on Amazon |
| Lenovo Flex 5 14" 2-in-1 Laptop | Cheap; Display colors | Not bright enough | $500—$800 | Check on Amazon |
| Microsoft Surface Laptop 3 – 15" Touch-Screen | Perfect display and touchpad | 3:2 screen ratio | $900—$1200 | Check on Amazon |
| Microsoft Surface Laptop Go - 12.4" Touchscreen | Cheap | Performance not that good | $600—$900 | Check on Amazon |
| HP Envy x360 Touchscreen 2 in 1 15.6" | Transformer, design | Performance not that good | $1000—$1300 | Check on Amazon |
| Apple MacBook Air 13-Inch with M1 Chip | Light, powerful, long battery life | Not really | $900—$1200 | Check on Amazon |
Desired specifications
We all know that performance is extremely important to an artist's computer, and the lack of performance often drives a working artist crazy - and can even frustrate and block creativity.
8 GB of RAM – 16-32 GB recommended
256 GB Storage – preferably 512 GB+
HD Display – Full HD or 4K as an advantage
A powerful latest gen CPU and graphics co-processor
Laptop or tablet?
Many people want to have some sort of tablet, or even a phablet (I love new words!), So they can work directly on the screen - draw or paint, touch up, stuff like that - and then end up trying to do everything else on it as well. it.
But an artist - and a professional artist in particular - will also have to use their computer for administrative tasks and for many other jobs, and no matter how proficient you are with thumb typing, this can get a little frustrating on a tablet.
ASUS ZenBook Pro Duo UX581 15.6"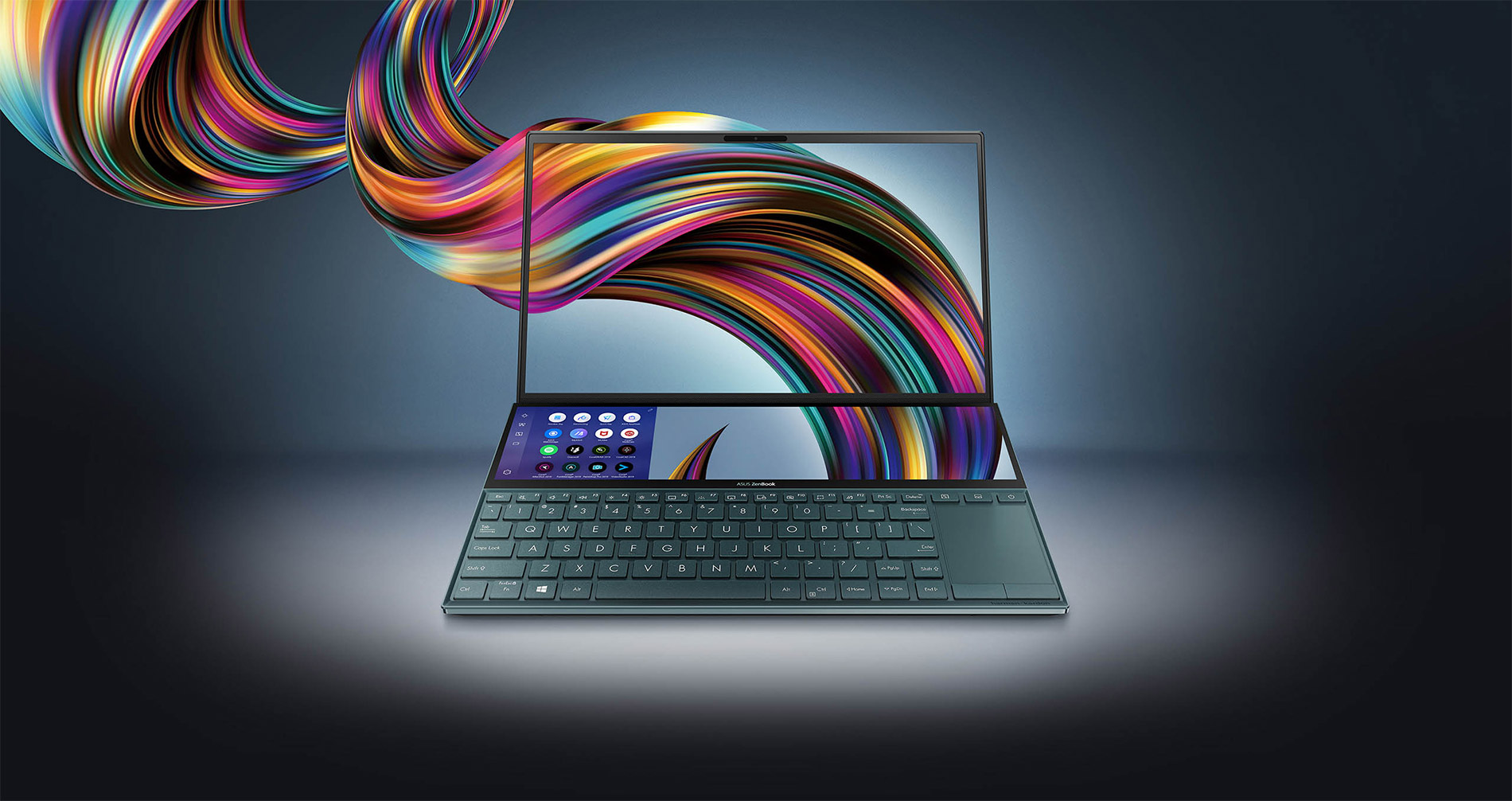 The newly announced ZenBook Pro Duo UX581GV is the flagship laptop of the premium line of Asus. This is not a top-end gaming solution ("only" a discrete Nvidia GeForce RTX 2060 graphics card is installed here), but all the other characteristics are of the highest class: Intel Core i7-9750H processor or faster, OLED 4K display, NVMe SSD for 1 TB, Wi-Fi 6, etc — which makes it one of the best laptops for artists.
A chic appearance and a stand with a stylus in the kit are complemented by a number of innovative features, including a completely redesigned work surface — with an offset keyboard, a touchpad-nampad and a touch screen ScreenPad Plus.
We will not pretend that the main thing in this laptop is the installed processor or battery capacity. Obviously, a model with the same characteristics, but without an additional screen, will be much cheaper, and therefore you need to take the model in question only if you see the benefits of ScreenPad Plus for yourself. So let's immediately figure out what kind of benefit it can be.
In general, the idea of using more than one screen in a device is not new, and today you will not surprise anyone with a workplace with two monitors connected to the same computer (including, characteristically, to the same laptop). The problems begin at the moment when the manufacturer decides to make at least one of the displays non-standard. In the summary table of the characteristics of such a device, a bold question mark immediately appears opposite the entry "software support".
Apple MacBook Pro 16-inch
In mid-November 2019, Apple introduced a long-awaited novelty - the 16-inch MacBook Pro. Rumors about it have been going around since the summer, and now, finally, the device has gone on sale. Special attention to it is natural.
Firstly, Apple is using such a screen diagonal for the first time: until now, the largest model in the laptop line was a 15-inch, and even earlier, up to 2012, it was possible to buy a 17-inch "firmware". But there was never 16 inches.
And secondly, it is not only the largest to date, but also the most powerful MacBook Pro: there is an Intel Core i9 processor and discrete graphics, which is not present in 13-inch models.
So, the basis of the laptop that came to us for the test is an eight-core Intel Core i9-9880H (Coffee Lake) processor, made according to the 14 nm process technology. This processor has a base clock frequency of 2.3 GHz, in Turbo Boost mode the frequency can be increased up to 4.8 GHz. The size of its L3 cache is 16 MB, and the estimated maximum power is 45 watts. The Intel UHD Graphic 630 graphics core is integrated into the processor, but all 16-inch laptops also have discrete graphics: AMD Radeon Pro 5500M.
By the way, in size it is just a little more than a 15-inch model. In practice, this means that although the novelty will not fit into the leather case for the MacBook Pro 15" (we checked), but in the same bags and briefcases where you are used to carrying your laptop for artists, it will most likely fit without problems.
Another key innovation is the changed keyboard. As we remember, a few years ago Apple introduced a new keystroke mechanism: "butterfly" instead of the usual "scissors". At the same time, the keys themselves have become much lower, with almost no stroke, and pressing is more elastic, with a characteristic sound, resembling chirping when printing quickly. The innovation caused an ambiguous reaction from users, and, moreover, over time, some keys could not start working quite correctly — they seem to be typing, but the feeling when pressed is different than it should be. Probably, the reason for this could be some kind of external dust that got inside and interfered with the operation of the mechanism.
Lenovo Flex 5 14" 2-in-1 Laptop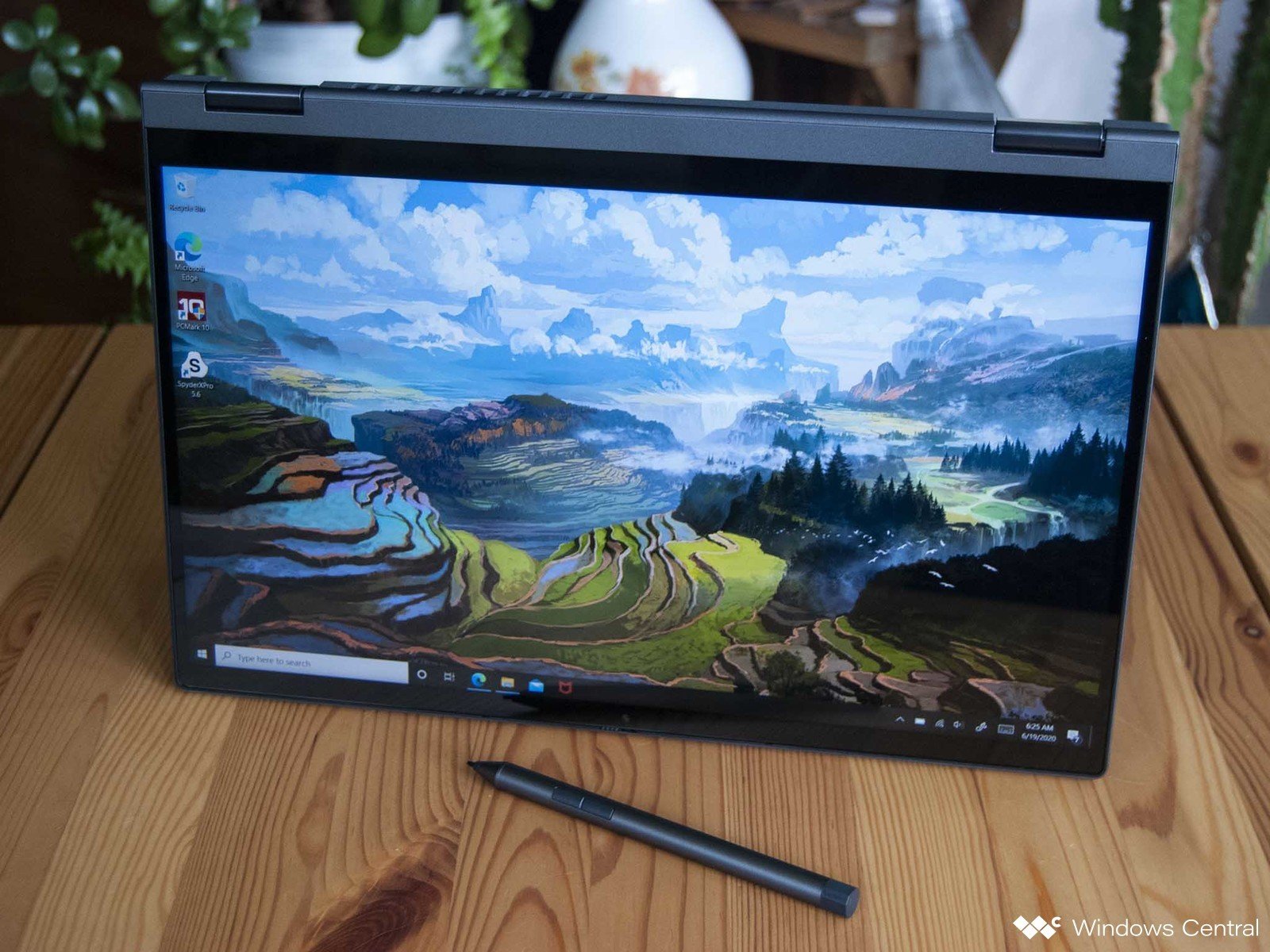 When working with IdeaPad Flex 5, I was very pleased to note similar design and technical solutions, equally successful for both gaming and work laptops.
Of course, not everything is perfect here and some things could have been done better, but in general Lenovo keeps the brand reputation and compensates for the lag in some areas with an advantage in others.
The first thing that captured my heart was an absolutely incredible color. Officially, it is called Light Teal - a noble turquoise color with a pleasant to the touch matte finish on the case with a keyboard and a light mother-of-pearl gloss on the lid with a display.
Fingerprints of the surface practically do not cling. Charcoal gray and platinum gray colors are also available. I don't know how much I would like the gray version live, but turquoise is simply out of competition.
The laptop screen, even if it cannot boast of a sky-high resolution, but the picture shows quite a good one.
This is a glossy 14-inch Full HD display with an IPS matrix with a brightness of 250 nits and 45 percent coverage of the NTSC color space. In some configurations, a TN matrix is used, it has a slightly lower brightness - 220 nits – and all the disadvantages arising from the technology related to color rendering and viewing angles, but such models are cheaper.
Microsoft Surface Laptop 3 – 15" Touch-Screen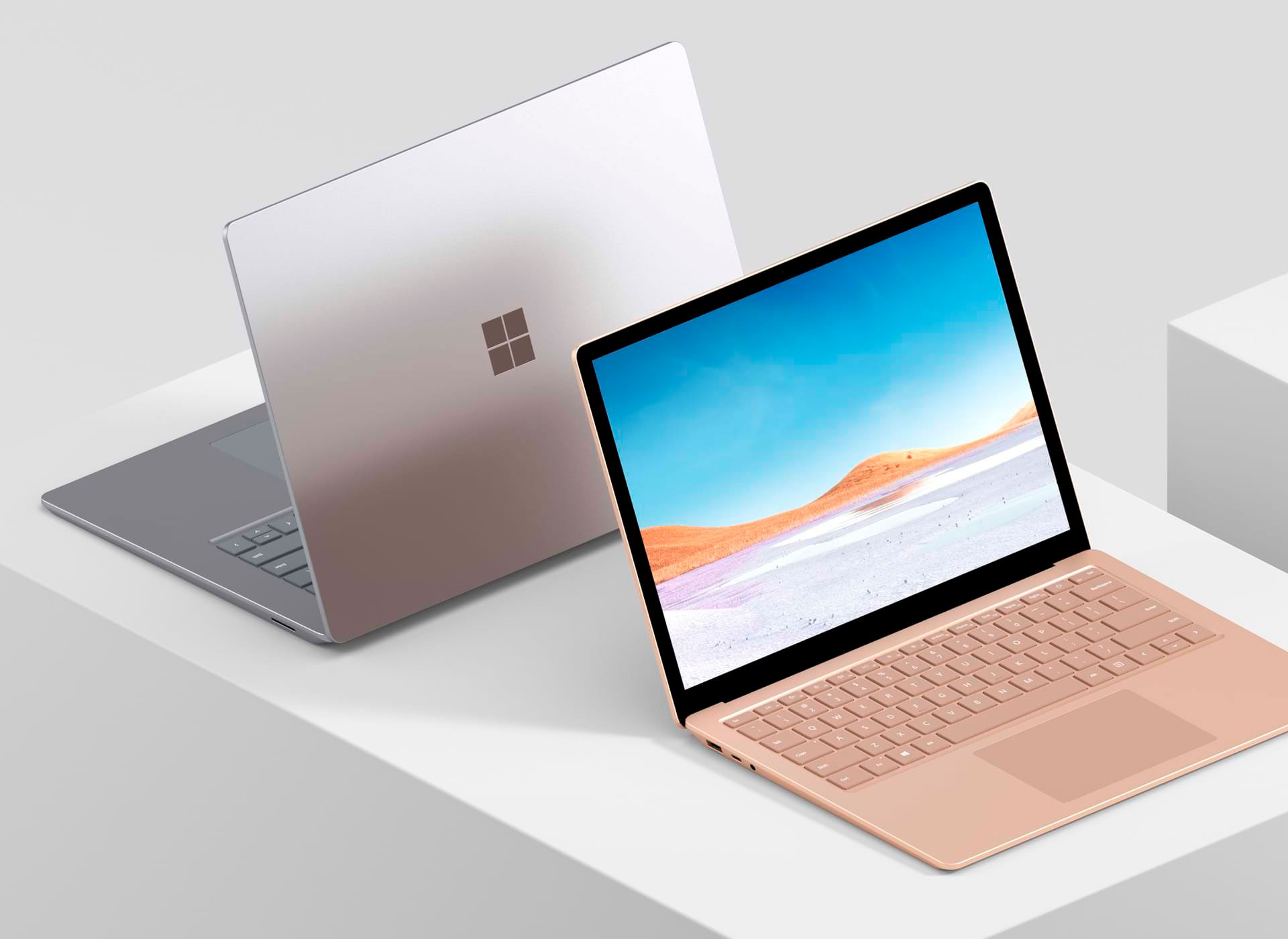 This laptop is actually a MacBook in the world of Windows laptops and has the same advantages, but there are a couple of additional features-Surface features.
Firstly, this is almost the only laptop for artists on the market right now with a screen in a ratio of 3:2. For the sake of this one chip, you can safely take a laptop, especially if typing in Word takes a considerable place among your daily tasks, scrolling through tapes in social networks. social networks, active surfing on the Internet (browsing websites, reading articles, etc.), programming. The screen really accommodates 30 percent more content than screens of the same diagonal in the 16:9 format, and after it it is simply inconvenient and even unpleasant to work with 16:9 laptops.
Of course, there are disadvantages to this ratio - in YouTube, a picture with two black stripes, which is not critical at all, in some games you have to rearrange the resolution - in stock it is compressed and slightly distorted. Nevertheless, it is enough just to spend a day with this screen to understand that it is just a must-have for all the "workhorses" in our time. The same plus includes excellent picture quality with full sRGB coverage and excellent min/max brightness levels and viewing angles. Moreover, it is touch-sensitive, which is convenient while scrolling through documents lying on the bed and when it is difficult to reach the touchpad with your hand.
Secondly, the speed of Windows and the touchpad. This is the fastest and most Windows-optimized laptop I've worked with, which is not surprising, considering that it is "from Windows". Separately, I would like to say about the touchpad - the best that could be put in a laptop, not counting, of course, the trackpad in macbooks. The touchpad is the second ultimate feature for me after the screen, for which you can take this laptop.
The perfect accuracy and speed of the pointer and the right click in combination with the keyboard, which the reviewers are fighting with Dell XPS 13 for leadership in terms of typing. It's really a pleasure to work with them, we have 30 pages of the course and a lot of work done.
Microsoft Surface Laptop Go - 12.4" Touchscreen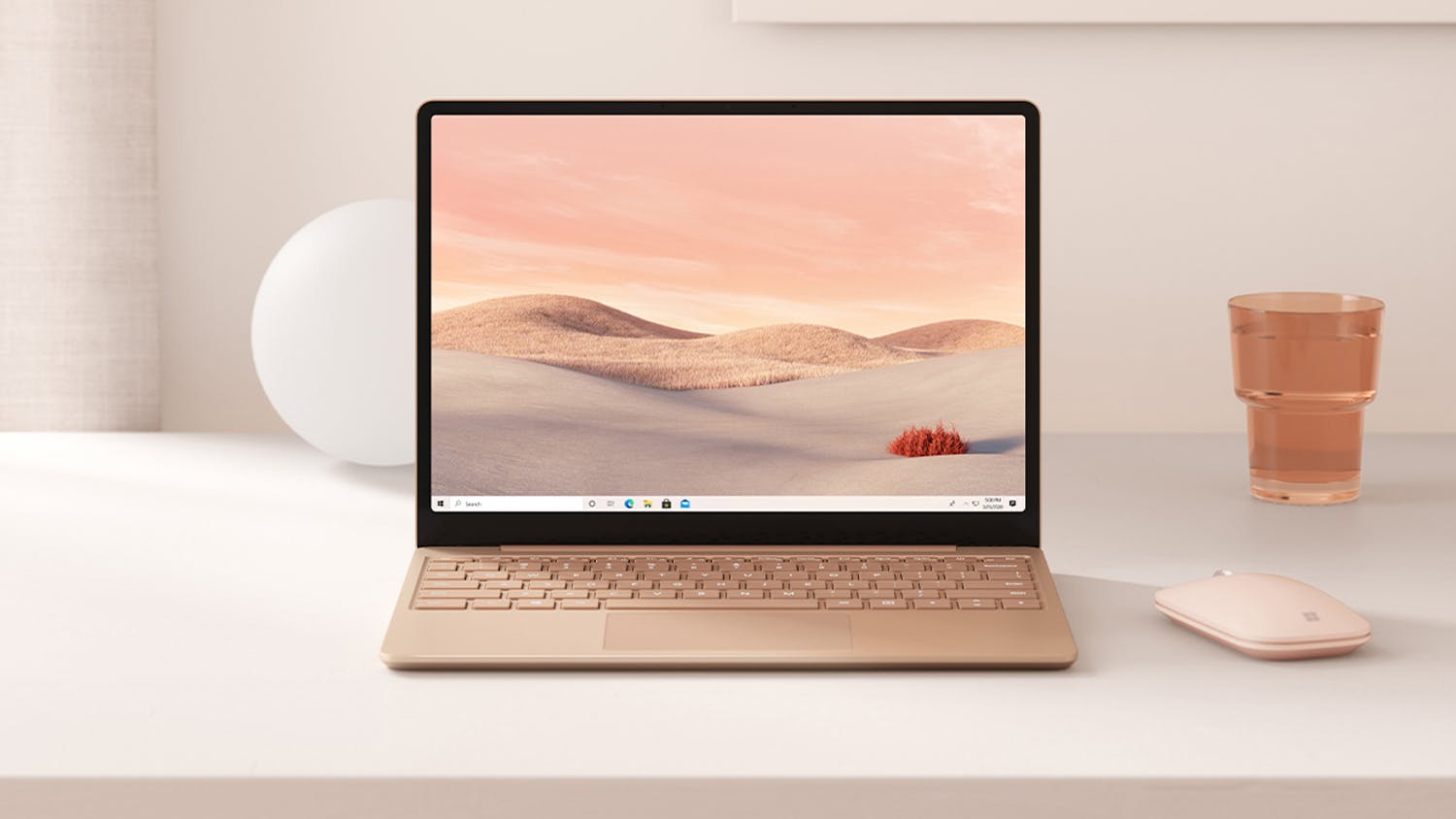 Microsoft is consistently expanding the Surface model range and wants to capture all price segments, including budget. The game of inexpensive Windows laptops is not new for Microsoft partners, you can find dozens of different configurations from dozens of manufacturers on the market.
The lower the price, the higher the chances of selling such devices, but at the same time the speed of their operation decreases, and compromises have to be made. Usually manufacturers sacrifice design, housing materials in order to achieve an optimal price/quality ratio.
Microsoft decided to give their reading of such machines, but focusing on the design and materials of the case. This is a very interesting approach, as it turned out to be a cross between a traditional Surface line computer and a budget model, this is a rare case of a premium budget laptop.
I know that it sounds very strange, even to some extent unusual. But the fact remains, this positioning most accurately describes Laptop Go. It's no secret that many people need a typewriter on which they can type texts, read pages on the Internet, occasionally watch videos, and then, most likely, for educational purposes. There is a temptation to call Laptop Go the reading of a machine for education like chromebooks, but this is not quite true.
Of course, Laptop Go can perform all the tasks that are usually inherent in chromebooks, but it's not really a device for the education system, it costs more. Rather, here we are talking about a laptop with a good, catchy design, a small size (diagonal 12 inches), ideal for schoolchildren and students, as well as for those who are looking for a compact laptop with a decent design.
This is probably the best laptop for artist; to a lesser extent for entertainment, it will not work out to play video games here.
HP Envy x360 Touchscreen 2 in 1 15.6"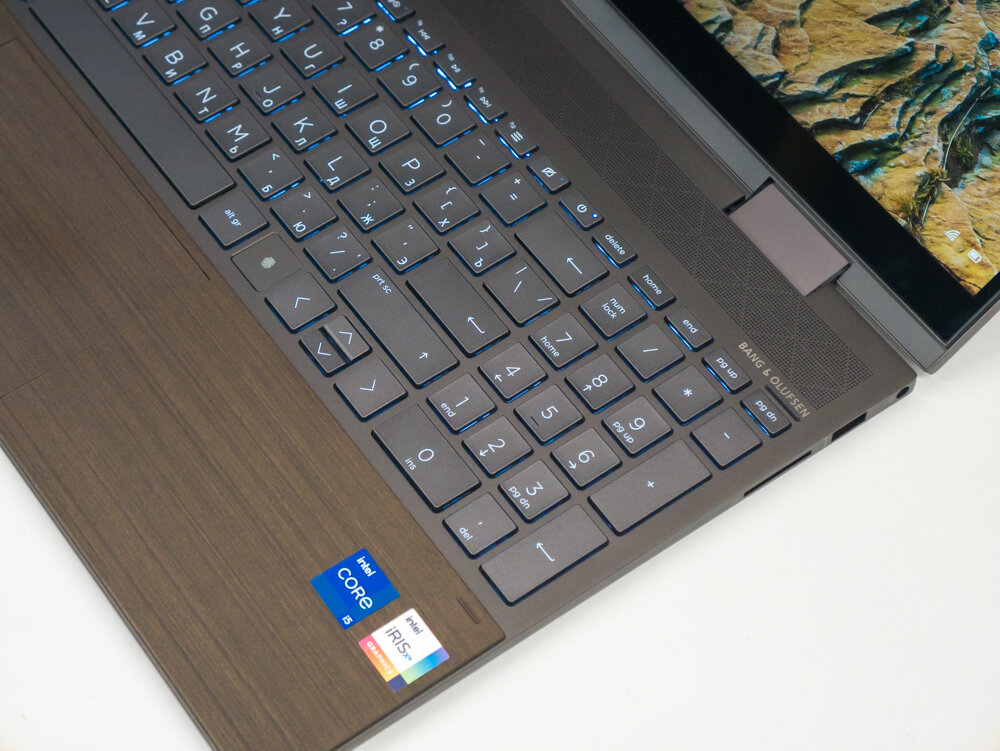 Transformer laptops for artists are widely represented on the market, and if the available models offer an exceptionally entertaining form factor, the more expensive "shifters" have a good screen, premium case materials, stylish design and decent performance.
Unfortunately, it is quite difficult to find a transformer that combines all the above advantages and at the same time is offered at an adequate price. But one day I got my hands on the HP Envy x360 13, which can be safely called almost the best device in its segment.
The laptop case is full of HP-style design solutions. You need to start with the working panel, which is decorated with walnut wood. It looks unusual, fresh and evokes associations with the technique of the late seventies or early eighties.
Finally, there are features of the keyboard. I have already managed to get used to the non-standard location of the power button and the fact that the right Shift and PrtSc are the same key, but why are there no keys on the sides for using the computer in tablet mode?
HP Envy x360 15 is a good laptop transformer for use in simple work with documents and consumption of multimedia content. Yes, he is very different from his competitors, which at the same time causes bewilderment and, surprisingly, keen interest. The laptop definitely has personality.
Apple MacBook Air 13-Inch with M1 Chip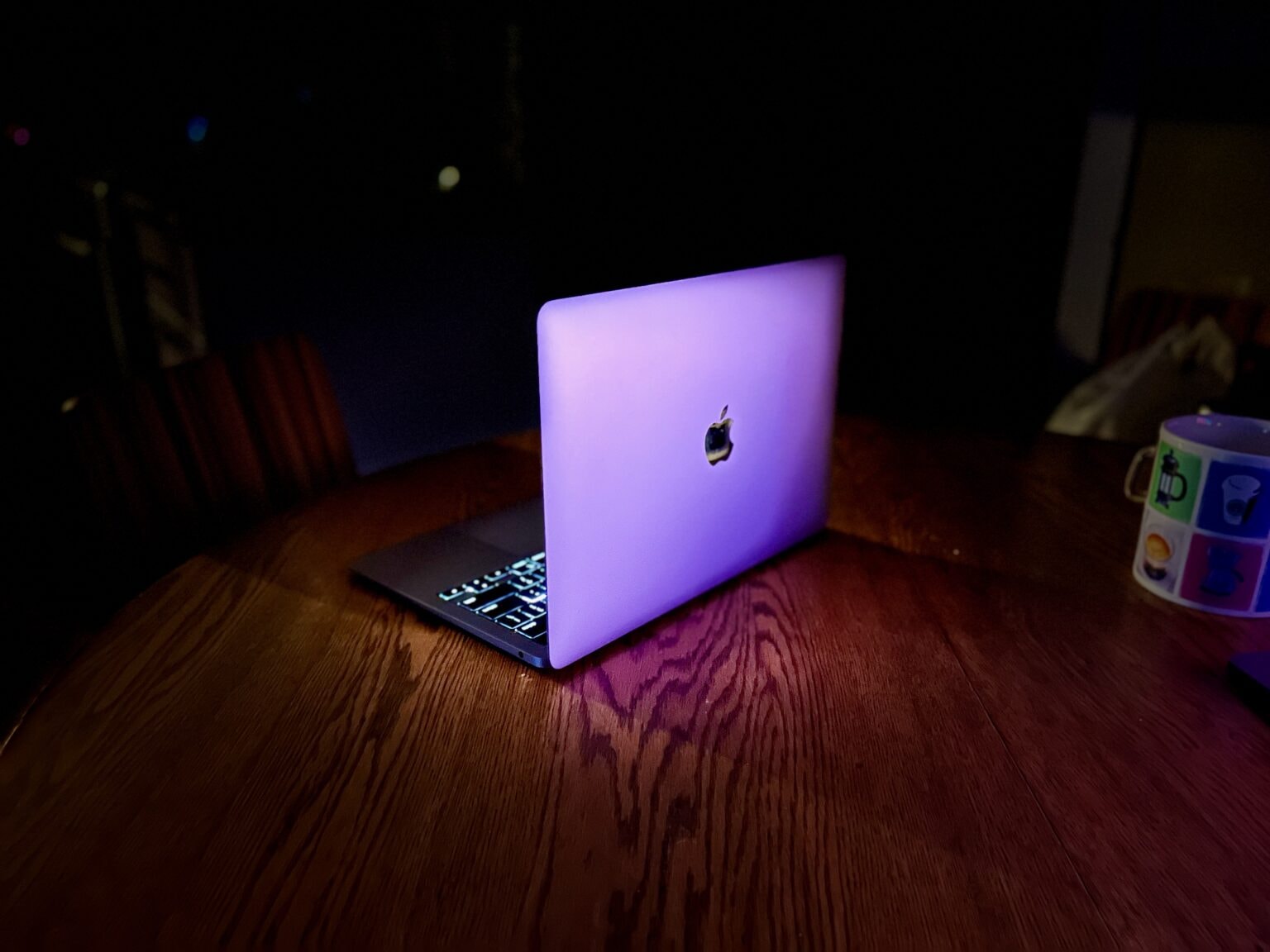 Apple's MacBook Air laptops have always been famous for their highest quality, but grandiose changes have rarely occurred here. However, everything changed with the release of the M1 processor from Apple. Thus, the power of the new Apple MacBook Air M1 ultrabook (2020) has reached a new level.
Released in early 2020, the MacBook Air model differed little from the previous one, except for the keyboard, because the feature of Air laptops has always been not performance, but price and dimensions. Along with a major upgrade of the operating system to the Big Sur version, the Cupertino company abandoned Intel processors in favor of its own Apple M1.
The new ultraportable MacBook Air M1 is a perfect laptop for artist, which was released together with the 13-inch MacBook Pro and Mac mini, which also run on the M1 processor. Each of these models has become impressive, but the Air is especially good. In terms of price and quality, this is the best MacBook to date. If we also take into account almost 30 hours of battery life and excellent build quality, the model claims to be the laptop of the year.
How to Choose the Best Laptop for an Artist
Resolution
Full HD (or FHD) resolution means 1920 x 1080. Ultra HD (or UHD) 4K means 3840 x 2160. UHD 8K means a staggering 7680 x 4320. Here is a diagram to help you visualize it.
It probably goes without saying that a high resolution screen offers more detail. But the best laptops for artists also take contrast into account so that colors and details are as vivid and sharp as possible. Speaking of colors, resolution isn't all there is.
Brightness
The light is direct. If you mainly work outdoors, you will need an art computer with high brightness. This is where the nits come into place. A 500 nit panel will be brighter than a typical 200 nit laptop panel.
Accurate color reproduction
One way to determine color accuracy in the best laptops for artists is with color gamut, or the measurement of how many colors can be represented on a display.
Here's the rule of thumb you should remember: the greater the range of colors, the more colors are represented. If more colors are represented, the richer and more saturated colors you will get.
A 100% color gamut panel is the best available in your PC display. It comes closest to what our eyes can see for themselves.
Screen size
Artists who draw a lot feel more comfortable with a large screen. They prefer it because it allows them to see the design in its entirety.
It is also easier to draw on larger screens. But of course you pay more to get more (space). They are also often heavier. So that's another thing to think about.
Fortunately, the best artist laptops come in a variety of screen sizes with otherwise identical specs. This way you can find your laptop first and then choose the screen size later.
We've also made sure that everything on this list of best artist laptops has at least one other size available.
What kind of display do you need
A high-quality display is very important feature of the laptops for artist who typically works a lot with images. In modern laptops, there are not just "good screens", but truly professional matrices.
For example, NVIDIA RTX STUDIO certified laptops are required to have a factory calibrated display with high color fidelity and full coverage of standard color spaces. Certified RTX STUDIO models are available from all laptop manufacturers.
Another equally important characteristic of a laptop is the number and variety of external interfaces. Today, many manufacturers refuse built-in SD-card readers. The number of free USB ports, as well as the presence of HDMI or Type-C connectors for connecting external displays, should be considered with a margin.
RAM
Memory is another thing people pay attention to because it's another component that affects performance. It is used from startup to store information and history in the operating system and graphics program. If you're wondering how much RAM you need for digital art, 8GB of RAM is the bare minimum for working with graphics. You'll have a better experience with more, but 8GB is enough for basic edits in Adobe Lightroom.
If you're using the latest Creative Cloud apps, it's even better if you go for 16GB. If you edit 4K videos every day, even that may not be enough.
Imagine RAM as your CPU's executive assistant. Spacious RAM, even if not the fastest, can give your CPU easy access to the information it needs to access and run programs.
CPU
Think of the processor as the engine of your very best laptop for artist that processes information and instructions.
How does this manifest itself in real life? To name a few, you see it as the speed at which your laptop starts programs, uploads and downloads files.
Look at them when evaluating processor performance:
Bandwidth
Clock frequency
Number of Cores
Take the Intel Core processor family, for example. There are 3 processor tiers in this family, which they call i3, i5, i7 and i9. These levels differ in features or the amount of a particular feature, such as cache size. Basically, the higher the number, the more functional the processor is.
Not everyone wants the most expensive and powerful processor with the most advanced features. You are probably already tired of hearing this, but it really depends on what you need.
What should be the processor
The optimal choice for graphics work is a modern CPU with six or eight cores. This is an Intel Core 10th or 11th generation, AMD Ryzen 5000 series.
Graphic card
A competitive graphics card is essential for the laptop for artists. Save on anything else, but not on this one. The best laptop for artists doesn't necessarily need a dedicated graphics card. Graphics performance is most important for graphic design.
But it's worth saying this. Some creative programs work best when using a DEDICATED GRAPHICS PROCESSING UNIT (GPU). Specifically, the ones you use for animation, video rendering, and other high-resolution digital artwork. A GPU is also useful when applying certain filters in Photoshop, such as warp.
What video card do you need
A good video card is the key to fast and efficient work.
I recommend choosing GeForce RTX graphics cards. The graphics processor of the RTX line of cards is equipped with dedicated cores: tensor cores for AI computing and RT cores for ray tracing. Now such cores are needed more than ever: various artificial intelligence algorithms based on neural networks are increasingly being used in applications. All new tools are perfectly accelerated on RTX GPUs.
Over 70 imaging, video and 3D applications are currently accelerated on RTX family graphics cards. Accelerated neural networks are used to automatically crop, track objects, fill in distant fragments, increase resolution, increase frame rate, remove lighting from photos. Path tracing is used for rendering, designing and baking assets. Acceleration of these operations and many others often reaches 10 times.
To work with content, NVIDIA has released a special version of the STUDIO drivers - they keep track of updates to applications for working with content and ensure a stable workflow. Their code is carefully checked for errors and optimized for better compatibility with a set of professional software.
The choice of a specific GPU depends on the workloads. To work with photos in Adobe Photoshop or Lightroom, an NVIDIA GeForce RTX 3060-level video card will be enough.
To work with video, including 4K HDR, RTX 3060 and above are suitable. Most modern tools use neural networks, so more tensor cores in higher maps make them faster.
For working with 3D, as well as editing video in 8K, I recommend the GeForce RTX 3080, 3080 Ti and RTX 3090 and their SUPER versions. For three-dimensional graphics, not only the overall performance of the cards is useful, but also additional gigabytes of video memory. More RT cores and tensor cores will come in handy for faster rendering and noise reduction.
Storage
Storage is one of the main factors in buying the best artist laptop, it is different from the best laptop in general. Art files can take up a lot of space, so take a look at the storage space.
You also need at least 16 GB of dual-channel RAM and an SSD drive for the operating system and work files.
While storage space on a laptop can be very valuable, luckily an external hard drive is a simple and inexpensive solution. You can get reliable external hard drive at low cost. If you don't want to use additional equipment, you can choose cloud storage, but you have to pay extra for this privilege.
Typically, art documents and files require more storage; you might need another storage source anyway. Even if you are using an external drive, you should always leave enough space on your laptop; otherwise, it may take a long time to unload the files when you can do billable work.
Price
Price is the most important factor before buying a laptop. Buying a computer is not as easy as buying a smartphone. Buying a laptop is a long term investment, so you should carefully weigh all the factors before buying a laptop.
Your budget can determine the laptop you buy. If you want to buy a cheap laptop for artist, you might have to make some sacrifices like downsizing the CPU, downsizing RAM, not using SSD, etc. However, if you have more of a budget, you can buy a better performing laptop. Most people will get stuck and buy a laptop with ideal graphics and other activity specs, but you can't upgrade some laptop components like a computer.
Working with graphics requires a lot of memory and complex calculations. In ordinary images, each dot carries a large amount of color data, and each photographic operation affects millions of such dots. In video, the load is even higher: there, adjustments are applied to each frame separately. Even more resources are needed when working with 3D.
It is almost impossible to work with graphics on an ordinary office laptop "on the road" - there simply won't be enough resources. Most people prefer large screens, but outside the home/office, a 15-inch diagonal will do as well." I'll tell you what kind of laptop you need and how to choose it.
What should be the operating system
There is a stereotype that all real photographers and videographers use macOS. So it was many years ago, when Apple Macintosh really were the first computers with advanced graphics editors. By 2022, everything has changed.
The necessary software has long been available on Windows, and flagship laptops for working with images and videos have become more powerful than even the most expensive MacBooks, and are often cheaper.
The conclusion is this: the operating system is not so important. Everyone chooses for himself the one with which it is more convenient and familiar to work. Your best laptop for artist can be Windows-powered without any problems.