Digital Marketing Trends 2022 - read the full article about Digital marketing 2022, Digital Marketing and All digital inbound channels from Envato on Qualified.One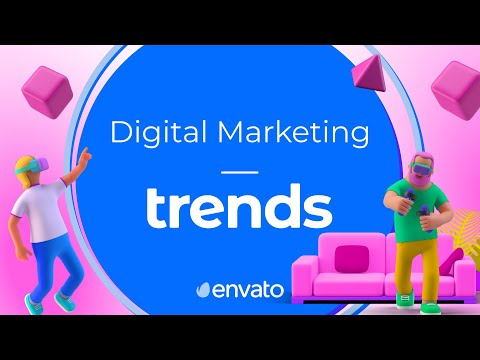 Hey there! Jen McKinnon here and it's time for another trend roundup from Envato.
Today we're taking a look at digital marketing trends, and all the links to the featured items can be found in the description below. This video is brought to you by Envato Elements, a subscription-based library full of all the creative assets you need to support your digital marketing campaigns.
From customisable email templates and social media video openers to eye-catching website designs, everything you need to streamline your creative process is at your fingertips.
Check the link in the description for a special offer from the Envato Elements team to get you started. Let's dive in! Spinning a story around a product or service is nothing new, but today, in order to tell a tale successfully, the focus should be on the customer, as opposed to the business.
It might sound like a subtle shift, but by shining a spotlight on the user's experience and understanding the things that make them tick, brands have the opportunity to create memorable moments that boost awareness and engagement.
Apple are masters of brand storytelling. Just look at this dynamic video, in which the physical product takes second place to the actual experience of using AirPods Pro.
Featuring fast-paced shots of the protagonist as he shows off his skipping rope skills, it feels like watching a music video as opposed to a piece of promotional material. And when it comes to championing the customer, Apple's 2020 relatable narrative aptly named the 'whole working-from-home thing' perfectly captured the mood. Chaotic video meetings, cramped home offices, teaching kids while trying to reply to emails. The ad demonstrated that Apple recognized the frustrations of remote working, while subtly showcasing how their tools and features are designed to support people, wherever they are. Meanwhile, aftershave brand Old Spice has moved away from its comedic style with this inspiring and character-centric advert that's designed to promote its School of Swagger mentorship program.
Encouraging kids to dream big and walk in the footsteps of a famous astronaut or brain surgeon, it's a compelling watch that places everyday people in the spotlight and couldn't be further from a more traditional sales pitch. Is marketing about to enter a whole new world with the arrival of the metaverse? In October 2021, Mark Zuckerberg shared his vision for a social technology company that he says represents the next step in the evolution of Facebook and its family of platforms. In his words: "The metaverse will feel like a hybrid of today's online social experiences… It will let you share immersive experiences with other people even when you can't be together – and do things together you couldn't do in the physical world." Only time will tell what opportunities Meta presents for brands seeking to connect with customers around the world, and marketing teams might start to feel some hesitancy around spending money to promote products and services on Meta platforms.
However, if you do plan to use Facebook and Instagram organically, you can ensure your content strikes a chord with this pack of nine social media templates featuring bold shapes and modern typography that's sure to catch the attention of followers. Establishing a presence on the right platform is just one of many decisions facing marketing professionals, business owners and influencers. So to help you create a successful strategy, we've linked to our trends piece in the description below, which runs through all the hot topics you should know about – from snackable video to social commerce.
As attention spans have reduced, the creation of snackable content has skyrocketed.
Just look at the popularity of short-form video platforms like TikTok and Instagram Reels.
But it's not only about quick-fire entertainment, short-form video is an increasingly important marketing tool.
Easily consumed on a variety of devices while viewers are on-the-go, digital video consumption is spiking around the world, with predictions that by the end of 2025 it will reach 82.2% of internet users in the APAC region – that's 2.2 billion viewers.
So what do you need to know about this highly impactful content format? First, short-form videos have the capacity to communicate a lot of information in a short space of time through images, text and speech.
Like these mini marketing guides from Later Media that share hacks and how-tos alongside screenshot examples, a friendly host and pop-up on-screen takeaways. Second, short-form videos ensure accessibility thanks to the addition of subtitles and closed captions, which means videos can be enjoyed with the sound off and by those who are deaf or hard of hearing.
When it comes to short-form video marketing, remember that a vertical format suits Snapchat, Instagram Reels and TikTok, while a square or 4:5 aspect ratio is better suited to Facebook or other in-feed platforms.
It's also essential to convey your brand message as early on as possible.
Achieve all this and more with an opener pack and introduce your personal brand or business in style.
Simply choose your aspect ratio, add in your images and text, and upload to your account in minutes.
For more about audio-off and captioned video – as well as TikTok and the so-called endless loop and more techniques that will encourage viewers to tune in, check out our Video Marketing Trends piece linked below.
No, not the furry blue Sesame Street character.
This data-based trend is all about tracking key performance indicators or KPIs.
We're talking about metrics like the number of website visitors, average time spent on page and bounce rates. And that's because browsers like Chrome, Safari and Firefox have blocked or are in the process of phasing out third-party cookies.
In other words, the insights that help marketers and business owners understand how their customers behave online and enable them to target ads to the right audiences.
As a result, it's never been more important to collect your own data, in order to create and execute personalized campaigns and improve your website's user experience.
This year we'll see marketers and business owners rush to collect what's known as first-party data in order to maintain a competitive edge.
Businesses will need to think more carefully about when and where they seek to reach potential consumers – meaning that context and relevance will become key to serving up content that audiences will be interested in.
The contents of our inboxes continue to be an important marketing tool if done well, with almost 80% of marketing professionals reporting they've seen an increase in email engagement in the past 12 months.
But instead of sending out one-size-fits-all communications, we're seeing personalized newsletters and dynamic and interactive email content take center stage.
Take a look at these examples from the writing improvement tool Grammarly, which are built around usage statistics that are unique to the recipient.
At a glance, the email reveals how the customer has used the platform and how that compares with other Grammarly users, giving a sense of support, inspiration and involvement in the wider Grammarly community. Take your email content to the next level with this template from ThemeForest, which is compatible with major service providers like Mailchimp, Campaign Monitor and HubSpot, and comes with an easy-to-use module composer that makes creating customizable emails super easy. And to make the most of every message you send out, check out the tips and advice contained in our Email Marketing Trends video. You'll find a link in the description below.
We're focusing on the harsh realities of digital marketing with this trend, because all the killer content, stand-out imagery and beautiful web design in the world simply won't mean a thing if your user experience isn't up to scratch.
And that's because every element of digital marketing – from website pages to social media and emails – is driven by algorithms that look for the same thing: user experience. For marketing material to be visible to existing and potential customers, user experience is a priority across every platform that you publish to.
And this is especially important as search engine algorithms are becoming increasingly sophisticated – something we'll look at in the next trend.
Google has always placed huge importance on the user experience. As the search engine seeks to surface the most relevant and useful information, it's most recent Core Web Vitals update provided a "set of real-world, user-centric metrics that quantify key aspects of the user experience" and illuminated site speed as a key ranking factor.
But the need for lightning-fast load times isn't just a priority for websites. Apps also need to deliver quickly as user attention spans and consumer patience is on the decline.
To learn more about page experience signals and the ranking factors used to determine what shows up in search results, check out the dedicated Core Web Vitals segment of our Marketing Trends video. Finally, its an old piece of advice, but it's certainly still relevant in todays competitive and chaotic online landscape: less is definitely more.
We're talking about cutting through the clutter by selecting the right digital channels, rather than trying to be everywhere at once. You also can't be everything to everyone, so don't try to be.
In other words, smart marketing focuses on doing a few strategically selected things really well.
Like creating a website that perfectly suits your vision. Something you can achieve with this stylish WordPress theme. Whether you want to launch an online shop with plug-ins that enable speedy transactions, create a magazine-style site that's focused on features and photography, or showcase your creative portfolio, customizable modules and layout concepts make achieving simplicity really simple. That does it for the digital marketing trends you'll be seeing this year.
If this video was helpful, don't forget to like it below so we know to keep producing more content like this.
And subscribe to the Envato YouTube channel to stay up to date with our latest content! Have your say and tell us what trends you'd like us to profile next in the comments below and hit the Envato blog for more trends and tips.
That's all for now but if you're keen to stick around, click the thumbnail at the top right of your screen for more trends, or hit the one at the bottom right of your screen to watch the next Envato video, selected just for you. See you next time.
Envato: Digital Marketing Trends 2022 - Digital Marketing