Top 5 Digital Marketing Tools For 2021 | Best Online Marketing Tools - #89 - read the full article about digital marketing tools, Digital Marketing and All digital inbound channels from The 47 Marketing Show - Istvan Bujdoso - 47istvan on Qualified.One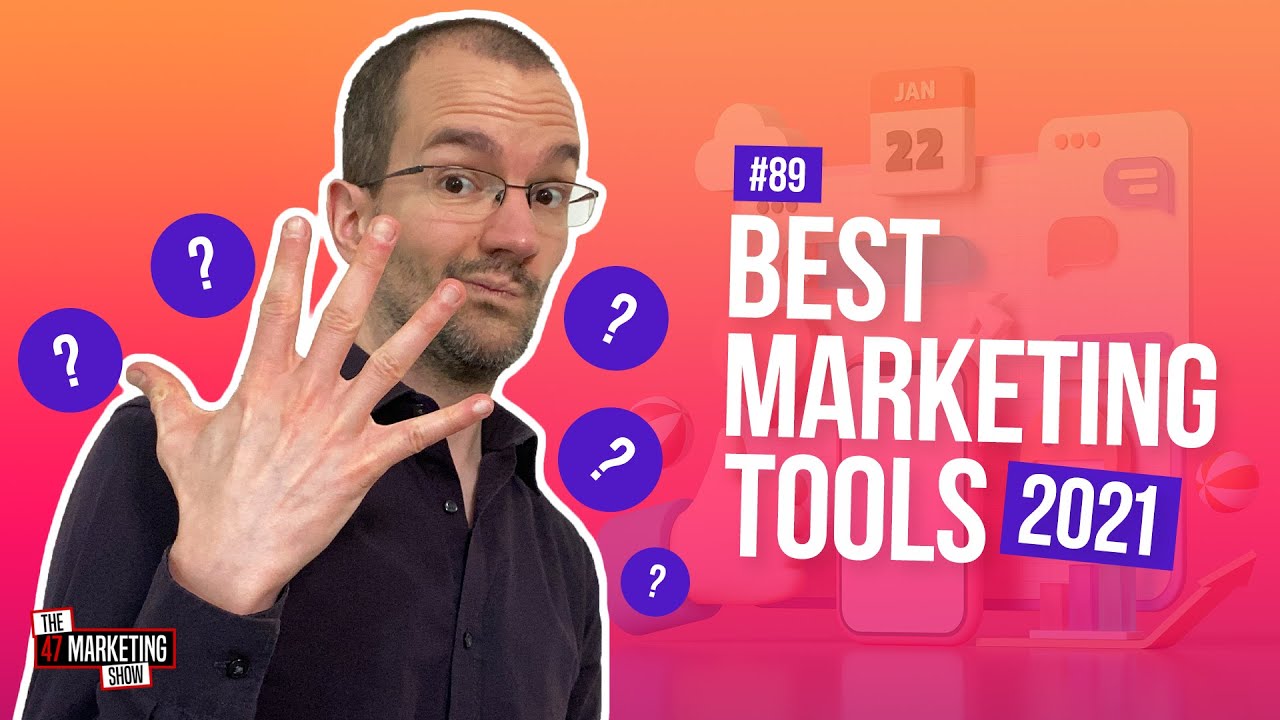 Welcome, Freedom Hero! In this episode, we'll go through the top 5 digital marketing tools that you can use to efficiently grow your business in 2021 and beyond.
Every one of these tools were handpicked to help you two different ways.
First, to avoid wasting your time on manually executing certain important marketing activities.
And second, to help you to get marketing results faster.
My name is Istvan Bujdoso and this is The 47 Marketing Show that reveals smart tips and efficiency hacks for busy entrepreneurs to get more marketing done in less time.
And before we dive in, make sure to stay till the end because I'll share with you a cool bonus tool as well.
Okay, let's get started.
Tool #1: ClickFunnels.
With the world-wide lockdowns in 2020 online lead generation and sales became more important than ever, and it's likely to stay that way.
Let me ask you a question.
Has this ever happened to you while browsing a website? You opened the site to find out more about the company, you skimmed through their homepage, you opened the about page and few other ones, maybe you read a few lines, started watching a video, and felt a bit confused.
Then left and you NEVER returned to that site again.
Does that sound familiar to you? You're not alone.
Most people do that regularly, including your potential leads and customers.
It's scientifically proven that the more options people have in front of them on a website, the easier they get distracted or confused, and they leave.
On the other hand, online funnels minimize the options, they give the viewers just one decision to make: to sign up or not.
It's that clear.
And that's why online funnels can generate significantly more leads and sales than normal websites.
Normally, building a funnel would require a significant amount of time and technical skills.
The good news is that you can avoid those two big challenges with ClickFunnel.
If you know how to click with your mouse and type normal words on your keyboard then you have all the skills you need to get started.
And in 20-30 minutes, you can launch your first funnel.
Besides that, it's really efficient to get started, once you have an optimised funnel that is generating leads or online sales it is saving you a lot of time on that part of your marketing continuously.
Because of that, It's not a surprise that ClickFunnels has been gaining a huge popularity among entrepreneurs.
At the time of recording this episode, over 156,000 businesses are actively using this digital marketing tool.
And so far, the users generated a combined 1.53 Billion leads and close to 10 Billion dollars via this software.
Which is quite impressive, right? I'll leave you a link in the description, via that you can try out ClickFunnels for free for 14 days.
And now, let's move onto the next on the list.
Tool #2: ActiveCampaign.
It's a simple fact that the money is in the follow-ups.
Most of the new leads don't buy at the first time when they see an offer from an entrepreneur who they barely know.
Regularly reaching out to them can build up their trust and turn them into customers.
And when it comes to existing customers, again, regular reach outs can lead to more sales.
That's why the money is in the follow-ups.
Just imagine the results that can happen when day by day you keep growing the trust in your leads and clients.
And I guess, you can also imagine that activity is really time-consuming.
That's where ActiveCampaign shines brightly and provides flexible and easy to use tools to automate your follow-ups.
Which can save you an incredible amount of time while helping you to grow your business.
It's a widely popular marketing automation tool.
Currently, over 120,000 businesses are using it actively.
And it's free to try for 14 days, so you can see first-hand how much it can help you this year and beyond.
Tool #3: SocialPilot.
It's not a secret that social media is a must for every business.
It's been for a while, and with the current situation going on, it's even more a must than ever.
At the same time, it is a HUGE challenge for a lot of entrepreneurs.
Just think about how many major social media platforms exist.
Facebook, Twitter, Instagram, LinkedIn, Pinterest, TikTok, just to mention the big ones.
And things are happening fast on all of them.
So if you want to give a chance to your posts to be seen by your audience, you need to post regularly.
You can imagine, posting regularly, on all platforms, in different ways is a marketing activity that can eat up a lot of your time.
On top of that, posting different times of the day, on different platforms, can be an annoying disruption several times a day.
Those are the challenges that SocialPilot tackles amazingly.
Through their platforms, you can schedule ALL your posts to the major social media sites.
Because you do that conveniently in one place, and you don't need to jump among all the social media sites, SocialPilot can save you a lot of time.
And besides that, for example, if you schedule posts for a few weeks upfront, then in that period, you don't need to worry about being drawn away from other parts of the business to post on social media and you neither need to worry about getting distracted on social media and wasting time.
That's why SocialPilot is one of the top marketing productivity tools for 2021.
Tool #4: Trello with Butler.
Managing your team, even if it's a small one, can be time and energy-consuming.
Trello is a great productivity tool in this area.
You can set up all your marketing and business tasks in it.
Assign them to right team members, set start dates, due dates, and many other things.
Here's a few examples of how it can make you and your team more efficient.
I'll leave the best to last.
Okay, here's the first.
It makes it clear and easy to see who is doing what and when, what is in progress, what is completed, what are the upcoming tasks, and so on.
It helps to avoid wasting time on chasing team members on the phone or via email or doing unnecessary meetings.
Another example.
Have you ever found yourself searching for an email for a long time, just to find one detail that you need right now to complete a task? When that happens regularly, it adds up to a lot of wasted time.
In Trello, you can keep all relevant details and communications of each task under the task, so when you need it, it's super quick to find it.
And the last one, best one, Trello has an extension called Butler that allows you to automate project management tasks based on different, custom rules.
Like automatically creating and assigning tasks to team members.
This works really well with ongoing daily and weekly tasks.
Or archiving completed tasks after a month, keeping clear the board.
Or if a team member doesn't finish a task by the due date then dropping them a message automatically and asking them what's happening.
These are just a few examples.
Butler is really flexible and you can set up many-many of your own custom automations.
And all together they can save you a lot of time and energy.
And make you and your team a lot more productive.
And before I reveal the bonus tool, let's quickly talk about… Tool #5: Zapier.
When you use various different tools that were created by different companies, moving data from one tool to the other is quite inefficient especially if it's a lot of data and you need to do it often.
Just to give you a simple example.
Let's say somebody uses ClickFunnels to sell digital products and every time when a new customer buys the product they want to add those details to their CRM and to a Google spreadsheet.
Even if just 10-20 sales happen a day, quite some time is wasted on manually typing in the details into the CRM and the spreadsheet.
And the more sales happen, the more time is wasted.
Plus, that way, theres a good chance for data errors.
Zapier is a brilliant solution to this challenge.
It's an automation tool connecting different softwares.
When something happens in one tool, it can trigger an action to happen in a different tool.
It can easily automate what I told you about in the example and can super efficiently run without human interaction.
That's just one example.
Zapier is compatible with over 2,000 different apps and tools.
So it can do a lot more than that for you to save time.
Now, let's talk about the bonus tool which is Upwork.
It is a special one.
It's a different type of tool than the previous 5.
As some of the marketing activities are NOT possible to automate or it would be costly to do that, hiring freelancers is a great efficiency method.
For example, when you need a skill for a marketing activity that you don't have, hiring an experienced person with that skill can save you the long learning curve and mistakes.
Or outsourcing some activities to freelancers can give you extra time to focus on other things that bring you more money than what you invest into freelancers.
It makes sense, right? This is how Upwork can help you to be more productive in your marketing.
The 47 Marketing Show - Istvan Bujdoso - 47istvan: Top 5 Digital Marketing Tools For 2021 | Best Online Marketing Tools - #89 - Digital Marketing