Digital Marketing News - Everything you need to know before Monday even starts – 17th April 2021 - read the full article about digital marketing news, Digital Marketing and All digital inbound channels from Blue Thirst on Qualified.One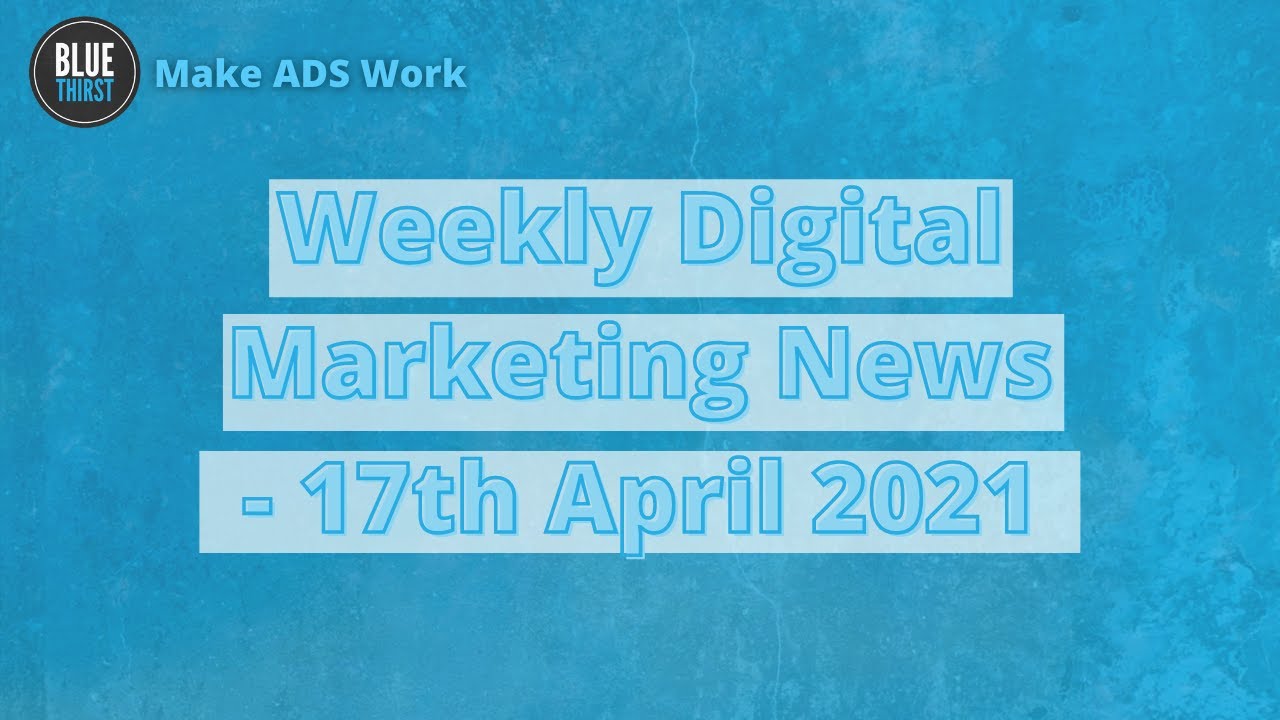 Welcome to our weekly digital marketing news update. This week there has been news from YouTube, Google, Facebook and more. If you enjoy our weekly and daily updates, don't forget to subscribe to our YouTube channel, like our Facebook Page and sign up for our Newsletter. Google News has a feature called 'full coverage' which will now appear directly in Google Search for some results.
Google has said that this will make it easier for users to explore stories from a variety of perspectives.
Full coverage is a 360 degree view of a topic that updates in real time.
This will appear in Search when you are looking for a timely topic. You will see the usual carousel of news articles.
If you then click the 'more news' button, which is below the carousel, you will see the full coverage page for that topic. If you work within news publishing, then you may see changes in how your content is surfacing and the amount of traffic you receive. YouTube has updated their analytics data for creators.
This new analytics data includes more granular information about the sources of your video views.
This will include 'living room' impressions, which is any impression from a TV or video game console.
In the audience tab, creators will be able to see metrics for new and returning viewers. This data could be used to inform future content strategies.
This new analytics data should be utilised to inform your content strategy.
From quality to content, this data will be extremely useful. Twitter is testing new improvements to photos and videos which are uploaded to the site.
This update has been long requested by users. User complaints have been around timeline image cropping and the amount of compression that occurs when a photo is uploaded.
To fix these issues Twitter is testing changes to the photo publishing process, including the option for 4k image uploads.
To fix the cropping, Twitter is testing showing the original image in the feed with no cropping. Users have also complained about the compression to videos which are uploaded.
To fix this, Twitter are testing a YouTube integration which would allow higher quality videos.
If you've previously felt let down when sharing your content on twitter, these will be positive changes for you. Video captions make your video content more accessible to viewers. Captions can even just be helpful if you're in an environment where you can't watch with audio. Unfortunately, not all creators caption their videos.
So now, Google has developed their Live Caption feature for Chrome.
This tool will generate real-time captions for audio content on your browser.
This works with social media sites, podcasts, radio content, personal video libraries and more.
Live Caption will work online and offline so that all content you play in chrome can be accessible to you.
To turn this on, go to Chrome Settings, choose Advanced and go to the Accessibility section.
This is currently available globally but only supports English at this time.
Since 2017, Facebook users have been able to use a physical security key to protect their accounts.
Users can now setup two-factor authentication on iOS and Android using their security keys.
Two factor authentication relies on something you know, such as your password, and something you have, such as an authenticator app.
Hardware security keys can also act as the item that only you have.
Hardware security keys are most recommended for users who have a high-risk of hacking attempts.
This can be people such as public figures or journalists. If you want to use a hardware security key you will need to buy one from a compatible manufacturer.
You can then go to the Security and Login section of your account settings to get setup.
We hope you have a great week, don't forget to like, follow and subscribe. We'll see you on Monday for our daily news updates.
Blue Thirst: Digital Marketing News - Everything you need to know before Monday even starts – 17th April 2021 - Digital Marketing