After the severe pandemic hit, we found that shopping behavior shifted from offline to online purchases in most relevant markets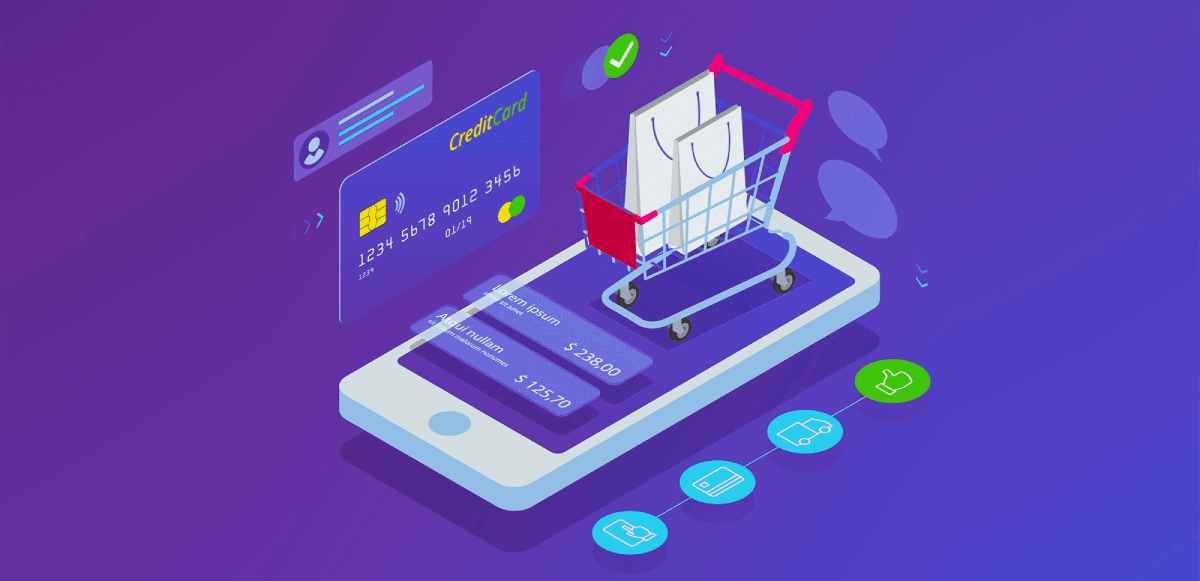 "
The pandemic has not only impacted the e-commerce market, but it has also been impacted by changing trends and technologies.
Statistics show that consumers are avoiding physical stores and leaning toward e-commerce. With these changes, the e-commerce market is expected to grow at an annual rate of 11% from 2019 to 2024.
Big companies like Amazon, eBay and Alibaba have changed the scope of online shopping. They integrated trending voice commerce such as Siri and Alexa, creating new ways for merchants to interact with their customers.
Omnichannel is also he one of the latest trends in the B2C e-commerce space. Suitable for both offline and online retail stores. The reason is that consumers can utilize multiple channels to observe the price of the same product.
Many websites are becoming more responsive as most users adopt smartphones and observe how convenient it has become to switch between different websites to find products from anywhere.
The reason behind the constant innovation and change of e-commerce management services is to provide an effortless shopping experience while capturing the customer's attention, guiding them through the store and ultimately making them continue to buy. To turn them into loyal customers and keep them for the long term.
To provide and maintain an omnichannel presence, it is necessary to stay connected with the retailer while monitoring his customer's activity 24/7. This is where Connective eCommerce comes into play.
Did you say Connective eCommerce? Yes! Is it a new method or a style of trading? Read on.
Motivation
Entrepreneurs looking to get into online retail may hear a lot about "connected e-commerce." This promises the developer to grow her sales without paying the upfront costs of building her website, storing inventory, paying for advertising, etc.
"Connective eCommerce" was proposed by an entrepreneur Cortney Fletcher. He argues that it is a risk-averse strategy for new entrepreneurs, especially women who are just starting out. However, experts and online commentators disagree about its effectiveness.
"Ecommerce is not easy and there are no easy buttons," warns Damon Didier, CEO of Win At ecommerce, a Dallas-based ecommerce consulting firm. The premise of connected e-commerce is that an online business can start and grow quickly and effectively with minimal effort and without a large upfront payment, but that's impossible, he says. The pandemic has caused a surge in the number of people trying to find another source of income by creating online stores, but many entrepreneurs don't understand what's at stake and are being rewarded. It tends to fall for possible quick fixes, Didier says.
Starting his store online allows him to adapt the principles to minimize costs and risks for himself, instead of paying a company to create a "connective e-commerce".
Connective eCommerce — What Is It?
Start Developing Your E-Commerce Website - Research and Hire Inexperienced Web Developers to Build Your Website if not created. Recurring payments for advertising, storage and fulfillment of free time are risk areas when selling online.
Connective e-commerce can prevent risk and error here. Instead of relying entirely on web developers, we recommend relying on software, guidelines, and templates to create a highly interactive and robust e-commerce store. This eliminates the need to worry about developer experience and expertise.
The second point is inventory storage. Instead of wasting money on fulfillment centers, connected commerce is about using quality suppliers to ship products on your behalf while keeping your bottom line. How much advertising investment are you making to raise awareness and maximize your audience reach? Connective commerce is the use of free methods to drive traffic to your store. Test everything you need without spending your hard earned money on expensive advertising.
In short, connected commerce allows you to differentiate yourself from 'like-minded' players and compete in today's highly competitive market dominated by big brands.
Why is Connective eCommerce important?
Ensuring and sustaining market growth, regardless of size, is essential and difficult for any business. Connected commerce ensures that every interaction with your business is impactful and clearly reflects and reinforces your brand values.
Connective eCommerce can help you achieve your goals while delivering a superior and consistent customer experience across all channels.
Connective e-commerce lets you start and grow your online business quickly with minimal risk. Try out different products, messages, emails, offers and discounts without paying for these trials.
For retailers, connecting with customers means -
Connect across all channels without losing context.
Allow your customers to connect with each other.
Serve your customers anytime, anywhere.
Connect your applications and business to deliver a superior customer experience.
Understanding the potential of the customer journey is key to enabling Connective Ecommerce. Customers search for products only when they think about them. When customers come to shop here, the key factor to look out for is the "conversion line" that helps convert users into customers.
Do not think that there is persuasion work going on here. This is just the beginning of the retailer's customer relationship. Ongoing customer retention, customer retention, and relationships require delivering personalized service anytime, anywhere, which also helps deliver lifetime value.
We know that customers who have always relied on their smartphones for quick purchases now prefer a 24/7 mobile brand presence and no or minimal ads. Advertising is good, but overusing it can frustrate customers and lead to brand abandonment. Therefore, the key to satisfying customers is upgrading e-commerce to connected trading platforms.
Delivering connected commerce through mobile phones provides a deep mobile presence to connect and support your customers while tracking their behavior to deliver a better experience.
Does connecting Connective mean no ads?
However, just because you said you no longer have to spend extra money on advertising, that doesn't mean you can promote your brand through advertising. You can certainly invest in advertising, but only if you make enough profit from technology that generates free traffic. It's about generating trades and executing them as fast as possible while fine-tuning them.
Your online store is optimized and refined to fully generate sales, making your products most demographic-appropriate, your message more engaging to convince your customers to walk around your storefront.
In short, with the Connective eCommerce method you get a more consistent and systematic development that ensures your path to success.
Buying inventory is risky
The largest initial cost of selling products online is the cost of inventory. When you're just starting out, you don't know how much consumer demand there will be for your product, so it's dangerous to carry too much inventory.
Dropshipping is a connective e-commerce principle, but it's not enough. It's a good way to test your ideas and see if your product is of interest to consumers.
That's why many new e-commerce businesses are starting with dropshipping, Didier said. With dropship, the seller accepts customer orders without maintaining inventory. The seller waits for the customer to place an order before finding a third party to fulfill the order. "It's a low-risk, legitimate business practice, but the margins are low because you pay for the product as you fulfill the order instead of buying it in bulk," he says. Dropshipping is a connective e-commerce principle, but it's not enough.
It's a good way to test ideas and see if the product appeals to consumers, says Didier. "If it doesn't work, we just shut down the site," he says. But once shoppers flock to your site and buy your products, the next step is to buy enough to keep your inventory in stock.
According to Didier, holding inventory can make a big profit on sales because it's cheaper to buy products in bulk. For example, if you sell custom t-shirts for $15 and have to pay a third party $10 to make the t-shirt for every time a consumer orders a t-shirt, you only make $5 per shirt. not. But if there is demand for shirts, he can order 100 shirts for $5 each. If you keep selling at $15, you'll make a profit of $10 per shirt.
"If we make a profit, we can reinvest that profit in paid advertising to attract new customers," Didier says. Many sellers are impatient and want to quickly stock and profit from an idea, but that's not realistic, says Didier.
Customers want interactive experiences
Customers aren't completely boycotting offline shopping. However, despite the limitations of in-store shopping journeys, we want the same experience both in-store and on-screen. Customers have been observed to:
Showrooming – In-store customers find better deals online for their favorite products.
Webrooming – Customers who research products online and like them visit the store to see how the product looks and feels before purchasing.
Click & Pick – Customers who order online and pick up in-store.
Brands need to be able to track this customer behavior and deliver a consistent connected commerce experience everywhere. How can I be successful with connective e-commerce?
In this fast-paced world, digital business is a stronger and faster way to generate revenue quickly and seamlessly. However, ubiquitous presence does not guarantee success.
Connective e-commerce provides better customer experiences to improve business objectives, builds strong bonds for ongoing engagement, and builds supply chains with integrity to fulfill orders. It's the only solution that helps. To create a successful connective e-commerce strategy:
Learn how to innovate digitally-enabled business models to achieve quantifiable business outcomes.
Provide relevant, useful and consistent services, products, experiences and prices to the most important customer groups.
Deliver frictionless, personalized customer experiences that meet the ever-changing expectations of online and offline customer touchpoints.
Identify, analyze and develop the perfect operating model to achieve long-term results.
Render secure and flexible transactions to ensure payment technology is connected across multiple channels and matches consumer preferences.
Provide transparency so consumers can select, pick up, and return products if they are unsatisfied with our services or products at any time.
Summary
The retail and e-commerce distribution industry is constantly changing. Connective eCommerce is the solution for retaining and retaining your customers regardless of this change. The answer to this is Connective eCommerce.
Connected e-commerce ensures that every consumer is involved in the company's brand value. New commerce also ensures that customers have a consistent shopping experience across all channels while acting as a brand differentiator to achieve their goals. To strategize your ecommerce and transform it from traditional ecommerce to connected ecommerce, you can contact an ecommerce consulting service provider to better understand and implement ecommerce.
"