New leads generation is crucial for any business to keep alive. Those who are responsible for that field - marketers, CMOs, Directors of Sales and Marketing, sometimes CEO - are not confused: they don't feel comfortable investing in ads, but the same time a solid inbound leads flow is needed. What's the solution?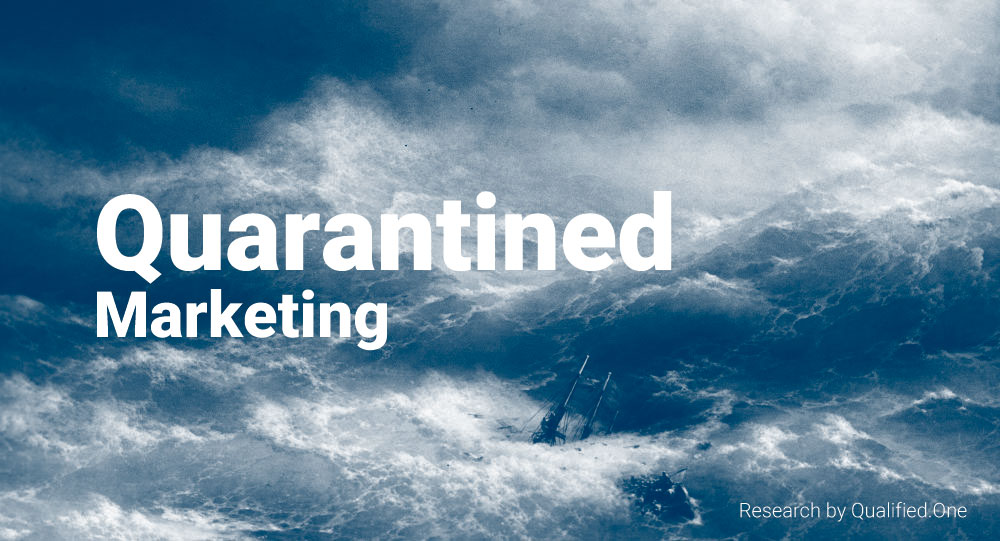 Decrease of customer demand
The first obvious conclusion is that the search volume decreases in almost every niche (except for those benefiting from the COVID-19):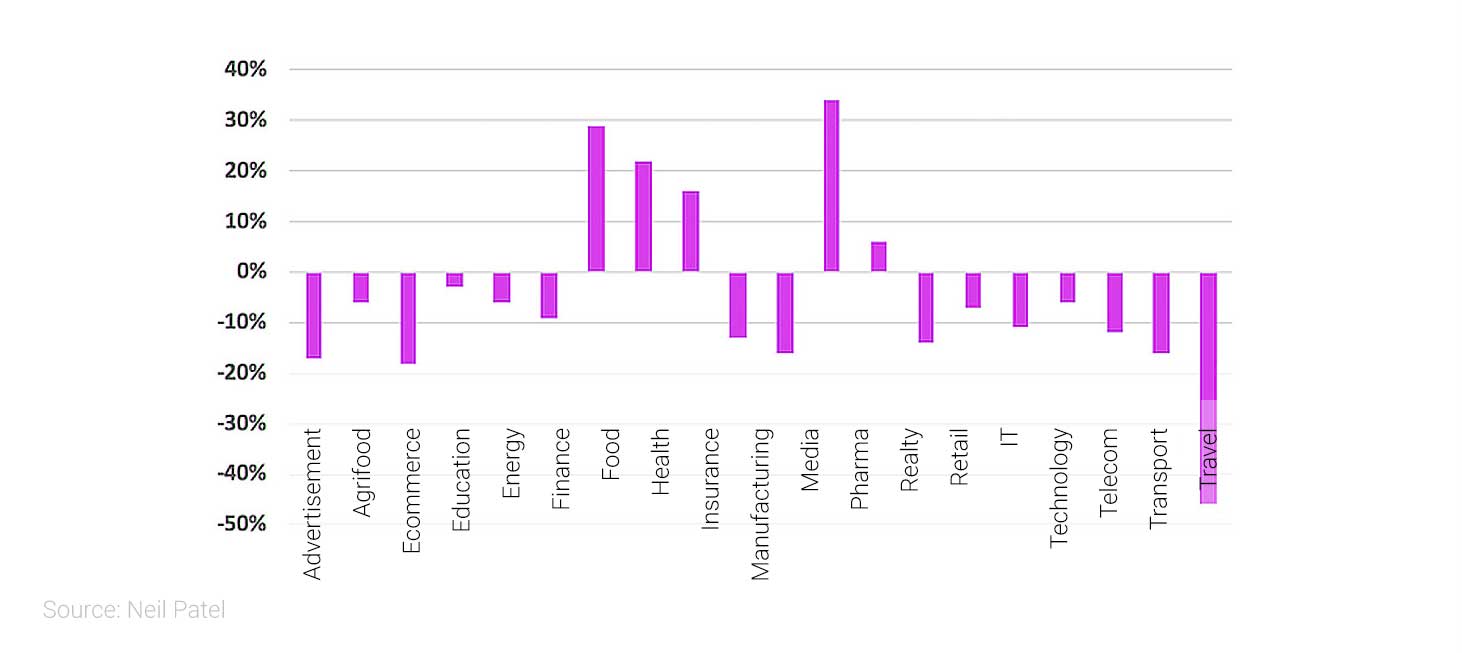 Growth and decrease of traffic by the line of business
Remarkable decrease is present in Travel and B2B services.
Growth: online services, media, delivery, porn (sic!).
People also won't cut the costs on their children (especially given the isolation regime that requires more entertainment).
Surprisingly, pandemic and the lockdown haven't led yet to the rapid growth of the informational queries like "How?" And "Why?":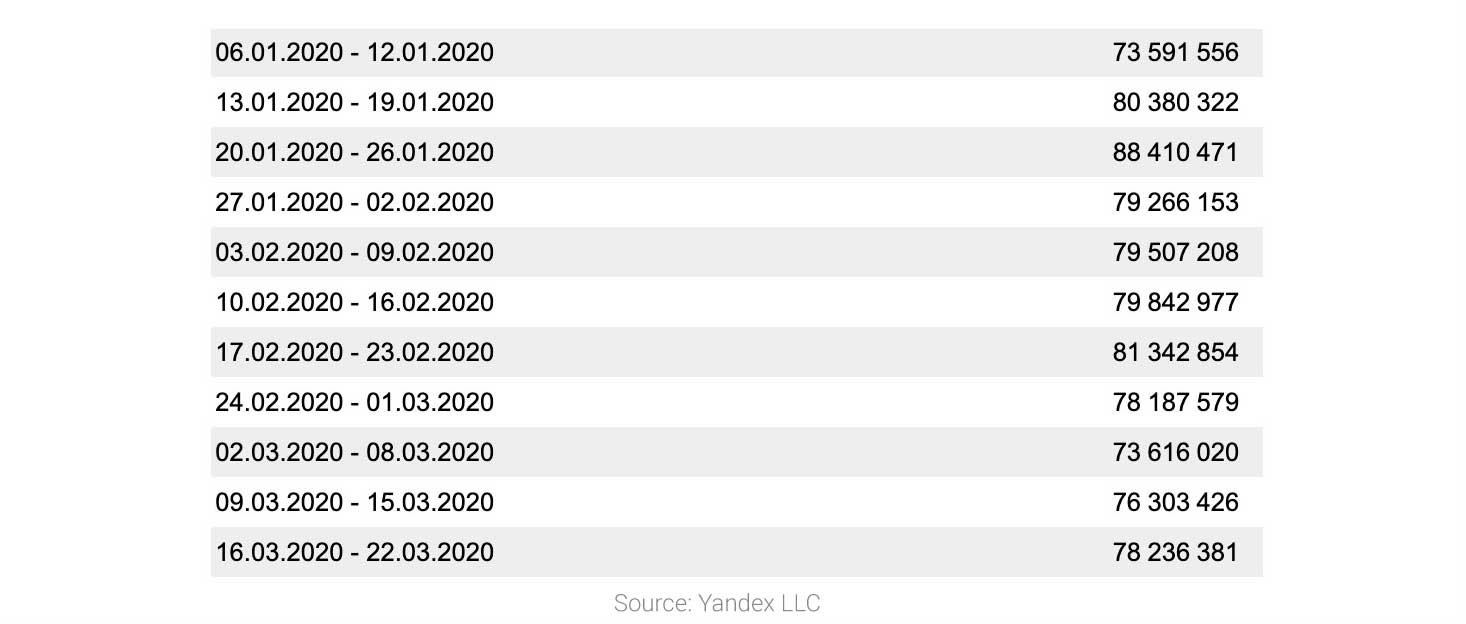 Informational queries: "How" search volume since the beginning of 2020. Data: Yandex LLC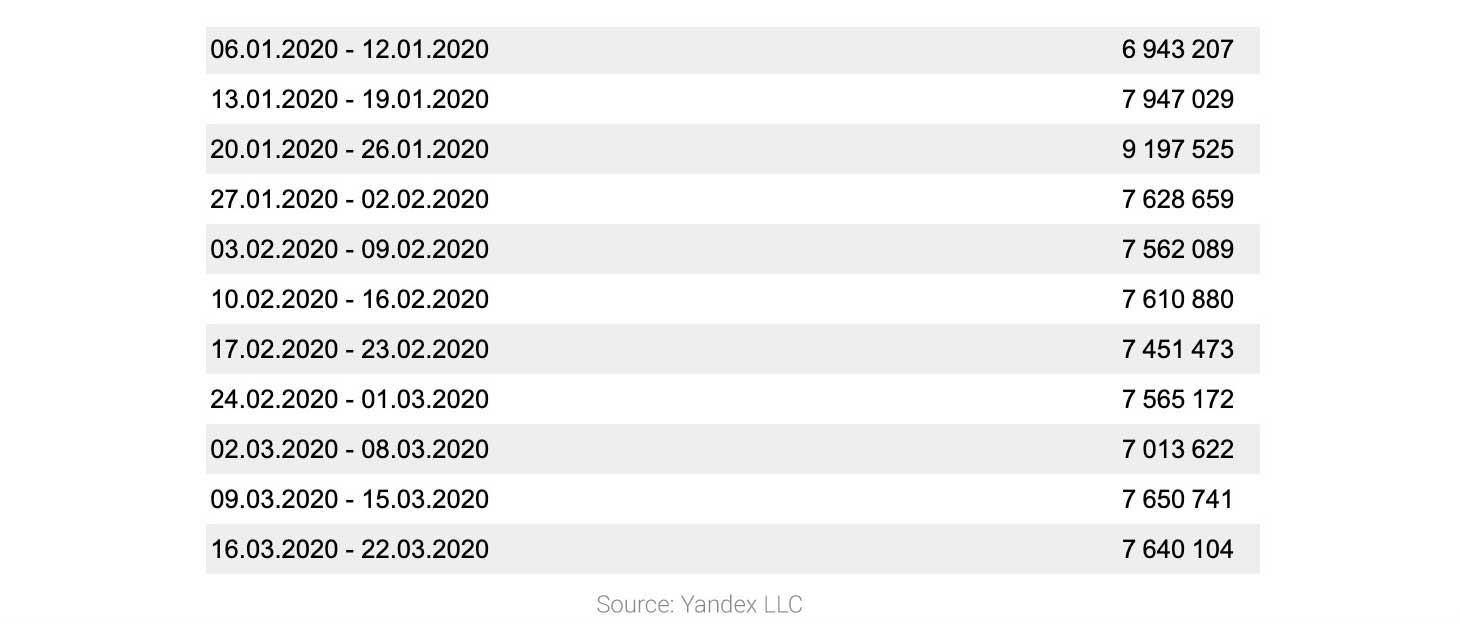 Informational queries: "Why" search volume since the beginning of 2020. Data: Yandex LLC
The traffic growth that is present for the online media is probably generated via some other sources apart from the organic search.
Customer demand growth
On the other side - surprisingly once again - transactional queries incorporating "buy", "order" and similar words grow in volume, even if we filter out several ultra popular queries like "drugs", "pizza", "food", "mask":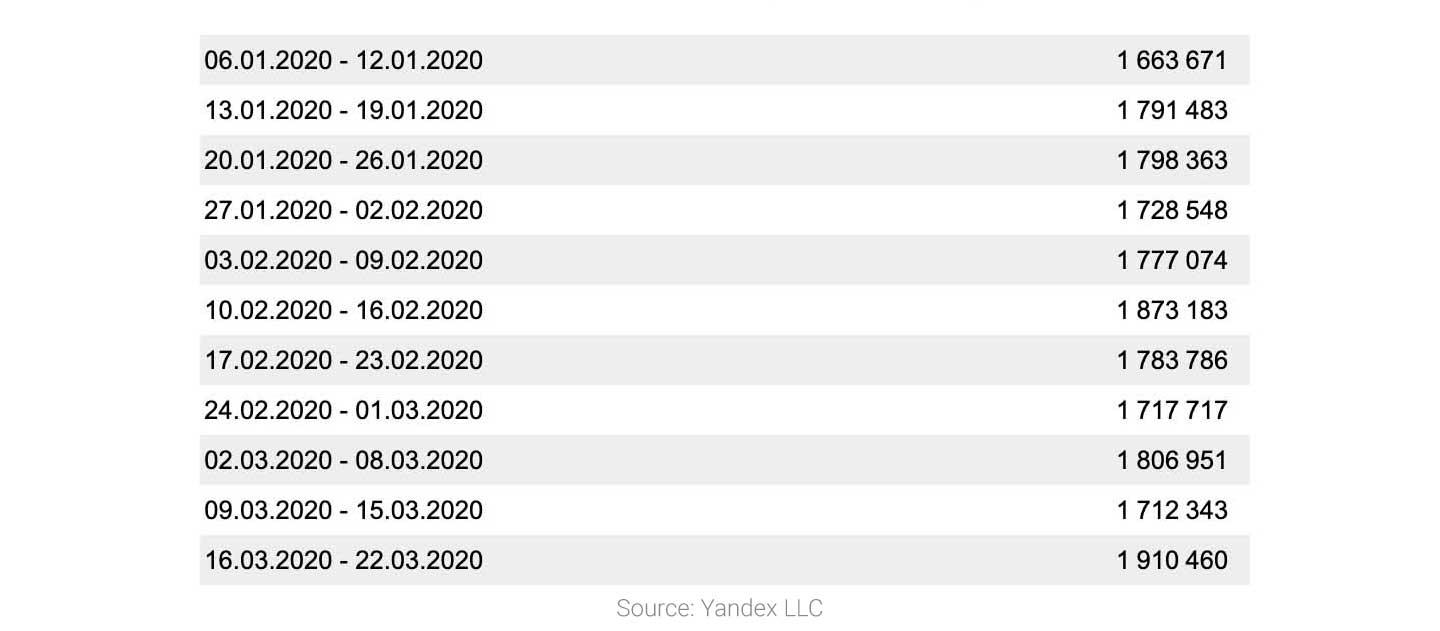 Transactional queries: "Order" search volume since the beginning of 2020. Data: Yandex LLC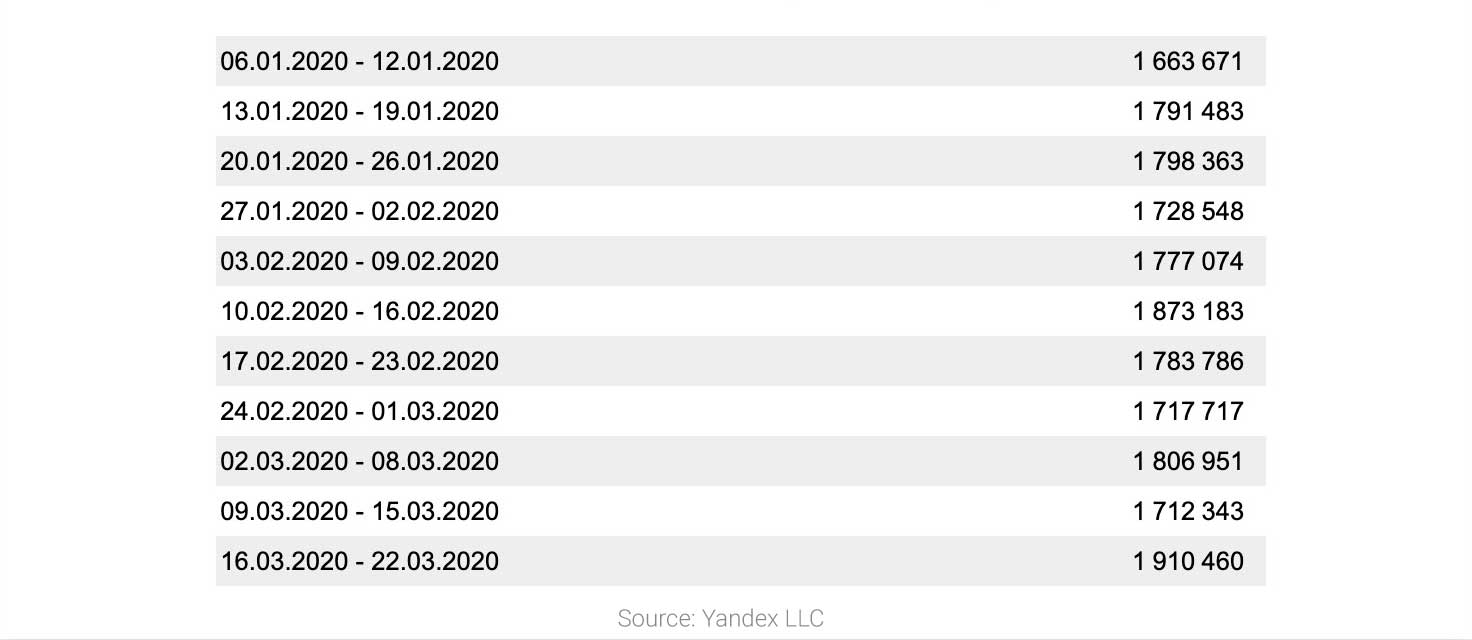 Transactional queries: "Buy" search volume since the beginning of 2020. Data: Yandex LLC
This volume increase is probably due to other consumer goods: it seems quite obvious that expensive items (like big plasma TV, for instance) are rarely searched.
Google Ads and Paid Social traffic
There is a significant decrease in paid ads volume since the beginning of March:
Google Ads: overall clicks volume, USA
Apparently, paid advertising channels that are supposed to pay back quickly are not that profitable right now (except for the direct beneficiaries of crisis).
"Since the conversion rates, costs and CPM are changing rapidly, you should track your ads carefully. As for the paid social, a lot of people are isolated now, so you can probably get more reach with the same investments. Be ready to amend both the budget and bids: your ad campaigns require continuous nurturing"
— Jeff Snyder, President of Elumynt
Paid social advertising can become cheaper in a short-term perspective, but it is likely to be not that profitable. One can expect a lot of traffic, but lack of deals.
Content Marketing during COVID-19
A good illustration of the content marketing during the crisis is the growth of emailings from the 4000 to 42000 (by 10 times!):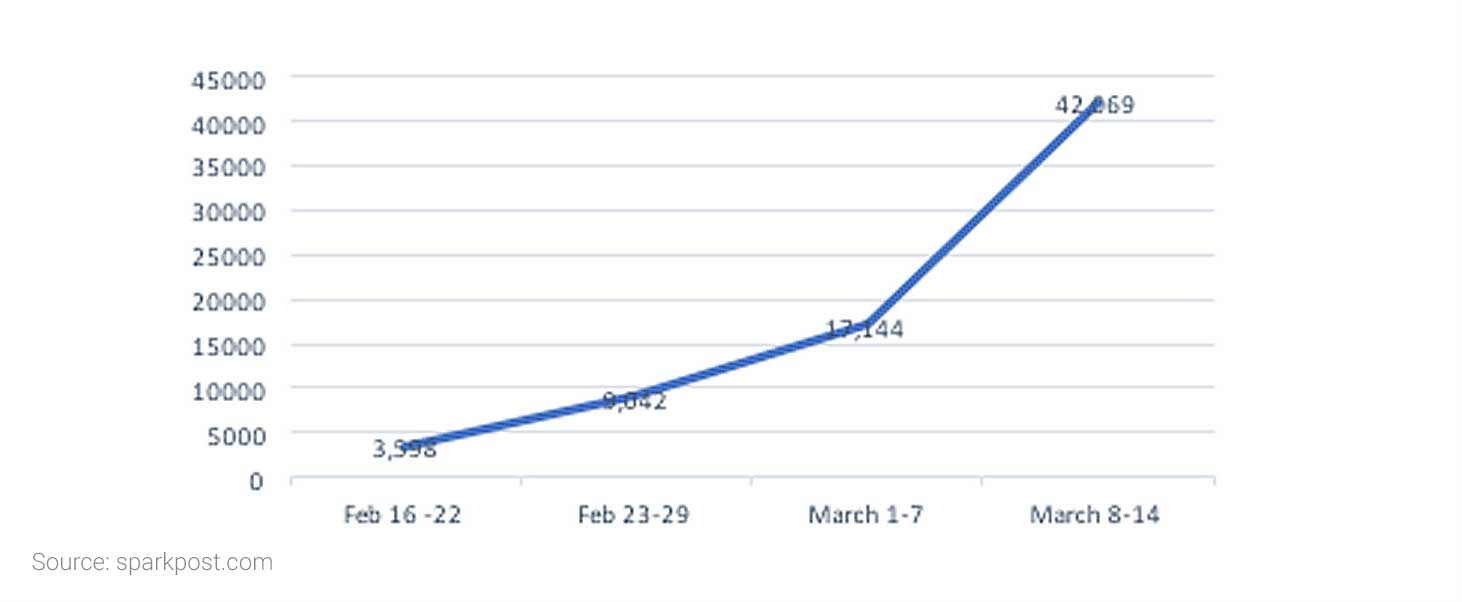 Emailings growth during the COVID crisis
Many of them are of course related to the remote work itself and various campaigns like "our company is doing well"., but the trend is distinct.
My opinion is that the companies that will persist in being committed to their digital strategy (especially considering the content, conversion rate improvement and SEO) will be able to recover much more quickly as the things will get back to normal
— Nick Eubanks, CEO of From the Future © Forbes.com
Creating new content is very important regarding the fact that they are not supposed to pay back immediately. It doesn't make sense that there's no enough customer demand right now: it will inevitably come back, but you shouldn't lose the contact with your customer.
To ensure you are not hurting anyone it's worth following Google reccomendations:
Take the local context into account
Refine and amend the strategy: the situation is varying rapidly
Be careful with creative initiatives. Do not use COVID for hype.
Change your priorities in such a way to help people to deal with uncertainty
Use every opportunity to help the world with fighting the coronavirus.
You can check the full list of Google reccomendatons here.
SEO & COVID-19
Organic search is getting more valuable as well. SEO investments will pay back in 3-4 months, when the peak will be presumably passed and all businesses will struggle trying to get more traffic.
Those ignoring SEO right now will be frustrated later.
Investments in UX and conversion rate optimisation
Another way to use your marketing budget smartly during the crisis is to invest into the "evergreen" tools like website redesign, conversion rate improvement. Here is another quote from Forbes:
"Businesses are moving to digital channels. We discovered a huge peak of website redesign or development requests, as well as of paid social ads. We focus on SEO and influencer marketing to reach new audience"
— Scott Jones, CEO of 123 Internet Group © Forbes.com
B2B Marketing in crisis
HR outsourcing and similar business sectors are suppressed as well (hiring processes are mostly freezds).
Trade shows - the classic B2B marketing channel - is strongly affected: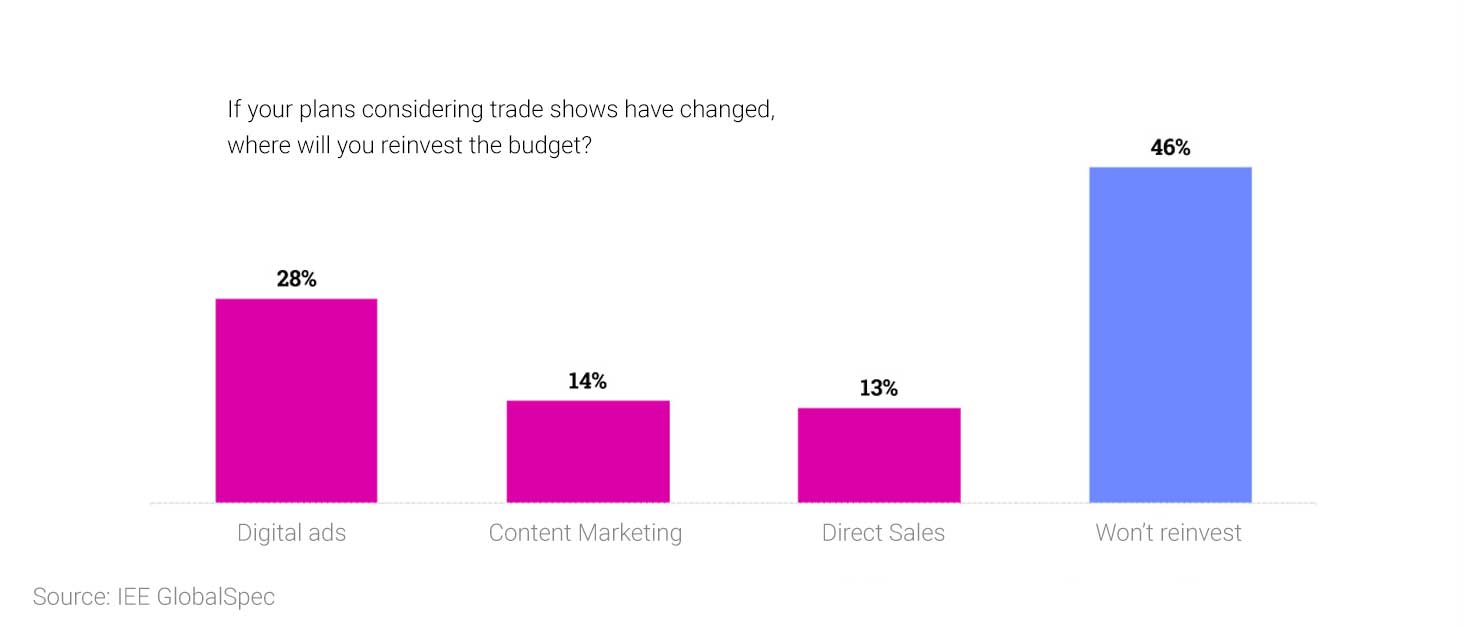 Survey: marketing departments of B2B companies, USA
Note that due to a quickly changing circumstances this data should be treated as a trend, not an exact relation.
"… For the B2B companies or another businesses that previously postponed their digital transformation it is a chance. The key factor is to adapt quickly. If in your business a common way to get a lead is to put a meeting - it's time to change the rules and start getting in touch via the website or social media at first"
— Bernard Marr (Enterprise Tech) © Forbes.com
The future
Any crisis makes the sting players even stronger and kills the weak ones.
Looking at China one can conclude that the hard coronacrisis will take place at least for several months. If any company freezes their marketing activity for that time period, it will not recover.
It takes several years for economy to recover. It is evident from the analysis of previous global crisis: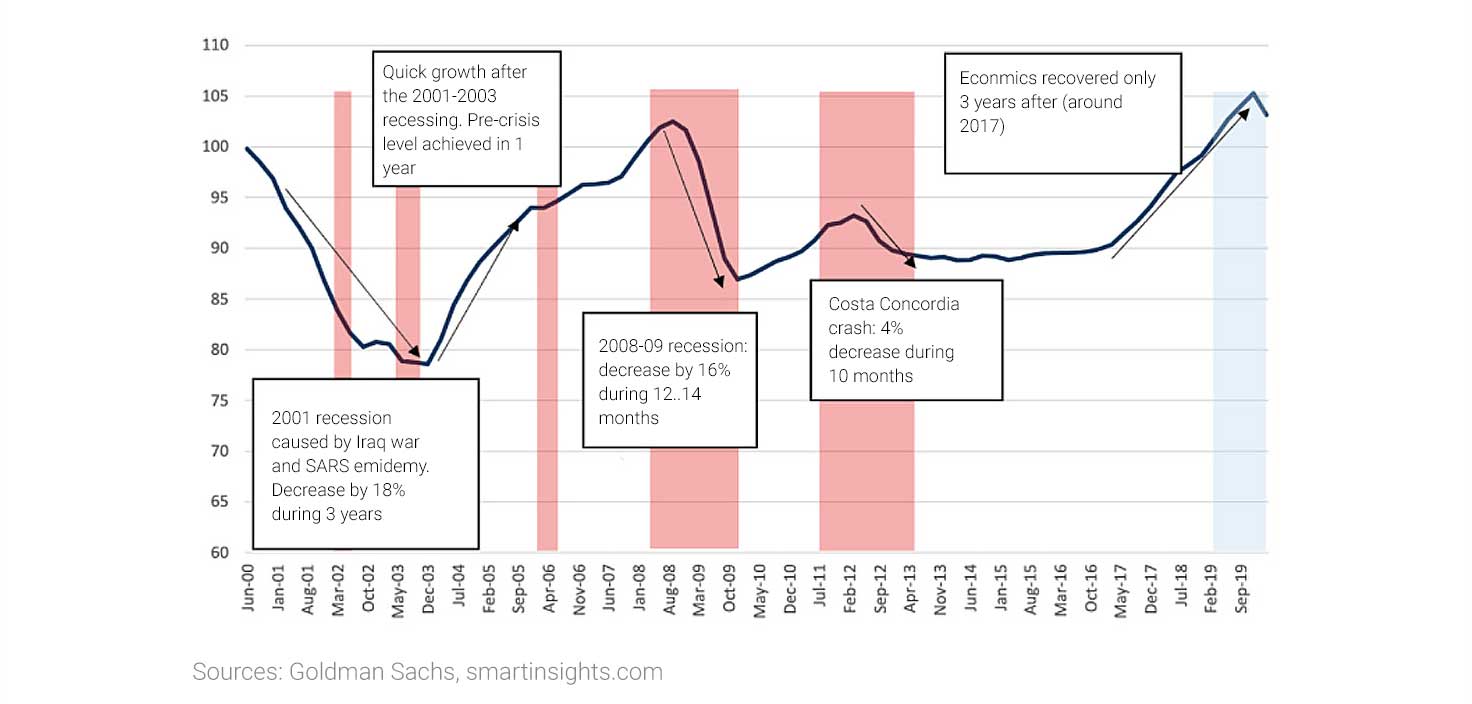 Economic recovery
Insolvency growth and cutting of marketing budgets will lead to a significant decrease of competition level. The problem is that the companies which will manage to keep alive will fight for the customer that will be not as rich as today.
A reasonable strategy probably is to lower the paid ads budget and to transfer these money to mid-term investments.
Note that you cannot just wait for crisis to finish without taking actions: you won't get back to the former income levels using the same tools as previously.
Conclusion
One should get ready to a post-crisis demand growth
Digitalization is a worldwide trend
Cut your PPC costs
Pay attention to the Content Marketing
Consider investments in SEO: this will help you in several months when the peak will be passed.