In Da Closet: Clorinda Sgromo [Digital PR Specialist] ☀️ - read the full article about digital PR, PR and Increasing brand awareness from The Italian Rêve on Qualified.One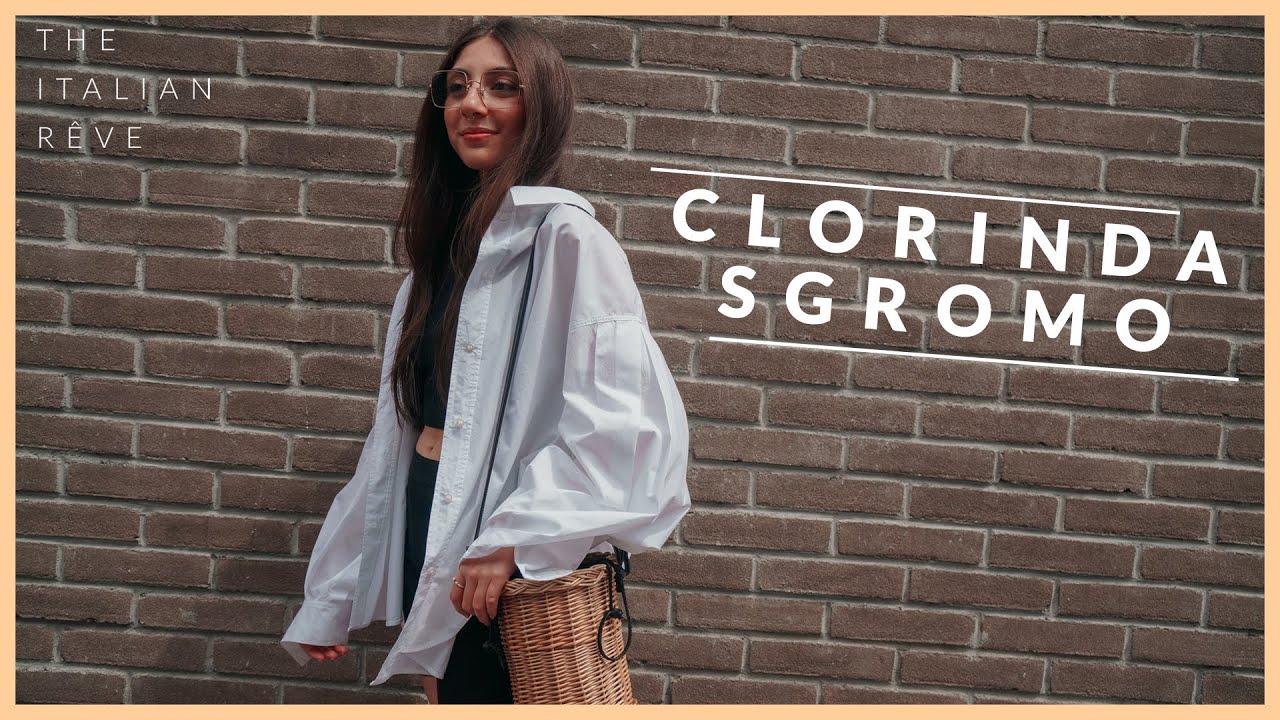 Ciao, The Italian Rêve, and welcome in my closet! Im Clorinda, and Im a digital specialist in fashion brands.
I deal with influencer marketing strategies on social media.
Today, I want to show you some of my favorite items.
As you can see, I like to show them, I mean, I don't like to just keep them in the closet, I don't like that.
Let's start with my favorite item, denim jackets of course.
I'll introduce you to only three of my collection, which are also the ones I'm the most attached to.
This is one of my brothers' denims, which I recovered and I painted on the back "Les Demoiselles dAvignon" by Picasso.
Obviously, this is my reinterpretation, but this is how I wanted to embellish it.
Then, we have a pink denim jacket that I embellished with these small pins.
I'm super attached to this jacket because I got it in New York City, during my internship, and it came with me in a lot of moments that for me were very nice and meaningful.
Still on jackets, there's this one, which is lilac, instead.
As you can see, this fantastic fashion touch, tie-dye, actually is a mistake because I tried to remove a stain with bleach.
Dont do that, guess what.
Always speaking of my favorite items, there are crop tops, embroidered tops, a bit...
a bit cute, a bit fancy, in different...
I have them in different colors and patterns.
This little gem here, that you've probably noticed on my social media, I made it myself.
And all these threads witness that I'm a beginner.
But I'm super proud, I mean… Moving on, here we have a denim mini skirt.
This is very basic because I like to play with the details, that could be hats, or other accessories.
Then, there's my collection of white blouses.
Generally speaking, basic stuff, especially in white, are something I really love.
So, this one, for example, was a bit too long, and I cut it myself with a pair of scissors.
And I usually wear it with this kind of crop top.
While this is one of the blouses whose origin I'm often asked about by people.
The secret is: never look at the size.
For example, this is oversize because I got a size L, so I just don't care whether an item is considered a men's item, or if its size is not supposed to fit me, but I like to play a bit with sizes and styles.
I usually wear this with, to give you an example, these kinds of things, bike shorts and a crop top, always in knit fabric.
Again, among the blouses, there's a new entry.
I have to say this is something I would have never thought of, because, usually, you would see me in sweatshirts or very basic stuff, but these embroidered collars, a bit "Princess Diana" style, a bit preppy school, I have two of these, for example, over this year Ive really liked them.
A gem, which I might be the only one to have, is this...suede vest.
I stole this from my mom's closet.
So, hi mom, it's here, if you cant find it.
Then we get to a more realistic style that we could define genderless, or masculine because I really like this kind of sweatshirts.
This one's by Eytys, a Swedish brand that did this collab with H&M.
I have this same sweatshirt in different colors and, you know, my brothers, sometimes, when they come here, steal it.
I could match it, for example, with a pair of mid-length shorts and, again, with a micro accessory.
Speaking again of sizes, this one, too, for example, is at least a couple of sizes bigger than my...
usual size.
But I really love to wear oversize clothes, and this is very versatile.
It's a knit vest, and this year I've been wearing it a lot.
Then we get to my collection of dresses.
What can I say, I like dresses because you put a dress on and you're basically ready, and then you can accessorize it.
In general, they give that extra touch that is...
"cute," I wouldn't say feminine because then I usually play it down with some sneakers.
But I particularly like to...
wear puff sleeves… puffed sleeves... Puff, puffed.
I have so many of those, very similar to each other, maybe in different colors.
This is the latest one I bought this year, in cotton, fresh, with these vichy squares.
And also have this one, always in white because it's my favorite color.
Its a bit "little girl on the prairie" style.
Now, I'll show you the handbags I've been using the most lately, starting from this acid green one.
Its beautiful, it looks like you have this little bug following you.
It's by ela, a very nice brand from Milan.
Something I bought a few years ago is this micro handbag in PVC by this Japanese brand and its called NANA-NANA, or "nananananananana." But the bag that I surely use the most is my bucket bag.
My friends keep saying that it looks like one of those things you put the flask of wine into, but I love it, I use it almost all the time, with all kinds of outfits, it's really my favorite bag.
My everyday look includes this passepartout, it's a small bag, a leatherette bag, very basic, with a sachet in it.
As you can see, my favorite sizes are very small, I don't have a lot to put in.
As for my shoes, instead, the ones in view because, of course, I have other pairs that I'm not showing.
These are the boots from the Sudio collection by H&M.
They're from 2018, in fact they're quite worn, worn out, but they're really passepartout, as well, I either match them with a miniskirt, or with leggings or skinny jeans.
Superga. I'm a huge fan of sneakers in general, white ones, and I'm team Superga.
Then, Birkenstocks, a must-have.
I got these recently and they match with any kind of outfit, so cool.
Again, white sneakers.
These are a bit worn out, with this wicker side, I got them in New York, as well, a few years ago.
and I should give them away, but...
I just can't.
Same type, these ones that are by Manebi, again an Italian brand.
As you can see, I like to repropose an item that I know fits me, I can reuse, so I buy several...variants of it.
Then we have sandals.
These are by Ralph Lauren, and these, too, a bit sparkling, good for the season, I got these in New York, too, they're by Steve Madden.
Some things I love to match are colorful socks and my white sneakers.
As you can see, I have a wide range, this is my underwear drawer, and there's not much to say because I hardly ever use bras, these are the ones I like the most, this silk one by & Other Stories.
And so, long live simplicity.
This is the t-shirt drawer! I try and be organized and fold them following this kind of Marie Kondo-like method.
The t-shirts I like are almost all oversized, or masculine, like this one, its a mens t-shirt.
This one is by Melide, dedicated to the Fyre Festival, its wonderful, Im very attached to it.
So, yeah, most of them have this kind of prints on and they're useful to play my look down and be a bit of a tom boy.
The only pair of Levi's 501 I have is actually a pair of shorts I got from Toronto.
In fact, it's a bit too big, they didn't have it in my size, but I still like them oversized.
Of course, an important part of the look includes accessories.
I generally like to wear little bijoux, very delicate ones, and I'll tell you about a few.
This is a silver necklace I was gifted, with my name on.
These, the only extravagant ones, are by Elemento. Its a pair of earrings, golden earrings coated by some colored resin.
While these house-shaped ones you can see here, which I really like, and remind me of my home in Calabria, theyre by Boutique Anton.
Then, these are by GeM Gioielli.
I also have this fantastic bijou made by them, here it is, shaped like...
horn-shaped, always white, my favorite color.
This is my archive, and the winter section as well.
As you can see, there are many jackets, overcoats, coats.
These, again, are very, very oversized.
A piece I'm super attached to is this fur coat, this mink by Giambattista Valli x H&M, from their latest collab.
I need to show it to you because it's super extravagant, but really lovely.
A part of my job I really miss is organizing events and taking part in events.
This is a section of clothes that might become useful again when we'll go back organizing events.
For example, I'm really attached to this one, a recycled velvet dress because it's from the Conscious collection by H&M.
I wore it in Rome, at the international event for the Giambattista Valli x H&M launch.
This one, instead, is an archive piece, literally because I've never worn it, I think.
Naomi Campbell wore it on the catwalk, though, in New York, at the Moschino x H&M event.
I'm really attached to this item.
Honestly, I don't know if I'll ever wear it, but it reminds me of a nice time in my career.
Another item from the collection made by Moschino and its collab with H&M is this glitter-coated top.
It's not my size, guess what, but as a bustier, I think that if worn over an oversized t-shirt or blouse, it can work.
I've never worn this one, either, but I love it.
My friends, when they come here, if they had to steal an item, they would choose this one.
In the most hidden part of my closet, there's my collection of hats.
My absolute favorite accessory, besides glasses, are hats.
I have plenty of them.
Ive got all sorts.
Like, this one's a beret.
Then, I really like bucket hats, so, very basic ones, like this, very cute.
And the one and only hat I'm the most attached to is this one because it was handmade by the girls from Almace, an Italian brand created during quarantine by some girls who just got into knitting.
Theyre brilliant.
So, this one, too. And he's called Gino.
Gino il Cappellino! Its beautiful.
Another one that I really like is this one here, with laces, a bit Indiana Jones' style, I dont know, or researcher-archeologist, which I like a lot.
The latest one I got with this design is this one.
The Italian Rêve: In Da Closet: Clorinda Sgromo [Digital PR Specialist] ☀️ - PR