Google Search News (June '22) - Ecommerce Essentials, Google I/O Announcements, and more! - read the full article about July Google update, Search engine optimization and from Google Search Central on Qualified.One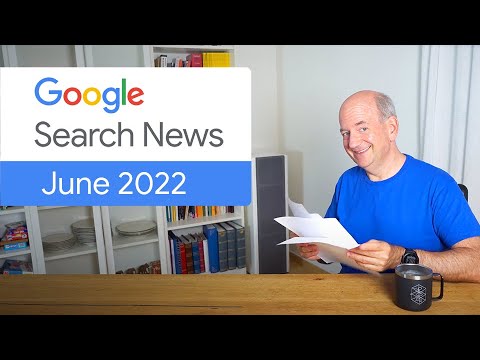 [THEME MUSIC] JOHN MUELLER: Hi, everyone, and welcome back to the "Google Search News." I hope life is treating you reasonably well wherever you are.
Im your host today, John Mueller, here from Google Switzerland.
Well, its June already.
And today, we have updates for you on a new video series, bubble charts, events, and more.
So ready or not, here we go.
Starting off, we recently launched a new video series for e-commerce sites called "E-commerce Essentials." The first episode is about one of the most critical elements for user experience, images.
E-commerce sites use a lot of images, so this is an important topic.
There are also episodes about optimizing JavaScript, making sure the site is mobile friendly, and more.
While these focus on e-commerce sites, you can use the information in them for any kind of website, including yours.
And now, over to bubbles.
In a blog post series, we went through ways of connecting Google Search Console to Google Data Studio.
Search Console gives you information about how your site performs in Google Search.
Data Studio gives you countless ways of visualizing any kind of data.
And so, its a great match.
In this series, we guide you through setting up the connection and help you to create a bubble chart.
This shows which queries are performing well for your site and which ones could be improved.
Its a neat way of looking at data and just one of the many things you can do with your data connected to Data Studio.
Changing scenery a bit, folks like me on this Search Relations team are now back at events.
We started off this year with virtual unconferences in Japanese and in English.
These are smaller events where everyone takes part.
And folks can discuss topics together with people from Google.
We currently dont have the next one finalized.
But knowing the organizers, Im sure well have more.
If youre cautious about going to big events, an unconference might be a great way to get started.
So watch out for the next one.
On that note, Google I/O took place in hybrid mode this year.
The session for search included a preview of a search video report in Search Console.
While we dont have a timeline to share just yet, if you use videos on your website, you can get a peek at the current plans for videos in the video for the session.
And events are not just virtual.
The team has started going back to in-person events as well.
Meeting people in real life is exciting after such a long break.
Well add the next events to our usual event calendar, so watch out for that.
If you see any of us at an event, come over and say, hi.
Next up, we recently launched a ranking algorithm change called the May Core Update.
We make these updates multiple times a year.
We call them core updates, because they affect the core of our systems and can result in changes across search and discover.
If youre curious to find out more, we have a blog post on what site owners should know about these updates.
We confirm broad core updates, because they typically produce noticeable effects.
Some sites may see drops or gains during them.
For more information on our thinking behind these updates, Id recommend reading the blog post.
Aleyda Solis, an external SEO expert has put together some recommendations and a flowchart on how to think about algorithm changes.
While we generally cant confirm third-party content like this, sometimes, its useful to have a framework for looking at changes and to get another perspective when appropriate.
In sadder news, Bill Slawski has recently passed away.
Bill was extremely active in the SEO community and worked very hard to correct misinformation in SEO.
Bill was also very passionate about search-related patents and wrote about them frequently.
If youve ever seen someone mention a patent with the context of SEO, then, most likely, Bill was involved.
Rest in peace, Bill.
Thank you for everything that youve done for the SEO world.
And now over to more smaller updates.
In Search Console, we recently deprecated the URL parameters handling tool.
Googles crawling systems have improved significantly over the years, making this tool less critical to sites.
We recommend that websites use the robots.txt file to provide information about crawling instead.
Additionally, we announced that we will stop using a handful of sitemap extension tags, such as the image geolocation and video category.
These will stop being used in August of this year.
This does not affect the use of other sitemap data, which continues to be supported.
And last on my list but definitely not least, we recently published our annual Webspam report.
To help people find information on questions that they send us, we worked hard to prevent spam and malicious content from affecting search.
The report mentions some of the changes in what weve seen over the years, if youre curious to find out more.
There we go.
Thats all for this time, folks.
Thank you for tuning in to the "Google Search News." I hope things have been going well for you so far this year.
And I look forward to catching up again in the near future.
If you have any feedback or comments, please let us know here.
If you subscribe to this channel, well make sure to let you know when another episode is ready for you.
Bye.
Google Search Central: Google Search News (June '22) - Ecommerce Essentials, Google I/O Announcements, and more! - Search engine optimization