In 2003 the Google Ad grant program was created, and like I said, gives $10,000 a month to eligible organizations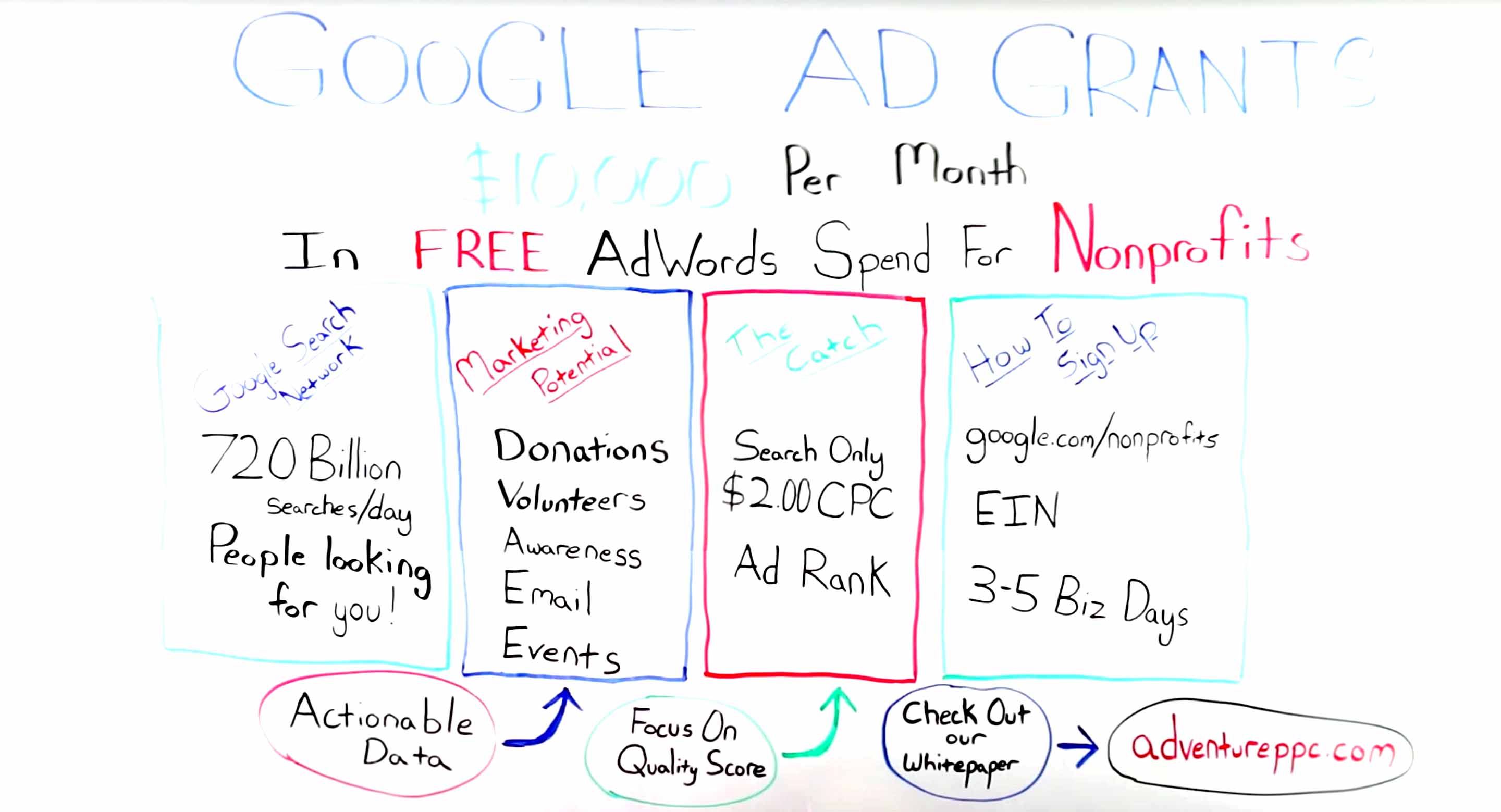 My name is Patrick Gilbert, I'm with Adventure Media Group and today I want to talk to you about Google Ad grants and how they can get your nonprofit up to ten thousand dollars a month in free AdWords spending.
I'm sure you're familiar with Google's search network, but you might not be familiar with Google AdWords, so to give you an idea: around 60% of all searches on Google end with a click on an ad (whether the users actually know it or not), so the the ads that are created from AdWords campaigns usually show up on the search engine results page at the very top and along the right-hand side.
They're actually indicated by a little yellow button that says the word "Ad". In 2003 the Google founders were introducing a new version of the AdWords platform featuring their pay-per-click model and they wanted to give the opportunity to nonprofits to participate. Thus the Google Ad grant program was created, and like I said, gives $10,000 a month to eligible organizations.
There are about 720 billion searches on Google every single day, and all these people might be looking for a product they want to buy, a service they're looking into or just an answer to a question. A lot of these people might be looking for a way to connect with you, but you might not know it yet! While all these people might not have found you yet, there are tons of marketing opportunities and you could take advantage of through a successful Google Ad grants campaign. I want to show you why you should take advantage of this.
While the end goal of any nonprofit marketing campaign might be donations in the long term, I think it's fair to say that not everybody is searching on Google for places to go give money to. That being said, there are tons of other opportunities you could take advantage of through a successful Google Grants campaign. Among that, you can raise awareness for your cause, you can recruit volunteers, you can grow your email list, grow your social media following, you can raise awareness, generate interest for an event that's coming up… the opportunities are virtually endless!
And even if you're not reaching the total conversions that you're trying to reach in your AdWords campaign, this Google platform will give you incredible actionable data that you can implement in all of your marketing programs – whether they be print, digital, television, radio. You'll be able to run tests that will show you exactly what is voguing the best emotion from your audience and what is ultimately going to drive those donations.
As you would expect there is a catch though. In a traditional Google AdWords account you have the opportunity to run ads on the search Network (which is Google's search engine results pages) as well as the Google Display Network, which ranges a variety of different web sites on the Internet. Unfortunately, with the Google Ad grant campaign you're limited to the search Network which means that nonprofits that are used to running marketing campaigns that focus around strong emotional images don't really have that opportunity.
It is going force you to sharpen your copywriting skills in order to find a way to evoke the same emotion – but through text, which could be a challenge for some.
The second challenge is that there's a maximum cost-per-click of $2 for any keyword in your account. Cost per click is what people in AdWords are willing to bid on any given keyword in their account. But in order to protect the integrity of the actual paying advertisers, Google has set this limit at $2, so it'll make it a little bit more competitive for you – and that also plays into where your ad rank will be on the search results pages. As you can imagine the higher up on the search engine results page, the better - it's it's very clear that every single position you raise yourself on those our results page the higher your click-through rate will be, so that'll be a challenge.
That being said, that is why there's a tremendous focus on Quality Score when running your campaign.
So, how do you apply? This won't be your traditional grant that's going to take you months to write apply for. It is only taking a few minutes: all I need to do is go over to google.com/nonprofits - you're going have to have your employee ID number ready or whatever the equivalent is for your country - you're going have to answer a few basic questions related to your address, your website URL, things like that. It shouldn't take you very long at all.
Then you apply, and within three to five business days you'll hear back from Google with whether or not you've been accepted to the program. From there we'll be able to dive into Adwords and create your first campaign. You'll be off.