Presentation Design Trends - read the full article about web design trends 2021, Web design and from Envato on Qualified.One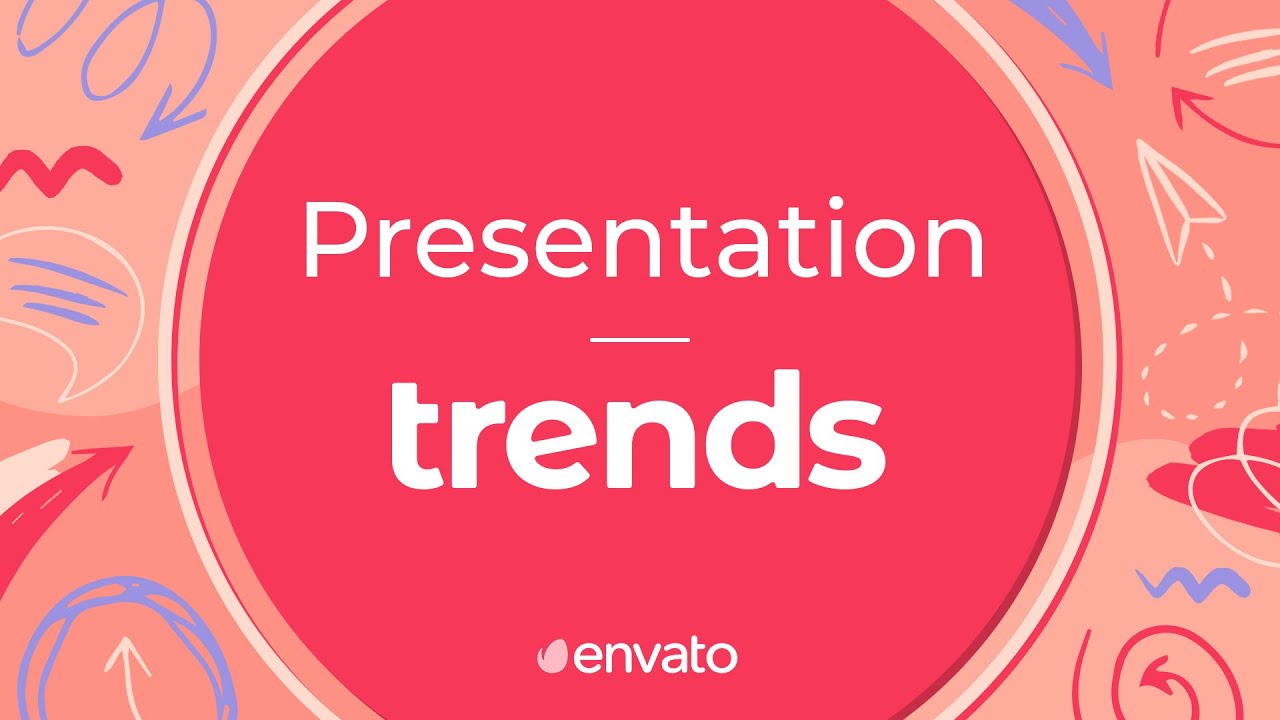 Hey there! Jen McKinnon here and it's time for another trend roundup from Envato.
Today we're taking a look at presentation design trends and a link to a collection of the featured items can be found in the description below.
This video is brought to you by Envato Elements, a subscription based library full of all the digital creative assets you need to create striking presentations in no time.
From PowerPoint and Google Slides to Keynote, you'll find themes and templates for your next presentation along with stock images and graphics to fill them with.
Everything you need to streamline the creation of your next masterpiece is at your fingertips.
Check the link in the description for a special offer from the Envato Elements team to get you started. From websites to slideshows, we've become accustomed to seeing information presented on white backgrounds.
But today's designers are increasingly using dark mode, which has proven to be easier on our eyes because it reduces blue light exposure.
In addition, dark mode can also save on battery life. But remember – the transition to the dark side is about creativity, too. Fuelled by a desire to boost the visibility of various creative elements, we are seeing designers use dark backgrounds to increase the contrast and make neons and pastels really pop.
And because presentations often contain lots of complex information, it's dark mode's ability to emphasise key elements that makes it such an effective pitch deck tool. Just take a look at this Amarillo Black Presentation.
Featuring 50 easy to customize and fully editable unique layouts, this ultra-modern PowerPoint template revolves around dark backgrounds and a punchy neon accent colour that shines a spotlight on statistics, quotations and infographics – in fact, whatever you want to draw attention to.
Taking a more playful but equally professional approach, Dark PowerPoint by alitolama is another dark background presentation template.
This pack uses illustrative icons, picture corners and a handwritten-style font to add a personally curated, collage effect.
Dark Mode is also covered in our Web Design Trends video. Take a look by clicking the link in the description below.
Next, presentation designers and marketers are inviting viewers to immerse themselves in nature. It's all part of a wider organic graphic design trend that's influenced by an increased focus on sustainability and environmentalism.
As a result, we can expect to see floral flourishes, earthy hues, organic textures and natural shapes sweeping into presentation decks this year. After all, it's the perfect antidote to concrete corporate identities and impersonal urban environments. Take a leaf from this trend and use nature-inspired design to breathe new life into pitches – as seen here with this multipurpose PowerPoint template by dirtylinestudio that's grounded in free-form shapes, wavy lines and hand-drawn fonts.
You can add a green-fingered flourish to your social media feed as well as your presentation with these PowerPoint and Instagram templates from invisualstudio that are bursting with natural beauty thanks to their muted, modern colour palette and botanical details. Organic design is just one of 10 attention-grabbing graphic design trends we've identified for 2021.
You can discover the rest – from jewel tones to organised chaos – in our Graphic Design Trends video, linked in the description below. What's the first rule of presentations? Keep it clear and concise. And minimalism is one surefire way to achieve that. We think it's safe to say that this trend will always be in fashion, because it's such an effective way of getting a clear message across.
Just look at the uncluttered and compelling slides contained in this presentation template by amarlettering. Browsing this deck feels like walking through the white rooms of a stylish art gallery.
Each element is given its own space – whether it's text or imagery – inviting the audience to immerse themselves in the information being shared. But just because minimalism is an enduring trend, doesn't mean it isn't always evolving.
That's why it's worth familiarizing yourself with Neumorphism, which has taken the user experience world by storm.
But what is Neumorphism? Next time you open up an app, take a look at the way some buttons, switches or dials are presented. Yes, they look like they belong on an old-school appliance, but they've been given a futuristic twist. We expect to see this simple yet tactile trend trickle down into presentation design – like in this Neumorphic Powerpoint Presentation that's available via Envato Market.
Featuring 260 animated presentation templates, it makes for a dynamic delivery as viewers' attention is drawn to the animated moving parts. If you think this is the trend for you, there's more minimalism in our Photography Trends video, while our exploration of UX/UI Design Trends offers a deeper dive into all things Neumorphic – click the links below to check them out.
Next up, muted pastels continue to have their moment – from the emergence of a blush pink, that so perfectly defined one generation's aesthetic it became known as a 'Millennial Pink', to Pantone's fall 2020 color predictions, which included whimsical shades 'Misty Jade' and 'Blue Bird'.
Most recently, we've seen monochromatic colour schemes be given a muted pastel makeover. Monochrome is often used to help people focus on the content and messaging, rather than the colors within a design, so this is perfect for pitch decks and presentations.
Introduce pastels into your next design project with the help of this Kayla Fashion Powerpoint Template by Formatika. Simply select a single base hue and explore how its various shades, tones and tints can be used to create beautifully balanced and cohesive slides.
From mint green to cool pink, it's eye candy colors are sure to captivate audiences. Alternatively, the peachy premade monochromatic color scheme contained in Lances – a Google Slide presentation template pack – adds a hint of welcoming warmth.
To learn more about turning up the heat with sunshine yellows – or dialling down the temperature with minty greens – then check out our Color Trends video for a rainbow of inspiration. This next presentation trend looks at how you can share statistics in a simple way that tells a story. Because the last thing you want to do is alienate your audience with detailed equations, tricky formulas and endless data sets.
Data visualization is grounded in designing for comprehension, and this year the trend is to take things back to basics. That means that even the most complex metrics are being made accessible and understandable thanks to simple design solutions. Harness the trend with these clean, clear statistic infographic templates by Formatika.
Containing 30 unique slides, customizable animations and transitions enable you to take the viewer by the hand as you guide them step-by-step through the presentation with the help of moving parts, directional arrows, stepping stones and interconnecting circles.
And it couldn't be easier to turn statistics into pie charts and bar graphs that concisely convey a message with these chart infographic templates that feature a range of customisable colors.
You can use these bright tones to make sure every data point is easy to digest. Ready to take your data to the next level? For more dynamic data visualization ideas, check out our video round-up of the best animated infographic templates.
Now, let's turn our attention to type. Minimalist sans-serif trends have been super popular over the past few years, but all that's set to change with many designers embracing the return of the serif.
In fact, it's one of the graphic design trends we've identified for 2021, so expect to see this having a big impact on presentations.
After all, serif fonts have long been recognised for their ability to communicate a sense of credibility and trustworthiness.
So, when seeking to give your presentation weight, the serif is a great place to start.
This Pixelist template is a great example of the unique and modernized serif fonts that we're seeing emerging.
Simply match your photography or illustrations with its stylish serif typeface for a contemporary look that's ideal for online portfolios. Or you could opt for the understated elegance of Vahlua to create a truly classy proposal.
Both presentation templates feature fully customisable slides – simply swap the placeholders for your own photos and text.
To get the full story on this year's favourite fonts, follow the link in the description below to our Typography Trends video. If you think every presentation needs a presenter, it's time to think again. Thanks to the growing popularity of social media slideshows, we are seeing an emphasis on presentations that speak for themselves. Just take a look at this creative carousel that was guest-posted to Chris Do's Instagram by @newfounderhacks.
It poses a series of questions that encourage viewers to swipe through 10 slides to find the solution. So why not take the presentation out of the boardroom and into the palm of your audience's hands with these versatile PowerPoint and social slides? Containing customisable PowerPoint slides, Instagram Stories and Instagram feed posts, this template will allow your ideas to reach a whole new social-first audience. From short-form video to augmented reality, continue to create the kind of online content that people want to consume, whatever platform they are passionate about, with our Social Media Trends video linked in the description below. And while we are on the subject of social media, it's clear to see that our obsession with scrolling through feeds has inspired many designers and marketers to prioritize visuals.
As a result, words no longer have to be the dominant element of presentations and proposals.
We see that playing out here in this Keynote Template from Envato creator markzugelberg, which gives every design element plenty of room to breathe.
Featuring more than 115 slides, there's plenty of white space to introduce some eye-catching imagery, while editable icons, device mock-ups and animated transitions add to the visual appeal. Then, on the flipside, and playing into the dark mode trend we talked about earlier, GARISH. by celciusdesigns offers up a moody and minimalist collection of templates that once again places an emphasis on images through gallery-style slides and neon highlight boxes that accent each picture. If your school days were spent doodling in the margins of your exercise books, you'll love this presentation trend that's all about hand-drawn shapes and scribbles. Available on Envato Market, Doodles Creative Multipurpose PowerPoint Template is clearly inspired by the DIY aesthetic, with simple sketches and drawings that add a human element to the deck.
With its squiggly underlines, circling paper airplanes and starburst emphasis, it's great for designers who want to communicate an informal and approachable tone.
Also promising a personal touch is the down-to-earth Powerpoint Template by SlideFactory over on Envato Elements.
This template presents information as if it's written up on a coffee shop-style chalkboard. It's handmade, rustic, organic and bursting with warmth thanks to its shading, muted color palette and line-drawn people. If this style resonates with you, take a look at our Illustration Trends video, where we discuss the trends shaping the current graphic design landscape. From sketch-like illustrations, we now turn our attention to geometric shapes and asymmetric layouts. There's a reason why designers dig this trend – and that's because, while they might look simple, they are incredibly striking.
Bring a splash of colour to your shapes with this Geometry Powerpoint Template by MasdikaStudio that ensures the information you're presenting has a real impact.
Containing a range of unique slides, each can easily be customized by dragging and dropping in your own images and text. And just as the geometric web design trend has evolved to feature more modern elements – like 3D shapes and floating objects – we can also see this happening in decks and slideshows. Add in 3D shapes and animation with BrandEarth's presentation template, which comes with creative infographics, charts, tables and vector graphics for a jump-off-the-screen aesthetic.
To get a sense of the Web Design Trends that are likely to inform and inspire a range of design projects this year – including presentations – check out our 2021 predictions. That does it for the presentation design trends you'll be seeing in 2021.
If this video was helpful, don't forget to like it below so we know to keep producing more content like this.
And subscribe to the Envato YouTube channel to stay up to date with our latest content! Have your say and tell us what trends you'd like us to profile next in the comments below and hit the Envato blog for more trends and tips.
That's all for now but if you're keen to stick around, click the thumbnail at the top right of your screen for more trends, or hit the one at the bottom right of your screen to watch the next Envato video, selected just for you. See you next time.
Envato: Presentation Design Trends - Web design