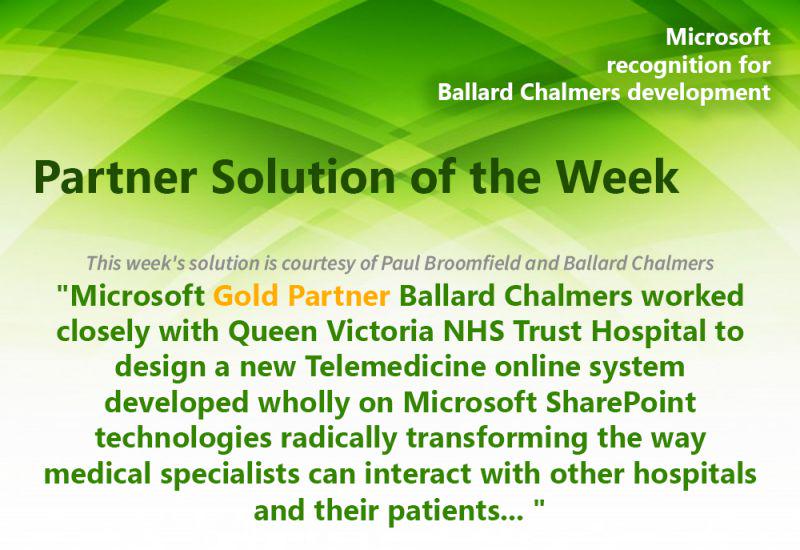 Some details
Queen Victoria Hospital NHS Foundation Trust (QVH) is one of the world's leading specialist centres for reconstructive surgery, and expert therapy and rehabilitation services. Burns patients who had the potential to be treated at their local hospital were often sent to QVH for review. 
In such cases treatment could be delayed by several hours, and patients would be involved in unnecessary travel (particularly if QVH's
…
services were not suitable for the patient).
In 2012, the trust recognised that with adoption of the latest technologies it could enhance service. Following intensive evaluations, QVH contracted Ballard Chalmers for the full design, development and implementation of the new solution – Telemedicine Referral Images Portal System (TRIPS). 
Built within a SharePoint environment using .NET custom development, using Standard SharePoint CAL licenses, TRIPS technology provides QVH with a secure (encrypted) transfer of digital images of injuries, enabling hospitals and paramedics to directly consult with clinicians at one of the five hubs on patient injuries and trauma at any time of day or night, regardless of where in the region the patient is located. 
TRIPS was an immediate success and its roll out was further accelerated by the involvement of the London and South East of England Burn Network, who recognised that  this technology contributed substantially to its own objectives. 
QVH's partnership with Ballard Chalmers has been highly successful and continues today.