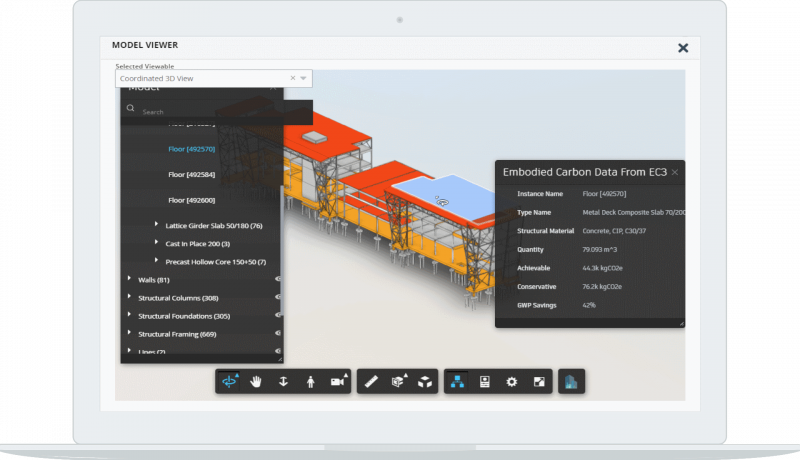 Some details
C-Change Labs needed to build a cloud SaaS tool for the North American construction industry to help them evaluate and reduce greenhouse gases (GHGs) emitted in the manufacture of building materials, without loss of performance or excessive cost.  
Information about materials is provided in Environmental Product Declarations (EPDs),
…
typically in non-standardized PDFs. With thousands of products and poor standardization of data, it is hard to make practical use of these to make business decisions. The challenge was to digitize these machine-unfriendly EPDs, store them in a database alongside product performance and location data, and offer industry-specific searches to make them usable. With a relatively nontechnical audience, it was important to offer rich visualizations, ease of use, and plenty of flexibility.  
The solution combines external services (DocParser, Box.com) with internal logic via webhooks. An automated QA process finds errors in the imported documents, which can be corrected by improved scripts or by data entry staff. The data is stored in a Neo4J database, a flexible graph-oriented database managed through a flexible Data Object Model. Hierarchical data models exploit the noSQL properties of Neo4J to allow the tool to handle an ever-growing list of material types with their own industry-specific properties. The graph features are leveraged to ensure privacy, and enable collaboration among manufacturers, sustainability program operators, and engineering professionals. 
The whole solution is scalable, containerized, and deployed on Azure.