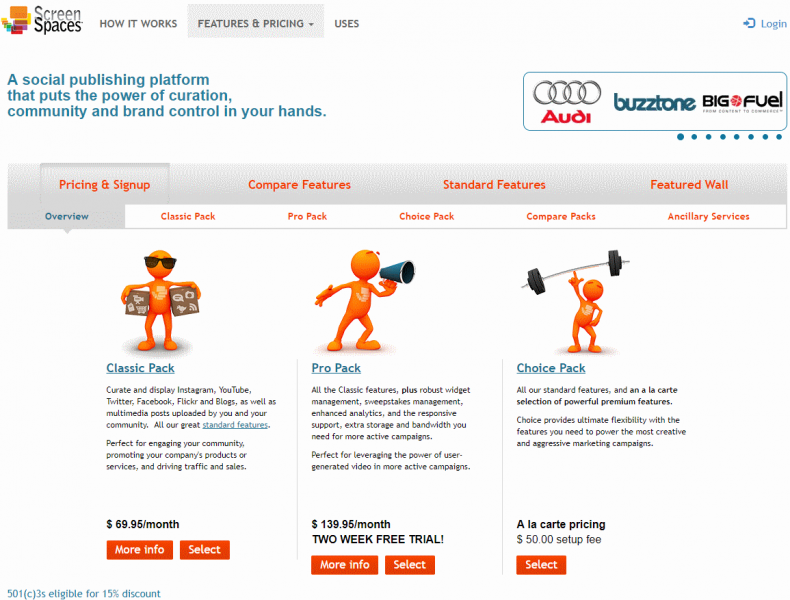 Some details
ScreenSpaces is a social publishing platform that uses highly relevant content to bring communities to life and drive activation and conversion. ScreenSpaces enables people and businesses to easily set up, publish and syndicate self-contained ecosystems of highly relevant multimedia content, from a variety of sources, without the need for special programming skills.
The client wanted different pieces of software: a
…
self-service public portal with Content Management System integrated with the personal area, a public SEO-optimized portal, and an admin console to track client status, enrollment and payments. 
Together with the client, we formulated the complex requirements for the system behavior based on the subscription plan and payment status. We setup a small yet fully functional dev team for the development, and reduced it to a single support person when it was required later. The complicated requirements for the combination of CMS and user account settings, product setup, invoices, payments and subscription plan were addressed by using the right technology. We used Django CMS with custom modules. We also based our backend admin console on Django Admin to reduce development costs. Multiple environments were setup with different purposes, starting from a Continuous Integration to the Production environment, which allowed careful testing and delivery process. 
As of 2018, Screenspaces continues to maintain the product, attracting even more customers.