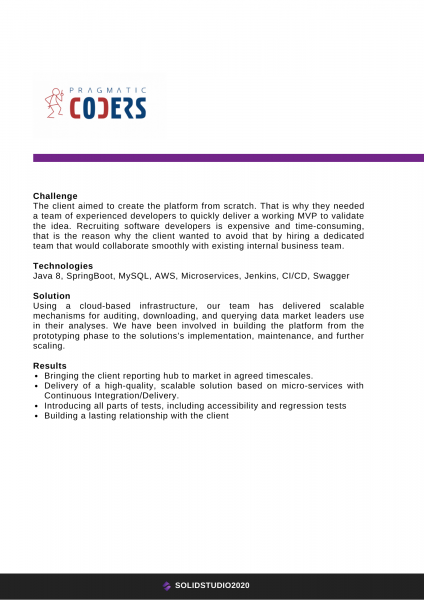 Some details
We set up a dedicated team to build a web application to serve as financial reporting hub. The platform serves over 1000 corporate clients who use it to fetch and query gigabytes of financial data spreadsheets and PDFs daily, and to initiate items of work digitally.

Challenge
The client aimed to create the platform from scratch. That is why they needed a team of experienced developers to
…
quickly deliver a working MVP to validate the idea. Recruiting software developers is expensive and time-consuming, the client wanted to avoid that by hiring a dedicated team that would collaborate smoothly with the internal business team.Solution
Using a cloud-based infrastructure, our team has delivered scalable mechanisms for auditing, downloading, and querying data market leaders use in their analyses. We have been involved in building the platform from the prototyping phase to the solutions's implementation, maintenance, and further scaling.
Results
Bringing the client reporting hub to market in agreed timescales.
Delivery of a high-quality, scalable solution based on micro-services with Continuous Integration/Delivery.
Building a lasting relationship with the client.
Introducing all parts of tests, including accessibility and regression tests.