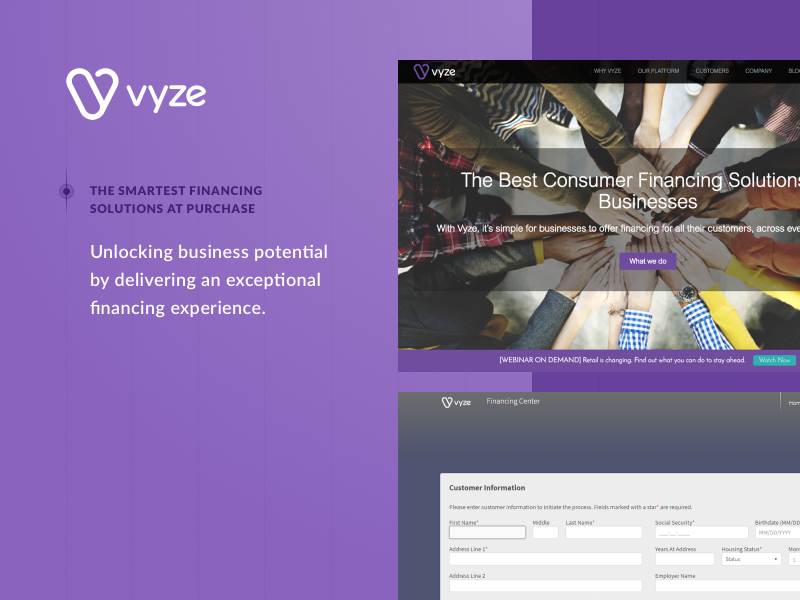 Some details
ABOUT
Vyze is a leading financial technology company for retailers and manufacturers, acquired by Mastercard in 2019. By combining a comprehensive lending supply, technology, and support under one roof, Vyze is able to deliver businesses simpler, more satisfying financing experiences for their customers, wherever and whenever they shop. Formerly known as NewComLink, Vyze raised $13 million in series B
…
funding in 2016, bringing the total funding to $35 million.
CHALLENGE
The main challenge for Vyze was scaling up their internal development team—bringing resources on board with the right skill set, who could hit the ground running and be able to execute on their strategy. They required qualified developers with extensive knowledge and prior experience.
STX Next is meeting the challenges of the project head-on. Firstly, simultaneous dedication to two platforms alone is quite demanding. Secondly, certain solutions implemented in these products could not be found in other financing platforms, meaning the developers had to design the solutions from scratch. Finally, as the project progresses, the team is not only developing a cutting-edge fintech application, but also working together with Vyze to implement the best Scrum practices.
STX Next Delivered
On-site financing platform for retailers
Fulfilling eCommerce financing experience
Advanced and robust API
Full automatic test coverage with Behave and Selenium
Secure online credit applications and payments
Quick credit assessment
Intuitive front-end design