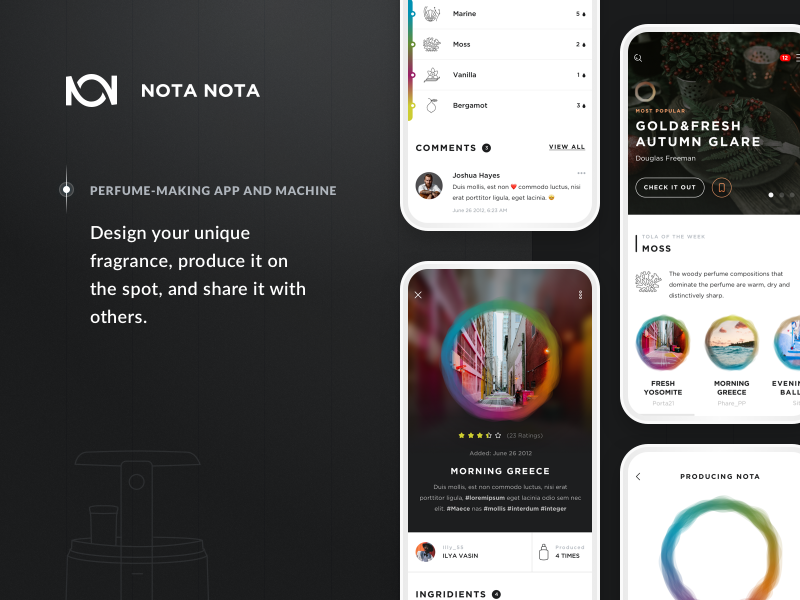 Some details
ABOUT
NOTA NOTA allows designers and creators from all over the world to design and share perfumes. It's a new concept of mixing perfumes as part of your daily routine, just like using your coffee machine. NOTA NOTA received the iF Design Award in the Product category in 2018.
CHALLENGE
NOTA NOTA wanted to build an
…
app that would streamline the user flows and interface, as well as expand the social functionalities.
STX Next worked in continuous feedback mode, adjusting features and screens to the client's needs as quickly as possible. We put a great deal of effort into making the product easy to develop and maintain by using automation and containerization, static typing and static code analysis support, and automated unit testing.
To reduce the costs both during and after development, we built the new NOTA NOTA app from scratch using React Native for cross-platform mobile development. We also used tried-and-tested, out-of-the-box solutions to limit the cost of features such as analytics, push notifications, or crash and error reporting.
Product Design played a key role in the development process, working hand in hand with the development team to create a seamless experience. All the core app functionalities were redesigned by applying new user flows and interactions for designing, producing, and sharing perfumes.