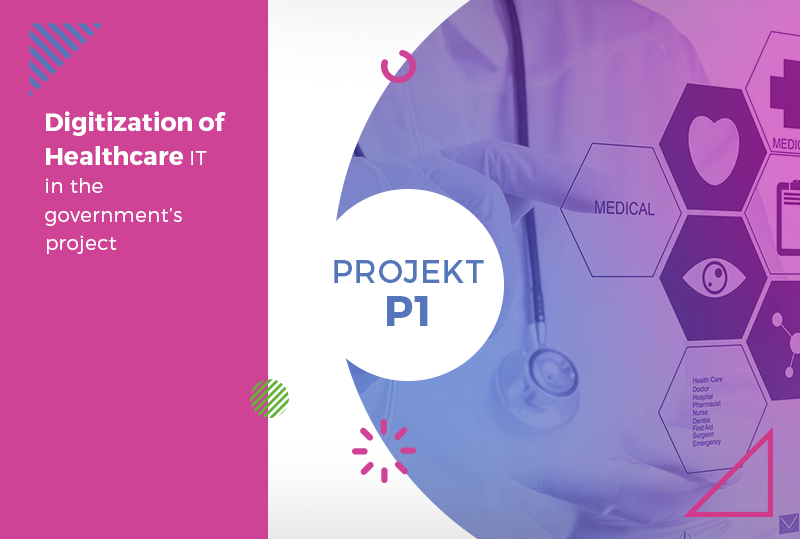 Some details
Challenges and Needs
Digitization of such huge area requires advanced IT tools and efficient data flow systems
Cooperation and information exchange between many groups of stakeholders
Comparing to commercial platforms, built for private companies, the scope of work is much bigger.
The software system built as part of e-health (P1) project needs integration of large data
…
bases, such as: medical records or national electronic identification nod including e-ID and Trusted Profile.
Besides, it involves: NFZ (National Healthcare System) data bases, Integrated Patient's Catalog, PESEL – NET system and GUS' (Central Statistical Office) and ZUS' (Social Insurance Institution) data bases.
The core of the project is detailed technical documentation which is provided by institutions responsible for a given system.
A crucial point of working with government projects are security issues.
The created software undergoes periodical security tests, which guarantees compliance with such standards as OWASP.
Setting tasks and assigning responsibilities for  numerous project group including teams from different companies
The core of our work is good communication and building common developers' and testers' practice. 
Implementing well-developed code review process and Scrum methodology.
Solution
Programming in iterative-incremental process in the form of two weeks' sprints.
After each sprint, there's a review, where all the teams involved in the project present their work results.
Use of Nexus Scrum methodology
We have built a team of 38 specialists including: scrum masters, developers and testers. 
Programming is based on open source technologies
Main components of the platform are based on Java language.
At front-end, we use Angular, and Java 8 and Spring Boot at the back-end.
The main database is MySQL, and programmers are supported by Docker, Kibana and Elasticsearch.
Because of a wide scope of the project and technical requirements, we also use Percona for MySQL. PostgreSQL has been use for some databases.
Use of popular technologies in the area of government systems' digitization has  turned out to be a great solution. It allowed for avoiding high license costs and didn',t require engagement of a narrow group of programmers who have experience in one particular technology.