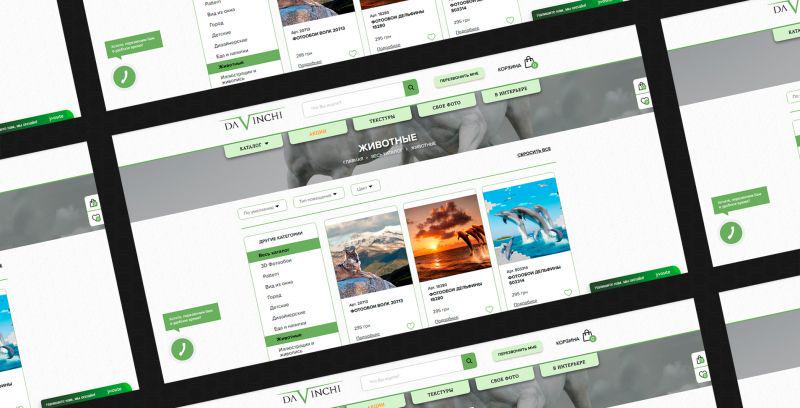 Some details
CLIENT:
​​Da Vinchi is an online photo-wallpaper store.
DESCRIPTION:
Online shop.
ROLE:
Full cycle from requirements specification and architecture to deployment.
TEAM AND DURATION:
1 front-end developer + 1 back-end developer. 3 months for initial delivery, ongoing support &amp,
…
maintenance.
INDUSTRY:
Consumer goods.
COUNTRY:
Ukraine.
SERVICES:
Software product development, support and maintance, software testing.
TECHNOLOGIES:
HTML5, CSS3, SASS, Gulp


jQuery, LazyLoad, SVG, AJAX


PHP, MySQL, CMS OpenCart, Facebook API


Google Maps API, WayForPay API.
SOLUTIONS:
Web and Internet portals.
RESULT:
The adaptive, multi-browser pixel-perfect layout of the main page, the layout of categories, second-level categories, product cards, contacts, image uploads in the gulp-assembly,
A theme for CMS OpenCart was developed based on the layout, the full content management system was implemented using custom fields,
The website is deployed and all necessary settings on the server are completed,
The following functionality was implemented:
Cropping images in the product card,
Overlay of interiors,
Custom image uploads,
Multilingualism,
A smart filter of goods,
Second-level catalog,
Export/import of goods and categories,
Template meta-information and product descriptions,
Integrated services WayForPay, Binotel, JivoSite.