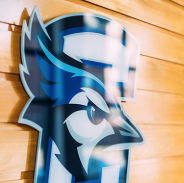 Some details
In 2017 Creighton',s athletic department realized it was time to switch conferences and elevate the space. It had to be cutting edge, but still maintain a family-friendly atmosphere.
Daake was asked to bring purpose to the space.

We led the project by delivering conceptual ideas that engaged visitors, honored the facility's past, and generated excitement for people of all ages. Simply put, we transformed
…
white walls into an immersive experience.
The multi-story athletic center entryway now sports a striking array of white basketballs and volleyballs hanging in midair. The nearest wall is awash in Creighton blue and tells the story of the Ryan and Sokol families, as well as recognizing key donors.
Other additions include a prominent trophy display and a mural of the Creighton "fight song." A Hall of Fame display boasts names and statistics of Creighton's very best teams and athletes.
Inside the arena, the once-white walls are vibrant displays of blue adorned with Creighton's Bluejay symbol and those of other Big East conference teams. Banners hang from the rafters to extoll conference championships and other achievements.