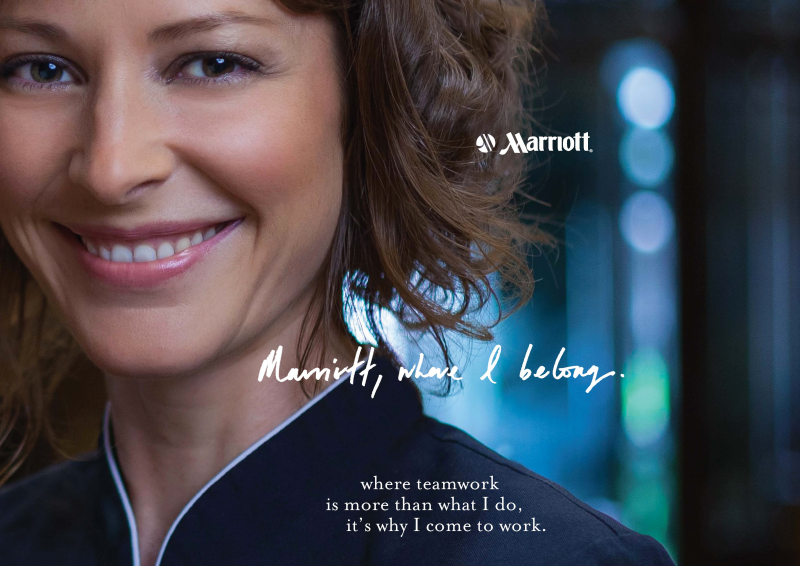 Some details
Challenge
Marriott engaged Evviva to develop a clear, relevant, resonant global position to speak to talent in emerging markets—and fill 50,000 jobs—many in countries where brand recognition is low, barriers to entering the hospitality field are high and social media participation is ubiquitous.
Solution
We knew people often base employer preferences on brand recognition—if it's a good brand, people assume it must be a
…
good place to work. But how could someone imagine what it would be like to work somewhere they couldn't even imaging going? Results
As the result of Evviva's work, Marriott won Employer Brand of the Year (ERE) and in the following year grew their Facebook follower base from fewer than 14,000 to more than 1,000,000 to become the most-followed employer brand on the internet. Evviva's work also resulted in significant earned media including feature stories in top global publications including The Wall Street Journal, USA Today, The Financial Times, The Economic Times and the Times of London. 
Marriott was so pleased with the work that was featured on the cover of the company's annual report. The "Where I Belong" creative campaign Evviva developed in support of the brand line remains in use in all of the 80 countries in which Marriott hires talent and has led to dramatic improvements in hiring and retention. (Exact numbers are client confidential.)
For more on this case, visit https://www.evvivabrands.com/portfolio/marriott/