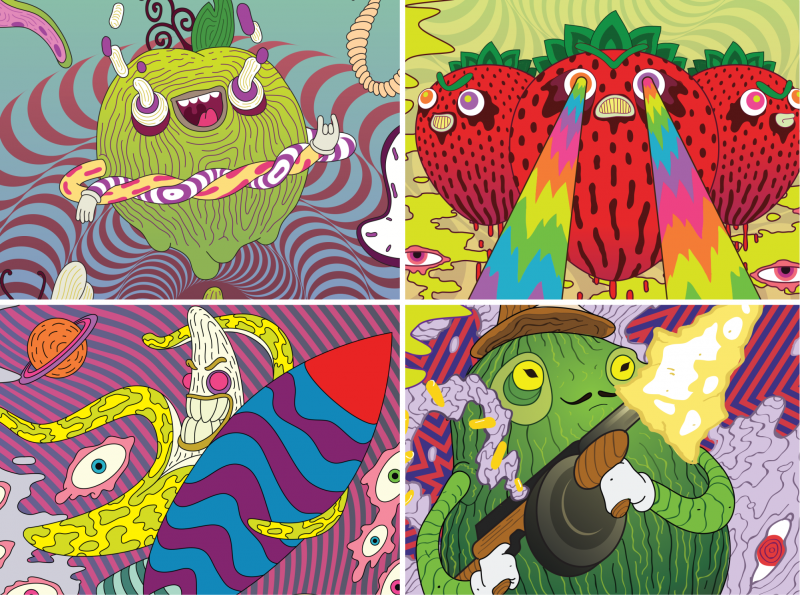 Some details
Our task was to create a daring and modern label design.
Russian E-liquids Laboratory is a producer of liquids for electronic cigarettes in CIS. This product is popular among younger generation, so we created the label design taking that into account. Every flavour of the liquids has its own illustration. For an apple flavour we drew a crazy apple turning around in a huge amount of curved lines. An
…
eye with wings is flying around, and a wall clock is floating by. The bright and unordinary design fascinates and draws attention. The daring illustration communicates the entire range of the unusual and fresh flavor of the fruit liquid. For a strawberry flavour we chose a wicked strawberry with a withering glance. As well as other flavours of this series the strawberry has become a bright and daring illustration. The watermelon flavour was presented as a mad killer in a hat.
The banana flavour Have you ever seen a wicked banana flying to the space in a rocket of curved lines? And our designers probably have, as they could depict this madness. The surreal design directly draws attention, and the bright colours and unpredictable lines make it even more extravagant. A team of designers in Mediaset studio performed this task 100%. The label design exceeded all the customer',s expectations. The liquids for electronic cigarettes with the illustrations made by our studio are still top selling.