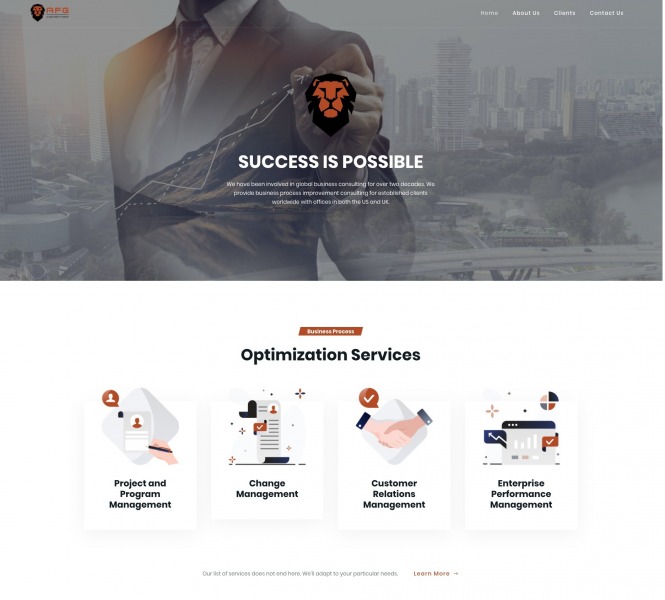 Some details
Allied Fidelity Group (AFG)  has been involved in global business management for well over two decades. They have engaged in consulting projects for well-known household brands including fortune 500 companies in the USA and major corporations in Europe. AFG has a number of products and services that feature competitive solutions, and introduce entirely new concepts to businesses and consumers.
CLIENT'S NEED
The client
…
applied to UPQODE for 
website design
 and development of an easy-to-use website with well-structured content and responsive design for a profitable presentation of the company and its key services, as well as attracting new customers through the Internet. OUR DIGITAL SOLUTIONS
The minimalist design approach has been a major trend lately, as it facilitates navigation and improves the quality of use. That is why he was chosen as the key to creating the website design. To achieve this style, 3 primary colors were used in the development of the website. Each page also has some space that adds pages of ease and focuses the user on the content without distracting it from the design elements.
Special attention was paid to the balanced distribution of content and graphics. Custom icons and illustrations helped structure the content and balance the layout to ensure the best user experience. Also, the use of slightly contrasting colors and clear fonts has become a key factor in creating a user-friendly and intuitive interface.
Drawing on the experience of years past, it will be apparent that there has been a clear audience transition to mobile browsing, and responsive design is the easiest way to reach users across devices and ensure seamless user experience. Improving user experience and ease of use leads to new customers for any business. So we took care of that and created a web design that resizes the screen so that visitors don't have problems accessing menus, links, buttons, or filling in forms. This will improve user experience and increase the time spent on the site. 
THE RESULT
UPQODE took into account all the key positions and wishes of the client. The result is a well-structured and easy-to-use website with high speed and responsive design.