How I started my Business Intelligence Journey | How to Become a BI Analyst | Power BI Career Path - read the full article about business intelligence, Business Intelligence & Analytics and Data analytics and consulting from MsGeekChick on Qualified.One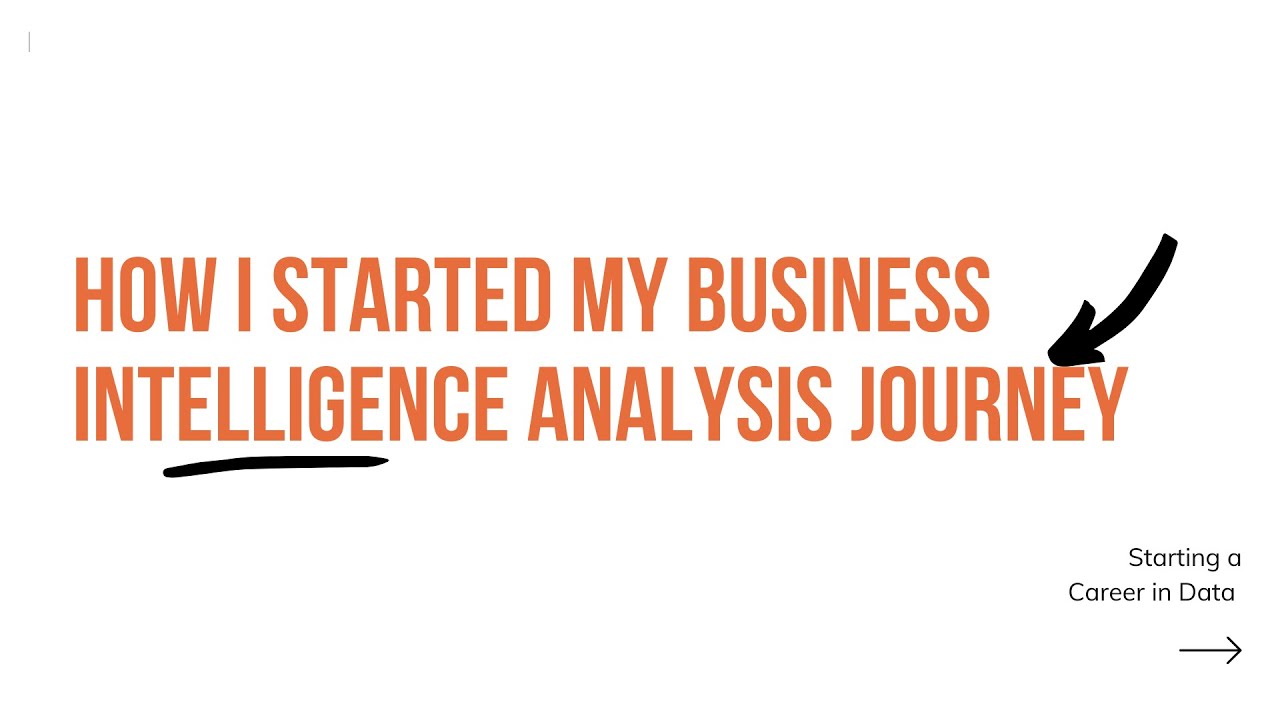 Hello and welcome to my YouTube channel! Today Im going to talk about how I started my career in Business  Intelligence Analysis so lets get started.
Before I get into my journey lets  define business intelligence analysis.
So it is the whole process before and after data  analysis, and it also includes data analysis.
This includes collection of data, cleaning it up and making sure its ready for analysis  in order to give actionable insights.
Business intelligence is really important  because it ensures we have one source of truth, one true data, one reliable data in  order to make fact-based decisions.
Anyways! Before I started my Business  Intelligence Analysis career, I already had a background in IT but dont  let that deter you, because a lot of folks that I did Business Intelligence Analysis  course with they didnt have any IT background.
So I have a masters in IT for Management  from Coventry University in the UK.
So this is the course I did and um and its called Management of  Information Systems and Technology right now but when I did it, it was Information Technology  for Management but its still the same thing.
So my masters was years ago so moving to Canada  I had to do a course at SAIT which is Southern Alberta Institute of Technology and usually an  Institute of Technology is usually hands-on and practical so you have to like learn how to  actually do the work not just theoretical.
So this institute is in Calgary, Alberta and  the course I did was Business Intelligence Data Analysis and Reporting it was really  like a short program for six months.
So its called Business Intelligence  Data Analysis and Reporting and its a full-time intense program for  24 weeks which is like six months, but the first four months you spend  in class from 8 a.m to 4 30 p.m.
And even after that you have course works and  you take quizzes or tests every single week so it was really intense but it was a  good program and um Im happy I did it.
So usually when you come into a new country  depending on where youre coming from you have to find a skill to bridge the gap.
Because its either you have the  Canadian experience for my case, or you have the Canadian education but usually  usually it takes a lot of work to just depend on your past experience for you to get to where  you were before you moved to the new country.
So its either you start with menial  jobs or you just go back to school and then restart your career or just add a  Canadian education to your certificate.
Anyways that was what I did  and that was how I actually entered back into the job market  as a Business Intelligence Analyst and I love data to start with, I love  IT and this was was a good break for me.
So my point is anyone can actually  start a career in data analysis by just doing a short program  or just reading it up.
There are other courses I know out  there so this is the one I did and this is how I started my career in Business  Intelligence Data Analysis and Reporting.
So yeah, I just thought to share because I know  some people are coming into Canada from different parts of the world, migrating as permanent  residents and maybe through Express Entry, or some people are just anywhere in  the world trying to start a career in data and you dont know where to start, so  you can actually do a course or you can go to this website and just check out what the course  entails and maybe read up on different topics, different subjects that are under this course  that will probably help you to find your path.
So this is another option this is called  is a college called Bow Valley College so everything Im talking about is in  Calgary, so you can also research any destination you have in mind, any province or city  you want to be in. But the Bow Valley College is a somewhat cheaper version of SAIT it doesnt  mean theyre not as good but depending on your pocket you can go to Bow Valley college  and do this IBM Business Intelligence Analyst course I know nothing about it because I didnt  do it, thats a disclaimer out there but Im just saying like if youre looking for other  options you can make inquiries into this one.
So thank you for listening and thank  you for watching my video please dont forget to subscribe, like, comment  and see you next time thank you bye!
MsGeekChick: How I started my Business Intelligence Journey | How to Become a BI Analyst | Power BI Career Path - Business Intelligence & Analytics