Shopify vs. WooCommerce 2021 | Best eCommerce Platform for Your Online Store? - read the full article about woocommerce 2021, E-commerce Development and Online store creation from Craylor Made on Qualified.One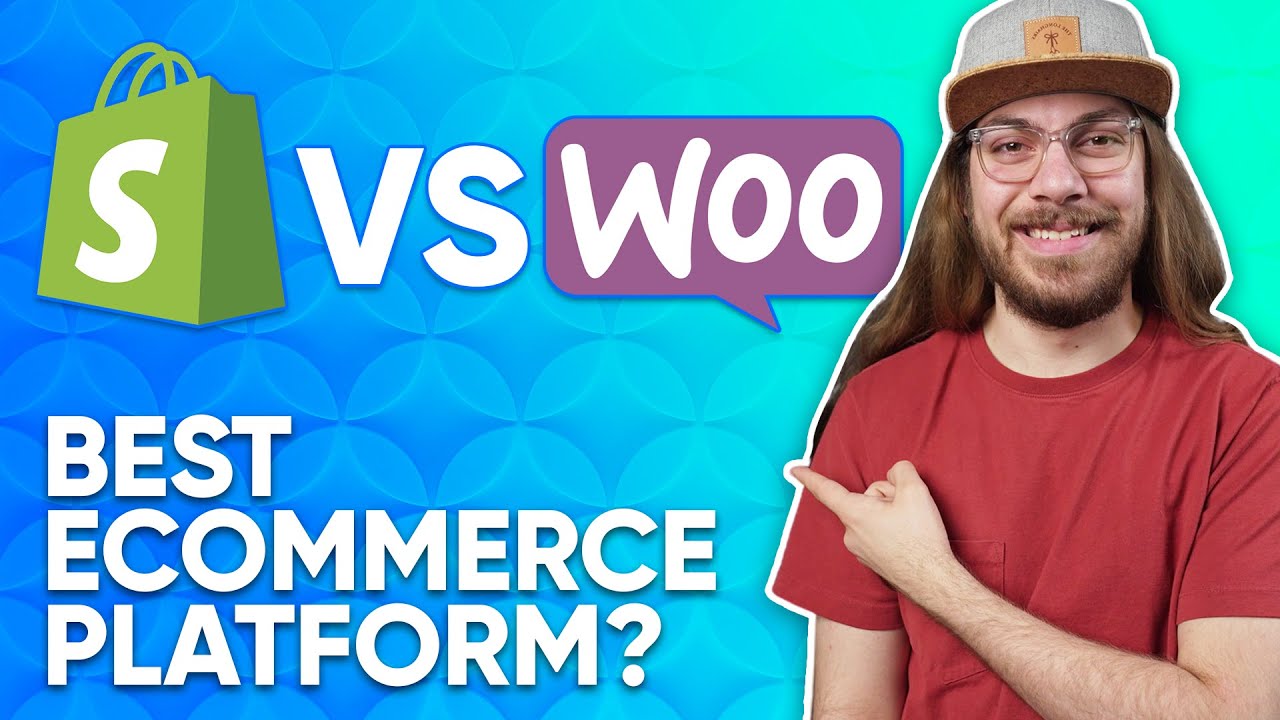 - This video is sponsored by LitExtension.
The worlds number one eCommerce platform migration solution.
Hey guys, my name is Christian Taylor.
Welcome back to Craylor Made where I like to talk all things, branding, marketing and entrepreneurship.
So today well be taking a look at the best eCommerce platform for your online store.
If youve been researching eCommerce solutions youve likely identified two popular options that youre comparing.
Shopify and WooCommerce.
Shopify is a hosted eCommerce solution with plans starting at $29 a month.
WooCommerce is a free plugin for WordPress which is also a free platform.
So your only cost would be for web hosting and your domain name.
WooCommerce does have some paid add ons so you can choose to spend more to get more features but its hands down the way to go if youre on a tight budget.
You cant argue with free.
Getting into the setup experience, Shopify is much smoother.
You can get started with a 14 day free trial and the setup wizard walks you through each step of creating your account and provisioning your store.
Once youre sent to the admin panel, its a pretty straightforward interface to add products and manage orders and customers.
With WooCommerce, things are more complicated.
First, youll need to identify a web host of choice, install WordPress and connect it to your domain name.
And after youve set up WordPress and selected the theme, then you can install the WooCommerce plugin and theres a setup wizard to help you configure the basics.
Some web hosts is like cloudways offered to combine most of the setup process into one step allowing you to set up WordPress and WooCommerce in one installer with a few clicks.
Well talk more about the pros and cons of free and open source versus paid and hosted later in the video.
But for now, lets focus on the backend management.
You can manage your WooCommerce store in the WordPress admin dashboard.
Theres a WooCommerce option on the menu sidebar and managing orders and settings is pretty straightforward.
In typical WordPress fashion though there are some things that just dont make sense.
Why is products a separate menu thats disconnected from the WooCommerce menu? And what is reports on the WooCommerce menu when theres a dedicated analytics top level menu items? Some of the interface just doesnt make sense.
These sorts of confusing quirks are unfortunately common with the WordPress UI.
Overall though, the WooCommerce backend is one of the more intuitive UIs of WordPress plugins on the market.
Its easy to manage inventory, shipping and variations for each item.
Its also easy to view orders and enter tracking numbers when the orders ship.
WordPress is an open source website builders so you also have access to the posts and pages sections of WordPress if you wanna have a blog, about page or contact page on your online store.
Shopify has a superior backend management experience and thats largely because Shopify is a dedicated eCommerce platform.
You only use Shopify if you are building an online store where WordPress is a generic website builder with plugins like WooCommerce that can give eCommerce functionality.
So youre dealing with the software that was built to be an online store versus a generic website builder with all of this extra software added on top.
With Shopify you can get to orders, products, customers and analytics in a click.
Order fulfillment is speedy allowing you to use J and K on your keyboard to page through orders for quick fulfillments.
When it comes to eCommerce management and fulfillment, Shopify is the clear winner here.
However, if you also wanna use your store as a blog or have other pages on the site that are more advanced than a basic contact page or about page, WooCommerce has the advantage thanks to you having full access to the power of WordPress.
Shopify does have a blog feature but its inferior to WordPress in every way.
Personally, if you do go with Shopify, I would advise setting up a separate WordPress blog on a sub domain.
After all WordPress is free and its just better for blogging.
This is the approach The Longhairs took with their Shopify store and using both Shopify and WordPress gives them the best of both platforms for the ultimate eCommerce experience.
So far weve compared pricing and backend UIs but theres a lot more to consider with picking the right eCommerce platform for you.
Lets think about some features that can potentially boost your sales.
I love that Shopify automatically runs an abandoned cart campaign by default.
Theyve designed the checkout screen to where you have to enter your email address to get your full total with sales tax and shipping.
So if a customer starts to check out and decides to close the tab, Shopify automatically sends them an email a few hours later, reminding them of the items they left in their cart.
While I dont have any backend metrics to vouch for this, I can tell you from my own consumer point of view there are absolutely times where abandoned cart emails have gotten me back on the store and I ended up checking out.
I strongly believe that abandoned cart emails are an easy way to boost sales and Shopify including that automatically is a major win.
We also need to consider customer confidence and convenience.
As a consumer, I know the Shopify checkout screen.
Its consistent for every Shopify store regardless of the styling and theme of the site, so when I see it, I feel comfortable entering my card number knowing that its a trusted eCommerce platform and my card number is not gonna get stolen or end up on the dark web somewhere.
Likewise, I also know that most Shopify stores support Apple Pay and as a consumer, I prefer Apple Pay because I like to check out with Apple card and get 2% cash back, instead of the one and a half percent cash back I would get with my other credit cards.
Apple Pay takes some of the friction away from the checkout process, making consumers more likely to spend more money.
Abandoned cart emails and Apple Pay are possible with WooCommerce but youll need more plugins and extensions some of which cost money.
And Ive personally never gotten Apple Pay to function properly with WooCommerce.
We also have to think about reliability.
Shopify is a proprietary hosted platform, meaning for your $29 monthly fee, Shopify will handle as much traffic as you can send them.
With WordPress and WooCommerce, you are responsible for picking your own web hosting.
Each web host will offer varying levels of speed, quality and reliability.
You could use some basic starter hosting from Namecheap for less than $3 a month but if your eCommerce store starts to take off and you need hosting, that can scale with you and that you can rely on, youd wanna use a managed hosts like WP engine, which starts at $36 a month more expensive than Shopifys basic plan.
And you could still end up having to scale up and spend even more money for web hosting based on your storage traffic, all right.
So its evident that Shopify is the clear winner here, right? Well, if were going on features, ease of use, reliability and customer experience, yes, absolutely.
Shopify dominates the eCommerce space for a reason.
But there are three major cases for using WooCommerce.
Price, ownership and customizability.
Talking price, WooCommerce and WordPress are both absolutely free.
So go get some basic budget web hosting and youve got a fully functioning eCommerce store for less than $36 a year, just over the price of one month of Shopify.
Since WordPress is open source, you also own your store.
You get to make the rules.
With Shopify, there are certain categories of items youre not allowed to sell.
Chances are you wont be limited by this.
But if you do happen to be in one of those niches, WooCommerce might be the way you have to go.
Shopify is a proprietary hosted platform which means youre operating under their rules and they can always suspend your store at any time for any reason.
And again, while this is highly unlikely and its pretty much only if youre selling certain categories of items Shopify doesnt allow, its always a possibility.
And with WooCommerce, thats not happening.
Also because WordPress is open source, WooCommerce is completely customizable.
You could get your hands dirty and code your own extensions or modify the source code to make it work exactly how youd like.
Yes, Shopify does have a developer API, but youre definitely more limited in what you can do.
Theres other factors too that we dont have time to discuss in this video, such as fraud detection algorithms and extension availability for things like dropshipping from AliExpress.
You definitely have to do your own research and find out whats most important to you when picking an eCommerce platform.
But heres my ultimate conclusion.
Shopify is the superior eCommerce platform overall but WooCommerce is great for anyone starting out on a budget or those who have specialized needs that require ultimate customizability.
But the most important thing when picking an eCommerce platform is to just get started.
It can be a difficult decision.
But the longer you wait to start your online store, the longer it will take you to start getting orders and grow your business.
If the cost of Shopify is a barrier, just start with WooCommerce.
On the flip side, if youve been using Shopify and you really just need the flexibility that WooCommerce can offer, dont be scared to switch.
Youre never stuck with the platform you decide to start with.
And you might be wondering, how easy is it to switch between platforms? Its actually super easy to transfer your eCommerce data between platforms, thanks to todays sponsor LitExtension.
LitExtension is the world leading eCommerce platform migration solution founded in 2011 by a team of eCommerce website development experts.
Whether you want to run a basic migration yourself with a few clicks using LitExtensions automated tool or have an expert migrate your online store from A to Z with the LitExtension all in one package, your online stores data can be transferred in no time.
LitExtension can effortlessly transfer data from WooCommerce to Shopify or vice versa but thats not all.
LitExtension supports over 100 eCommerce platforms to transfer your data to your new online store.
I tried transferring my WooCommerce store to Shopify using both the automated basic migration and the all-in-one package and both worked perfectly.
LitExtension takes the pressure off of picking the right eCommerce platform and gives you the freedom to just get started with your online business.
When you outgrow your current eCommerce platform, transferring to something new is just a few clicks away.
Theyll even give you a free demo migration to make sure data can be transferred correctly before you pay.
Enjoy first-class 24/7 dedicated support, unlimited free re-migrations to make sure your new store goes live with no data left behind and the best accuracy with no downtime on your current store.
Visit the link in the description below to transfer your online store today.
Thanks to LitExtension for supporting the channel and I think their tool really makes your decision easier for which eCommerce platform to pick.
It goes right along with what I said earlier.
The most important thing is that you just get started.
Use the platform you can afford that best fits your needs now, and know that you can effortlessly transfer to a new platform at any time in the future.
So which eCommerce platform do you prefer? Id love to know your thoughts in the comments down below.
And if you liked this video, do be sure to hit that subscribe button and click the bell so you dont miss when I release new videos.
Thanks again to LitExtension for sponsoring this video, make sure to check out their link and the description below to easily transfer your data to your new online store.
And with that said, Ill catch you guys next time.
Craylor Made: Shopify vs. WooCommerce 2021 | Best eCommerce Platform for Your Online Store? - E-commerce Development