10 Best Portfolio Website Templates [2021] - read the full article about web design 2021, Web design and from Envato on Qualified.One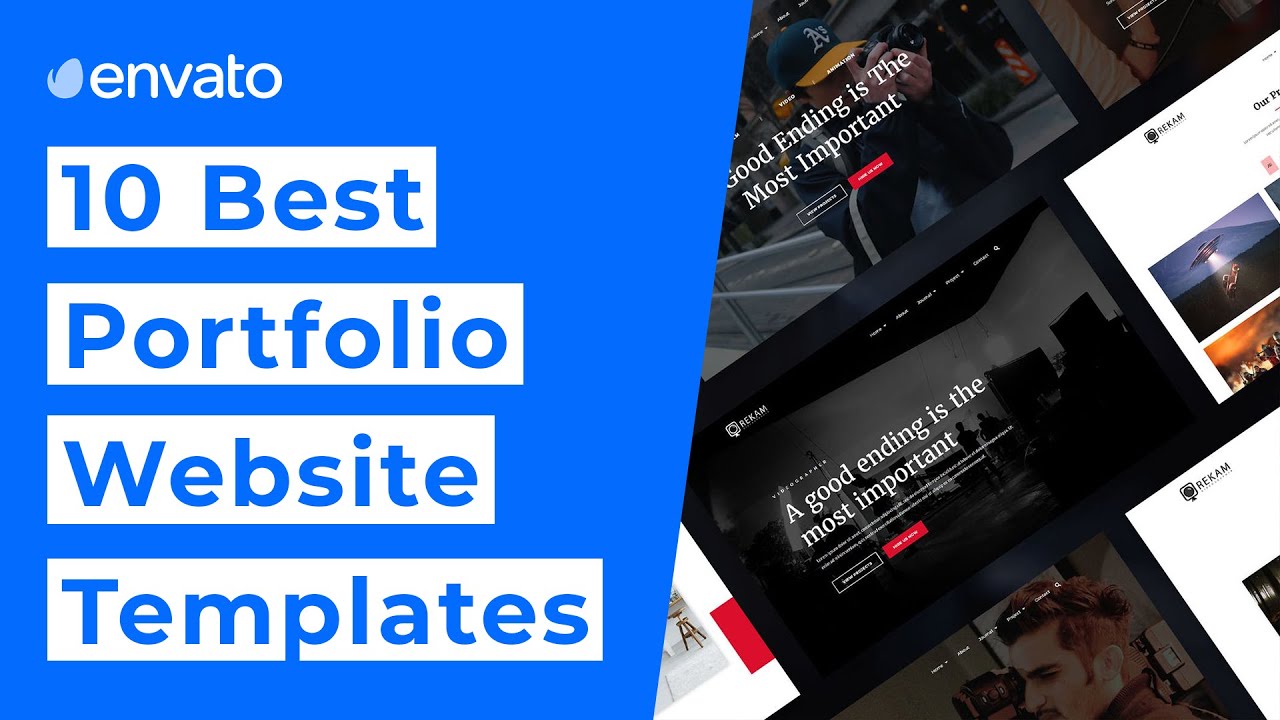 A website is one of the biggest selling tools a business can showcase.
It needs to be versatile, intuitive and well-designed.
This Envato Elements top 10 best portfolio website templates countdown holds a range of assets to help boost your website's online presence.
All items featured are available with a subscription to Envato Elements - find the link in the description below.
Number 10 – Kapena - Minimal Portfolio WordPress Theme by CocoBasic This minimalist portfolio website theme for Wordpress is everything and more a professional or amateur web designer could need.
It's perfect for creating an elegant display of portfolio images whether they be for blogging, photography or a different type of creative industry.
Number 9 - FLO - Creative Portfolio & Resume Template Kit by C-Kav With this creative website template, developing a personal portfolio site is a quick and easy task.
Pages included range from About Us and Contact to Portfolio and Project Information.
The design is both modern and clean to ensure your content is beautifully complemented.
Number 8 – Selfer - Personal Portfolio Template by ThemeStarz The number 8 addition to our Envato Elements top 10 best portfolio website templates countdown allows a smooth interaction for users with animations making user experience feel more natural.
A mobile-first approach provides a winning edge.
Number 7 - The Agency - Creative One Page Agency WP Theme by themeton A sleek, one-page design that's perfect for digital marketing agencies and other creative businesses, this multipurpose theme is fully responsive and easily customisable.
Choose from 600+ Google web fonts to complement the branding of your business.
Number 6 – Theratio - Architecture & Interior Design WP Theme by OceanThemes Interior design, construction, architecture – this website template has been specifically designed with a flair for artistic home decor and infrastructure in mind.
It's also been built with SEO in mind so you can organically boost traffic to your site.
If you've found this Envato Elements top 10 best portfolio website templates list helpful, please take the time to click the bell icon and subscribe to the Envato channel.
Your support means the world to us! Like and share if you'd be so kind as to spread the word about our content here.
Now, let's get back to the countdown! Number 5 - Remake - Minimalist Portfolio WordPress Theme by code-less This WordPress theme allows you to showcase your work with ease, all while increasing engagement with your website.
It includes social media integration, smooth animations and much more! Number 4 – Porta - Creative Portfolio Template Kit by deTheme Porta is a modern portfolio website template for modern creatives.
It is pixel-perfect designed, flawlessly suited to various sized screens and perfect for both personal and professional usage.
Number 3 – Gilber - Personal CV/Resume WordPress Theme by paul_tf This adaptable website template comes packed with helpful widgets like galleries, portfolios, videos, blogs and more! It is 100% responsive which will entice customers to your site and help keep them engaged throughout their entire visit.
Number 2 - Rekam Kit - Modern Videographer Elementor Template Kit by themesawesome Videographers, rejoice! This is the perfect website template for your dynamic portfolio.
Easy customisation makes this a fantastic template for beginners [and busy experts!].
SEO is made simple with this template kit.
Number 1 – Avo - Creative Portfolio & Agency WordPress Theme by ThemesCamp The number 1 template on this countdown is a multipurpose theme for WordPress.
Its responsiveness, simple functionality and high-level user experience is what puts it at the top of our list for all types of creatives in a range of industries! Thanks for tuning in to our Envato Elements top 10 best portfolio website templates countdown.
Which of these website templates stood out for you? Let us know in the comments below! If you found this video helpful, please like, share and subscribe so we can continue to provide interesting content for you and like-mined creatives.
Check out the next video in the queue as well – it's been chosen just for you.
You can find all the best portfolio website templates in this list by subscribing to Envato Elements.
Now, get out there and build some amazing websites!
Envato: 10 Best Portfolio Website Templates [2021] - Web design