Top10 Best Kitchen Design Trends 2021|Kitchen Tips & Inspirations|NuInfinityxOppein| Interior Design - read the full article about web design trends 2021, Web design and from Design Seed on Qualified.One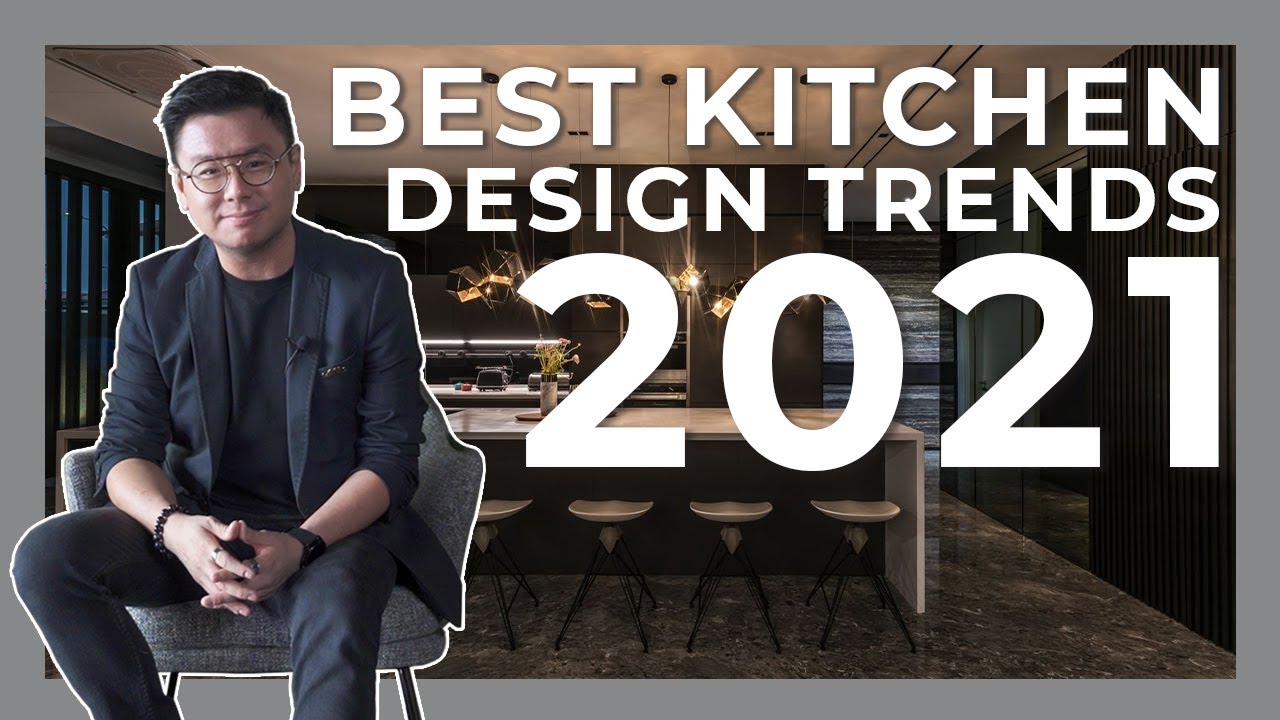 Hello this is Alex Lee and I am from Design Seed.
We started Design Seed 10 months ago with a vision to uplift and share contents and knowledge in regards to the design scene.
We would like to first extend our utmost gratitude to all of you for supporting us in the journey of Design Seed's 100,000 subscribers milestone.
It would certainly not have been possible without all of your kind support and encouragement.
There was a surge of requests for us to feature an episode dedicated to Kitchen Design.
Due to the immense demand from all of you as promised todays episode let us bring you through our Top 10 Best Kitchen Design compilation.
But before that if you are new to this channel and have not subscribe to us yet please subscribe to us now and click on that notification bell right beside the subscribe button! Number 10 - Pellucid Oenophile A stylish kitchen design with a combination of black and solid veneer finish.
An island counter furnished with a basic hob and a large single bowl basin making this island fully functional.
The storage beneath includes a pull-out crockery drawer which comes with a water tray beneath.
This allow all the plates, cups and bowls to be stowed neatly away.
Impressive details highlighted of the solid veneer wood grain carcass makes the kitchen an outstanding piece of work especially with the cabinet lights switched on. Number 9 - The Edge Pushing boundaries of the kitchen design a white sintered stone top by Cosentino slices across the dry kitchen making it an impactful statement yet subtly presenting the matte black kitchen cabinet at the foreground.
Tucked behind the dry kitchen cabinet is this functional black and white L shaped wet kitchen which is detailly well thought of.
From dishwasher to sauce drawers to pull down mechanisms. This wet kitchen is stylishly designed and yet kept to maximize its functionality.
Number 8 – Celestial Beauty A sleek and modern kitchen which comes in a premium silver-flash lacquer finish.
Equipped with multiple storage cabinets with built in organizers built-in wine chiller and a large 2 tier kitchen island paired with a stunning full height glass display cabinet on the side.
The timber finish internal carcass compliments the full height glass display making the display items uniformed due to the consistent backdrop.
A distinctive material well known for its excellent high glossiness making the design outcome classy and polished.
Number 7 – The Vantage A mystique and opulent kitchen design that is furnished in black with highlighted glimpse of brass finishing.
The size of the island itself spanning across the entire kitchen gives endless possibilities for the owners to utilize the worktop. The clever side of this design is where the wet kitchen shares a dual side access for easy serving and preparation.
Number 6 – Altitude An interesting solution in space planning where the dining table is made adjacent to the kitchen island. This gives the entire kitchen a larger visual impact.
Matching to its artistic and Avant-Garde design approach a chunky solid wood top spreads across as the dining table.
That's not all across the stretch of tall unit cabinet lies a hidden door which accesses to the yard area.
Number 5 – Mangata A pleasantly designed modern kitchen fully integrated with grey aluminum carcass and doors.
The functional part of this kitchen design is having the sliding door that divides both the dry & wet kitchen.
Cleverly tackling dead corners of the L shape cabinets these pull out peanut tray could really resolve having those dead inaccessible corners.
The beauty of having a skylight in the kitchen illuminates the kitchen gracefully which is something not every kitchen could enjoy.
Number 4 – Earl of East A bar table amalgamates stylishly into a black quartz kitchen island.
The kitchen space is highlighted with a timber feature ceiling which stages the kitchen as a powerful statement.
I love how personalized this kitchen turned out to be with open shelving display cabinets and custom wine bottle racks to a full height drawing board which allows the family to use it for remarks on a daily basis. Number 3 – Break of Dawn Unlike the rest of the kitchen design this project brings retro clashing with modernization.
The owner had a strong intention of designing a hidden café within his own kitchen.
Solid American walnut wood top for the dry kitchen and white quartz top for the wet.
White subway bricks on the wall and pattern tiling for the floor makes this entire kitchen design feeling quirky and refreshing.
Number 2 - Villa 14 A subtle contrast of black and white cabinets laid on top of a majestic selection of granite floorings turns this kitchen design into a remarkable masterpiece.
Subtle it may seem on the outside but fully equipped on the inside.
Built in refrigerator and chiller drawers all in line to achieve a simplicity outcome.
The wet kitchen is designed to have ample of natural lighting penetrating into the space with aluminum louvers to shade the kitchen from direct sun glares.
Number 1 – The Ascent A prominent kitchen design that depicts a class above all.
A kitchen island that is substantially large complete with matching grains of a grey Saint Laurent marble top.
This enormous island could be exploited in many ways be it for baking, roasting, chopping or mingling perfectly sized for entertainment.
Speaking of entertaining a transparent glass bar cabinet tops it all with a built in preparation table neatly tucked within the carpentry.
There you have it 10 of our 2021's best kitchen design! Do share your top picks with us on the comment column below.
Now that you have seen some of our best works wouldn't you want to learn about some kitchen tips that could help you realize your dream kitchen design? There are plenty of details that could be incorporated in your kitchen.
And in the market there is also a large variety of materials that could be used to build a durable and functional kitchen custom to your lifestyle.
Based on all the kitchen designs that we have just shared with you every kitchen is not just about its aesthetic values but more importantly it meets the owners' requirements making the usability of the space, functional and optimized.
We are contemplating if the viewers would like to get into the details of the top kitchen tips and accessories that could potentially optimize the functionality of your dream kitchen.
Leave your comments below if you would like us to feature an episode dedicated to these kitchen tips! We hope you enjoyed today's episode my name is Alex Lee and I am from Design Seed.
Please support us by slamming on that subscribe button and clicking on the notification bell right beside the subscribe button to stay in the loop of more compelling episodes! Thank you for watching.
Design Seed: Top10 Best Kitchen Design Trends 2021|Kitchen Tips & Inspirations|NuInfinityxOppein| Interior Design - Web design