6 Digital Marketing Strategies to be Best in 2021! Dopinger.com - read the full article about digital marketing 2021, Digital Marketing and All digital inbound channels from Dopinger on Qualified.One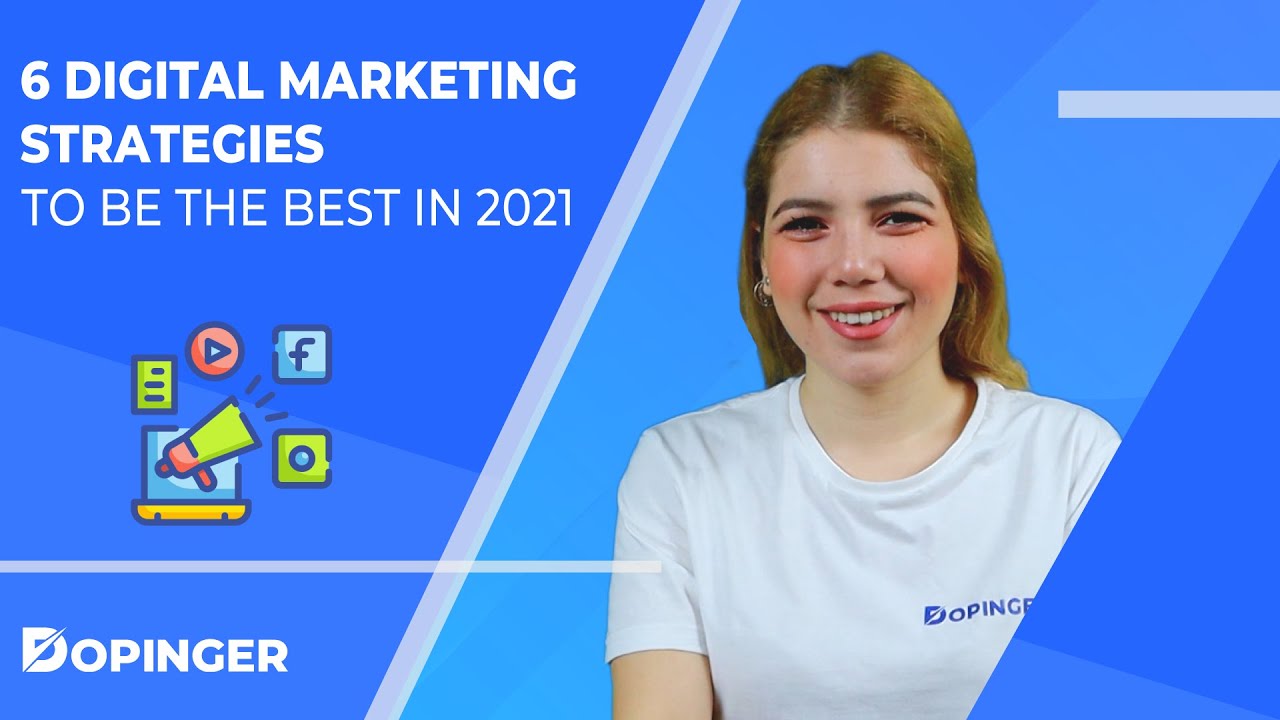 This is the perfect time you need to explore and prepare a digital marketing strategy for your work next year.
From new business areas to new marketing trends, you should soon create your marketing plan.
This way, you can move one step ahead.
You may have just started your business, or your business may be operating for years.
Lets get started with your digital marketing strategies for the following year.
Here we go! Hello everyone, Im Sara from Dopinger.
Today, Im gonna give some tips about creating your marketing plan.
Firstly, you should set your business goals.
You need to set your business goals before you can plan your marketing strategy.
Business goals will help you move in the right direction within the marketing plan.
For example, having 5000 email subscribers by the end of 2021 is a goal.
This main goal reveals where you should focus.
Make sure your main goal is quite specific because it will only be applicable in this way.
The more specific the target, the better your marketing plan will be.
Secondly, you should review the marketing strategies of this year or previous years Examining the past periods will show you where you are and which way your business is headed.
This information will form the basis of your digital marketing strategy for this year.
Gather your team and check out the details of your past marketing strategies.
Note everything you find important because they will help you succeed this semester.
When examining previous periods, you can ask yourself and your team: What are the strategies that drive and work for your business? How did your customers give feedback on marketing and advertising? How is your competition? Can you keep your business competitive? and so on.
Thirdly, You should create small goals and plans for main tasks.
It would help if you thought retrospectively to understand the steps you will take.
You have to act thinking youve already achieved the target.
Think back and try to find out what you should do in the steps.
Keep thinking retrospectively and keep doing this until youre in your current direction.
The step youre in will be the step in which you set your goals.
Fourthly, You should develop digital marketing plans for previous periods.
You should review last years plan and update it.
After that, you can edit the necessary plan for the next year.
Do your changes and improvements suit your marketing goals for this period? Develop this improved marketing plan and review whether it fits your plans for this year.
However, from this step, you can now start building your marketing strategy for the next year.
Fifthly, You should select the right tools.
Digital marketing tools will be one of your strategys main parts.
They not only increase the efficiency you get from your marketing efforts, but they also offer you the easiest and fastest solutions where youre stuck.
In this step, you should learn the various tools to add to your marketing strategy.
These tools will help you achieve your marketing goals faster and more effectively.
Finally, You should edit your marketing plan.
Once youve identified the tools youll use, you can organize your marketing strategy and decide which areas to use.
CoSchedule, Buffer, and Workado are our main digital marketing tools.
With CoSchedule, you can adjust to sharing half of the social marketing posts as soon as you share blog posts.
With Buffer, you can schedule your other social marketing articles.
CoSchedule Buffer and Workado can help you achieve your marketing goals and work well together.
You can test your ideas with digital marketing tools, but you shouldnt use those which dont contribute to your business or marketing.
Alright, thats it for the Digital Marketing Strategies today.
If you liked this video or learned anything, please leave a comment and hit the subscribe button.
If you need more information about this content, you can check out the description box and go to dopinger.com.
Thanks for watching, and have a wonderful day.
Dopinger: 6 Digital Marketing Strategies to be Best in 2021! Dopinger.com - Digital Marketing