Amazon-Shopify integration is more than just selling on two platforms to take advantage of each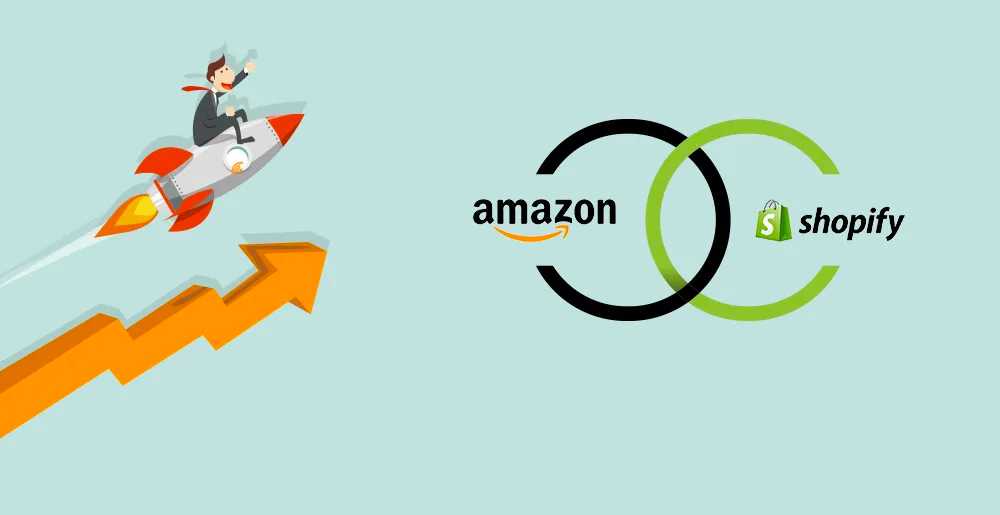 All you will need is a reliable internet connection to successfully operate and manage your Shopify online shop. Shopify is a digital marketing platform that is stored and managed on remote servers with the internet as the host. As previously mentioned, instead of sitting in a shop or showroom location in particular a strategic location, you can start, own, build and manage your business effectively online no matter where you are in the world.
Shopify offers business owners, entrepreneurs and companies this and saves a lot of luck with little or no work. One major obstacle many face when using this online platform is generating enough traffic to their site to expose their business. Amazon's Shopify integration solves this problem and bridges the gap between customers and products. The simple method is to have Amazon, on your online shop, "the sales channel". This particular act of integration can magnetise or attract countless potential customers who stream to Amazon for their various purchases of goods and services.
What you need to know about Amazon-Shopify Integration
ntegrating with Amazon Shopify will improve your brand visibility and increase your sales. It will also make it easier for you to do both.
Before you start any form of sales here, you should learn and understand the pros and cons of Amazon in relation to Shopify. For example, the integration of Amazon and Shopify has one major setback. The main failing is that you can only sell under one category or classification, and that category is the clothing and accessories section. This means that you can't sell any other item through this platform integration except those that fall under the stated category. However, it may be possible for you to sell products that fall under other categories sometimes in the near future, probably when there is an update.
Anther restriction is that your price tag can only be displayed in one currency - US dollars.
Also, you are not given access to so-called FBA services. FBA is an acronym for Fulfillment by Amazon. According to Feedvisor , "Fulfillment by Amazon" (FBA) is "a service provided by Amazon that provides sellers with storage, packaging and delivery assistance . It takes the strain off sellers and gives them more flexibility in their sales methods. The programme allows sellers to send their goods to Amazon's service centre, where items are stored in warehouses until they are sold. When an order is placed, Amazon employees physically prepare, package and ship the product(s).
Setting up a brand new online shop can be daunting to contemplate. The steps below cover the Amazon Shopify integration in a few simple steps, so you can prepare and execute everything seamlessly.
Requirements for Amazon Shopify embedding
Before you start the integration, you need to prepare everything you need so that you can go through the process right away. This makes it much easier to set up.
Amazon professional merchant account
You can't do the integration on a separate account. If you need to do the upgrade, note that you pay $39.99 per month for the professional seller account, as well as other selling fees that depend on the categories you sell in.
Amazon marketplace
You'll need a third-party Shopify Amazon Integration app if you're not registered with Amazon North America. If so, the integration will depend on the currency you have set - USD or CAD. If it's USD, you'll need to integrate a US account, and if it's CAD, you'll use a Canadian account.
Product details
Have all the details of your products ready to upload. These include manufacturer brand, item variants, available stock, ASIN, SKU, UPC or EAN (unless they qualify for GTIN exemption) and other important product attributes.
Policies, FAQs, About Us and Contact Pages
You need to have a clear policy on privacy and security of customer data, returns and refunds and terms of service. If you need guidance, you can use Amazon policies or Shopify samples to get you started. You'll also need to prepare content for your homepage, about page and contact page.
Shopify
If your shop is ready to go, you can go to the Amazon Sales Channel
If your existing Shopify shop needs improvement, do it. It will really help your brand image and increase your conversion rate.
If you don't already have a Shopify shop, upgrade to Shopify, start your 14-day trial and start building your shop. To do this, you'll need basic brand materials and business information. This includes your shop name, logo, domain, business address and phone number, TIN or EIN, bank account and page content. The whole installation process will only take you a few hours if you have all these details ready.
Import goods
Using the available CSV import option to retrieve products from Amazon may seem like the easiest solution. However, it's not the best, and you'll end up spending more time and patience changing bad images and fixing variation errors.
To make sure everything is perfectly aligned, you can manually create products in Shopify or use ByteStand's automatic import app if you're using FBA. Either way, this is how you get high-resolution images and all the right details in the right format.
ByteStand offers a 7-day trial, so you don't have to pay for it once you've done everything. Follow the app's instructions to connect your Amazon account, then select the Amazon delivery rates you want to make available to Shopify customers. You can also charge more or less than Amazon on one screen.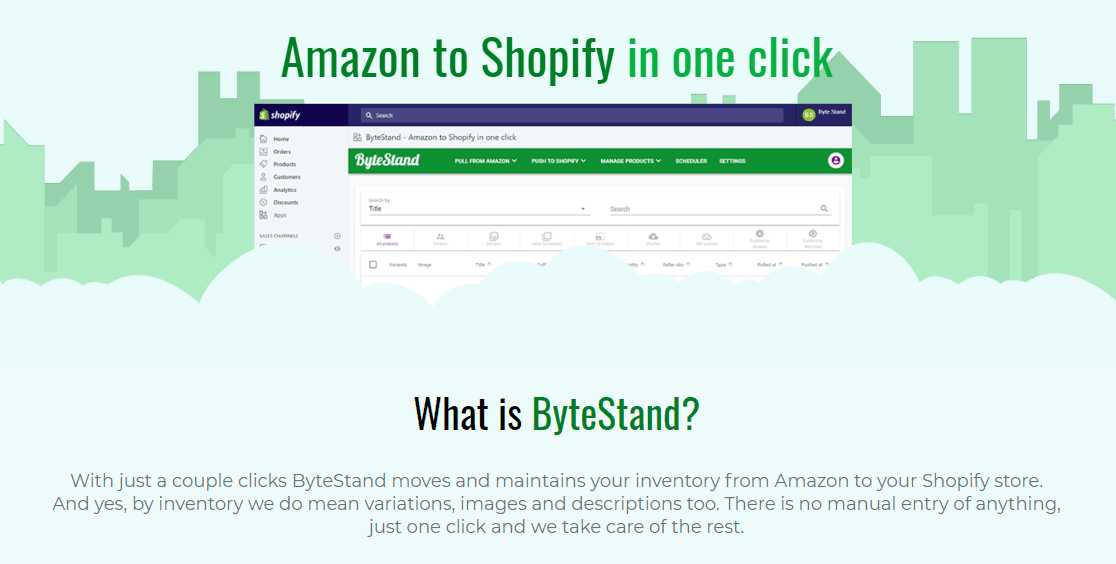 If you choose ByteStand, it will run in the background so that you can select and customise your theme and load other page content while you wait. Once this is done, you simply go to Applications and click on ByteStand, enter the menu and "Click all products". You can still perform manual updates at any time using the "Pull & Push" functions or set up the scheduler to synchronise your product inventory for you.
Collections and menus
Organise your products into collections to improve the customer experience. Customers are happy when they can easily find what they want. You can create as many collections as you want based on different attributes or uses of the items.
Then make sure your pages and collections are organised in the header and footer menus.
Payments, checkout, and shipping
Shopify Payments is the easiest option because it's fully integrated. You can start there and explore other options that suit you better once the integration with Amazon Shopify is complete.
The easiest way to checkout is the automatic option. If you want, you can also allow customers to create accounts and let Shopify know how you want to process orders.
Shipping requires a bit more effort, because you need Amazon to be able to automatically fulfill your Shopify orders. To complete this step, you need to upgrade to a paid plan. (You will find the option under Settings > Account > Account Overview.) If you're not sure which tier you want, start with the basic plan for $29 a month.
Call Shopify to activate the carrier's calculated shipping rates so Amazon can calculate them for you. Don't let them talk you into upgrading your plan - you don't need to. On a basic Shopify account, it costs $20 a month and becomes free after a year. (You can also offer free shipping for all orders to avoid extra fees, but make sure you're still making a profit.)
Domain and launch
Connect your domain to your shop and review it. Make any necessary adjustments to make it attractive and easy to navigate. When you're satisfied, you can get started by removing the password protection in the online shop menu and start selling!
Final thoughts
Having your own shop always leaves the customer in your hands. There are tools to help you, but you have to pay for them and get them up and running. Shopify Amazon Integration immediately connects your brand with a loyal customer base ready to buy. This in itself is huge, because going from optimization to visitors to conversions to loyalty takes a lot out of you.
Discovering on Amazon and using other channels to filter out additional traffic are ways that you can use to increase sales many times over. The combination of Amazon's name and your brand is a powerful force. Once you've integrated Amazon Shopify, you'll have more time and money to create a presence on other channels, leading to even more sales. The greatest strength of a multi-channel strategy is that it takes your brand right to where consumers are. This way, you can focus on understanding them and building a niche audience, instead of focusing all your efforts on getting people to you.
You can also get additional advertising on Amazon for free, improving and maintaining your performance and organic rankings. And don't forget the popular affiliate programme, which can get thousands of people to advertise your product for free on countless channels.