11 HR Trends for 2022: Driving Change and Adding Business Value - read the full article about Tech HR trends, Human Resources and Recruitment, Staffing, Payroll from AIHR - Academy to Innovate HR on Qualified.One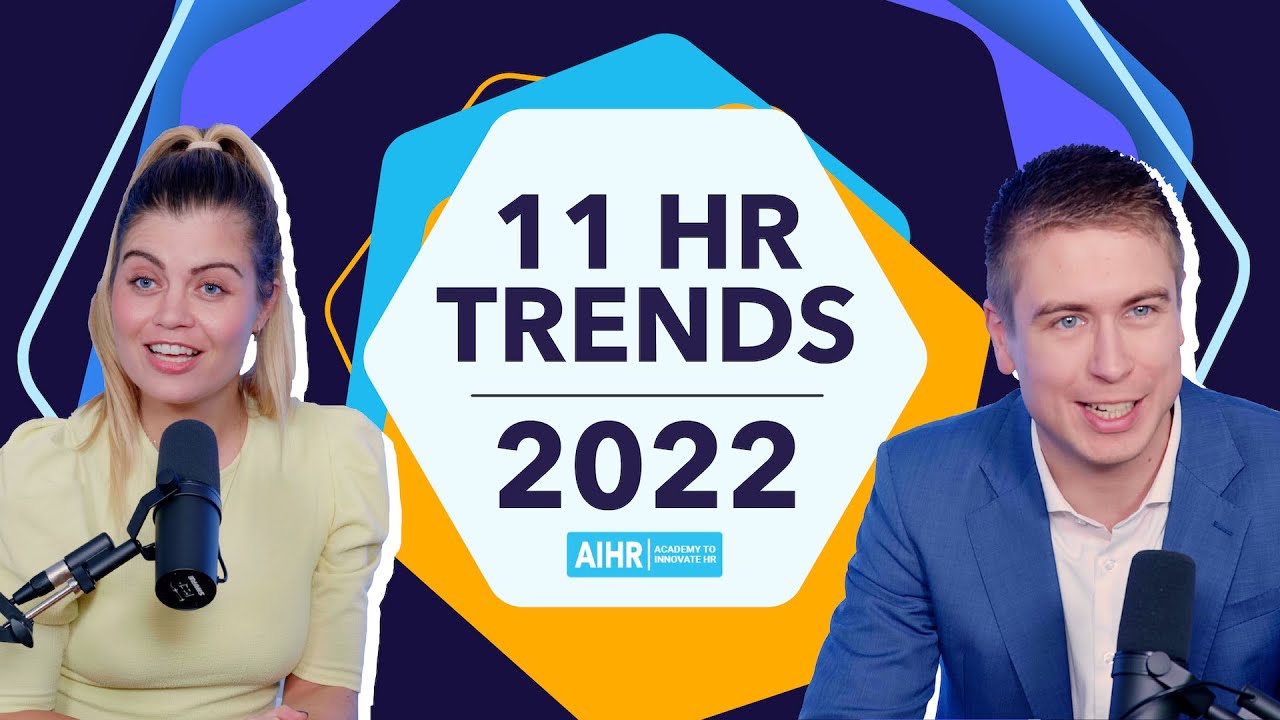 Hi everyone, and welcome to our annual AIHR HR trends video. My name is Neelie and Im here  together with Erik van Vulpen, founder of AIHR.
We are very excited to bring you this list of  11 HR trends for the year 2022. The world has changed rapidly in the last two years. And it is  having an impact on the things that are coming up. And were very excited to  bring you this amazing list.
Erik, are you ready to get started? I am Neelie, but I think before we do, we  have a question to ask for our audience.
We do. If you havent done so  yet, subscribe to our channel, hit the notification bell, and like this  video. And then now lets get to our trends.
A while ago I was in a room full of  CHROs. There were 10 of them in the room. And I asked them who of you is in  transformation, and then nine hands went up. Afterward, I spoke to the 10th person because I  was curious why they were not in transformation. And it turned out that he didnt understand the  question. Transformation is the red line running through 2022's top HR trends and through the  first two in particular. Trend number one is HR as a product. Were kicking off with HR's focus  shifting from projects to products. This is a major change. Traditionally, HR functioned with a  project mindset. A project has a clear timeline, set deliverables and resources, and is aimed  at being run efficiently. On the other hand, a product is continuous. Additional  resources are allocated as impact increases, and it is aimed at providing value. This  change will increase HRs service delivery quality and help HR build the capabilities that  improve the businesss bottom line. However, it does mean HR professionals will need to  better understand their internal customers and step up their game in delivering a more  personalized employee experience. Now, one of the things when we talk about product versus  project is HR transformation. A lot of our HR organizations are in the midst of transformation.  What does this mean for HR and transformation? It means, Erik, and this is our  second trend that HR is going to own business transformation. Most of the time, HR  is involved only late in transformation projects, even though HR professionals have a lot  of value to add here, thanks to skills like organizational design, development and  transformation, expertise in building culture, and the capability to design collaboration. As  transformation becomes the new normal, HR can take ownership of and lead these change processes,  as well as measure their impact and progress. This will require much closer collaboration with other  departments, as well as connecting the leadership and business needs with employees' capabilities.  From creating internal talent marketplaces to driving data-driven decision-making, HR will  need to own many of these essential processes moving forward. Because business and reality  demand it. Weve seen now in this trend that HR is going to own business transformation. Big  shift, big change happening there. But thats not the only area where we will see a big change  because well see something happening in the collaboration space as well, wont we, Erik? Absolutely, we will. Because in order to be successful in transformation, we need to think  more in a planned way about collaboration. Thats our next trend: collaboration by design. While  remote work has boosted productivity with 77% of people seeing an increase during the pandemic,  it has also shrunk networks and made organizations more siloed. Thats why in 2022, HR needs to  help organizations reshape the way collaboration, co-creation, and innovation happen by taking a  design approach to collaboration. That includes designing a workplace both physical and digital  that helps teams work together and connect. Organizational designs that intentionally  drive collaboration and diversity of thought, talent programs that allow for rotation, which  well discuss in detail in the next trend, and leveraging digital platforms to connect  employees asynchronously. In this way, HR can ensure that collaborative practices  keep delivering value and innovation to the organization. We expect HR to be more intentional  in designing the organization for collaboration in 2022. Crucial to innovation  is building new capabilities.
Yes, and this brings us to our next trend  because if we want to build new capabilities, we can do this through career experiences. And  thats our next trend. Workers are now less likely to dedicate their entire careers to one employer,  with workers changing jobs on average every four years. To adjust to this reality, organizations  are increasingly investing in employees career experiences that enrich the employees career  while expanding the organizations capabilities. Companies have defined different experiences:  lateral, vertical, rotational, and boomerang, which involves the employee leaving  the organization for a couple of years, only to come back with a more enriched  experience. Offering and facilitating career moves for individuals lets employees grow professionally  and lets the business improve the quality of work, delivery, and service. Now, weve talked about  career experiences in this trend, and its very closely linked to something else were going to  talk about, and that is talent marketplaces.   Career experiences are on a micro level and  individual level. The talent marketplace is managing this on an organizational level  from an HR perspective. The current tight labor market is proving that companies can no  longer rely on buying their talent externally, and need to make better use of the talent  they already have. In other words, better talent allocation through talent marketplaces.  HR departments are increasingly conscious of the importance of planned skill development. As a  consequence, more and more companies are looking into working with their strategic partners to  create common talent marketplaces. Recently, Unilever and Vodacom, a Vodafone subsidiary,  initiated a digital marketing exchange program that helps build more diverse capabilities and  encourage innovation. And according to a Harvard business school report, almost two-thirds of  businesses preferred to borrow or rent employees with certain skills from other companies, bringing  in workers on an as-needed basis, something that well see much more of in 2022. But bringing in  workers has no use if these workers do not belong.
Yes, and this is where we get to our next trend,  where we see a shift from DEI to DEI & B. Before we zoom in further on DEI & B, if you want to  discover if you have the right capabilities and skills to capitalize on these HR trends that  weve discussed so far, please take a look at our T-shaped HR assessment. You will find the  link to that one in the description below. Now, back to the trend. The field of diversity and  inclusion has never evolved more rapidly than in the past two years. We have seen a development  from diversity and inclusion to diversity, inclusion, and equity. But even a workplace that  intends to be diverse, equitable, and inclusive can fail to retain employees from underrepresented  groups because they dont feel like they belong. Belonging in the workplace brings a shift towards  psychological safety and real inclusion. It represents being a long-term integral part of  the organization. This is what organizations and HR teams are increasingly realizing and it is,  therefore, one for our HR trends list for 2022. And when we talk about belonging, we will see that  this will also have an impact on the rewards area.
The next trend is impactful rewards.  How can we leverage rewards to be more equitable and to have a greater effect as an  organization on our workforce? The employee value proposition has shifted. Employers need to  do more to differentiate and create a compelling employer brand. Moreover, long-term incentives  have lost much of their attraction. Instead, there is more emphasis on flexibility,  supporting employees, and creating purpose. Employers also need to decide how they want to  offer inclusive benefits, holistic wellbeing, and mental health support. The biggest change to  how HR manages rewards, however, will come from the fact that pay will be based more and more  on the skills rather than on the job title or previous experience. Creating strategic impact for  awards is one of the biggest trends for 2022. And it will be on the CHROs mind in the year to come.  So when we talk about skills and experiences, one of the crucial skills that  comes up is data literacy.
Yes. And this brings us to the next trend where we  will see people analytics going to data literacy. Increasingly, businesses realize that they need  more than people analytics expertise to implement data-driven HR in their organization. Data  literacy among HR professionals has proven to be a key bottleneck and one that will need to be  addressed to allow for effective people analytics. That is not to say that HR professionals will  need to become experts in data collection or analysis. The added value of HR professionals is  in translating analytical outcomes into actions. However, only 41% of HR professionals have the  capabilities to put data to good use. So this will be a hot topic for the year to come. Weve  seen the shift from people analytics to data literacy. And when we go to our next HR trend  for 2022, we will stay on this more data-driven element because we will be talking about... HR tech for good. When we use technology, we have a responsibility to use it for good. You  have probably heard of Amazons biased hiring algorithm. But the problem goes much further.  According to a 2021 report by Accenture and the Harvard Business School, there are as many as 27  million so-called hidden workers in the US alone, excluded by inflexible applicant tracking  systems due to missing credentials, skills, or gaps in their employment history. Of  all the departments, HR should be the steward of ethical technology. To that end, HR professionals  will need to become more tech-savvy to understand the basics of algorithms and choose the  right technology for their organization. This means that HR professionals need to  build a specific skill. And this focus on skills is something we see in our next trend. Yes, because this focus on skills does not only concern HR professionals. We will see a focus on  skills all over and thats why our next trend is about the skills economy. And as we mentioned in  trend seven, skills are playing a larger role in how employees are rewarded. But IBM has estimated  that the half-life of skills has shrunk from 15 years to five and two and a half for technical  skills. Meanwhile, formal training is becoming less important. A self-taught data analyst  may earn more than someone with a law degree, especially as organizations embrace more  data-driven testing of skills. As a result, its becoming crucial that organizations accurately map  skills available within the company. Being able to identify relevant skills, how and when they were  developed, and how they were put into practice helps companies match employees with that  perfect role, and it helps employees navigate their careers. This increased focus on skills  that weve seen here and this trend is all about the skills economy fits very well with the last HR  trend that weve identified for next year because it will all be about being adaptable, Erik. Our next trend is preparing for multiple futures. The future of work above all else is flexible and  ambiguous. An HR strategy that was set in late 2019 became instantly outdated in Q1 of 2020, when  COVID hit. The pandemic underlined the importance of workforce and scenario planning, allowing  companies to create more adaptive strategies that develop as the business continues to evolve.  Think of the example of a major hotel group that predominantly caters to business travelers. The  company was faced with a difficult question. Will business traveling volumes return after  the pandemic? Or should they prepare for a different future? While the first scenario may  appear more likely, the fact that the second scenario is possible should prompt leadership  and HR into action to develop new strategies and be ready for any eventuality. Unless companies  are prepared for different scenarios and are agile enough to react swiftly, they will not last long.  HR needs to keep its fingers on the pulse of the organization and on the world beyond, and it  needs to be ready to adapt and change. Always.
And thats a wrap. Erik, we made it! Our 11 HR  trends for 2022. Whats your personal favorite? My favorite trends are actually two trends. Its  about talent marketplaces and about collaboration by design, because both focus on bringing in  capabilities into the organization that will make the organization more competitive.  And I think in 2022, and also beyond, well see much more of that: a focus  on building critical capability.
Thank you very much, Erik. Lets see  next year if youre right about that. And thank you everyone for watching this  video. We hope you liked it. If theres a trend thats missing, please let us know in the  comments below. And if you want to see if you have the skills needed to be ready for these HR  trends, please do our T-shaped HR assessment. Also for further reading, you can check out  our HR trends article. And thats it from us for now. Thank you very much for watching  and see you very soon for a new video. Bye.
Bye bye.
AIHR - Academy to Innovate HR: 11 HR Trends for 2022: Driving Change and Adding Business Value - Human Resources