What Is Digital PR? Best Digital PR Techniques and Tactics | The Journey - read the full article about digital PR, PR and Increasing brand awareness from GoDaddy on Qualified.One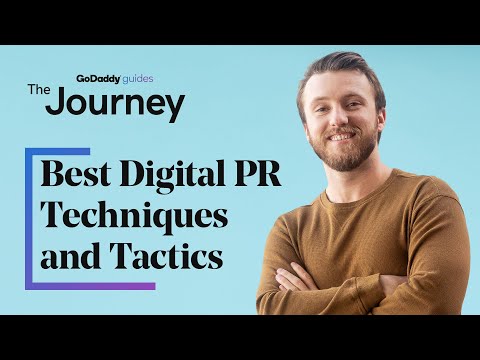 - Welcome to The Journey.
Today, were gonna talk about what is digital PR.
With the rapid shift to online presence this year, many companies are having to explore digital options now, in fact, more than ever, and one business function quickly making the move to digital is public relations, PR, and if you own a business, you might be asking yourself, what is digital PR and how can I make it work for my company? Well, good news! Weve got you covered.
Lets take a look at what it is and how you can make digital PR work for you and your business.
- Well, digital PR is a marketing strategy that shapes the online image of a company.
The objective of a digital PR campaign is to really improve organic search results and customer views via digital content to really build a companys brand and to fully grasp digital PR, there are a few key terms with online marketing to become familiar with.
First up, we have backlinks.
These are links from other websites that point to your website.
I like to call these little upvotes for your site.
Referring domains are the unique domains linking to your website, domain rating, the strength of a websites backlink profile.
UR rating the strength of a pages backlinks profile and user-generated content, Emmas favorite, reviews, text, images, and videos that are created by individual and identified people.
- So, how does a small business improve organic search results? Well studies show that SEO rankings correlate with backlink metrics and this isnt a big surprise, given that Google was founded as a hyper-textual search engine that produced search results based on the structure presence in hypertext.
So, if backlinks are the strongest correlation to improving organic search results, you should be asking yourself, how do small businesses build backlinks? - Well, Im glad you asked, Emma, and one way is through reverse engineering.
So reverse engineering is a digital PR strategy that examines the backlink profiles of multiple competitors and identifies the referring domains that they have in common.
In other words, what websites are linking to all of your competitors, but not to your website? If you can figure out how each of your competitors generate a backlink on a domain, then chances are your website can take a similar approach to secure a backlink.
- And not all PR strategies are external.
Theres internal linking, which is a tactic that seeks to use existing pages on your website to boost the authority of a target page that you would like to promote.
So for example, websites commonly use menus and navigation bars to list priority pages, such as home, about, contact and services, and internal linking strategy takes this concept a step further by including links to target pages in places like a footer or a sidebar within the texts of blog posts and landing pages and your site can more clearly communicate to search engines about which page or pages are most important to your site through internal links.
- Yeah, its definitely super important.
Google also determines local ranking based on relevance, distance and prominence.
Prominence, which digital PR aims to influence, is based on information such as links, and online mentions that Google monitors about a business.
One other major factor Google uses to determine prominence is customer reviews.
Google says that review count and review score factor into local search engine rankings.
So the more reviews and positive ratings can improve your businesses local rankings.
In other words, increasing customer reviews on relevant directories and Google My Business Profile is one digital PR tactic that may help local rankings, while also shaping customer perceptions.
- So try out our tactics.
If something doesnt fit for your business, hey, move on to a different tactic that may have more potential.
- But wait, your journey is not over.
You learned a ton about digital PR, but we have over 200 videos to help your business thrive.
Make sure to like comment and subscribe.
This is The Journey.
Ill see you in the next video.
GoDaddy: What Is Digital PR? Best Digital PR Techniques and Tactics | The Journey - PR