Influencer marketing is an enduring trend in digital. And not just in digital: in ancient times, merchants, in order to build trust in a product, used to promote it to those who were trustworthy.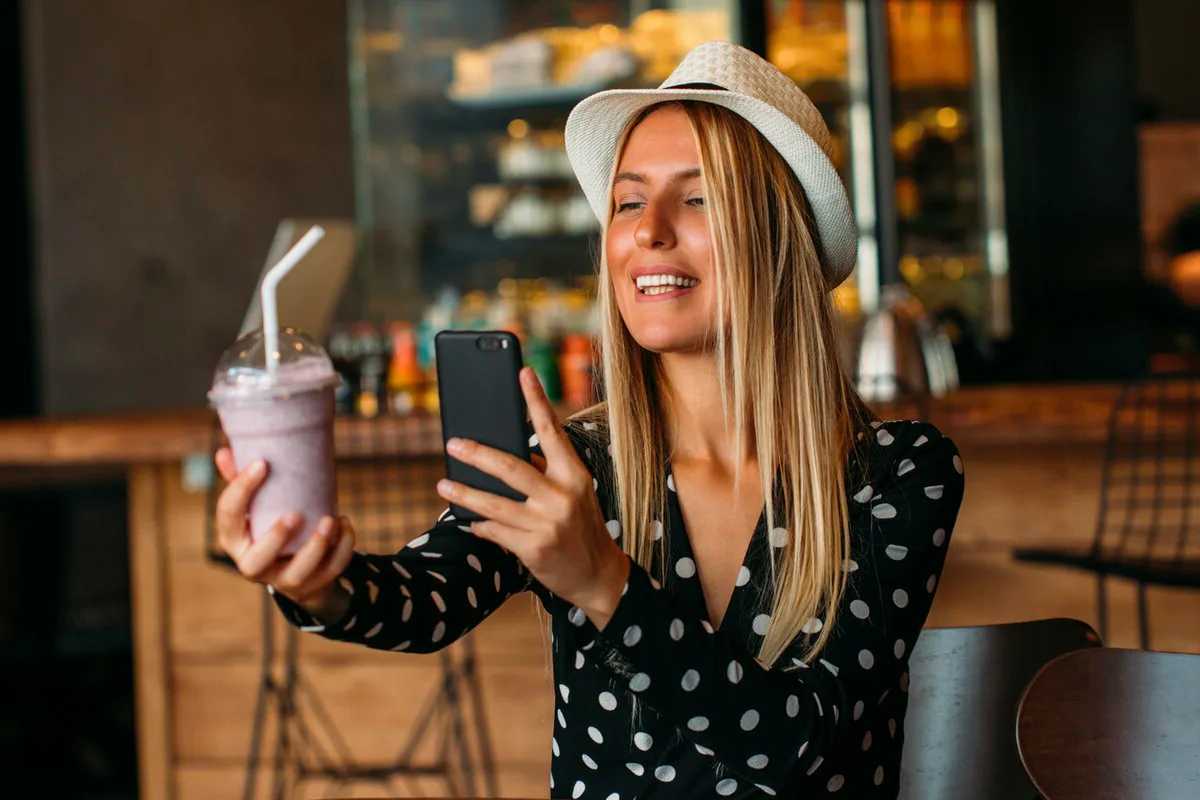 Today, promotion through an opinion leader can be talked about as an established niche of the advertising market. Marketers, in pursuit of famous faces, spend huge budgets.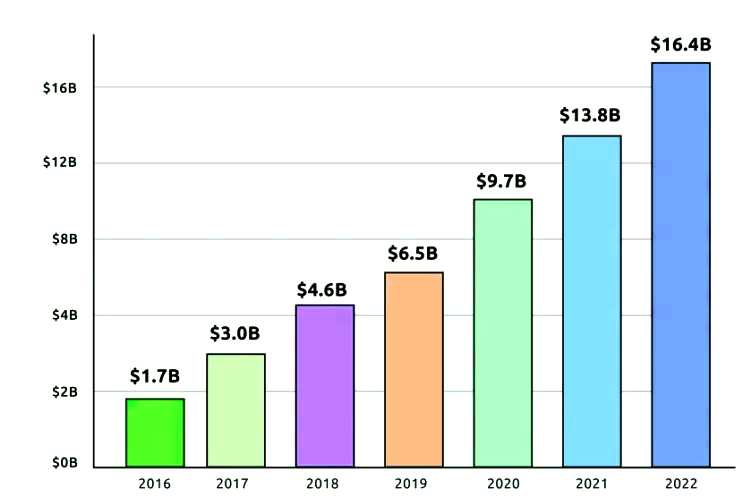 The global influencer marketing industry is projected to grow to $16.4 billion in 2022. More than 75% of marketers have expressed their intention to budget for Influencers this year.
The year 2021 is marked by the growth of professional marketers.
Digital platforms focused on Influencer marketing have attracted more than $800 million in investment worldwide.
The number of services in the global Influencer Marketing market grew by 26% and the number of firms specializing in them reached 18.9 thousand.
What is Influencer Marketing, why and who needs it?
Promotion through influencers, how does it help?
Promotion through influencers is what Influencer Marketing is all about. Opinion leaders are not always bloggers, they can be celebrities or authority figures in any field.
Ideally, an Influencer is a celebrity expert who runs her own blog. What kind of expert is Kim Kardashian or Charlie D'Amelio? By answering this question, you can determine whether these media personalities are suitable for brand promotion.
The second question that can give insight into what a marketer needs is an influencer:
"How can the brand or product/service" help the opinion leader and his/her audience?"
It makes sense that a beauty blogger or famous actress might use the brand's shampoo and recommend it to their subscribers. In this case, the shampoo experts offer the best choice they have made for themselves. The product wins in competition with other similar products. The audience has their own experience with shampoos and can validate the blogger's expertise and the brand gets advocates from among their subscribers.
A beauty blogger may understand nothing about cars or edged weapons, from the word go, but need a gift for her man. Then the girl does her research and, overcoming the odds, chooses a real man's gift: a Damascus steel knife engraved with a flying Mercedes.
The story told by the Influencer determines interest in the product and attitude towards the brand. The main difference between influencer marketing and traditional advertising is that it is interesting to the target audience.
Nowadays, people live amidst information noise, and our brains (...and ad blockers ...and paid subscriptions ...and spam filters ...and number identifiers ...etc.) protect the owner from advertising messages in automatic mode. So-called banner blindness is on the rise. Influencer marketing, like native advertising, is therefore, in some cases, the only way to reach the target audience.
Influencer Marketing: success stories
For example, Generation Z gamers may not watch TV, read Telegram news feeds, play CS:GO, and learn how to choose a gadget on youtube channels. Yes, and you can't pester them with outdoor advertising as they look at their mobile screens all the time.
Nevertheless, these people buy clothes, buy food, go to cafes and wash with soap. Thus, two cases received wide publicity:
OMD Media Direction helped make METRO's integration with game streamers on Twitch. There was a live cooking battle. Bloggers ordered groceries and cooked the same dishes with them, and viewers decided the winners. The campaign had a total reach of 4.3 million unique viewers. More than 800 promo codes were activated for grocery delivery from METRO. In 20% of the cases, customers who applied a promo code redelivered their groceries.
Winstrike Agency and Wavemaker made a complex gamification of Palmolive Men shower gels with Twitch streaming, support on VKontakte and StopGame.ru, as well as a small branded game. As a result, the campaign was supported by 218 streamers not participating in the advertising campaign, and the number of viewers, likes and comments was in the thousands.
3 main advantages of Influencer Marketing
So, the examples we've looked at reveal three main benefits of Influencer Marketing:
Unlike advertising, it is interesting to the target audience.
A recommendation from an opinion leader inspires more credibility than an advertisement, an infomercial, a product description in a catalogue, etc.
The involvement of celebrities in advertising inevitably draws attention to the brand and makes it memorable. But whether it will benefit the company, whether it will bring in sales - depends on the professionalism of the marketer.
Above, we looked at examples of Influencer marketing from agencies working with major advertisers. However, this does not mean that promoting through opinion leaders is not relevant for an Internet marketer working with a sole trader in a small town.
For example, the services of a photographer, in a town of about 145,000 inhabitants, are promoted through the posts of several local dog breeders with 2-3,000 followers. An excellent advertisement for a pet shop can be done by the chairman of a local dog breeding club with less than a thousand followers.
Organizers of children's events, especially now, should not neglect opinion leaders from among educators and educators who are actively communicating with the target audience, the event-business.
Working with microinfluencers is more laborious, but the recommendations of these bloggers are considered more sincere by potential clients, and the costs of small influencers are incomparably lower. They are often willing to collaborate on a pro bono basis.
What kind of Influencers are there and how much do they cost?
Influencers are usually divided into:
Bloggers: they are judged by their degree of influence/number of followers,
Media persons: they are judged by their uniqueness and degree of recognition. They may have modest channels/groups/accounts of their own. Known faces make sense when the company's goal is to increase brand awareness.
While Influencer marketing works across many channels, in internet marketing it is most often referred to in connection with social media advertising campaigns.
The number of followers to categorise bloggers varies from source to source. According to Influence marketing Hub's 2022 research, there are four types of Influencers, and ElitWeb highlights a fifth: midline influencers.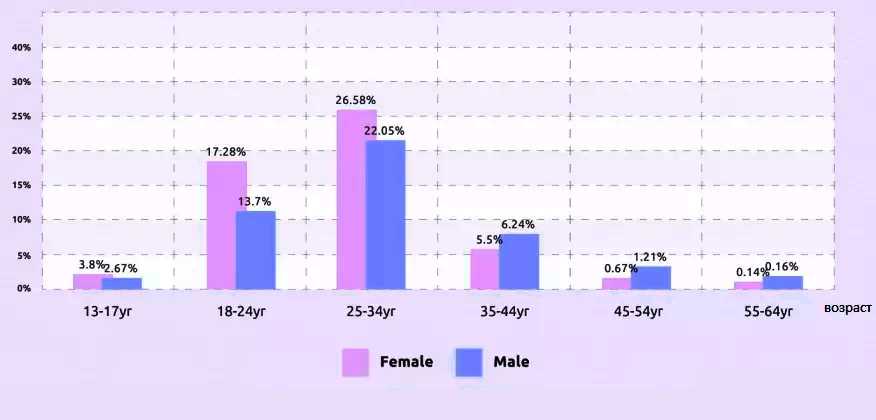 Social Media audience demography. Source: influencermarketinghub.com
When choosing an Influencer, it also makes sense to think about how suitable the site is for the brand. How many users are on it that are part of the brand's target audience, how promising it is in principle.
So, if a brand's goals include long-term collaboration, attracting an audience to its account on the site, or recognition on the site, then you need to consider the prospects of the place where the Influencer is hired.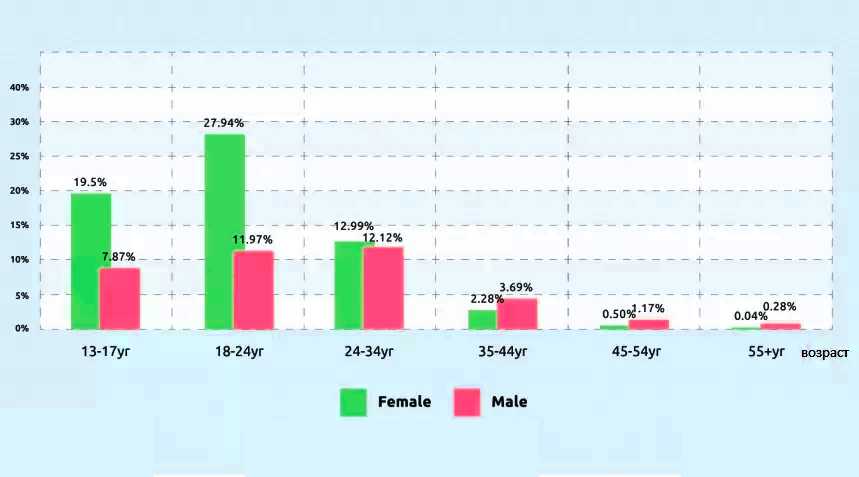 TikTok users demography. Source: influencermarketinghub.com
Influence marketing Hub has determined that the social media categories of LifeStyle and Beauty are best promoted, as this social network has the most women under the age of 34. The female audience is also more active on TicToc. Their average age ranges from 13 to 24 years old. In general, this social network is best suited for promoting products aimed at Generation Z. If the advertiser is targeting millennial men, it is better to go to YouTube.
How do you choose an influencer and then what do you do with it?
What are the formats of Influencer marketing?
At the beginning of this article, we looked at a few of the progressive integrations. To be honest, the number and possibilities of advertising formats are limited only by the creativity of the blogger, the ability of the agency and the budget of the advertisers, i.e. there can be an infinite number of them. Let's list the most common ones:
Native integration, where bloggers naturally use the advertiser's product.
A review or unboxing, which is a great 'go to' for cosmetics and technically complex (indeed any) products on YouTube. They make a separate post/video/story about the product. It must be said that there are bloggers who specialise in reviews. With them the advertiser's product, although it gets surrounded by competing products, is shown to a hot target audience, as viewing the reviews becomes an integral part of the shopping process. "Aliexpress actively uses blogger reviews with rewards through an affiliate programme.
The ad insert is most often made on YouTube at the beginning or in the middle of an Influencer's video. Sometimes it is played by the blogger as a separate story or embedded as a continuation of the theme of the video. For example, James Alone, who prepares mock reviews of "shops on the couch" products, promotes interesting constructors and puzzles.
The giveaways that Influencer runs among its subscribers. The reposting competition is particularly famous. At its simplest, fans of the giveaway subscribe to the advertiser's page and can do something else - like liking, sending in drawings, poems, slogans, etc. Sometimes the prize can be a branded product, such as a kilo of sushi or a basket of fresh sour cream, perfume, a T-shirt, a branded mug. In some cases, expensive prizes are drawn. For example, a bakery may raffle off a fridge. There are more complicated options. A specialised agency organises a competition, engages an Influencer and gathers several sponsors who pay for the prizes. As a result of the competition, the sponsors get activity on their accounts, as a prerequisite is a subscription to all the giv sponsors. Drawings make sense if the blog's audience is the same as the brand's target audience.
Guest posting, where the opinion leader publishes the advertiser's material on their blog and links to it. The brand gets a source of traffic.
Discounts, which the blogger gives away to his subscribers. He talks about the product and offers a promo code with a limited validity period.
A blogger as a brand ambassador, promoting and maintaining the brand's reputation on an ongoing basis.
Collaborative content, where the brand and the blogger create content useful for subscribers.
Using the Influencer in brand promotional materials. For example, on posters and screens at the point of sale or interviews on third-party platforms.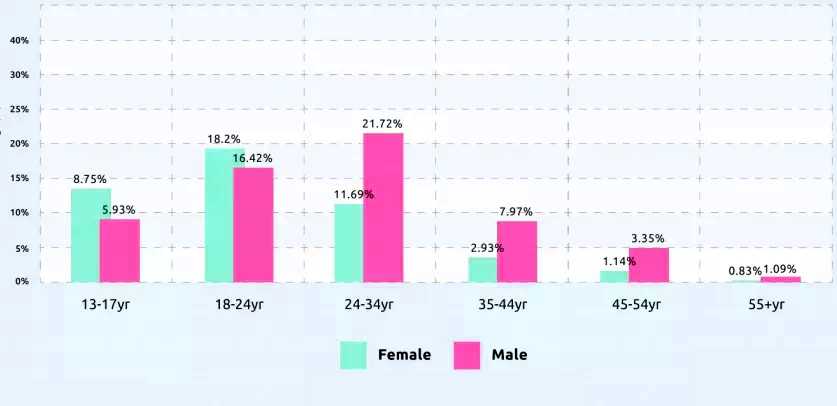 YouTube users demography. Source: influencermarketinghub.com
What goals do marketers have in promoting through Influencers and how do they measure their achievement?
The choice of Influencer depends on what the company's objectives are. There can be one or several, but it is desirable to define them clearly before the start of promotion to form key performance indicators (KPI) based on them.
Let us list the main ones.
Educating users on issues related to the brand, which is especially relevant in the high-tech product niche, where it is quite difficult to make a purchase without help.
Increasing audience awareness of the brand - brand awareness.
Generating a linking environment to improve the SEO parameters of the site.
Showing options for using the brand's products.
Increasing the number of subscribers and their engagement on the brand's social networks.
Combating negativity, stereotypes, myths that exist about the brand online.
Increasing trust and improving the reputation of the brand or company
Getting quick feedback from consumers, testing marketing hypotheses, direct communication with the target audience.
Increase in sales, lead generation.
Which indicators characterise the effectiveness of Influencer Marketing?
Audience reaction (engagement rate) - likes, views, comments (tone and number);
Information about the audience (social demographics, geography, categories of interest)
Duration of video viewing, percentage and number of times they finish reading the texts.
Devices from which users consume the content.
Number of targeted actions taken.
Coverage of the advertising campaign and individual materials.
Conversion into leads and sales.
Number of unsubscribes, post hiding, disliking (uninteresting), etc.
Brand awareness (brand sentiment).
Number of visits to the site.
Setting objectives and KPIs before a campaign starts helps to choose the right blogger.
For all its apparent simplicity, the question of choosing a blogger to promote is not as straightforward as one might think. If the marketer, PR person and business manager/owner like the influencer, it is not a fact that the target audience is interested.
Even if the theme of the blog matches the direction of the brand, the blogger may not have a target audience. For example, a girl blogger talking about beauty might be watched by grown-up men, an Instagram page with expensive cars might be watched by teenagers dreaming of their first car, a high-flown Lifestyle account might be watched by low-income people dreaming of an unattainable standard of living.
Influencers can be sought in three ways:
On their own with the help of our media materials.
Through exchanges and services such as those found in the Qualified.One directory of marketing agencies
Through agencies whose profiles is also available on our website.
Checklist for working with an Influencer
1. Target audience
Identify the target audience for the product being promoted (social demographic, income level) to understand what kind of Influencer might be suitable.
2. Influencers selection
Identify the influencers in the appropriate niches. A trivial approach: restaurants - restaurant critic, cosmetics - beauty blogger, cars - car blogger. A more creative approach: food courts through dog breeders (pets are allowed), candy through challange (count which colour of M&M's is bigger in a pack).
3. Influencer's audience
Research the bloggers' audience to find matches with the brand's target audience. This can be done by requesting statistics from the Influencer. Preferably in video format (so it's harder to falsify).
4. Refine selection
Choose the most appropriate influencers, bearing in mind that bloggers' audiences in the same segment may overlap and the brand needs maximum coverage. Preferably, the opinion leaders should have experience of using the product or its counterpart. Experts recommend a ratio of bloggers: nine macroinfluencers and 90 micro-nano-opinion leaders per celebrity.
5. Reputation
Study the reputation of the Influencers and their biographies. Examine separately the scandals in which they have been involved.
6. Terms
Agree on the terms of publication. It is important to know what else is planned to publish alongside the advertiser's material. If the posting is too active, the audience may no longer perceive the advertising messages. It should be made clear how long it will take for the blogger to become familiar with the product and company. Experts recommend allowing them to determine the content themselves, but the contract should stipulate the main terms of cooperation: goals, objectives, deadlines, publication dates and the amount of royalties.
7. Review
Check again and send the blogger the links and materials to prepare the review.
8. Questions
Prepare for answering questions and comments from users under the brand's nickname, as the influencer himself won't be able to answer everyone intelligently and tell them everything.
9. ROI
Calculate the effectiveness of the advertising investment. A good indicator is when around 40% of the Influencer's audience is involved in the brand's campaign.
10. Product
If necessary, send a product to the blogger. It is advisable to specify the address and time of delivery in advance,
11. Monitoring
Monitor the volume of advertising and the timing of the placement.
12. Analysis
Assess the results of the promotion. These may not follow immediately, as users sometimes save the information to return to it when the opportunity to make a purchase arises.