Graphic Design Trends 2022 - read the full article about web design trends 2021, Web design and from Envato on Qualified.One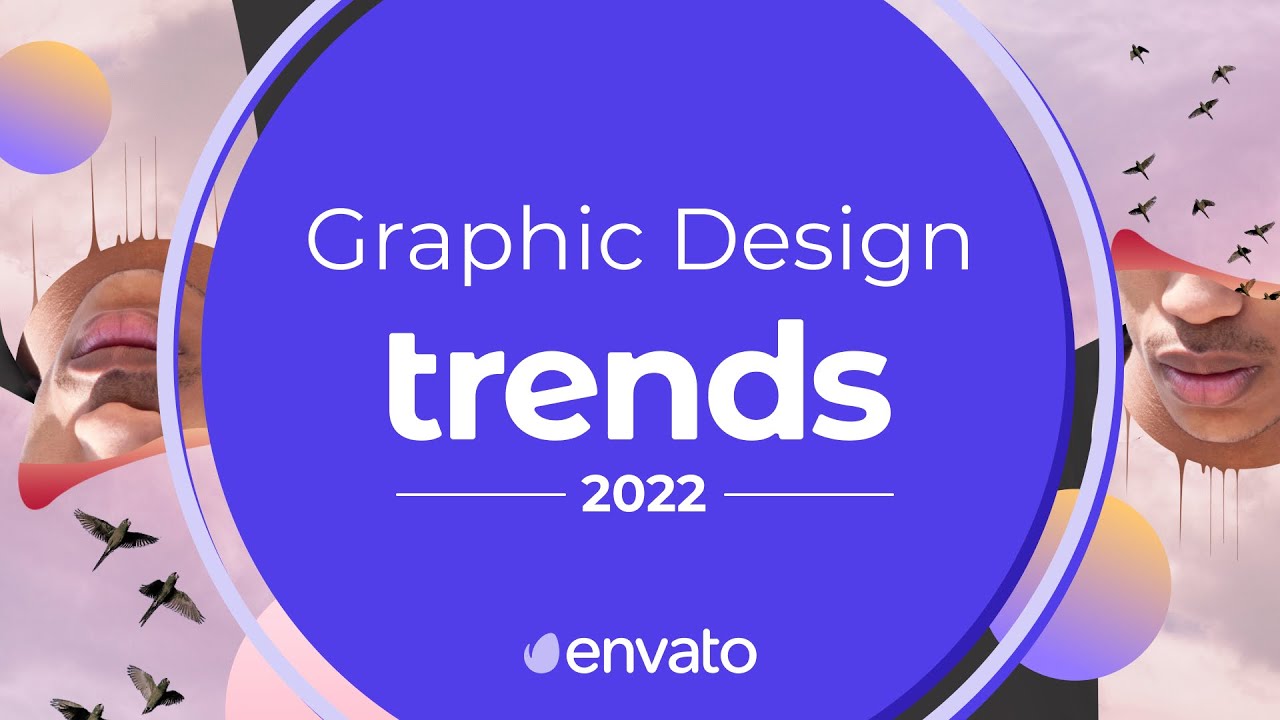 Hey there! Jen McKinnon here and it's time for another trend roundup from Envato.
Today we're taking a look at graphic design trends, and all the links to the featured items can be found in the description below.
This video is brought to you by Envato Elements, a subscription-based library full of all the digital creative assets you need to produce professional graphic designs in no time.
From stock photos and graphics to photoshop templates, mockups and icons, everything you need to streamline your creative process is at your fingertips.
Check the link in the description for a special offer from the Envato Elements team to get you started. Let's get into it! This trend is all about experimentation and signals a move away from flat illustration and a step towards detail, depth and dimension. We're seeing designers use 3D to come up with attention-grabbing creative that often incorporates a mixed media approach through the combined use of animation, photography and illustration.
Today's 3D designs range from playful to powerful, and from incredibly lifelike to compellingly abstract; while some blur the boundaries between physical and digital, like this piece of work by Khyati Trehan.
A mash-up of man and machine, several moving parts and a dramatic shadow effect draw the viewer's eye to the mechanisms of this 3D design. Start introducing 3D icons and illustrations into your designs with our curated collection of 3D design elements. You'll find a range of graphics that are easy to download and customise, and which can be applied to a range of scenarios – including ecommerce, gaming and travel. Find out more in our Illustration trends round-up. You'll find the link in the description below. And for even more 3D art inspiration, check out our blog post that explores a range of innovative 3D design applications. A third dimension also adds a realistic effect to words and letters.
In 3D typography, the idea is to ensure that fonts standout from their background and look as though the viewer could reach out and touch them.
For example, these simple phrases have been brought to life by designer Ben Fearnly.
From bulging helium balloons and swirling shoelaces to a version of the Chanel logo that resembles a cake, it's clear there are no limits when it comes to 3D lettering.
Transform your text with these seven Photoshop mock-up templates.
Simply choose your font, customise your color and introduce 3D typography into your professional and personal projects in a matter of clicks. Crypto art has been attracting a lot of attention over recent years and, with some people spending millions on memes, now might be a good time to explore non-fungible tokens. NFTs are unique digital files – in this case, design pieces – that are published directly onto a blockchain.
The point is that only one person gets to truly own each artwork, as NFTs provide a verifiable proof of origin. This is good news for collectors and means designers can sell their digital illustrations as works of art and not have to worry about their creations being replicated without permission.
One recent release was Amrit Pal Singh's Toy Face, a cartoon character featuring horizontal stripes of colour, which is just one in a catalogue of artworks that have been commissioned and purchased by celebrities and collectors around the world.
To help you get a handle on NFTs, we spoke to Amrit about this graphic design trend and you'll find a link to our interview with the popular 3D illustrator below.
Time to embrace excess, with a graphic design trend that's a direct opposition to minimalism.
Instead of exercising restraint and encouraging stripped-back simplicity, maximalism is all about going over-the-top.
Typical characteristics include bold color combinations, contrasting patterns, layered images and repeated motifs.
Take a look at this collection of illustrations that's inspired by myths and legends.
Leaving very little room for white space, these dense designs are bursting with dramatic detail – from astrological maps to fractured statues emerging from mountainous landscapes. Don't hold back when working on your next branding project, thanks to this social media template that encourages repeated text and layer-upon-layer of images and illustration. Featuring formats for square posts and vertical stories, these 20 designs couldn't be simpler to customise.
While maximalism is in the spotlight, there's still a lot to be said for minimalism. So we put these two divisive design styles to the test. You'll find a link to this blog post in the description below.
For another out-there style – one that subverts all traditional design rules – you might want to consider anti-design. Identified as one of this year's web design trends, you can find out more about introducing asymmetrical layouts and mixed fonts into your work via the link to our Web Design Trends video in the description below. In order to reinvent themselves, appeal to a new audience or appear more approachable, more and more brands are undergoing makeovers. This usually means getting rid of unnecessary detail and dialling back the complex design elements.
Put simply: coming up with a simplified logo as a means of breathing fresh life into an existing brand. Recently, Pringles popped the lid on their packaging's flat redesign, while Burger King served up nostalgia with a side of minimalism when the fast-food brand revealed a modern update on a 90s design. Similarly, Volvo cut back on color and opted for an all-black logo and, while there may be less detail, there's no mistaking the Swedish car manufacturer's trademark circle and arrow established as the brand's identity in 1927.
Whether you're rebranding or coming up with a whole new brand identity, you'll find plenty of simplified logo inspiration within this collection of 15 retro-style templates and badges. Featuring fully customisable colors, shapes and texts, these scalable vectors provide the jumping off point for a range of businesses – from bakeries to boxing clubs. And because first impressions matter, we've created a logo guide that will help businesses clearly communicate with customers and stand out from the competition.
Head to the description below for a link.
Leading on from our last graphic design trend, minimalist retro features old-school fonts, an organic color palette, warm tones, soft shadows and natural textures. A stylish nod to vintage 70s magazine layouts and record covers, this versatile trend lends itself especially well to business logos, editorial features and product packaging.
Like these tubes of toothpaste that Australian design agency Date of Birth came up with when asked to create a visual identity that looks both nostalgic and fresh. This is achieved with a chunky retro font in modern pinks and purples set against a clean, forest-green background.
From magazines to fashion portfolios, this magazine template from Envato Elements artist flowless is a masterclass in minimalist retro.
Customisable spreads come in a choice of two sizes and are dedicated to feature images, color backgrounds and simple blocks of text. Simply populate the grid layout with the elements you want to include in your next print project. Learn more about retro design trends - from pop art and 1960s-style psychedelia to 80s-inspired sci-fi elements - in our Retro Design Trends video linked in the description.
Offering an escape from reality, abstract surrealism is an evolution of the abstract futurism trend we featured last year. We're talking fantastical illustrations, evocative images and bizarre landscapes that look like something from a dream – or maybe a nightmare. Just look at these surreal scenes by self-described 'iridescent digital artist' Madebystudiojq, which incorporate rainbow chrome across a range of unreal and unlikely set designs. Armchairs take on the weightless quality of balloons, living rooms are carpeted in bright pink fur and a leather sofa seems to float on water – the result is unnerving, unnatural and utterly captivating.
Channel your inner Salvador Dali and intrigue your audience by adding an element of abstract surrealism to your work with this 3D rendering. Futuristic yet familiar, it's just one of hundreds of photos and creative assets that can be unlocked with an Envato Elements subscription.
Take a look at last year's graphic design trends video to compare the pair - this year's abstract surrealism against last years abstract futurism - and let us know in the comments below how you think this trend will evolve next! Find the link to Graphic Design Trends of 2021 in the description below.
The vivid block colors of previous years give way this year to muted tones in this graphic design trend that's focused on creating an ethereal look and feel through its use of cloud-like gradients, soft pastels and grainy textures. To promote products for people with curly hair, designer Daria Suslova went for a wavy, hazy approach, adopting dreamy muted gradients across the brand's collateral and social media feed. The result is unstructured and laidback, while the sunrise-to-sunset color palette puts us in mind of carefree summer days. Incorporate this trend into packaging designs and promotional material with these misty gradient backgrounds. Modern, minimal and highly versatile, the collection of 40 high-resolution JPG gradients features subtle noise and the option to include a geometric wavy line. Meanwhile, the web design world has embraced complex gradients and irregular or multicolor blends as a means of adding depth to flat images. You can learn more about it in the latest UX and UI design trends video by clicking the link in the description below.
Gradients also feature in our latest round-up of branding trends. Check out how it translates into the world of marketing via the link to the video in the description below.
On the other end of the spectrum from Maximalism, after a challenging couple of years, we're seeing some graphic designers decide to play it safe. That means going back to basics to deliver something uncomplicated and comforting, and sticking to the simple things in life.
We'd like to think that perhaps the pandemic has prompted a risk-averse culture in which people crave consistency and the familiarity of straightforward visuals. Like these simple illustrations that combine instantly recognisable organic and geometric shapes with a limited color palette that's warm and inviting. Bring simplicity into your socials with these Instagram post and story templates that show that muted greys and clean designs are the ideal backdrop for promoting skincare and beauty products. Our back to basics blog post has plenty of ideas on how to incorporate the natural world into your creative projects, so start working with botanical designs and natural textures today by clicking on the link in the description below. Opting for a minimalist look and feel doesn't have to mean missing out on color. Color becomes even more important when navigating vast expanses of white space.
Designers might use colors from across the spectrum, but tend to stick to just a handful within a single composition in order to accent a particular feature – like the splashes of background color that boost the monochrome doodles on this business card. You can introduce yourself and your staff in style by downloading these minimal business card templates from Envato Elements, which balance block color with white space for an eye-catching composition. When it comes to adding a color splash to your next design, inspire optimism and youthful exuberance by following the tips in our bright and bold blog post, linked to below. That does it for the graphic design trends you'll be seeing this year.
If this video was helpful, don't forget to like it below so we know to keep producing more content like this.
And subscribe to the Envato YouTube channel to stay up to date with our latest content! Have your say and tell us what trends you'd like us to profile next in the comments and hit the Envato blog for more trends and tips.
That's all for now but if you're keen to stick around, click the thumbnail at the top right of your screen for more trends, or hit the one at the bottom right of your screen to watch the next Envato video, selected just for you. See you next time.
Envato: Graphic Design Trends 2022 - Web design