Color Trends 2022 + Pantone Color of the Year - read the full article about brand design trends, Brand Design and from Envato on Qualified.One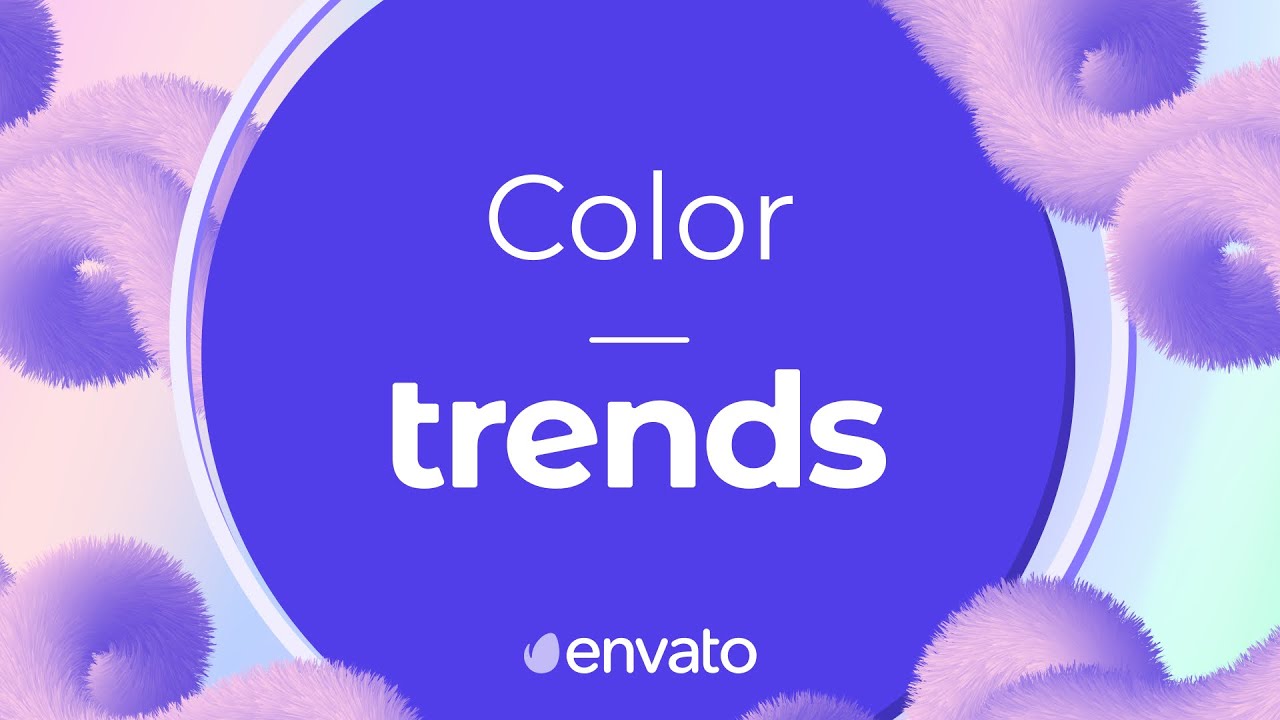 Hey there! Jen McKinnon here and it's time for another trend roundup from Envato.
Today we're taking a look at color trends (including the latest Pantone color of the year) and all the links to the featured items can be found in the description below. This video is brought to you by Envato Elements, a subscription-based library full of all the digital creative assets you need to produce professional graphic designs in no time.
From stock graphics, project templates and mockups to fonts, textures and add ons, everything you need to streamline your creative process is at your fingertips. Check the link in the description for a special offer from the Envato Elements team to get you started. To the trends!! Providing a dreamy background to web pages and social media posts, pastel gradients are having a moment. It wasn't long ago that color transitions were being swapped out in favour of flat design, however, that's all changed.
Today we are seeing gradients being used to add color, depth and texture to flat designs. Beautifully blending complementary or contrasting colors, pastel gradients offer a soft and subtle sense of calm.
Like in this branding project by the Quebec-based design team at ​​Agence Masse, where words mix and mingle with a cloudlike collection of pinks, blues and purples, while text overlays don't have to compete for attention thanks to this simple, soothing backdrop.
Bring a rainbow into your work with these pastel gradients from Envato Elements.
Featuring 20 vector gradients ranging from smooth to textured, these backgrounds will ensure your branding and marketing projects get noticed. For more inspiration, check out our pastel-focused blog post, where we share a range of templates designed to help you easily embrace this cute and playful color palette.
With gradients, the creative possibilities are endless – and we explore just some of the potential uses in our Branding Trends Video.
Simply click on the link in the description below to be teleported to the land of brand.
This next trend invites designers to indulge their inner gardener and get to grips with soil-inspired shades.
We're talking rich browns, creamy clay colors and terracotta reds. However, natural earthy hues can also include any color that's found in nature.
Think blue-grey skies, orange fall leaves and lush green grass.
This trend is wrapped up in the organic design movement, which has grown in popularity in recent years due to an increased interest in sustainability and environmentalism, and a desire to get back to basics. Featuring natural earthy hues and the wavy fine lines and botanical illustrations typical of organic design, these freeform artworks by Jesscia Covella convey the trend perfectly.
In addition, hand-drawn and collage elements offer a nod to the do-it-yourself design aesthetic.
From foliage to abstract faces, every image is grounded in a warm, down-to-earth energy.
You don't need to dig that deep to find some earthy hues to experiment with, thanks to our curated collection featuring clip art kits, social media templates and brochures that are just waiting for you to add your brand identity. Learn more about the incredibly versatile organic design trend in our blog post. From natural textures to neutral colors, click the link below for a masterclass in taking inspiration from Mother Earth.
Remember your childhood art classes where the teacher showed you how to mix red, blue and yellow to create a variety of hues? Well, travel back a little further in time and we see the three fundamentals of the color wheel mentioned in Ancient Greek texts well before the term primary colours' was introduced into the English language in the 1600s. But enough history.
The use of red, blue and yellow has endured over the centuries thanks to their ability to make big, bold design statements without adding congestion or clutter. Just look at these bright business cards, which are saturated with color while still giving the text plenty of space to stand out. If you want to pursue primary colors, an easy-to-use template is a great place to start.
Like these Instagram Story posts that are the design equivalent of a megaphone – which makes them ideal for promotions, competitions and announcements.
Create a mood of vibrancy, optimism and youthful exuberance with more bright and bold color. From rainbow-inspired palettes to daring duotones, our blog post rounds up some of the best ways to inject your creative projects with color. Combining the subtlety of pastels and the organic appeal of natural colors, muted palettes are the go-to when it comes to achieving a modern, minimalist look and feel. The opposite of vibrant or radiant palettes, muted palettes encourage us to reach for our shades and dial down the saturation.
And these easy-on-the-eye colors are so important when you consider the amount of content we expose ourselves to each and every day – whether digital or print. Speaking of print, these bespoke tarot cards see a muted palette of pinks, purples, greens and blues being applied to graphic designer Max Löffler's otherworldly illustrations.
The result is as compelling as it is calming.
Embrace the head-turning power of understated beauty with this social media kit.
Simply customise the ​​color, text and images of these 10 editorial-style templates to get started. Clean edges, open spaces, low on detail – flat design focuses on minimalism, functionality and usability. That's why it's suited to posters, how-to guides, instructional web pages and apps.
But flat design is anything but boring, and we're increasingly seeing designers use bold colors to add an extra dimension to their creations. Like the vibrant hues that introduce dynamics to these static character illustrations.
The people and professions depicted might conform to the flat design style, but the bold, solid colors and line details add plenty of visual interest.
For flat designs that are infused with bold color, take a look at Envato Elements. This simple illustration by BoykoPictures proves you don't need complex patterns and textures to communicate your message.
Time for a dose of nostalgia as we see the return of this turn-of-the-century aesthetic. Drawing on late 1990s and early 2000s pop culture, Y2K was a time when people were looking forwards as well as backwards – and, as a result – the Y2K trend can perhaps best be described as 'futuristic with a retro edge'.
This was a time when dial-up internet was still in its infancy, and so this graphic design style often includes a cyberculture twist. For example, just look at the shimmering metallics and man-meets-machine elements deployed in these illustrations by China-based VIMLAB DESIGN.
Not only do they offer a glimpse of a brave new world, the use of liquid metallics adds a swirling sense of movement. You'll find more reflective surfaces thanks to these 50 holographic and iridescent textures. Use them as backgrounds in your social posts, website or app to add a sci-fi feel or to incorporate a chrome effect into your collages and illustrations. Signalling a digital revolution for graphic design, there are plenty of ways to embrace the Y2K aesthetic.
Take a look at our dedicated blog post to learn more about the pop culture influences that informed the fashion and films of this iconic era, and pick up tips on incorporating some 90s and 00s nostalgia into your work. Meanwhile, our roundup of the top holographic design templates will put you on the path to creating some mesmerising, metallic-effect masterpieces in no time.
As always, you can find a link to this blog post in the description below. Opposites attract in this color trend, which is all about throwing out traditional graphic design rules and coming up with punchy pairings.
The idea is to select colors that are on opposing sides on the color wheel and match them up to create something complementary. Red and pink are perfect examples, as seen in these business cards and branding collateral from Dutch designer Marta Veludo.
Geometric shapes of color are striped and slashed against each other, with a splash of muted blue adding balance and breathing room. Start mingling and matching bright and bold colors in your next presentation.
Proving corporate can be colorful, this Keynote template is bursting with more than 50 full-color slides that are easy to customise.
Whether you are pitching for investment, showcasing statistics or building a portfolio, it's a surefire way to add interest to your deck. Taking rose-tinted glasses to the next level, we rewind to days gone by and seek inspiration from past decades with this color trend.
Fuelled by a sense of nostalgia and a desire to take time off from the on-screen distractions of the modern world, it's becoming increasingly common for designers to dabble with sun-kissed tones and art deco-inspired palettes. Similar to the muted palette color trend, this music festival poster invites us to relive the disco era with its faded pink glitter ball and grainy black vinyl records. Meanwhile, images of film reels, tape cassettes and toy robots are guaranteed to evoke childhood memories and a fondness for a more analog era – while the predominantly brown, beige and green color palette channels a retro interior design aesthetic.
Created by Envato artist graphicook, these warm and inviting podcast covers and Instagram Stories templates have real yesteryear appeal.
Continue a colorful trip down memory lane with our retro design trends video, which charts the influence the 60s, 70s and 80s had on the visual world while, offering advice on how to bring a range of influences into your work – from psychedelic design to Club Tropicana cool.
And finally, Pantone have created a brand new hue for their colour of the year for 2022.
It's the first time in the 22-year history of the Colour Championship that a colour has been created just for the occasion. Very Peri, a periwinkle shade, signifies a carefree confidence and a daring curiosity, says Pantone, and was selected as a colour to inspire creative spirits.
Reflective of transformative times, it's an inquisitive and intriguing colour that inspires new vision and gratitude.
It also represents the fusion of modern life and the digital world.
For inspiration, check out our Very Peri collection on Envato Elements, or head to the Envato blog for more in our Pantone Color of the Year blog post. You know the drill - there's a link in the description below! That does it for the color trends you'll be seeing this year.
If this video was helpful, don't forget to like it below so we know to keep producing more content like this.
And subscribe to the Envato YouTube channel to stay up to date with our latest content! Have your say and tell us what trends you'd like us to profile next in the comments below and hit the Envato blog for more trends and tips.
That's all for now but if you're keen to stick around, click the thumbnail at the top right of your screen for more trends, or hit the one at the bottom right of your screen to watch the next Envato video, selected just for you. See you next time.
Envato: Color Trends 2022 + Pantone Color of the Year - Brand Design