Top 20 Trends in 2022 Forecast | TrendHunter.coms 2022 Trend Report - read the full article about online marketing trends, Digital Marketing and All digital inbound channels from Trend Hunter on Qualified.One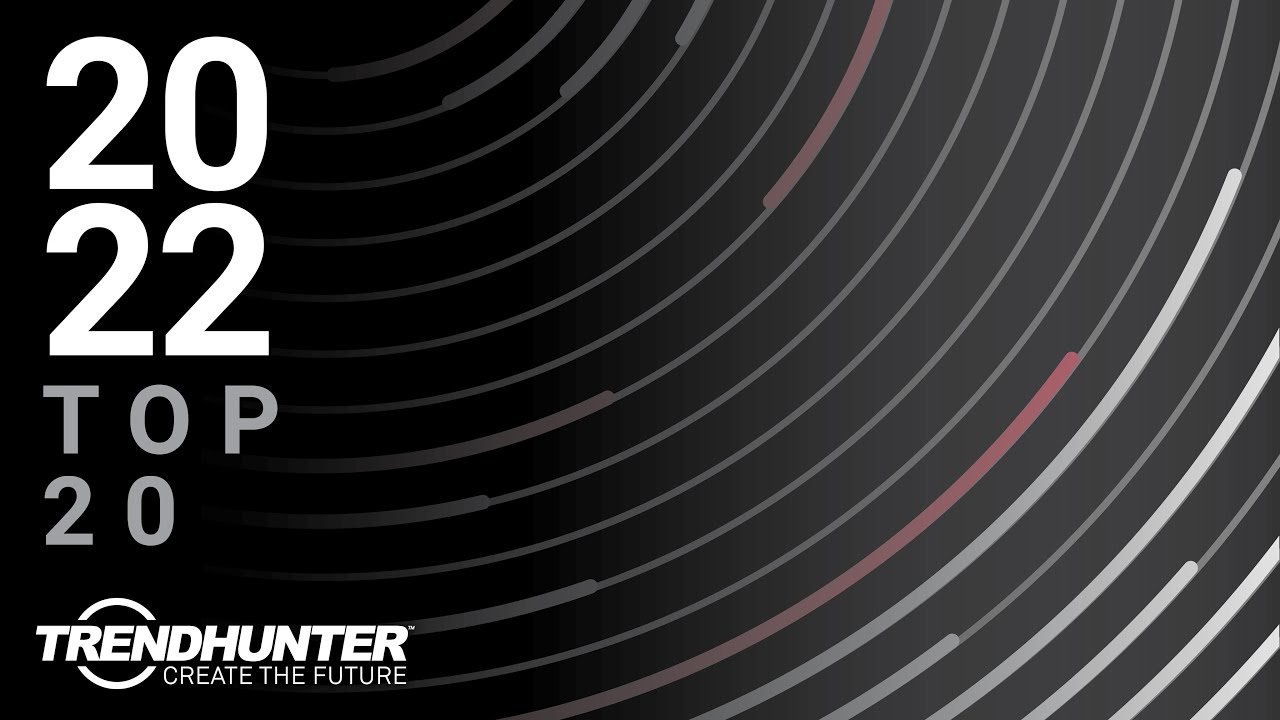 Though we aren't quite there yet, the world  is shifting away from the Chaos phase of the pandemic, and inching closer to recovery.  Post-COVID exuberance, increased eco-friendliness and unexpected generational shifts--the Top  20 trends of 2022 show we're moving into an exciting time of change. The Top 20 trends of 2022  are brought to you by Trend Hunter, the world's most-powerful trend platform & Innovation  Accelerator, powered by AI and big data.
At #20 is NFT Art-- NFT is a term you've probably  heard a lot of this past year. It stands for non-fungible tokens, which Wikipedia explains as  units of data stored on digital ledgers, called a blockchain, to certify digital assets. In this  case, those assets are art. If a creative offers their art as an NFT, they create a kind of virtual  exclusivity around the piece--with one example being Kings of Leons' recently released album,  which was the first-ever to be made into an NFT At #19, In-Game Inclusion is showing  the way forward for the world of gaming. In what's traditionally  been a non-inclusive industry, inclusion is becoming a focus with everything  from accessible game features to anti-racist storylines--responding to the growing calls  for the industry to cater to all demographics.
18 on our list is Summer Cannabis, where  the medicinal and recreational plant is being used in products associated  with your stereotypical Summer; think BBQs and beaches. Everything  from THC-infused canned cocktails to cannabis freezies offer alternatives to  virgin or alcohol-based summery treats.
#17, Car-Free Retail, shows how businesses,  urban planning and architecture can come together to create more eco-friendly cities. Pedestrian  and cyclist-only neighborhoods and retail developments show a more sustainable way  forward for design and urban planning.
At #16 we have Generation Dating.  As dating turned almost entirely digital over the last year, the use of apps  that connect users romantically went up. Where before these apps mostly targeted  Millennials, they're now accommodating the digital habits of older Gen Zs to bring them  into the fold. Everything from TikTok-style videos to meme-sharing are being used in new  dating app formats to connect to zoomers.
Carbon Offset comes in at 15, with brands in the  food and beverage industry looking to reduce their impact on the environment with carbon-neutral  and offsetting production processes. As the competition for eco-friendly  products becomes more intense, brands are having to make authentic  changes in order to draw in customers.
At #14 is Activism Pop-Up, which takes the  exclusivity associated with pop-ups and links it to activism in order to build a sense of community  and understanding among attendees. Sharing these common spaces helps social, political  and environmental causes build momentum.
Coming in at #13 is Accessible Care, where  healthcare platforms are being designed around marginalized communities that are often  underserved when it comes to their health. Everything from cost-accessibility to  the inclusion of trans people is now being prioritized by these more  accessible healthcare platforms.
At #12 is P2P Community, where we're  seeing a growing number of platforms that offer activism and community  support for issues like mental health. These have become especially popular  in the past year as in-person support diminished for people all over the  world under pandemic restrictions. Examples include addiction recovery support  apps and online BIPOC wellness communities.
#11, Low-Alcohol Bar, is a new take on how younger  Millennials and older Gen Z enjoy socializing. These age groups have missed social connection  as much as anyone else in the last year. In a post-COVID world, restaurants and  bars will offer low-alcohol menus that target young people looking to connect with  friends, without excessive drinking involved.
At #10 we have International Keto, where  North American brands that offer ketogenic diet-friendly foods are taking cues from  global flavors--particularly Asian ones. Offerings like keto-friendly vegan ghee  and kimchi snacks come in response to consumers' demanding more diversity  in the diets they subscribe to.
#9, Farm-to-Phone, merges traditional  industry with modern customer habits by connecting consumers with fresh produce  from local farmers via digital apps. This convergence has been especially  useful as COVID-19 restrictions limit in-store or market interactions between  small business owners and their customers.
At #8 we have Nature Novice, another trend  that's popped up as a result of the pandemic. With many forms of travel and  tourism not currently an option, outdoor adventure tourism has seen a surge in  popularity--and brands are accommodating those who are new to this form of travel. Examples include  slow-paced cycling trips and hiking routes.
Another travel-related pandemic shift can be  seen in our 7th trend, Hyper-Convenient Camping. As travel restrictions ease up, people are  itching to get outside and feel the freedom they've been missing in the last year.  Things like camping and adventure-based tourism are surging in popularity and  being made more accessible for beginners, as traveling and being in nature  becomes a priority for more consumers.
Sanitization Health comes in at #6, where  the popularity of the skincare industry merges with the past year's focus on personal  hygiene and produces hand sanitizer as a part of consumers' skincare routines. Brands are  responding to this in-kind with sanitizing products that mimic the sophisticated  formulas seen in the skincare space.
At #5 we have Health Hub, an extension  of smart home systems that prioritize the personal health of users. Everything  from sleep to medication-tracking are now being managed by connected hubs with product's  like Amazon's Alexa offering audio reminders.
A different type of health focus can be seen  in our 4th trend, Tech Fatigue. Changes to both social and professional lifestyles over the past  year have necessitated a complete transition to digital--and tech fatigue has become a consequence  of this shift. Some brands are battling this form of burnout with everything from social  media-blocking to more inclusive virtual spaces.
At # 3 is Boomer Tech, where digital habits  that have typically been common among younger demographics have seen a boost among seniors.  Everything from virtual fitness to social apps like Snapchat are seeing a boost in  senior memberships and subscriptions.
Coming in at #2 is Millennial Move, which  addresses the lifestyle transitions that many Millennials have faced amidst the pandemic.  High living costs in cities, the lessened need to commute, job losses, growing families and  reevaluating life goals have all contributed to Millennials moving away from the fast-paced  urban lifestyle. Brands and institutions are helping to facilitate this shift with everything  from remote work stays to adaptable modular homes.
Last but not least is Gen Z Creative--a  trend that's been on display over the past year in-particular, and will continue to dominate  creative, entertainment, and pop-cultural spaces. Here we see Gen Z developing skills  outside of the traditional school system and using them to their benefit--either  monetizing them now or securing their futures. This generation is leading the way  as the roaring 20s finally commence.
Trend Hunter: Top 20 Trends in 2022 Forecast | TrendHunter.coms 2022 Trend Report - Digital Marketing