The Absolute Best WooCommerce providers in 2021 - read the full article about woocommerce 2021, E-commerce Development and Online store creation from 10Web - Automate WordPress Development & Hosting on Qualified.One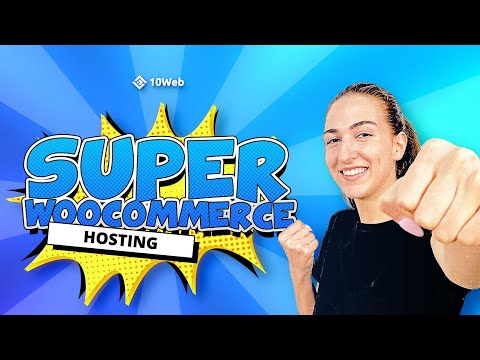 Hey guys. Today's video is all about the  best WooCommerce hosting options for 2021. OG viewers of this channel may remember that  we made a video on the best options for 2020, and it's time to breathe some new life into  it. We know how quickly things change! Plus, I have a few special guests today eager to strut  their stuff for you, so let's get right into it.  As you may know, WooCommerce is the most  popular eCommerce plugin for WordPress, used by over 5 million sites! But the  success of this plugin depends heavily on the functionality of its hosting. So if you're running an online business, choosing the right option is crucial as it  will affect user interaction with your shop, and ultimately, sales. Before I get into the  top picks for 2021 and introduce my guests, let me go over what you should be looking for in  the first place in a WooCommerce hosting provider.  For privacy and security, you'll want to  look for hosting that provides isolated environments for each website. These isolated  environments ensure security, greater flexibility, and better performance of a website--all important  aspects in running a successful online store! Shared hosting has nothing to do here. An SSL  certificate is important because it reassures potential customers about your site identity  through authentication. It also supports encryption, which is an absolute must if you are  expecting a potential customer to fill in their contact and/or credit card info. Good hosting  providers will include this as part of their plan. For your online store to be successful, it needs  to be available to visitors. Pretty obvious, I know. So when looking for a WooCommerce  hosting provider, focus on the ones that provide more uptime. Ideally use ones that  run on data centers classified as Tier 4, which means your website will experience  the lowest amount of downtime in a year. Now Listen up, Google tells us that more than half  of website visits are abandoned if a site takes more than 3 seconds to load. People expect things  fast, and your hosting provider better deliver. So make sure to go with an option that guarantees  speed, and has data centers across the globe cuz they make sure your target audience has fast  access and a good user experience. Tightly connected to speed, the next point is caching and  optimization. There are specifics to caching when it comes to optimizing eCommerce sites. Engineers  will tell you that it's tricky. A "kill them all, freeze them all" approach -- oh! Pardon me,  a "cache them all" approach does not work here. Why? Because for the sake of your business,  you can't cache dynamic pages in eCommerce sites or make them static as you would with landing  pages. But, you do still want them to be super fast of course. What's the solution? A hosting  provider that provides smart optimizing solutions for eCommerce dynamic pages. We are gonna make a  video about WordPress caching and optimization in more details, so subscribe to our channel so you  dont miss it out. Next up: make sure your hosting provider has impressive and customizable backup  solutions for you. Why? Because you need to be able to backup your website frequently, especially  before updates. And you have to be able to restore your site easily. Some hosting providers may even  handle the backups themselves--definitely keep an eye out for that as it makes life easier! The  security of your site is one of the most important things to look for. You should feel reassured  that your site--and therefore online stores, are in good hands. The more options provided that  cover all types of security threats, the better. WooCommerce is multisite compatible, so your  hosting provider should make the management of multiple sites as easy as possible. Make sure to  look for options that have intuitive dashboards with all the tools necessary. So whenever you  have a new online business idea cde, never let your hosting provider get in the way. And  finally, the last thing to pay attention to: good support! Listen, your online shop is your  pride and joy, and you will have questions, concerns, and sometimes you'll just need a little  help. And that's okay. You need the guarantee of a reliable, knowledgeable, and helpful support  team that works when you do. Even if that feels like it's 24/7 most days! They should be available  to assist you in all your concerns--whether they are general housekeeping issues or technical  issues. Look for a hosting provider that prioritizes customer satisfaction. So now that  you know what to look for in WooCommerce hosting, I'm gonna share with you the 3 best WooCommerce  hosting providers of 2021. I've even split them up for you in terms of categories, so you can  choose the one that best suits your needs. Yes, I just love you guys that much! Think of it like  this, you need a superhero to save the day, right? So just like there are different superheroes with  different superpowers to choose from , there are also different WooCommerce hosting providers with  different features. They still all have the same end goal: saving the world for the former, and  keeping your online store functioning optimally for the latter! So let me finally introduce you to  my 3 good friends who are going to help me explain the differences of each hosting provider. I hope  everyone watching is #TeamMarvel...don't @ me! I'm gonna start the top 3 picks with the one  that is best for businesses that already have an online store, but feel their current  hosting experience is sub-par. In other words, businesses that are ready for the next level. The  absolute best option in this category is 10Web. So 10Web is an automated WordPress Hosting  Platform, powered by Google Cloud. What do I mean by automated? Hmm, maybe it's better if  I show you...hey Tony, can you take this one? Yeah, kind of like that. Automated  and awesome is the name of the game.  10Web's automated platform is actually optimized  for WooCommerce sites, allowing you to enjoy the fastest WooCommerce hosting. As a Google Cloud  partner, 10Web has optimized the backend and frontend of the hosting to the fullest potential.  This results in a flawlessly functioning store, and since it's hosted on industry-leading  infrastructure, you can expect speed, security, and scalability. 10Web also helps boost your  sales with its automatic 90+ PageSpeed Score. Remember when I talked about the importance  of the 3-second rule? Well, 10Web guarantees the 90+ PageSpeed Score for both mobile and  desktop. This results in higher SEO rankings, better performing ads, and more sales. 10Web  also uses 12 data centers spread out across four continents so you can impress both your target  audience and audiences all over the world--AKA your potential customers. 10Web also uses one  of the fastest caching layers in the market, the Nginx FastCGI. It takes into consideration  the security of websites like WooCommerce, and automatically detects them to ensure the  dynamic pages of these sites are not cached.  We know people can be afraid of the unknown.  But don't let that fear stop you from wanting more from your current hosting provider. 10Web  makes the process of migration as smooth and secure as possible--and free. Did I mention  free? The automated process makes migrating your store from your current provider to  10Web easy, fast, and secure. You can even try automated migration through the 14-day  free trial--with no credit card required. Rest assured your live site will not be affected  as you see what the world of automation can do for your business! We already know the importance of  a good backup solution, and 10Web comes through here yet again. *cut to "we need backup" scene*  It offers real-time customizable backups of your site, keeping it in a secure AWS S3 storage space.  Put your mind at ease by scheduling automatic backups for your store, knowing it's safe, and  that you can restore the previous versions easily.  10Web not only offers SSL certificates free of  charge, it also auto-renews them for you! They use Linux containers to provide isolated environments  for each website, prioritizing security and privacy. Sharing is not always caring,  especially when it comes to website security.  Have many websites? Don't worry! 10Web doesn't  penalize serial entrepreneurs. In fact, the agency plan allows you 10 hosted websites,  at just $6 a site! Plus, the platform's intuitive dashboard prioritizes multisite support  so you can manage them all effortlessly, and keep on entrepreneur-ing. Is that a  word? I think that's a word...right, Tony?  When it comes to security threats...well,  10Web kind of handles it like this: The platform has specialized security services  that includes unlimited automated security scans, 24/7 monitoring, and brute force migration.  I think 10Web might even have a motto when it comes to dealing with security  threats. Oh, right, thanks Tony.  And what if you have any questions, or need  immediate help? 10Web offers 24/7 live support, 365 days a year. You'll be chatting with WordPress  experts who will resolve your issues immediately.  In case you are wondering: "OMG! How could  I have missed this wonderful opportunity? Now it's too late, and too much work to transfer  my shop to 10Web...I'm doomed!" .. 10Web offers automated migration, here to save the day. With all this and plenty more, what are you waiting for? If your current  WooCommerce provider is holding you back, ditch them and take the plunge with 10Web. Don't forget, you can try everything I just mentioned for free with 10Web's 14-day trial.  Linked below! All right, the next pick in my list is best suited for businesses that are already  running, but don't have an eCommerce presence. So if you have a physical business, and want  to get in on the world of online stores, this ones for you. The best option  in this category is Cloudways.  So Cloudways offers managed WordPress WooCommerce  hosting and really prides itself on scalability. What do I mean by scalability? Mmm, I think I'll  see if the Hulk can help me out here. Ohhh, Bruce?  Yeah like that. But with a lot less anger. Cloudways' goal is to use its scalable platform  to get your business from "mess to success". It uses top Infrastructure As A Service providers  like DigitalOcean, AWS, and more to help deliver a smooth experience for your customers. Its one-stop  platform has everything you need just a few clicks away, and utilizes the latest tools and software  to make the switch from physical to online easy.  Cloudways also understands that you may be  concerned about how your business will do in the online world. So it offers a vertical scaling  feature where you can easily scale your plan or server size to adjust to your needs. It also  conveniently offers Pay-as-you-go plans so you can upgrade or downgrade based on your needs and  budget. Kind of like how Bruce may need a larger shirt size when he transitions into the Hulk.  All plans come with a free SSL certificate, 24/7 support and monitoring, automatic  backups, free migration, dedicated firewalls, and more. Proactive Cloudways security  practices are put in place to keep your servers safe and secure. So if there is ever  a threat, you can imagine what will happen. Their plans start at $10/month, and they  also offer a 3-day free trial for you to test out their platform, and make sure  it's the right fit for your business.
Okay, that brings me to the final pick in the  best WooCommerce hosting providers for 2021. This last one is best suited for those  who are starting from scratch with only an idea for an eCommerce store. Also those running  a small operation or planning to, who don't really have any major expenses, and are looking for a low  budget alternative. If you find yourself nodding along to this description, then SiteGround,  a managed Wordpress hosting provider, is the best fit for you. Why? Well it will meet you where  you are, in the early stages, and have the basics covered without being intimidating. I guess I can  ask Peter to give you an idea. Oh, he's still in class. But when needed, he can definitely assist!  ....not exactly on the same level as Iron Man. But in some contexts, it may just be what you  need. SiteGround prides itself on the ease of which you can launch your store. As mentioned, it  meets you in the early stages, and its prices and features really reflect that--especially  as their plans are all shared hosting.  For $4.99/month you can build a single WooCommerce  site through their shared hosting plan, which includes a free WooCommerce installation,  an SSL certificate, daily backups and an allowance of 10,000 monthly visitors--just enough for a  new blossoming store. If you're worried about managing it all, SiteGround understands it may be  overwhelming. Their WooCommerce dashboard helps out by listing your orders, and let's you initiate  fulfillments and display detailed reports.  With SiteGround, as your budget grows you can buy  extensions or plugins that can enhance your store, marketing integrations, and the overall user  experience. You can extend your store when you're ready, with some additional costs. If you  choose one of their more expensive shared plans, SiteGround also gives you the option to test your  shop out on a staging copy, before going live.  For many people, security risks that are  associated with online shops can be enough to deter them from ever launching theirs.  SiteGround takes security seriously, and they have a unique AI anti-bot system that effectively  blocks millions of security threats every day.  And should you have questions or  concerns about any of the services? Their help center is available 24/7  for you! So now that I've broken down the 3 different options for you, all  that's left to do is choose your fighter! All right guys, that wraps up this video!  Make sure to like it and subscribe to our channel so you don't miss out  on future videos. And if you're using a WooCommerce hosting provider,  comment below and let me know which one!  Remember, knowledge is power, so use it  wisely to choose the best superhero for all your online business needs. Take  care and Ill see you next time.
This video was brought to you by 10Web an  automated WordPress platform designed for agencies.
Automate hosting, speed optimization,  migration, site-building, and management,  and skyrocket your agency growth.
Sign up for a  14-day free trial, and experience true automation.
10Web - Automate WordPress Development & Hosting: The Absolute Best WooCommerce providers in 2021 - E-commerce Development