HubSpot Update – April 2022 | GET Requests via Workflow Webhooks, CSAT & NPS Questions and more! - read the full article about seo updates april 2022, Search engine optimization and from Neighbourhood on Qualified.One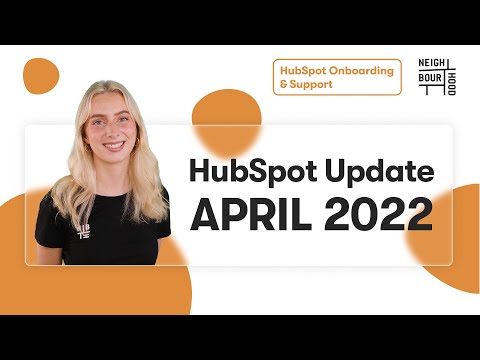 Whats good, guys. Its Liv here from Neighbourhood.
And welcome back for our April HubSpot update.
Weve got a bunch of exciting updates for you this month as HubSpot continues to elevate its platform to ensure that you can better market, sell to and service your customers through 2022.
Be covering get requests via workflow, webhooks associating forms with marketing campaigns, CST and NPS, questions and surveys, email, health and so much more.
Lets get into it.
Kicking off with some in house HubSpot golf, Neighbourhood will be doing our first Tag or HubSpot user group of 2022 next month.
Trav Neighbourhood, head of Gross and Imanol Altiers Success Manager at HubSpot, will be hosting this free online event covering all thats new and improved in service Hub.
Youll learn how to make the most out of your service Hub investment through best Practises and a PlaybyPlay demonstration on how to use these tools to up your HubSpot game.
Make sure to register for the free event in the description below.
Kicking off with our first public beta in the mix, HubSpot have made some exciting updates to the web hook actions in workflows.
If youre on Operations, Pro or Enterprise, youll be able to make get requests to receive specific data from other tools and services, as well as using data from the web hook response in the rest of your workflow before taking it live, youll be able to test your web hook as well to affirm its functionality.
Our next feature HubSpot has given us is the opportunity to dive deeper on marketing campaign ROI, with a comparison tool being introduced to compare campaigns against each other.
Users are able to compare up to five side by side with a view on performance for each listed asset, a mirror of the social, email and forms tool and marketing.
Hub customers can adjust date, range and add or remove additional campaigns, all from one screen.
Next up is something thats been in the pipeline for a year and a half.
Customers can now associate HubSpot forms with marketing campaigns, a feature thats been hassled out of the team behind the Orange pocket, and we couldnt be more stoked when creating a form.
Simply head to the options and youll notice a campaign association options.
Easy as that.
Our next public beta will get you prepped for upcoming hug.
Being a new feature in the jam packed service, Hub, customers will now have an added settings in the customer portal that allows end users to see all tickets in their company within the portal, not just their own tickets.
This empowers teams with greater visibility on exactly who has put a ticket forward and reduced chances of double ups as well.
In public beta, HubSpot has helped our SEO efforts by adding custom meta description fields to knowledgebased article settings to customise how your search results appear on Google, although HubSpot has told us that Google may occasionally rewrite meta descriptions automatically.
Just as an FYI next in line regarding SEO additions is the ability to set a default domain for SEO recommendations.
Customers can now set a default subdomain in the SEO tool, meaning that every time you open the tool from the navigation, youll be fast tracked to recommendations for your most important domain, saving you your precious clicks.
Also on the SEO train is a beta for filtering SEO issues in the recommendations.
Home users are given the option to sort their recommendations by SEO impact from high, medium to low, as well as an SEO issue category and technical difficulty.
This gives users a holistic view on their SEO efforts and an opportunity to identify low hanging fruit to fine tune.
Next, cab off the rank is one for our fellow CMS devs.
A Graph QL layer is now ready to use to display your HubSpot CRM object and Hub DB data on CMS pages, emails, external integrations and more.
One new beta that were excited about is the latest Email Health by industry feature.
So what is it? Well, Email Health allows you to test the success of your email and how inbox providers view your email.
It grabs the key factors in email deliverability and offers a holistic view of how your email marketing efforts are performing.
Now youll be able to see industry specific benchmarks for overall health and each of the metrics that factor into the score.
This data, however, is only available for certain industries, but more become available once theres enough data to provide other industries health scores.
And last but not least in the public beta is the option to include industry standard survey questions such as CSAT and MPs in the Customer Feedback Surveys tool.
Now onto whats live and Kicking HubSpot customers in any tier now have the ability to import line items with deals using the import feature.
Its been introduced as line items must be imported with deals, as these products require an associated commerce object such as quotes, payment links, subscriptions or custom objects to make sense.
Next on the roster is the addition of SYSPRO CRM, Bombom and Sage Accounting as HubSpot incorporates more data.
Sync App Integrations as a recap of this different type of software.
Syspro CRM is an ERP software designed to simplify business complexities for manufacturers and distributors.
This integration allows for a sync on leads, contacts and accounts.
Then is Bombum, a video messaging service which records, tracks and sends personalised video emails.
This integration supports syncing of contact lists inside of the video email software.
Following on is Sage Business Cloud Accounting, otherwise known as Stage One, which is an accounting software with integrated payroll for small businesses.
This integration allows users to sync a customer object and finally, in whats been a jam packed month for HubSpot through a new homepage and course cards in the HubSpot Academy.
So what does this entail? Well, a new personalised home page simplifies the Academy content catalogue for each user based on their role and prior course progress.
Youll also have the chance to jump in on in demand certification courses and software training easier in the Academys new layout, while course cards throughout the app have had a facelift to be more informative and inviting.
And thats it for this month.
I hope you enjoyed these updates and theyre as keen as we are to start implementing them today.
But if you need someone to tell you where your current usage in HubSpot is letting you down, what you could optimise and clean up or what youre not using to its maximum potential, sign up for a Portal Audit Today weve pushed out a bunch of audits recently for companies in a variety of different industries using HubSpot to varying levels as well.
Dont forget to register for our upcoming free online HubSpot user group event in the link below as well be showcasing how to make the most from your service Hub investment and all of its latest features, or perhaps how it could be introduced to seriously improve how you cater to your customers.
But for now, thats all from me happy HubSpot bye.
Neighbourhood: HubSpot Update – April 2022 | GET Requests via Workflow Webhooks, CSAT & NPS Questions and more! - Search engine optimization