By incorporating micro-content into your content marketing strategy, you can get your message across to your audience faster. Learn best practices for creating micro content that converts.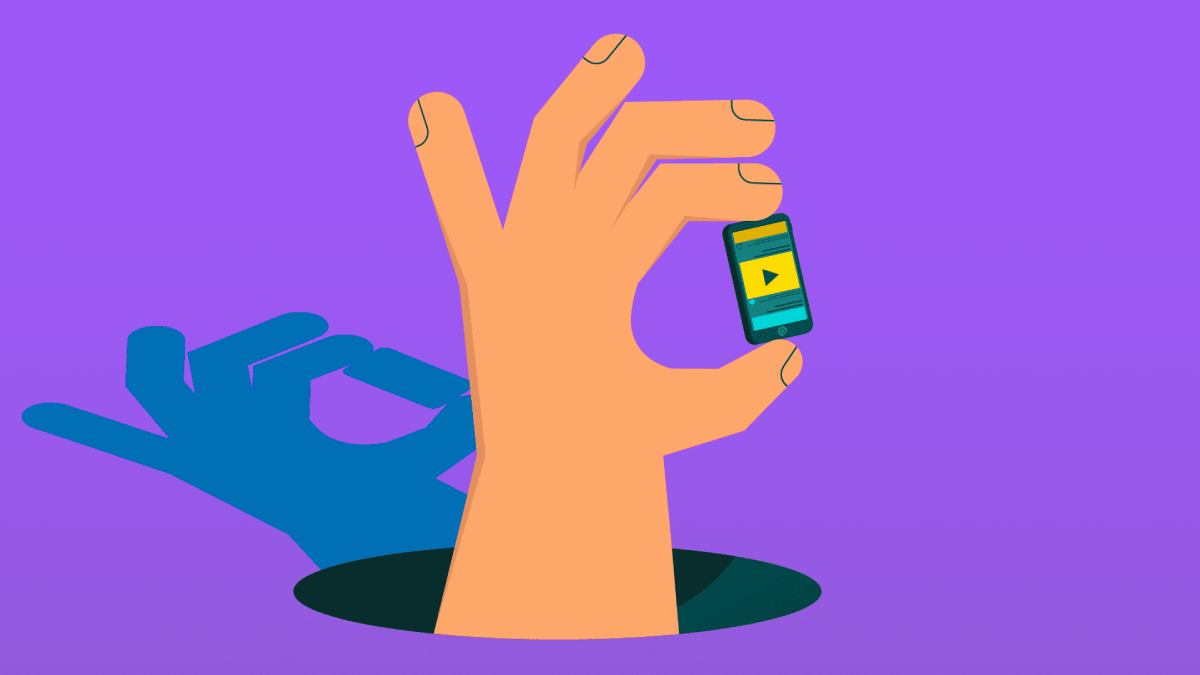 Creating a successful content marketing plan requires using different types of content that resonate most with your audience at key points in the customer journey.
You can create social posts, videos, long-form, short-form, copy copy, and more, so you can tailor your strategy to your goals.
One form of content that is not recognizable by name is microcontent. This type of content gets your message across to your audience in a quick, easy-to-read format.
The term "microcontent" is increasingly being used by marketers to refer to separate, very enticing small-sized material. Most Internet users are used to being constantly "bombarded" with microcontent: posts on social networks, short videos on Twitter and Instagram, ironic memes, funny gifs, etc. Moreover, we are all producers in our own way: stories on Instagram and beyond, tweets, status updates on Facebook or Twitter... we could go on for a very, very long time.
Click-through rates for online videos can be over 1600% higher than photo- and text-driven posts. Video marketing has exploded in recent years as more brands jump into the social media advertising space and seek better ways to create engaging content that attracts new customers and retains current followers. is increasing to And nothing beats video.
It is no secret that e-commerce thrives on such material (especially if it is also visual). According to studies, it takes only 1/10th of a second to perceive visual elements, whereas it takes a whole minute to read 200-250 words. In the highly competitive world of online shopping, visual information is a huge advantage in the fight for consumer attention. There are so many formats of visual microcontent, so don't limit yourself to just product images and short videos.
Why visual microcontent?
Microcontent is not only an opportunity to create engaging content without excessive effort and exorbitant budgets, but also a real challenge for marketers, to stand out such a message should be a real signal, not just background noise.
You should definitely try the benefits of visual microcontent if:
you're tired of creating one-size-fits-all social media posts that no longer work;
you lack the budget to compete for more reach to your active audience;
you have unique niche knowledge, but you're afraid you can't present it in a non-boring way.
The brain processes visual content 60,000 times faster than text
Microcontent (videos 60 seconds or less in length) and video production are powerful little storytelling tools that can shape and promote your brand message by incorporating them into your existing marketing campaigns. We all know that attention spans are getting shorter and shorter. As such, short videos can be a great tool to engage, inform, inspire, and motivate your audience across multiple platforms to bring attention to your content. TV ads rarely last longer than his 30 seconds, so this is the best example of how a brand works.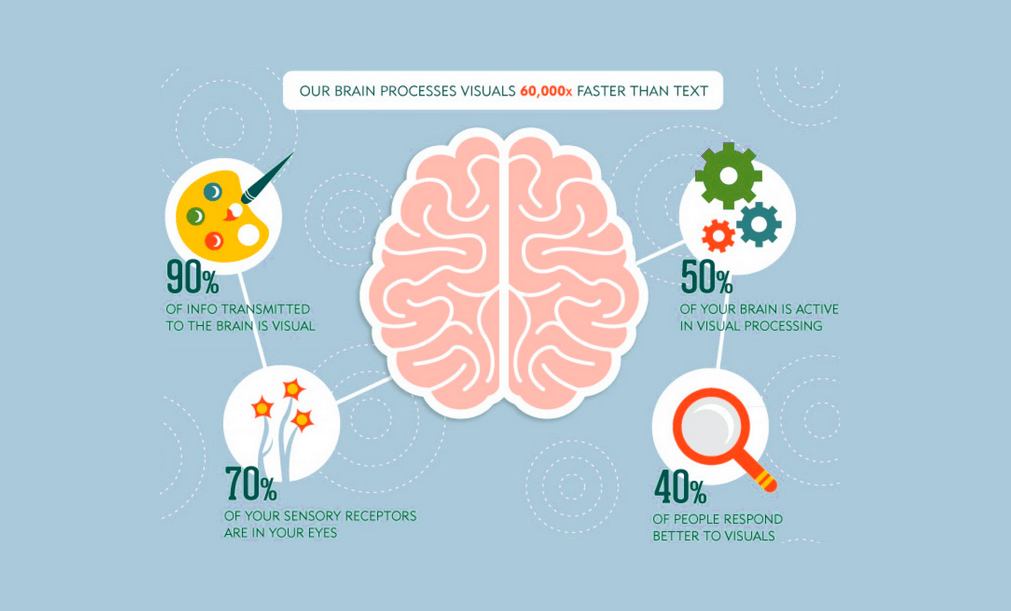 Micro content: 60,000 times faster than text
Harness the power of micro content storytelling. Instagram Stories are one of the most powerful and relevant storytelling tools on the internet today and are growing in popularity.
We help you plan and execute high-quality, low-cost micro-content videos to significantly enhance your marketing efforts. Done well, visual storytelling can lead to increased loyalty, stronger customer relationships, increased awareness, and more.
Think of your business as a "media company" that consistently delivers high-quality, engaging visual content to a dedicated audience. Recipe videos, stop actions, motion controls, branding content, etc.
Bite-sized content for maximum engagement
If you want to grab attention online, you need to get your point across quickly by creating short, punchy, attention-grabbing videos that grab your audience's attention. The best way to organically engage your audience is to make a consistent impression, provide consistent value, and make the easiest decisions when you need to hire someone to do what you do. is.
How to stand out
Just imagine a scenario. For example, say you need to hire a high-end service provider such as a lawyer and her web developer. You'll find two options that can do what you need, browse through them for more information. One of the alternatives has her website filled with long texts, and the last time she shared on her social media accounts was a photo from his party at the company Christmas two years ago. The second option has a two minute video on the homepage where the CEO/Owner welcomes you, introduces himself and tells you a little bit about what makes you different from others in the industry. They keep checking their social media and find themselves constantly posting new material sharing company insights, experiences, testimonials, industry thoughts/forecasts, and the occasional interesting story.
Which of these companies is more trustworthy?
Micro content video: Instagram Stories
Micro content video packages: ideas and examples
To survive in today's competitive e-commerce world, you can't do without innovation. Fortunately, experimenting with microcontent doesn't require a major expense. All it takes is some creative, customer-centric thinking. Let's take a look at some examples of effective micro content video packages.
Visual posts in the form of practical tips and instructions
Regardless of whether your online store sells cosmetics or electronic gadgets, you are offering customers a certain benefit. But the value of your offer should go beyond the products themselves: while trying to convey a message of usefulness, think of the full cycle - from the moment the customer realizes the problem to the moment he or she is satisfied with the result.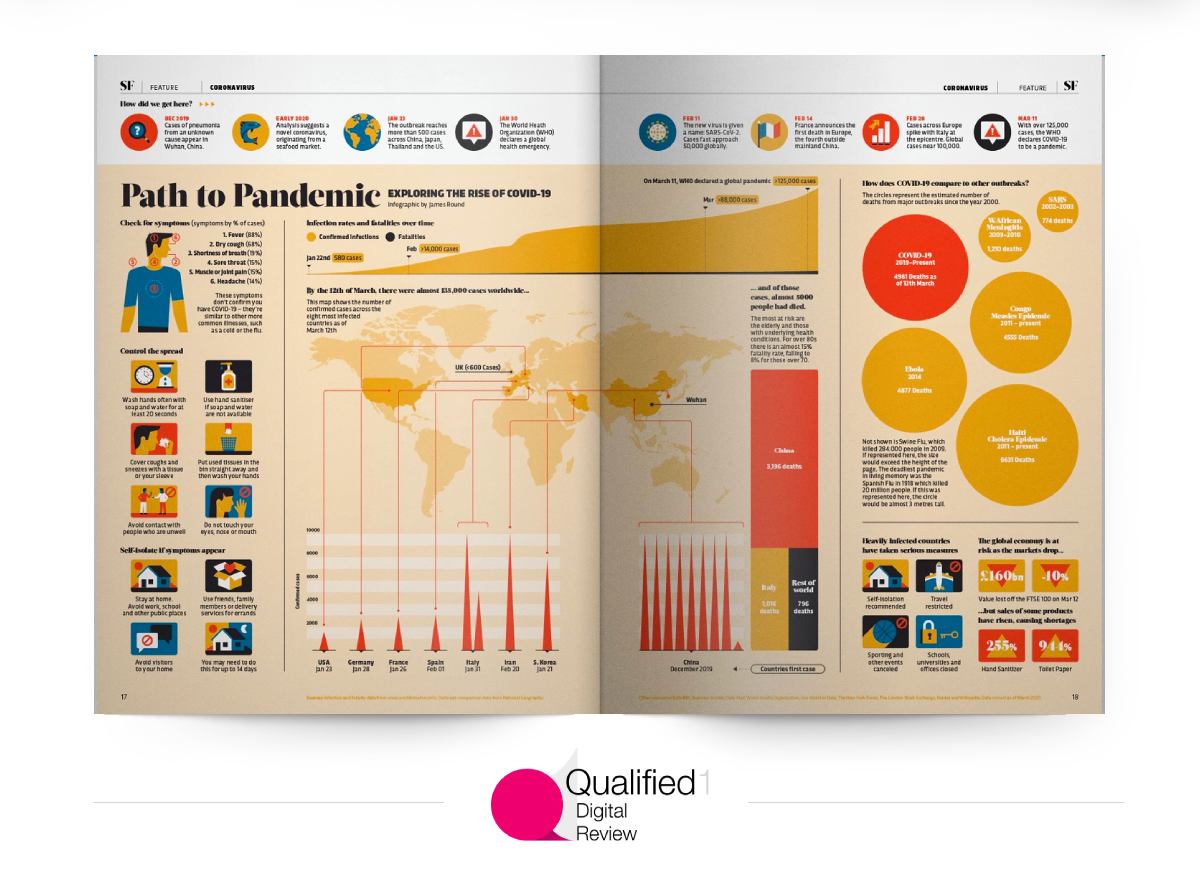 Micro content: infographic examples
People are always looking for answers, which is why content in the form of practical guides is in high demand in sales. By satisfying the customer's need for explanations, you help them choose a product, teach them how to use the product, demonstrate how they can use the product to improve their lives.
How to create: to create successful visual content in the form of practical tips or relevant instructions, research the knowledge gaps of your target audience in your industry. Then look for a good illustrator who can draw a visual solution to the problem. The best way to do this content is in the form of an infographic.
When to use: At the beginning of the buying journey, when users are already aware of the problem and are looking for a solution.
Statistics you want to quote
If you want to argue for the benefits of your product, statistics proven by experience are the most convincing. Our brain is easily persuaded by numbers, and a few paragraphs of data are much easier to remember than text sheets. By combining numbers with eye-catching visuals, you increase the likelihood that users will remember the facts presented to them.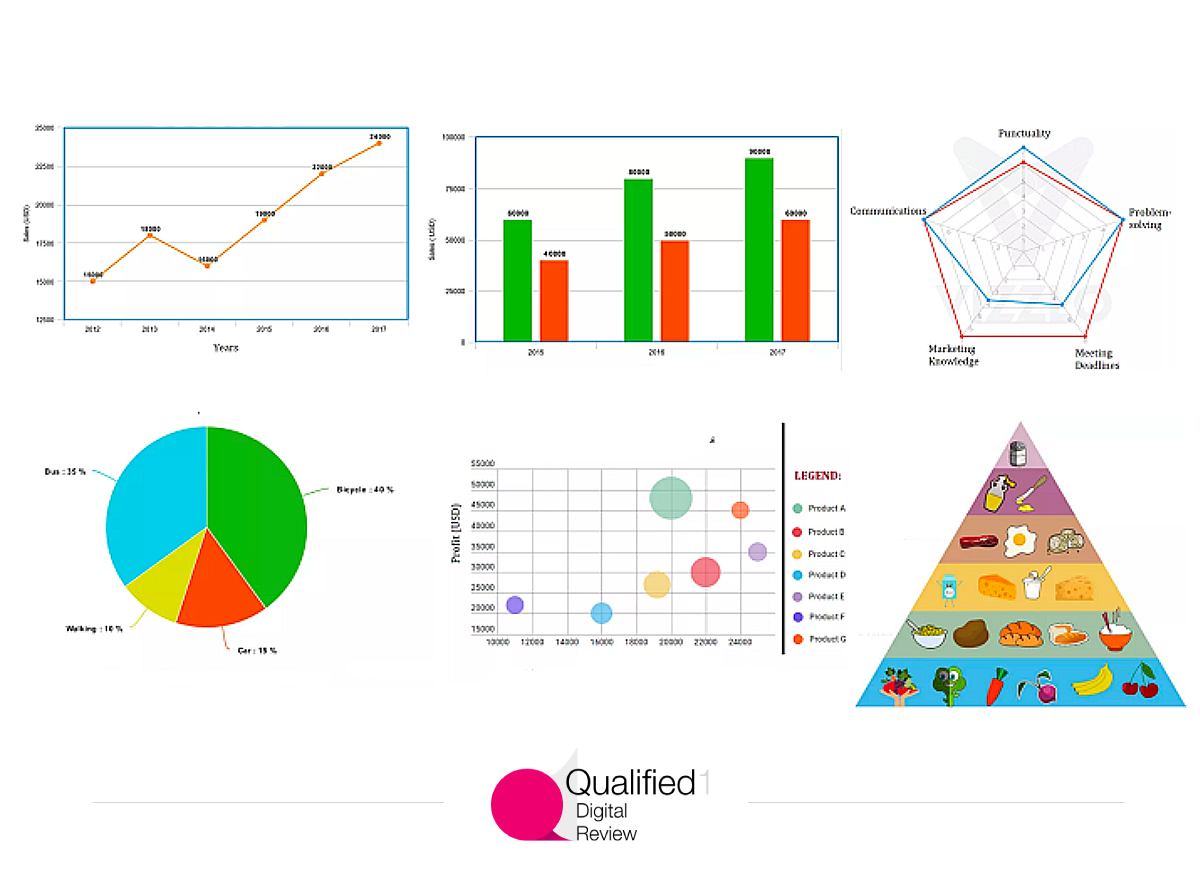 Micro content: types of statistical graphs and plots
The trick is to make the statistics simple and accessible, so that they start the conversation (rather than replace the discussion itself). For best effect, use little-known facts or out-of-the-box information. In terms of design, use a minimalistic color palette and plenty of white space.
How to create: To find an interesting statistic, research the niche of your product. To reduce design costs, you can use any free or paid tools with professional templates.
When to use: at the awareness stage, when the consumer is confident in the decision but not aware of the benefits of your particular product, or at the deliberation stage, when the customer is choosing between several brands.
Creative periodic tables
A comprehensive periodic table is the best way to demonstrate knowledge in your niche. Very few online retailers create this kind of microcontent yet, and even fewer do it professionally. This is a good incentive to not only try this format, but to succeed in creating it.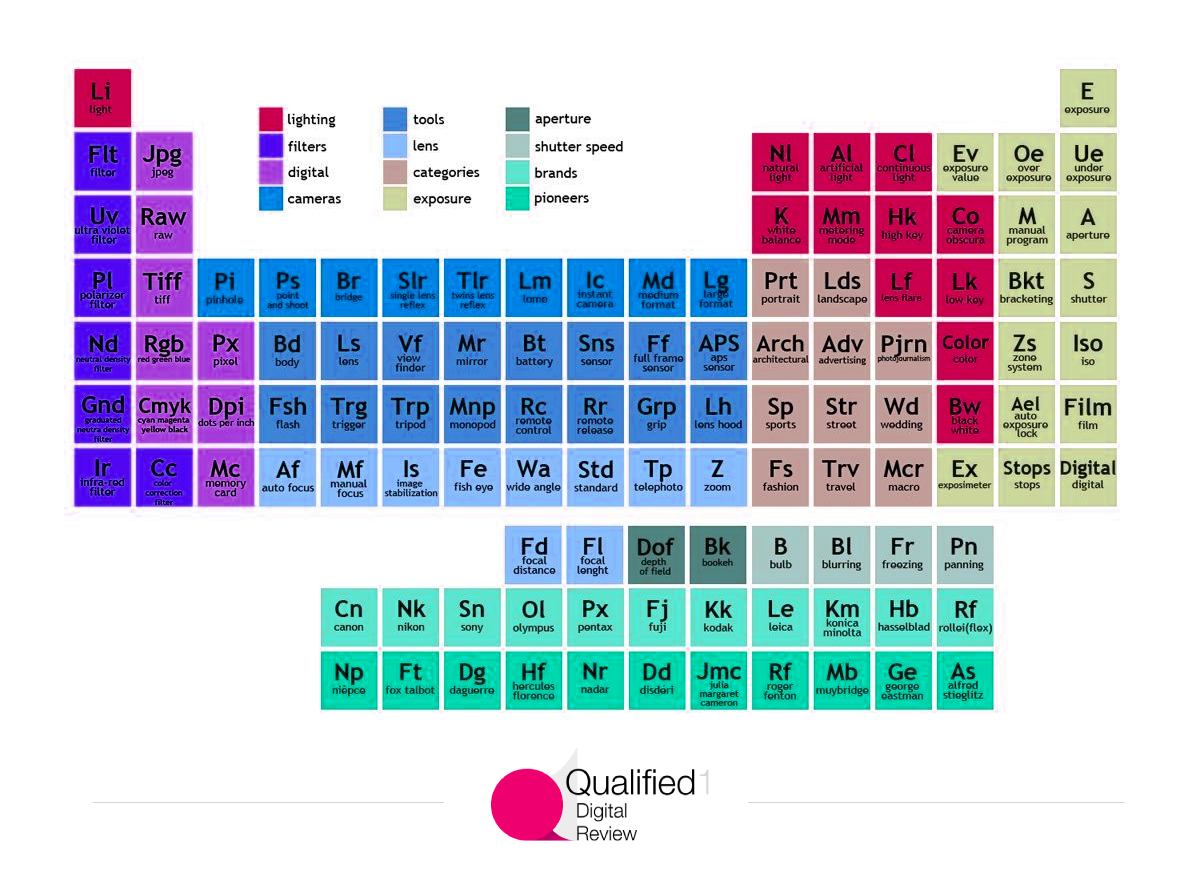 Micro content: creative periodic tables. Wxample by Daniel Camacho
The periodic table was first created to group and display the chemical elements and their properties. The colored rows and columns are great for classifying any elements with similar properties (study the attached picture, it's helpful:). In the context of e-commerce, periodic tables help to visually group a product line by analogy, thereby helping the customer make an informed purchasing decision.
How to create: the most important part of creating a periodic table is research. It may seem like researching and creating this type of micro-content itself is time-consuming, but once you've done it once, you'll have an up-to-date table that will help sales for a long time to come. The design of the table should be simple enough, so it is possible to do without a professional designer.
When to use it: at the awareness stage, when the target audience has not yet heard of you, or at the promotion stage, promoting trust and loyalty among customers.
Funny Venn diagrams
Venn diagrams are most often used in a scientific context. What's so funny about that? - you might think. But it turns out that even in this rigid visual format you can bring a touch of humor.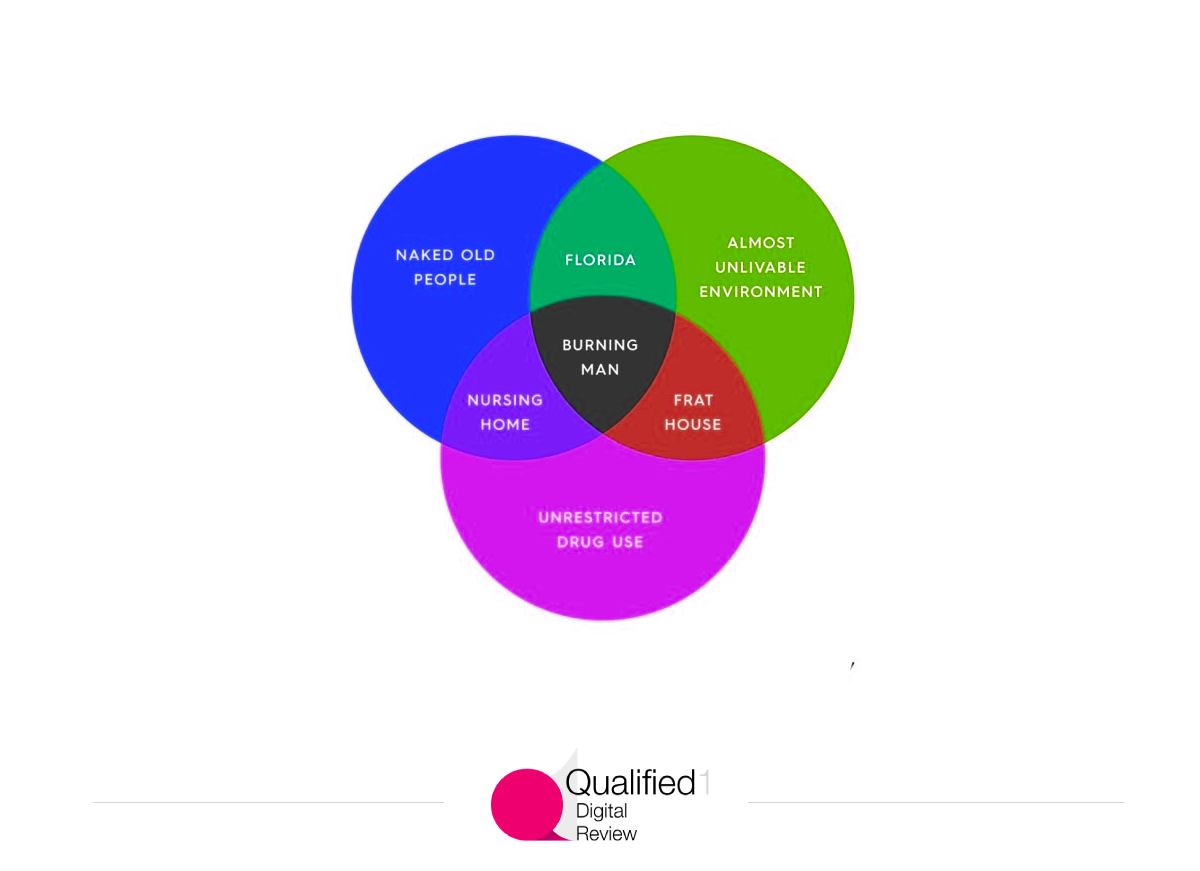 Micro content: funny Venn diagram example
The beauty of Venn diagrams is that, thanks to their relatively simple form, you can play with variables in a very creative way. In this elementary way, you can illustrate complex ideas, explain the relationship of parts and the whole, or visualize important arguments.
How to create: A quality Venn diagram is characterized by a deliberate concept. The content must be simple and clear, because it's a big idea. You can easily create the diagram yourself using Microsoft Office tools.
When to use it: During the awareness phase, to create memorable content for brand users.
Trend charts
In today's e-commerce world, products are created and shipped all over the world. Marketers can use a lot of geographic data in their work (e.g., product distribution information, regional differences, customer locations, etc.). Visualize these geographic trends in the most interesting way possible by using trend maps to help show popular market trends in different regions. Think about what geographic data you have access to and how it might interest your customers.
How to create: This type of visual content requires design skills (especially if creating from scratch). If you're looking for something quick and easy, try using ready-made blank map templates where you can just fill in the data.
When to use: during the awareness phase to inform your target audience about the product or during the promotion phase to ensure ongoing engagement with existing customers.
Using micro content videos in your content strategy
Micro content works best when paired with a strong CTA.
For example, by posting a quick Twitter update related to industry developments, you can quickly share that important information with people scrolling down your feed.
Then, if your readers want to learn more about your brand or dig deeper, you can provide her CTA for longer articles or relevant her website pages.
A balanced content strategy includes different content formats to appeal to a wide range of customers who may be at different stages of the customer journey.
If you're only writing micro content, you can't provide depth and detail about the key elements of your company's brand that need to be expanded. Conversely, if you write only long content and don't provide your audience with examples of micro content, you can easily lose interest in your prospects and leads.
Conclusion
A content marketing plan is the cornerstone of your digital marketing strategy. If you want to communicate with your customers, you need content and copy to reach them.
Whether it's long-form content or micro-content, you can clearly share your message with your audience in the format that's best for them, so you can maximize your content marketing goals.
Learn how to combine creativity with content to build a strong brand identity. Plus, learn how to understand your audience and create top-notch content experiences.