Video Trends [PLUS BONUS VIDEO MARKETING TREND] - read the full article about content marketing trends, Content Marketing and Content creation and promotion from Envato on Qualified.One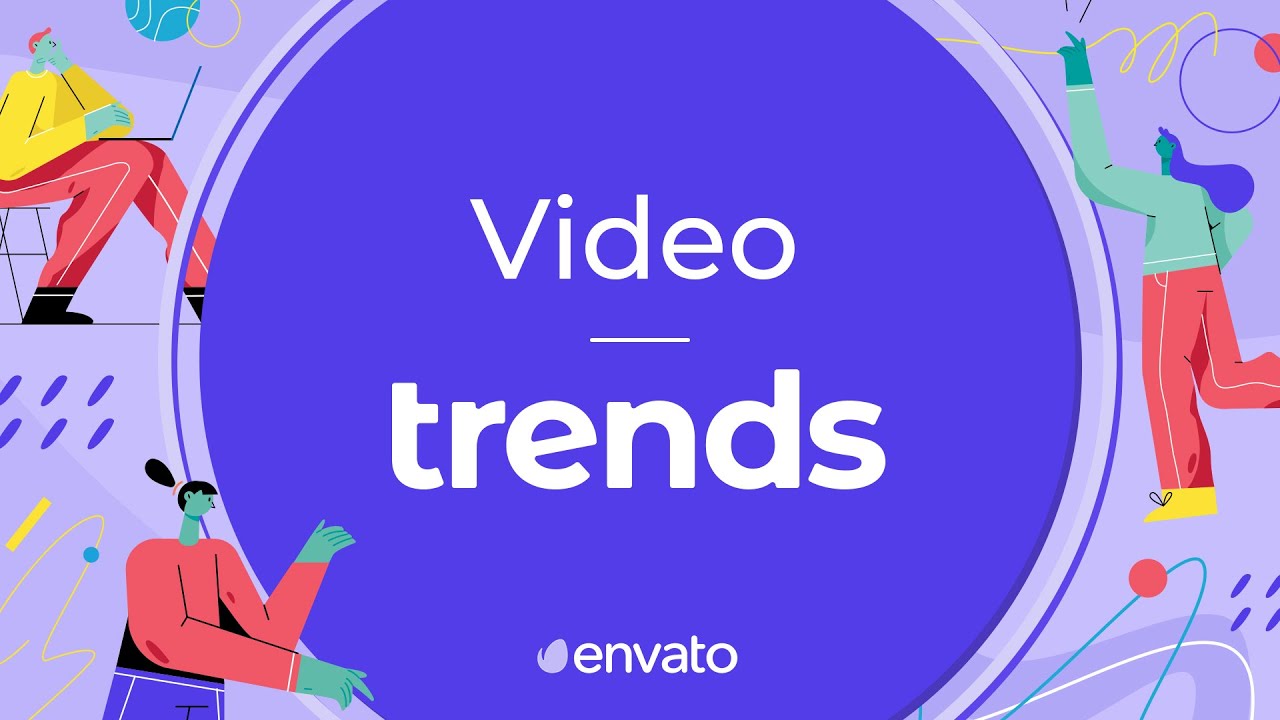 Hey there! Jen McKinnon here and it's time for another trend roundup from Envato.
Today we're taking a look at video trends and a link to all the featured items can be found in the description below. We also have a bonus trend in store for you, so stay tuned to find out what it is! This video is brought to you by Envato Elements, a subscription based library full of all the digital creative assets you need to produce professional videos in no time.
From video templates and stock video to sound effects, LUTs, titles, lower thirds and motion backgrounds, everything you need to streamline your creative process is at your fingertips. Check the link in the description for a special offer from the Envato Elements team to get you started. Let's get into it! Short, snackable social media videos have gone viral this year.
With the popularity of TikTok and Instagram Reels showing no sign of slowing down, now's the time to get behind the camera and create some attention-grabbing content. Make your own social media sensations by embracing ephemeral videos, which are only available to viewers for a short period of time – usually 24 hours – before they disappear.
Screening on platforms like Snapchat and Instagram Stories, these utterly addictive quick-fix videos are ideally viewed on a smartphone and are perfect for viewing on the go.
Because social media has to be mobile-friendly, it's no surprise that we're seeing vertical videos popping up everywhere, from Facebook Stories to mainstream television commercials and cinema screens. When it comes to using social media as a video publishing platform, everyone is invited.
And you don't need a super-slick production company to make something that's worthy of an audience of thousands.
Just look at the engagement enjoyed by Belletrist, an Instagram account that shares videos of author interviews and bookshelf tours with its literature loving followers.
Promote your latest personal or professional project with snappy social stories made using these customisable After Effects templates by Afterdarkness75. Featuring dynamic animation and eye-catching graphics, they're a great way to take advantage of the ephemeral video trend.
Add your video, image and text, and you'll be directing teaser trailers, sneak peaks and openers in no time. And, speaking of text, soundless optimisation continues to be an important consideration when it comes to social media videos.
Studies show that the majority of people watch videos with the sound off, so ensure your video is ready to be viewed in silence by adding titles, subtitles, animated text and more using this Typography Text & Presets template by magemotion available on Envato Elements.
Incorporating captions and on-screen instructions in your videos, makes them accessible and easy to understand – even when the volume's down.
Learn more about the latest Social Media Trends and zoom in on all things Instagram with this guide to making the most of the super-visual, video-friendly platform. Find the links in the description below. Next, we look at videos that allow viewers to directly interact with the content they're viewing.
Predicted to be the next big marketing trend, interactive videos often see sky-high rates of engagement as they invite audiences to be actively involved whether that's by shopping the season's fashions, taking a quiz or clicking to reveal more information about the action that's taking place on-screen. In fact, the creative opportunities presented by interactive videos are seemingly limitless. Take this behind-the-scenes look at the making of The Jungle Book, which allows movie fans to enjoy a frame-by-frame exploration of the visual effects that went into bringing Mowgli's animal encounters to life. However, it's in the world of eCommerce that interactive video has made the biggest impact so far in the form of shoppable videos. These most commonly feature a drop-down menu that links to a product page where purchases can be made with the tap of a finger.
Add price tags and promotions to your products with these video templates from Envato Elements author, Therealist_Shop. With its pop-up product descriptions, size guides and shipping information, the pack gives online retailers the opportunity to stylishly and speedily share details without disrupting the viewing experience. The result is a streamlined social shopping experience that will have customers clicking 'add to cart' with confidence. For audiences who demand authenticity, live video holds the answer.
And while this isn't a new trend, we predict people will continue to crave a glimpse into the lives of their favorite celebrities and the opportunity to get under the skin of the brands they love. Put simply, by focusing in on the action as it happens, we get to feel closer to the things that really interest us. Just look at this behind-the-scenes tour of the Brooklyn Nine-Nine set that was live streamed by actor Chelsea Peretti.
As she moved from desk to desk, viewers commented and reacted in real-time – as if they were there themselves.
Live video is all about being able to share an experience with people wherever they are.
So, if you're looking to show off your gaming skills, broadcast your gameplay with this Streamer pack from Premiumilk.
Stream battles as you fight them, showcase your goal-scoring ablitiies and invite subscribers to watch you outwit zombies in real-time with this futuristic-style video template.
In addition, gamers in your Twitch community can follow your every move and comment on each level up as it happens. Live Video has been popular for a while now and also appeared in our 2020 roundup of the top Video Trends. Check that video out next via the link below.
Every marketer and content creator knows the importance of making videos that cut through the noise.
One very effective way of doing this is through personalized videos, which incorporate a person's name or picture to achieve a bespoke viewing experience. Personalized videos have the power to turn ordinary people into celebrities for a few minutes, and shining a spotlight on someone and making them feel special has been a goal that online greeting video business JibJab achieves time and time again.
From birthdays to new babies, engagements to exam results, there's a video for every occasion.
There are even videos that celebrate a person's favorite hot beverage – pumpkin spice latte, anyone? Users simply upload images and add text to create a customized video greeting, and you can do the same with one of the many templates available on Envato Elements.
Give someone a personalized present with this birthday greeting video template by FluxVFX.
By simply uploading a few images, you can wish friends and family a very animated 'many happy returns' with an all-singing, all-dancing video. Personalized video is also becoming incredibly effective in marketing, so for more, check out the personalized marketing segment in our Social Media Trends video, which explores ways to create unique brand experiences that your followers will love. A video style that connects with everyone – from young to old – animation is a trend that never goes out of fashion, especially at the moment as many video producers are unable to shoot real footage.
But as the world begins to return to a new normal and videographers have access to real people we predict there will be a period of overlap where the use of a compelling combination of live action and animated elements will hit our screens.
You can see that playing out here in this PayPal explainer video, that shares what could be quite dry information in a fun, accessible and upbeat way through the use of a real-life performer and a herd of hand-drawn dinosaurs. Animation has long been used in explainer videos as a fast, fun and effective way to articulate sometimes mundane messages.
You can create your own customised animation with this explainer toolkit by digitalproducts669, which enables you to convey even the most complex ideas and instructions in a dynamic and attractive format.
With more than 200 elements, there are animated icons, atmospheric environments and speech bubbles that promise to make your explainer videos and educational content both eye-catching and engaging.
Animation has also played a role in web design of late, find out how you can add sparkle to any website in the simplest and most understated way in our popular UX/UI Design Trends video linked below.
Next, searchable video is predicted to be huge this year, so now's the time to make sure your video content is SEO optimized.
Put simply, you want to give your video the very best chance of being found by your target audience. And that means making sure your content is appealing to search engine algorithms. Make your video searchable by: using file names and descriptions that contain your target keyword; creating original thumbnail images; and adding subtitles and captions.
To get on top of video SEO best practice, and to check your core web vitals are in excellent working order, check out our video guide to the latest Marketing Trends, where you'll learn how to give Google what it's looking for by making sure your content is easy to find.
With more and more of us now working remotely, we expect to see video content become an even more important part of internal communications. While videos may have traditionally been viewed as too challenging or expensive for businesses to record, edit, share, host, and access, all that's changing thanks to easy-to-customise video templates. Forget static slides and one-dimensional documents, and start animating your information to send a more compelling message and engage your staff in a more personal way.
This infographics charts pack from MotionMediaGroup takes corporate data and presents it in a vibrant video format.
Featuring moving charts, graphs, timelines and more than 60 stylish icons, it's the ideal solution for next-level annual reports and internal comms. Transform your internal communications this year, make stronger connections with your staff and build business confidence with video.
People have told tales since the beginning of time and it's our love of storytelling that has most recently led to the rapid rise of online streaming services like Netflix, Amazon Prime and, most recently, Disney+.
Having thousands of TV shows and films at our fingertips has increased the need for brands to 'up their game' and engage and persuade viewers with narrative-based content.
As a result, we can expect to see marketers continue to develop video-based storytelling strategies that will engage potential customers and build their brand following. Just look at the characters in this story from Apple, who are united in their quest to survive the trials and tribulations of working from home.
Along the way, Apple products and special features come to their rescue, but the narrative format means the video avoids being a straight-forward advertisement.
Instead, we see likeable characters, relatable situations and a happy resolution.
In this way, marketing messages are turned into compelling stories.
You can add atmosphere to your narrative content with Sound Effects from Envato Elements.
Tell your story with the audio assistance of more than 440,000 sound effects, which are easy to search via themes such as Urban, Nature, Cartoon and Futuristic.
Giving your tale an added layer of authenticity, our extensive library of royalty-free sound effects will bring your video content to life.
And when it comes to sharing powerful marketing messages, take a look at our Marketing Trends video.
From user-generated content to brand activism, it's a helpful little roadmap that will help you navigate the year ahead and work your marketing magic. That does it for the video trends you'll be seeing this year. What are the elements that you're looking forward to experimenting with? Let us know down below.
If this video was helpful, don't forget to hit the like button so we know to keep producing more content like this.
And subscribe to the Envato YouTube channel to stay up to date with our latest content! Have your say and tell us what trends you'd like us to profile next in the comments below and jump over to the Envato blog for more trends and tips.
That's all for now but if you're keen to stick around, click the thumbnail at the top right of your screen for more trends, or the one at the bottom right of your screen to watch the next video, selected just for you. See you next time!
Envato: Video Trends [PLUS BONUS VIDEO MARKETING TREND] - Content Marketing