SEO Last Month November 2021 | Latest Updates From Google Search, Google Ads, and Bing in Hindi - read the full article about google updates 2021, Search engine optimization and from Amit Tiwari on Qualified.One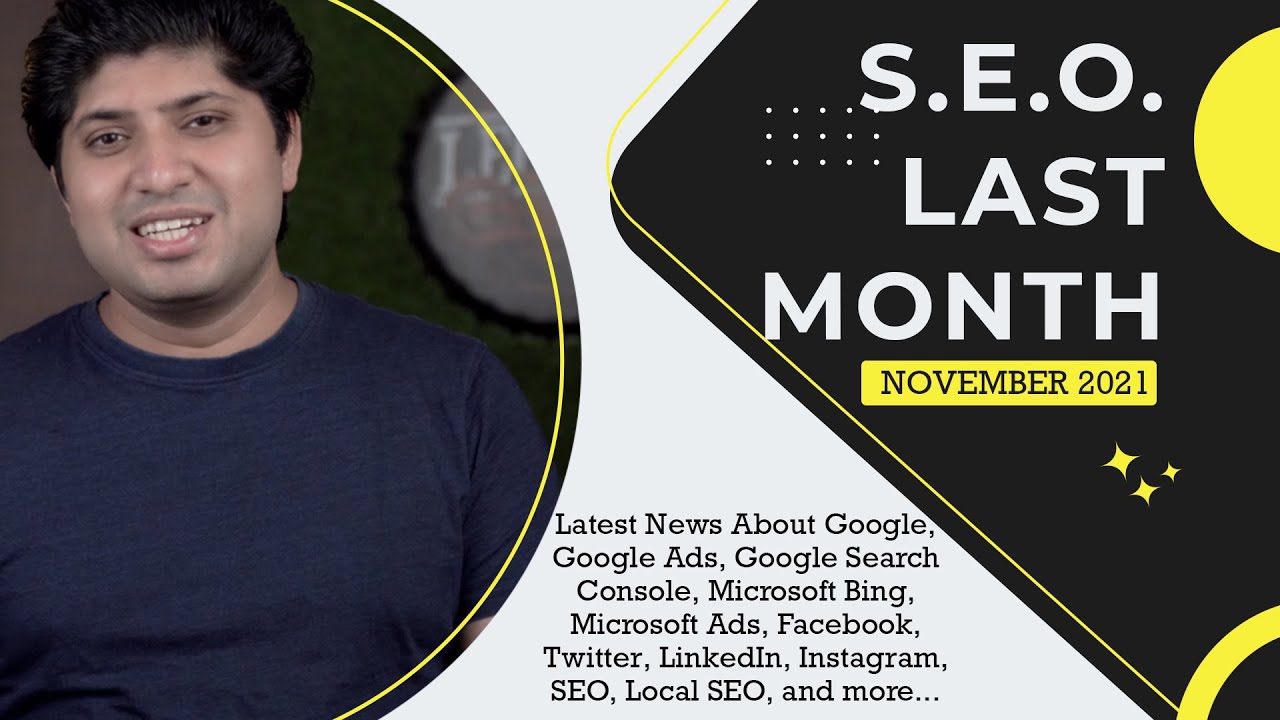 Hello everyone I am Amit Tiwari from Amittiwari.Net And this is the November 2021 episode of SEO of the Last Month This month we are uploading this video on 7th November due to Diwali holidays.
But normally we bring this monthly video News recap on 5th of every month, about last one month news updates and features related to SEO, Which new tools came, which one has gone and which is going to come, you will know everything in the next 10 to 11 minutes But before starting the news, there is a list of people who gave the correct answer to the question asked in the previous video.
We are asking this question not check your knowledge we are asking this question to check so that you can check yourself that how carefully you watch this video and how much information you retain from this video.
So today we will ask this question at the end of this video and you will have to answer it in just 15 seconds The first news of the month of October is from Facebook this is the first episode in the history of this entire series which is starting from Facebook God knows how it is going to happen And like Facebooks excellent track record, this is no good news.
On October 4th around 10:00 PM Facebook WhatsApp Instagram came to a completly stalled, it remained stopped for about 5 to 6 hours. Basically Facebook was completely shutter down.
If Facebook, Instagram, WhatsApp will go down, where will people go? On Twitter, and there is a flood of jokes on Twitter but apart from all this silly and not funny jokes, the stalled of Facebook network was also a disaster for pc people.
The loss of those who are running ad campaigns was buried in the middle of these jokes, although the reason of Facebook being down was not a special disaster in simple language, at the time of internal update in Facebook, the configuration of the router was blown up This is not such a big problem in the normal situation, but all the services of Facebook, all the tools, whether it is internal or external, all runs on Facebook itself.
Runs only on Facebooks network because of this problem, as Facebook's network was down, then all security measures and all connection measures are also stopped.
Even all the security systems in their office were down, so when it came to correcting the router configuration, the engineer had to physically access the hardware and fix the settings.
And before that, due to not working of the security passes, those locks had to be opened with hammer, etc., which the whole world knew very well, that thing Facebook realized that night that none of Facebooks servers are reliable.
Anyway Lets Move to Another News from Google Search Console On October 6, Google Search Console announced that from now on Google Search Console will have more data related to errors in the report of rich results.
So that you will get rich results i.e. sceama data or structured data help to solve those errors.
Although this tweet from Google Search Central did not contain any information about the new information that would come after this change, typically Google, but Google engineer Daniel Voice Berg added these 5 points So in case of error related to these 5 points, you will get more data in Google Search Console, we do not have any screenshots related to these yet because none of our sites have encountered this issue yet If you see something like this in your site, then you can tweet us and tag me my handle is Team Amit Tiwari.
On October 7, Google announced that Google would shift to the Adsense first prize auction model by the end of 2021.
Till now Adsense used to work on the second price auction model means by adding certain percentage to the second highest bid, the winning bid amount is finalized.
But from now on whoever puts up the highest bid will automatically be considered the winner.
If you do not understand this explanation, then it's alright.
We have a detailed video about First Price and Second Price Auction, the link of which will be visible to you in the top right corner and will also be found in the description of this video. Must check out.
Adsense users will not need to do anything about this, adsense users will not be in loss in this, but the revenue will increase a little bit.
Another news of 7 October is from Google Ads.
Google AIDS has issued a new policy regarding information related to climate change.
From now on, advertisers, who run ads, they will not be able to run any such ad, which is related to climate change, global warming, whatever scientific facts which is an established fact if you talk against it, You cannot spread rumors about global warming through any ad.
And this new restriction will not only apply to those who run ads, but also people who run ads on their website or videos, like text content, creators, bloggers or YouTube content creators.
They will also not say such a thing in their content related to global warming or climate change related topic, which is different from the scientific fact.
Means you cannot spread any misunderstanding in your videos and ads related to climate change and global warming.
On October 8, Google published another document related to Meta Titles or Description, in which they have given more justifications on how and why they create their own titles, and how you can stop them from committing this sin.
At this point Im Tired, Googles AI generator titles are bad but with time they will improve it, Google is neither going to withdraw this system immediately nor will it be able to fix these titles immediately .
The whole post is on this link, you can read it if you want.
I will not go into more details because if you are following this topic then you already know, what is the information you already know on this blog post.
On October 11, Google announced to make the features and look of some of its search tools like URL inspection tools.
From now on, AMP Testing Tools, Mobile Friendly Testing Tools and Rich Result Testing Tools will all appear like URL inspection tools.
And some features are also being added like page is available for Google or not, AMP link, page is rendering as Google work, its screenshot and HTTP headers information you will also find on these tools.
On October 14, Google murdered the most famous joke of the SEO world, you must have heard the joke that the best place to hide the dead body is the second page of the Google search result because no one goes there.
On October 14, Google announced that from now on, when you reach the bottom of the search result on mobile, the second page will automatically loaded, then third, then the fourth .
Basically you can guarantee to your client that I will bring the website to the first page in a pinch.
Google is calling it Continuous Scroll, but it is not infinite, in this way Google will show only the first 4 pages of search results in surf.
But if a stubborn great man wants to know even beyond the 4th page, then he will see a button named see more and more search results will be loaded after clicking on this button.
Right now this change has been launched only in mobile for English users in USA but very soon it will come near you too.
On October 18, Microsoft Ad announced that from now on, advertisers can see more detailed insides information of their campaigns with the help of Microsoft Clarity.
Microsoft Clarity is a free tool that gives you the opportunity to analyze the user behavior of your website visitors, you can see the recordings of the users sessions, their mouse movements, their click patterns, the users hit map and so on.
From now on, if you are using Microsoft Clarity and using Microsoft Ads, then you will get the details data of whatever traffic is coming in your site from the ad in the same way.
We have covered this topic step by step in this video on how to setup Microsoft Clarity in your website and we have also got praise for Microsoft Clarity.
The next news of October 18 is Again from Microsoft, Microsoft has launched a protocol named Index now in collaboration with Russian search engine yandex.
Any search engine... Google will not do it. But any other search engine can adopt this.
Index Now gives the function to the website that they can tell all the search engines at once that we have published this new content, lets scroll and index it.
Now it is a bit difficult to understand why Bill did this because they already have URL submission API and content submission APIB.
And Google will not accept this system till death.
Because number one, an ego is also something, and number two, its inefficient, people will abuse it, and due to this the pressure on the crawlers will not decrease but will increase.
Now if Google still accepts it, then Sundar, my first suspicion will be on you.
You are the one who keeps watching this channel without subscribing.
On October 19, Instagram started providing the facility to publish posts on Instagram from the desktop itself, making the life of social media managers easier.
I dont have much more to say about this, the tears of joy in the eyes of the social media manager will tell you the stories.
On October 19, Google updated the search quality raters guidelines and made a statement about it on the blog by drumming.
Giving some information to those who do not know, Google has hired quality raters guides all over the world to verify the quality of its search results, of course they are humans.
Right now there are about 10000 such guides all over the world.
For these guides, Google issues a guideline which tells them how to see and verify the search results.
These guides are not exactly an SEO guide, but it gives you the idea of Googles expectation and intention.
For now, Google has made some changes in this 172-page guide.
And these changes are: number one, earlier this guide used to be 175 pages, now it has only 172 pages, this is the biggest change.
Number two, in the new guide, tips have been given to search the social reputation of the website and the content creator (the authors).
Number three, YMYL category has been increased a bit and another category has been added.
And number 4, example of lowest page quality has given, apart from this there are few other changes, you can read this full report from this link.
On October 21, Microsoft announced a collaboration with Shopify for its Channel app.
From now on Shopify store owners share their product information with Microsoft using the Microsoft Channel app.
It is similar to the integration of Google Merchant Center and Shopify.
The official link of the announcement is in the description below.
On October 25, Google Discover, Google News, and Regex support were added to Googles Search Analytics API.
If you are using the Search Analytics API, then you can use these three features.
And if you do not use Search Analytics API, then you can take this information from Google Search Console like this, it is already available.
On October 27, Google announced that children aged 17 and under can now remove their photos from search results.
Search results which showing their photos can also be removed from the index.
Children themselves or their parents and guardians can request the removal of their photos from Google by filling in the form.
On October 28, Google announced that the strict rules of the unique product identifier, that they had applied to merchant center free listings last month were being softened.
From now on, if a product does not have a unique product identifier, it will appear in the search result page but its performance will decrease.
This rule announced on 14th September and it becomes norm on 28th October, which comes in effect from November We covered this news officially in last months SEO last month and already made a video about adding the product feed to Google Merchant Center.
You will find its link below and may be visible in the top right corner as well.
The news of October 28 is from Facebook itself, Facebook has changed the name of its company to Meta.
The Facebook website will remain Facebook, which is the parent company of Facebook, within which Facebook itself includes Instagram, WhatsApp, Oculus, etc.
The name of the user company will be Meta instead of Facebook.
Just Like Googles parent company name was changed to Alphabet in August 2015 meta is a very beautiful name, and internet users have got a lot of excitement about this news.
Everyone is expressing their happiness, you can also see.
So this was all the news of the month of October, but before we go, the question of todays video Microsoft has developed the Index Now protocol in collaboration with which other search engine? And you have to answer it in the comment section in the next 15 seconds, before this timer runs out The names of all the correct answers will be published in the next video.
Thank you so much watching this video.
My name is Amit Tiwari from Amittiwari.net and I will see you next time take care
Amit Tiwari: SEO Last Month November 2021 | Latest Updates From Google Search, Google Ads, and Bing in Hindi - Search engine optimization