Google Play PolicyBytes - July 2021 policy updates - read the full article about July Google update, Search engine optimization and from Android Developers on Qualified.One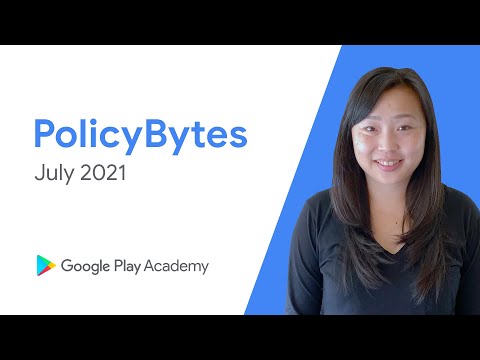 Welcome to Google Play PolicyBytes.
Im Teresa, a product marketing manager for Android and Google Play.
Thanks for joining us today.
Well cover recent policy updates and key reminders.
Lets start with recent policy updates.
Well talk about the seven updates to our user data, ads, store listing and promotions, and Families policies, and our enforcement process.
As you may have heard, were adding a new safety section in Google Play to help people understand the data an app collects or shares, and if that data is secured.
Developers have shared with us that they agree, people should have transparency and control over their data.
We all want consumers to be able to decide if an app is right for them and confidently download.
So, were adding a new section to the Google Play store listing, where you can inform your users what your privacy and security practices are.
As you can see, Ill summarize what data is collected or shared and highlight privacy and security details, such as if the app uses data encryption, follows our Families policy, has our safety section validated by an independent third party, or allows users to request data deletion if they decide to uninstall.
With this new safety section, we are also introducing a few updates to our user data policy to bolster privacy and security.
First, all apps must have a privacy policy thats posted in the Google Play Console and within the app itself.
The privacy policy must include information such as your data retention and deletion policy.
Apps that do not access any personal and sensitive user data must still provide a privacy policy.
Second, developers must provide clear and accurate information related to personal or sensitive user data their app collects or shares.
If your apps target audience is children, the SDKs you use must be approved for use in child-directed services.
Similar to other app details like screenshots and descriptions, developers are responsible for keeping this information accurate and up to date.
We want to give developers plenty of time and resources to get prepared.
This October, youll be able to fill out information in the Google Pay Console and submit it for review.
We encourage you to start early in case you have questions along the way.
Then, early next year, well launch this new section in Google Play where your users can review it before they download your app.
Some developers may need some more time to assess their apps and coordinate across multiple teams, so youll have until Q2 2022 before all apps must have their section approved.
Now, on to the next update.
Well cover upcoming changes to our advertising and user data policies that provide users with more control over their data.
Right now, Android provides a flag for developers when a user opts out of ads personalization so that developers can take appropriate action.
Starting in late 2021, were making a technical change.
Instead of receiving a flag when a user opts out of interest-based advertising or ads personalization, their advertising identifier will be removed and replaced with a string of zeros.
This Google Play services phased rollout will affect apps running on Android 12 devices starting in late 2021 and will expand to all apps running on devices that support Google Play in early 2022.
With our Android S rollout later this year, were updating what the Androids ads settings page will look like, where users can choose to delete their Advertising ID.
If theyd like, they can always request a new Advertising ID in the future.
To help developers and ads and analytics service providers with compliance efforts and to respect user choice, they will be able to receive notifications for opt-out preferences.
Additionally, apps targeting Android 12 will need to declare a Google Play services permission in the manifest file in order to use Ad ID.
Weve heard that some developers use Ad ID for essential use cases such as analytics or fraud prevention.
For these purposes, were providing a more privacy-friendly alternative, called app set ID.
This ID is one unique identifier for all apps by the same developer on the device.
You cannot use this ID for ads personalization or ads measurement.
It will automatically reset if none of the developers apps on the device are used within a year.
Another change were making to protect user privacy is to prohibit linking persistent device identifiers to personal and sensitive user data or resettable device identifiers.
Well make exceptions for pre-approved use cases such as telephony linked to a SIM identity, such as Wi-Fi calling linked to a carrier account, and enterprise device management apps using device owner mode.
Now, lets take a look at our Families policy update.
Protecting kids privacy is important to Google.
Weve never allowed ads personalization for kids.
Now, were taking things a step further for apps that target kids.
Were prohibiting identifiers which could be used for personalizing ads.
With our policy updates, you must not transmit the identifiers listed here from children or users of unknown age.
Developers need to comply with this update within 30 days of this announcement, with the exception of Ad ID.
For Ad ID, developers have additional time until six months after this announcement to comply.
Well continue to work with industry for a smooth transition over the next several months.
And now, lets talk about store listings and promotions.
Your app title, icon, and developer name are all essential for users when they decide what to download.
Were updating this policy to increase trust across the ecosystem.
First, your app title must be 30 characters or less.
Second, dont use emojis, emoticons, or repeated special characters in your metadata elements.
Third, misleading symbols in app icons are not allowed.
For example, new message dot indicators when there are no actual new messages, and download or install symbols when the app is not related to downloading content.
And finally, avoid ALL CAPS unless it is part of your brand name.
Here are some common violations.
This app has the word planner in all caps.
Even though it is not part of the brand name.
It includes special character sequences, for example, consecutive exclamation points that are irrelevant to the app.
It uses emojis, emoticons, including Kaomojis, and special characters.
It also uses a misleading symbol, the new message dot indicator, at the upper right of the icon when there are no new messages.
And finally, it includes a misleading text that says, "UPDATE NOW." Well take action on these violations starting this September.
Were also adding a new guideline on incentivized installs, reviews, and ratings.
These include using text or images in your app title, icon, and developer name that indicate price or other promotional information.
Developers must not add text or images that indicate store performance or ranking, or suggest relations to existing play programs in the app title, icon, or developer name.
Lets take a look at some examples or violations.
These apps use prohibited images or text indicating store performance or ranking, such as "App of the year" in the app icon, and "Best Slot Machine" in the app title, "1st" or "#1 in magic games" and "Top Free Games" in the app developer name, "Best of Play 2019" in both the icon and app title, and an award image.
Here are some violations of images or text indicating price and promotional information, such as "50% OFF" or "$50 Cashback," "SALE" or "On Sale For Limited Time" and "100 FREE SPINS" or "Free 100." Lastly, apps must not have images or text that indicate play programs, such as "Editors choice" and "NEW." These examples violate store listing and promotion policy, and non-compliant apps will be rejected.
Play developer accounts are intended for active developers who publish and actively maintain apps.
To prevent abuse, were closing accounts that are inactive or abandoned after a year of dormancy including any data associated with it.
These accounts include developers who never uploaded an app or havent accessed Google Play Console in a year.
We will make exceptions for apps that have over 1000 installs or have in-app purchases in the last 90 days.
And of course, before we close any dormant accounts, we will notify the developer.
Well send 60, 30, and 7-day warnings.
If your account was closed because it was dormant, youll be able to create a new account in the future if youd like to publish on Google Play.
But you will not be able to reactivate your account, and any previous apps or data will not be available on your new account.
Weve also added other policy updates and clarifications.
Please visit the developer policy center for full details.
And now, lets look at some key enforcement dates.
On the top, you see deadlines from some of our recent policy updates.
Weve extended the grace period for changes that may take developers more time to adjust to.
And on the bottom, you see updates from previous policy updates.
A couple key reminders here.
Existing apps must comply with our Payments policy update by September 30th.
By August 2nd, all new apps using Play Billing must use Billing Library 3 or 4.
By November 1st, all updates to existing apps using Play Billing must use Billing Library 3 or 4.
As a reminder for developers who are adapting to our updated Payment policy, we have resources to help you understand how the policy applies to your app.
Check out our Help Center article, Play Academy course, or last Septembers PolicyBytes video for details like: What purchases require Google Plays billing system? What purchases are not supported by Google Plays billing system? And frequently asked questions.
For most developers, youll need to comply by September 30th, 2021.
We hope this helped you better understand our policies.
For free courses on all things Google Play policy, visit our Google Play Academy at g.co/playacademy/policy.
Thank you for continuing to partner with us to make Google Play a trustworthy platform for everyone.
Until next time, stay safe and healthy out there.
Android Developers: Google Play PolicyBytes - July 2021 policy updates - Search engine optimization